June 10, 2020
– Affiliate Post –
I'm back for my third copycat decor article and this time I'm tackling Restoration Hardware, Shades of Light, West Elm, and Pottery Barn! If you're new here and not familiar with my recurring column on Something Turquoise, I pick expensive designer decor items and find affordable copycats for them. Because saving money is amazing – especially right now.
If you want to catch up on my first and second articles, feel free to do so. Or hang out here with me as I share five fresh copycat decor finds that will save you shopping time and money.
1. Restoration Hardware Balustrade Coffee Table Copycat
Who doesn't love a Restoration Hardware copycat?! This salvaged wood coffee table can cost up to $2,500 at Restoration Hardware, but this look-alike beauty costs less than half of that. In addition to a lower price, the copycat version has great reviews and actually looks even better in purchasers' photos than in the stock photos on the website.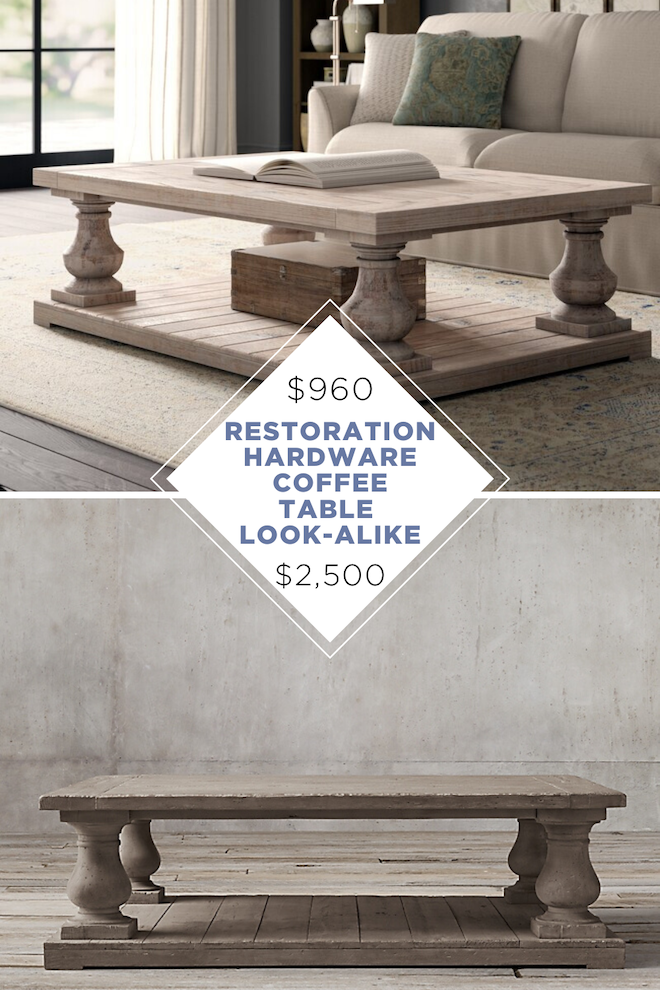 Top: Wayfair Glenrock Floor Shelf Coffee Table with Storage, $960
Bottom: Restoration Hardware Balustrade Coffee Table, $2,500
Alternate copycats: Sannoise Coffee Table, $1,019
Wayfair Tilda Coffee Table, $669
Splendora Coffee Table, $479
Orval Solid Wood Floor Shelf Coffee Table with Storage, $429
Canadian Link: Wayfair Glenrock Floor Shelf Coffee Table with Storage
2. Shades of light Elegant Rustic Drape Chandelier Copycat
I discovered this find while on Facebook (who says that social media is a waste of time?!). An ad popped up with this chandelier and I instantly loved it, but didn't love the price. So I did some digging and found this Wagon Wheel Chandelier look-alike. The traditional beading combined with the rustic metal frame makes this light unique, yet surprisingly versatile.
Top: Wayfair Fitzgibbon 6-Light Candle Style Wagon Wheel Chandelier, $380
Bottom: Shades of Light Elegant Rustic Drape Chandelier, $520
Alternate look-alike: French Washed Oak Jaycie 6-Light Candle Style Chandelier
Canadian Link: French Washed Oak Fitzgibbon 6-Light Candle Style Wagon Wheel Chandelier
3. West Elm Mid-Century Nightstand Copycat
This is the perfect dupe; everything including the hardware is the same and any differences between the two are very subtle. If you purchase this nightstand, you're probably buying two, which means you'll save $162 plus tax and shipping. Go ahead, put the savings towards some new bedsheets while you're at it.
Top: Wayfair Acorn Williams 2 – Drawer Nightstand, $219

Bottom: West Elm Mid-Century Nightstand in Acorn, $300
Canadian Link: Wayfair Parocela 2 Drawer Nightstand
4. Restoration Hardware Cloud Sofa Copycat
I know I say this every time I write one of these copycat articles, but this may be my new favorite dupe. I was obsessed with the cloud couch when it first came out and searched everywhere for a copycat with no luck. Depending what combinations you choose, this couch can cost you over $10,000. Yes, you read that right. Lucky for us, (about four years since my last quest for a dupe), there are now so many copycat versions to choose from that I couldn't decide…so I've included all of them! Why have one look-alike when you can have four look-alikes?
Top: Restoration Hardware Cloud Modular Sofa Sectional, $10,000 Photo: @niobytrivett
Bottom: Crate & Barrel Ever Slipcovered Sofa, $2,299
Additional Restoration Hardware Dupes:
West Elm Harmony Sofa
CB2 Lumin Sofa
Arhaus Tahoe Slipcovered Five Piece Sectional
Crate and Barrel Lounge II 3-Piece Sectional Sofa
Wayfair Cameron Reversible Modular Sectional with Ottoman
Ashley Furniture Savesto 6-Piece Sectional
Joss and Main Lianne 133″ Reversible Sectional with Ottoman
Modway Commix Down Filled Overstuffed Sofa CB2 Lumin Sofa
Wayfair 132″ Reversible Modular Corner Sectional
AllModern Alissa Sectional with Ottoman Arhaus kipton Two Piece Sectional
Canadian links: Cameron Reversible Modular Sectional with Ottoman
Kadence Reversible Sectional with Ottoman
5. Pottery Barn Coleman Metal Bed Copycat
There's no denying that Pottery Barn makes beautiful beds, but wouldn't you sleep a little easier knowing that you paid half price? Wayfair's Alexandra metal bed looks just like Pottery Barn's Coleman Bronze bed, except for the price point. I found this bed when I was shopping for our tiny guest bedroom and wanted something with a sleek profile; not only did I find what I was searching for, I found it for under $500.
Top: Pottery Barn Coleman Metal Bed in Deep Bronze, $999
Bottom: Wayfair Rondo Panel Bed, $316
Alternate Copycats: Target Tilden Standard Metal Bed, $299
Matheney Platform Bed, $172
Page Standard Bed, $336
Weldon Platform Bed, $191
Canadian Link: Matheney Platform Bed
Still want more? Check out my extensive list of fashion, beauty, and decor deals at Kendra Found It or follow me on Instagram.