– Affiliate Post –
Decorating on a budget? Love saving money? Like nice things?
If any (or all) of these sound like you, you've come to the right place. I'm Kendra Found It, and I'm all of these things. I believe that you can shop big, but spend small, and a bigger price tag doesn't necessarily mean bigger style.
Today I'm sharing five of my decor dupes for your home. What's a dupe? It's a copycat or look-alike item that looks similar to an expensive product but costs much less.
This is my second time sharing some of my favourite finds around here, so if you missed my first feature, be sure to check it out here (we're talking Restoration Hardware, Pottery Barn and more).
Okay, enough small talk; let's get to the good stuff.
1. Restoration Hardware Printmaker's Double Washstand Vanity Lookalike
Restoration Hardware is one of my favourite brands to find dupes for because everything they make is absolutely stunning (but also absolutely expensive). The antiqued pine in the Printmaker's Vanity brings charm and character, so I was so excited to see a similar finish in the dupe version. I was also excited to see that it's about $3,000 less; just think of what you could do with that extra money!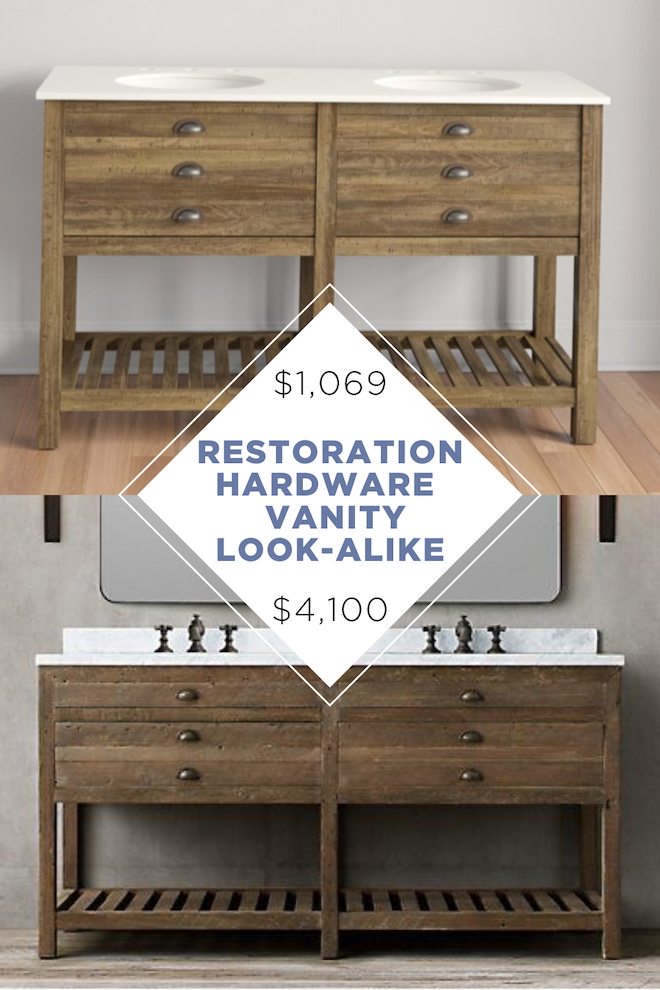 Top: Wayfair Johnstown 2 Drawer 57″ Double Bathroom Vanity Set, $1,069
Bottom: Restoration Hardware Printmakers Double Washstand Vanity, $4,100 

2. Ro Sham Beaux Frankie Malibu Beaded Chandelier Lookalike
Just look at that price difference! Ro Sham Beaux's designs are meticulous and stunning, but at over $3,000 a piece, it's not a cost that many of us can achieve. Wayfair's version has very similar design elements (muted beads, hemp accents, and a drum shape), but is about 10% of the price.
Top: Wayfair Jetter 4-Light Drum Chandelier, $249
Bottom: Ro Sham Beaux Frankie Malibu Chandelier, $3,975
Photo: @diannkartch_design @1985lukephotography
3. West Elm Souk Wool Rug Lookalike
I found this dupe when I was shopping for the rug that currently sits in my home. I was looking for something similar to the West Elm Souk rug, minus the hefty price tag. Overstock's version is very similar, complete with the chunky, oversized tassels. We ended up choosing this black and white shag rug due to size restrictions, but if we had more room I certainly would have chosen the West Elm Dupe! Note that both rugs are available in a variety of sizes. 

Top: West Elm 5'x8' Souk Wool Rug, $400
Bottom: Overstock 5'3″ x 7'7″ Moroccan Trellis Tassel Shag Rug, $154
Alternate dupes: Margaret Geometric Charcoal/Beige Area Rug, $127
Laudalino Geometric Beige/Black Area Rug, $189
Melody Patli Moroccan Lattice Ivory Area Rug, $119
Hester Shag Cream/Charcoal Rug, $216
4.West Elm Mid-Century 6-Drawer Dresser Lookalike
Even I was surprised by this one; Wayfair's Foundstone 6-drawer dresser looks incredibly similar to West Elm's Mid-Century 6-Drawer Dresser. There are subtle differences (the hardware, the angle of the legs), but this is a solid dupe and will save you $700.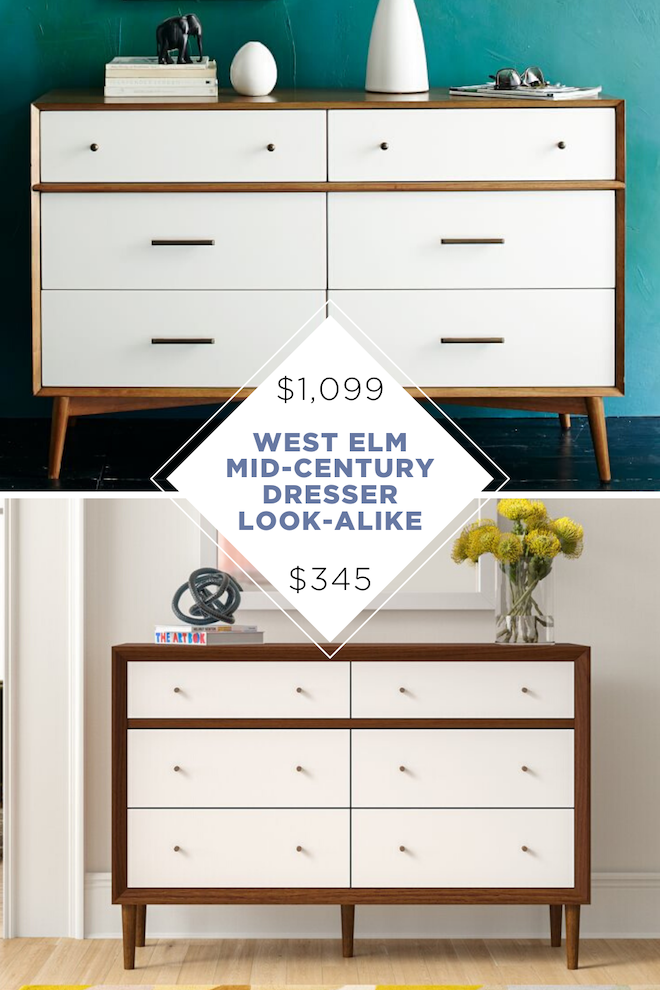 Top: West Elm Mid-Century 6-Drawer Dresser, $1,099
Bottom: Adelia 6 Drawer Double Dresser, $345
5. Restoration Hardware Salvaged Wood Trestle Rectangular Extension Dining Table
This is one of my favorite Restoration Hardware copycats ever. Why? Because just a few years ago, this dining table was such an iconic piece that I was sure I would never be able to find a dupe for it. The biggest celebrities, interior designers, and bloggers all had it; it seemed like a luxury item that was out of reach to many of us. Fast-forward a few years, and Wayfair's Lark Manor Gertrude Solid Wood Dining table is a very close lookalike for about a third of the cost and comes in various sizes. If you're not familiar with Lark Manor, check out some more of their furniture here; they have some beautiful pieces that are very Restoration Hardware-esque.
Top: Restoration Hardware Salvaged Wood Trestle Rectangular Extension Dining Table, $3,500
Bottom: Wayfair Gertrude Pine Solid Wood Dining Table, $860
Alternate Dupe: Gertrude Solid Wood Dining Table, $1,069
Still, want more? Check out my extensive list of fashion, beauty, and decor deals at Kendra Found It or follow me on Instagram.
---
Shop Our Dupes:
---