November 26, 2013
It's Simple DIY Tuesday… and today we are sharing 3 awesome and easy techniques for embellishing 'store bought' wedding invitations from Wedding Paper Divas! Although these invites are darling just as they are, why not add a little crafty touch! If you like these ideas below, then you will really like {the} techniques from last year…
///// Technique #1 /////
For the first style, we are going to simply add little pearl stickers to the centers of each of the flowers… the ones we choose are from Martha Stewart Crafts. This will take you only seconds per card and gives a great 3D touch!
///// Technique #2 /////
For the second style (we just love these!) we are going to tie a tiny little bow with 6 inches of 1/8″ ribbon. Apply a dot of Tacky Glue to adhere the bow… and it's done! Doesn't the darling little bow add such a cute touch!
///// Technique #3 /////
For the last style, we are going to simply spray each card with a coat of Glitter Spray Paint from Krylon! Since this design already has a glittered looking & sign… the glitter spray paint is the perfect touch. It won't ruin your cards and it dries in minutes. We love this sparkly touch!
We have a special Thanksgiving sale from Wedding Paper Divas for you today!!! Not only will you receive free samples but you will receive 20% off your entire order until December 1st! Happy Shopping!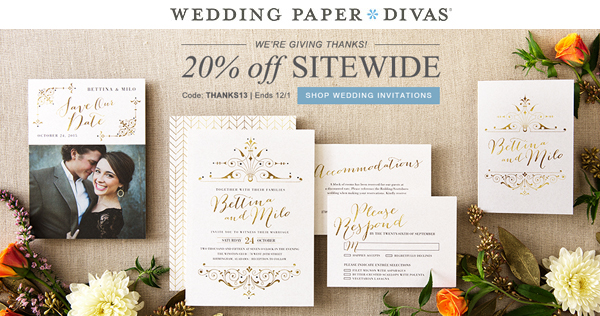 As with all our DIY tutorials, if you create one of our projects please send us a picture or a trackback – We Love Seeing Your Creativity! If you use Instagram or Twitter please use the hashtag #SomethingTurquoiseDIY. Happy Crafting!

Photography: Studio 11 Weddings // DIY tutorial by: Jen | Something Turquoise // all three adorable invitations courtesy of: Wedding Paper Divas // Martha Stewar Crafts pearl stickers, 1/8″ white ribbon, Tacky Glue, Krylon Glitter Spray Paint in Gold: Michaels // nail polish: Essie – Mint Candy Apple