– Affiliate Post –
Disclosure: This post uses affiliate links. This means that if you purchase something that I feature, I'll get a small commission (this will not increase the price of the item).
If you've landed here, you're likely familiar with the joys of copycat decor. But just in case you aren't, allow me to explain:
I'm Kendra Found It, and I find home decor dupes. A dupe or copycat looks similar to an expensive item, but costs way less. Love that $2,000 Anthropologie chair? I've got a more affordable copycat for you. Drooling over Pure Salt rugs? I've got that too. If you're on a budget and love decorating, this is the place for you. Today I've rounded up five home decor dupes that will save you thousands, so sit back, relax, and let me do the shopping for you.
P.S. Don't forget to check out my previous copycat decor articles if you want more home decor dupes and look-alikes.
1. ANTHROPOLOGIE RHYS LEATHER CHAIR DUPE
This find came as a request from a follower on Instagram; she fell in love with the Anthropologie Rhys leather chair and asked me to find a look for less for her. The great thing about this chair is that it's incredibly versatile – it would fit in just as well with modern traditional decor as it would with mid-century modern decor; it would be a perfect accent chair for a living room, but also go great in a home office or bedroom. Whatever your budget or wherever you put it, there's a beautiful chair waiting for you!
Splurge: Anthropologie Rhys Leather Chair, $2,198
Save: Target Oslo Mid Century Arm Chair – Caramel/Natural – Safavieh, $445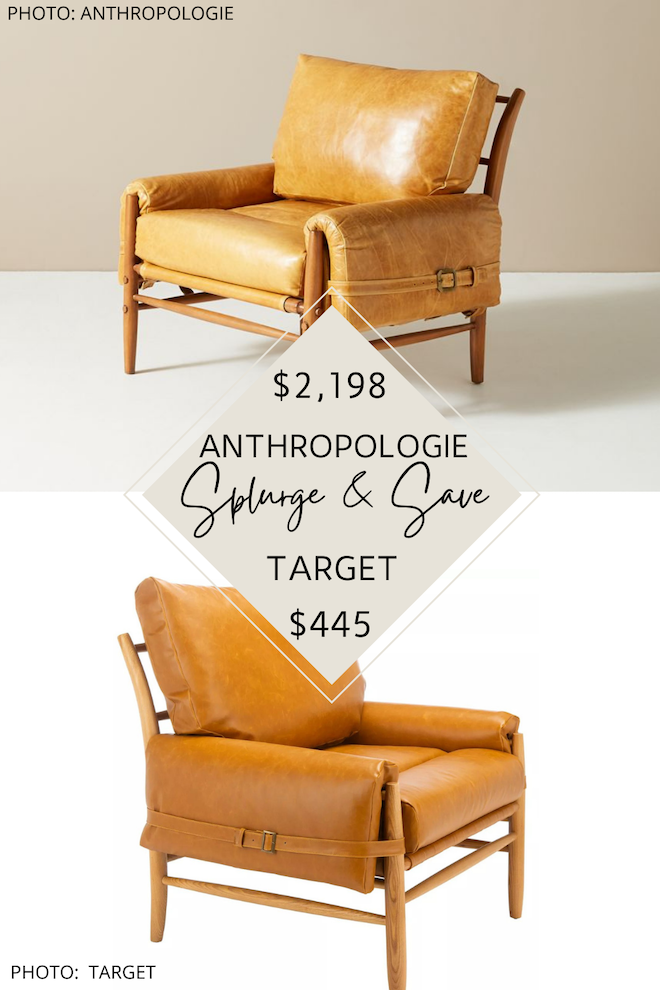 2. PURE SALT NATHAN RUG DUPE
If you're not familiar with Pure Salt, this is your invitation to go check them out. They are a design studio and online shoppe full of coastal, beachy home decor, and their Instagram will "wow" you. This cream jute rug will give you the durability and style of a standard jute rug with the added warmth of an ivory color.
Splurge: Pure Salt Nathan Rug, $898
Saves: Overstock Murillo Natural Solid Area Rug, $476
Wayfair Handmade Braided Jute/Sisal Off White/ Cream Beige Area Rug, $266
Target Safavieh Carlene Solid Woven Rug, $255
World Market Bleached Ivory Basket Weave Jute Area Rug, $269
3. RESTORATION HARDWARE 20TH C. ENGLISH BRASS BAR PULL SIDEBOARD DUPE
Restoration Hardware is one of my most requested brands to Splurge and Save, and it's not hard to see why. I personally LOVE Restoration Hardware (in fact, I literally run to my local Restoration Hardware Outlet and I made a video about it here). Besides the Restoration Hardware Cloud Sofa (which I've already Splurge and Save-ed here), the next thing that I get requests for the most is Restoration Hardware TV stands. So obviously I had to deliver!
Splurge: Restoration Hardware Brass Pull Pannel Sideboard Collection, $3,370-$3,800
Save: Wayfair Charcoal and Natural Rahul 74" Wide Sideboard, $2,759
4. SERENA AND LILY NATURAL HEADLANDS BELL PENDANT DUPE
This is actually a new, old find; you loved my Black Serena and Lily Headlands Bell Pendant dupe so much that I found a Splurge/Save for the natural color. Having choices is awesome!
Splurge: Serena and Lily Headlands Bell Pendant, $398
Save: World Market Basketweave Bamboo Pendant Shade, $80
Also available in black: World Market Black Woven Bamboo Pendant Shade, $80
5. SERENA AND LILY TALL FILLMORE HEADBOARD DUPE
I know the photos aren't super sexy, but this is a solid Spend and Save with very similar details; look at the shape and style of the headboard and you'll see what I'm talking about. Sometimes these high/low roundups are a little harder to visualize, but this one is totally worth the extra effort.
Splurge: Serena and Lily Tall Fillmore Headboard, $2,498
Save: Wayfair Singraul Upholstered Panel Headboard, $458
Still want more? Check out my extensive list of fashion, beauty, and decor deals at Kendra Found It or follow me on Instagram.