– Affiliate Post –
Disclosure: This post uses affiliate links. This means that if you purchase something that I feature, I'll get a small commission (this will not increase the price of the item).
If you've landed here, you're likely familiar with the joys of copycat decor. But just in case you aren't, allow me to explain:
A copycat or dupe looks similar to an expensive item, but costs way less. Love that $3,000 Restoration Hardware sideboard? I've got a much more affordable copycat for you. Drooling over that Serena & Lily pendant? I've got that too. If you're on a budget and love decorating, this is the place for you. Today I've rounded up five home decor dupes that will save you thousands, so sit back, relax, and let me do the shopping for you.
P.S. Don't forget to check out my previous copycat decor articles if you want more home decor dupes and look-alikes.
1. Meadow Blu Dovetail Tess Mirror
I posted a photo with this mirror on my Instagram and people went crazy for it! I got so many comments and messages asking for a dupe, so I'm very excited to share this one with you.
Bottom Photo: @sswansondesign. Sarah makes the best art (yes, MAKES!) and has a beautiful, bright home.
Top: Pottery Barn Naturalist Ball Mirror, $199
Bottom: Meadow Blu Dovetail Tess Mirror, $650
Alternate Dupe: Kirkland's Round Natural Beaded Wall Mirror, $85
2. Restoration Hardware 19th Century French Empire Fabric Armchair Copycat
Don't we all dream of having a Restoration Hardware dining room? These 19th Century Armchair dupes are less than half the price and come in charcoal and cream. But what about the dining table? I've got that too! You can find my Restoration Hardware dining table copycat here.
Top photo: @lindseymeehandesigns. An interior designer that also offers edesign, Lindsey has perfected clean and classic decor. She also has an organized linen closet that makes me so happy to look at! She's a wonderful follow for home decor and more.
Top: Restoration Hardware 19th Century French Empire Fabric Armchair, $950
Bottom: World Market Charcoal Henry High Back Accent Chair, $379
Also Available in Cream: World Market Natural Henry High Back Accent Chair, $379
Alternate Dupe: Wayfair Bodie Upholstered Dining Chair, $579
3. Serena & Lily Headlands Bell Pendant Copycat
Wicker and woven pendants are all the rage right now, but I promise you, this is not the same pendant in both photos. Don't they look ridiculously similar?! I couldn't believe my eyes when I compared the two photos – especially when you consider the fact that my headlands pendant copycat is 20% of the price.
Top: Serena & Lily Headlands Bell Pendant, $298
Bottom: World Market Black Woven Bamboo Pendant Shade, $69
4. Restoration Hardware Cloud Bed Copycat
This find came about as a request by one of my followers on TikTok (yup, I joined everyone else and finally got an account. You can follow me here if you like). She loved my Restoration Hardware Cloud sofa copycats and wanted to know if I could find the bed. Ask, and you shall receive!
Top: Restoration Hardware Cloud Bed, $6,795
Bottom: Wayfair Dodu Bed, $1,769
Alternate Dupes: EQ3 Cello Bed, $1,649
Soft Frame Ultra – Headboard Only, $449
Soft Frame Ultra – Modern Platform Bed Frame, $649
Rove Concepts Ophelia Bed, $1,599
Wayfair Omar Upholstered Low Profile Platform Bed, $889
Wayfair Kinderhook Upholstered Platform Bed, $1,119
5. Serena & Lily Abbott Table Lamp Copycat
Serena and Lily's Abbot Table lamp is beachy, nautical, and earthy all at the same time. I love the simplicity of it, but at $400, it's pretty expensive for a table lamp. I did a little digging and found a very similar copycat that comes in two shades of wicker for just $65. The best part? It's from Target, so you can use it as an excuse to plan your next Target order.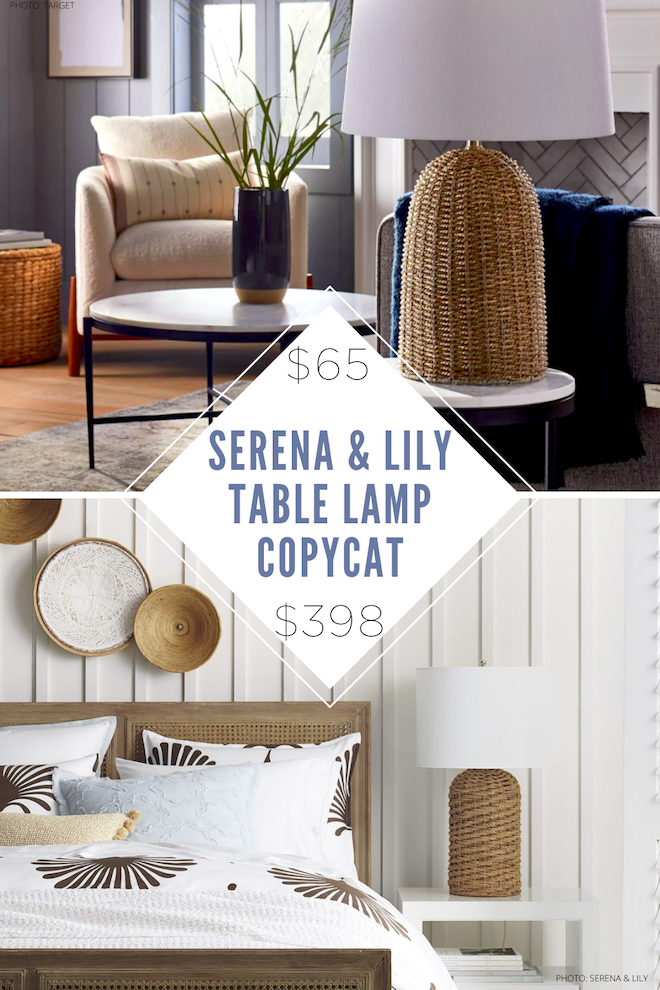 Top: Target Large Seagrass Table Lamp, $65
Bottom: Serena & Lily Abbott Table Lamp, $398
Still want more? Check out my extensive list of fashion, beauty, and decor deals at Kendra Found It or follow me on Instagram.