– Affiliate Post –
Disclosure: This post uses affiliate links. This means that if you purchase something that I feature, I'll get a small commission (this will not increase the price of the item).
If you've landed here, you're likely familiar with the joys of copycat decor. But just in case you aren't, allow me to explain:
I'm Kendra Found It and I find home decor dupes. A dupe or copycat looks similar to an expensive item, but costs way less. Love that $6,000 Restoration Hardware bed? I've got a much more affordable copycat for you. Drooling over those Serena & Lily dining chairs? I've got that too. If you're on a budget and love decorating, this is the place for you. Today I've rounded up five home decor dupes that will save you thousands, so sit back, relax, and let me do the shopping for you.
P.S. Don't forget to check out my previous copycat decor articles if you want more home decor dupes and look-alikes.
1. SERENA AND LILY BALBOA ARMCHAIR SPLURGE AND SAVE
You loved my Serena and Lily Balboa Counter Stool Look for Less so much that I had to tackle the Balboa armchair and dining chair. Just like the counter stool, they are made of a beachy wicker rattan, have the same square shape, come with white cushions, and have the coastal decor vibe that Serena and Lily is famous for.
I would use these wicker chairs at a dining table, but you could totally use them as accent chairs or even as a coastal office chair.
Splurges: Serena and Lily Balboa Armchair, $868
Serena and Lily Balboa Side Chair in Mist, $768
Serena and Lily Balboa Side Chair in Natural, $768
Saves: T.J. Maxx Set Of 2 Rattan Dining Chairs in Natural, $349
T.J. Maxx Set Of 2 Rattan Dining Chairs in Grey, $349
Overstock Safavieh Sarai Coastal Accent Chair with Cushion, $284
Wayfair Haxby Side Chair in Brown, $270
Wayfair Pine Isle Dining Chair, $554
Scout and Nimble Antonia Cane Dining Arm Chair, $579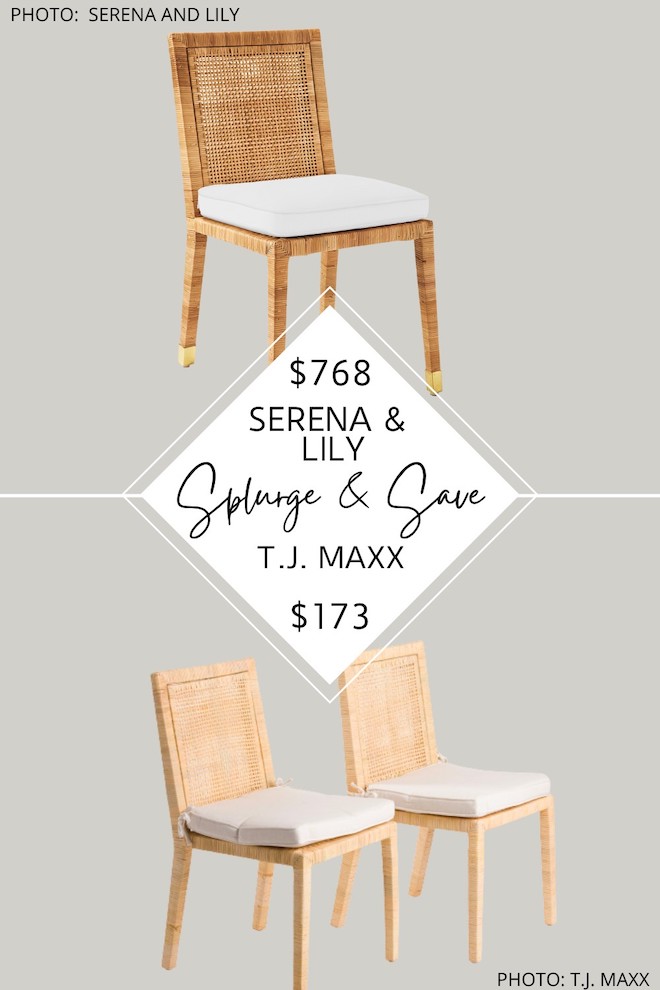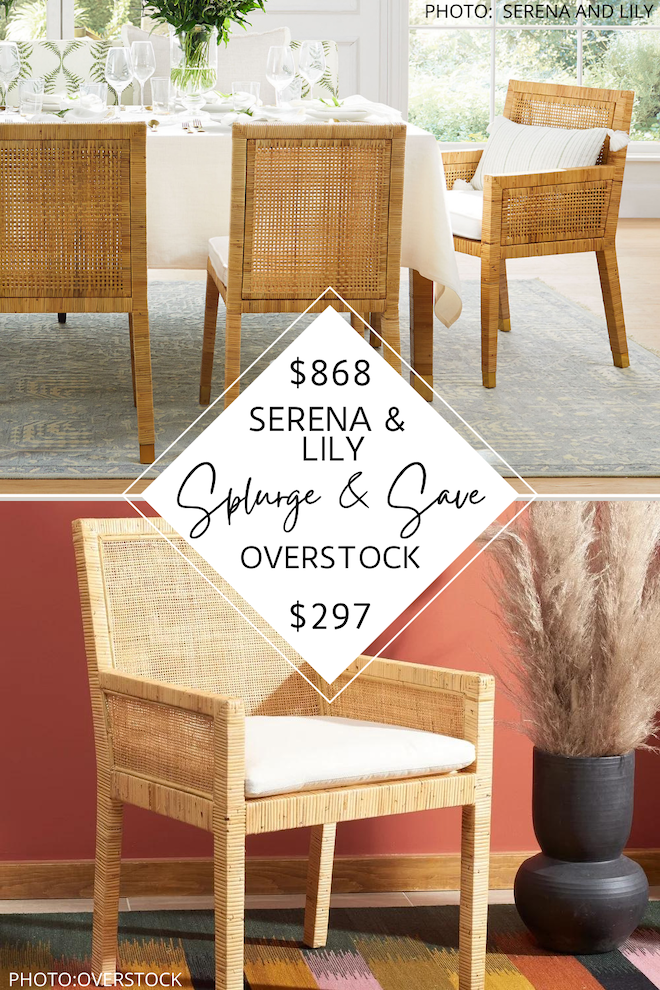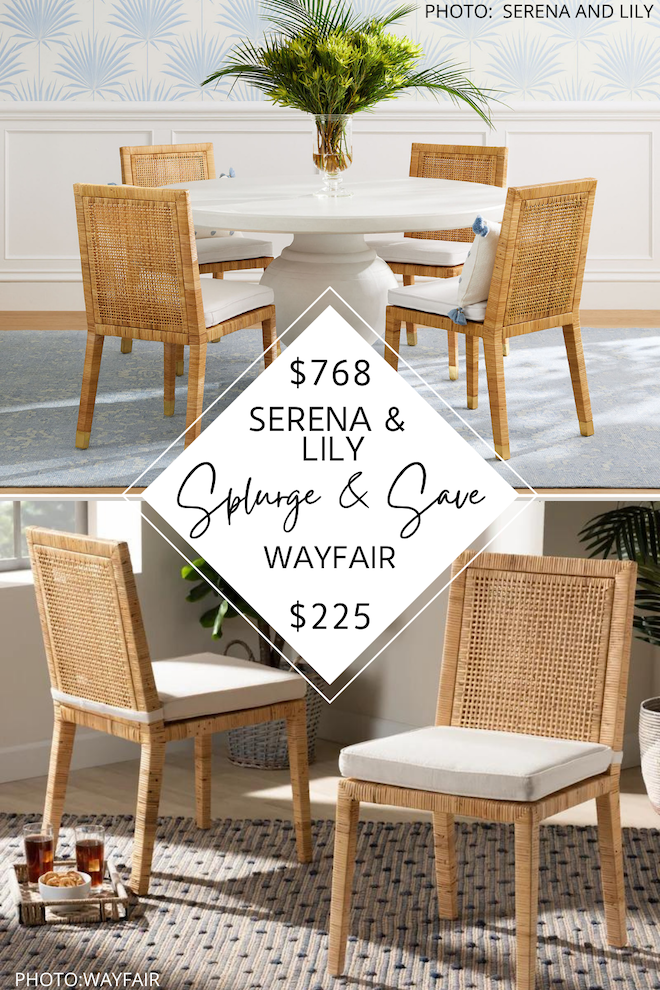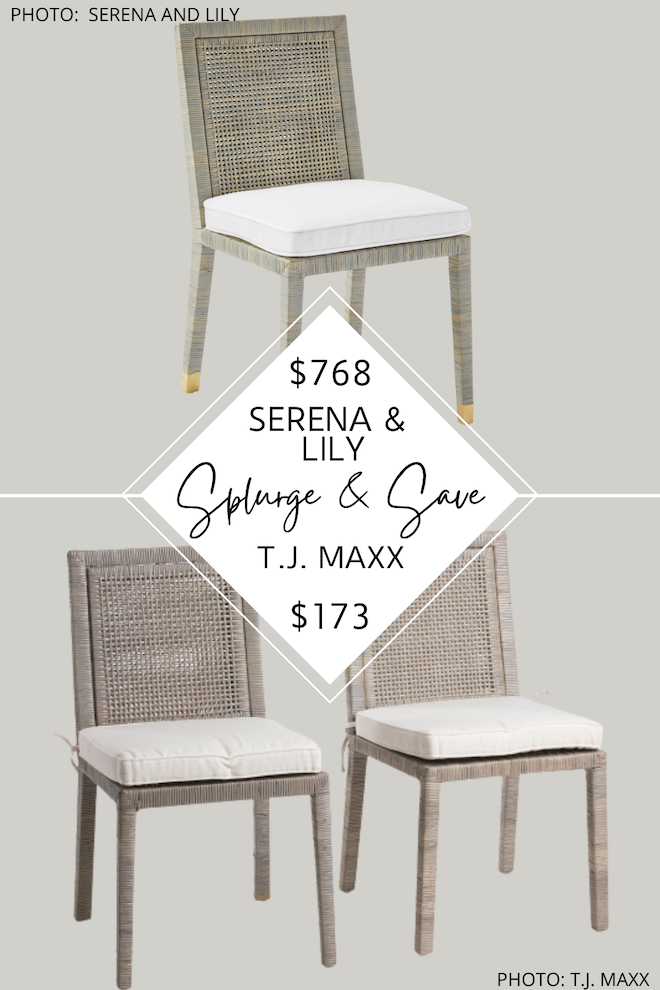 2. MCGEE AND CO YATES CHAIR DUPE
This McGee and Co. look for less was a request from a follower on Instagram. She wanted a chair that looked like the McGee and Co. Yates chair, but she couldn't justify the $1,000 price tag. I can see why she fell in love with this side chair; the metal, linen, and sling chair details are winning combinations that would look perfectly at home in any modern traditional or transitional space.
I found three different McGee & Co. look-alikes from Wayfair, Lumens, and Meadow Blu, which will save you about $300 per chair. This chair is often styled in groups of two, so that's a total savings of $600! Of course you could also just stick with one and use this cozy, fluffy seat as a single accent chair all on its own.
McGee & Co. Yates Chair, $999
Dupes: Wayfair Antanae Cotton Armchair, $689
Lumens Trent Accent Chair, $649
Meadow Blu Dovetail Inska Occasional Chair, $712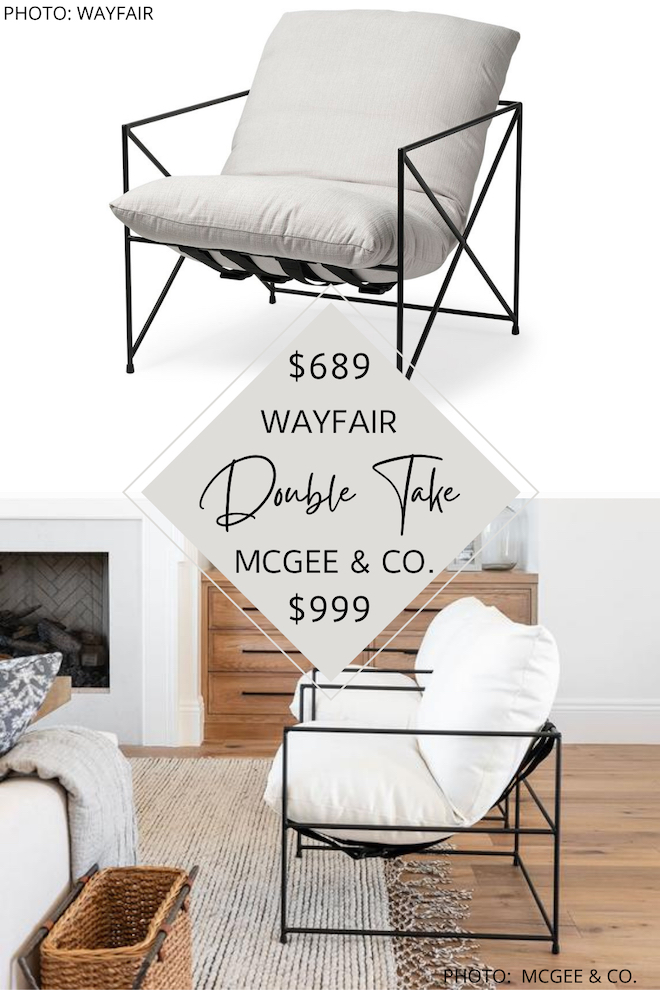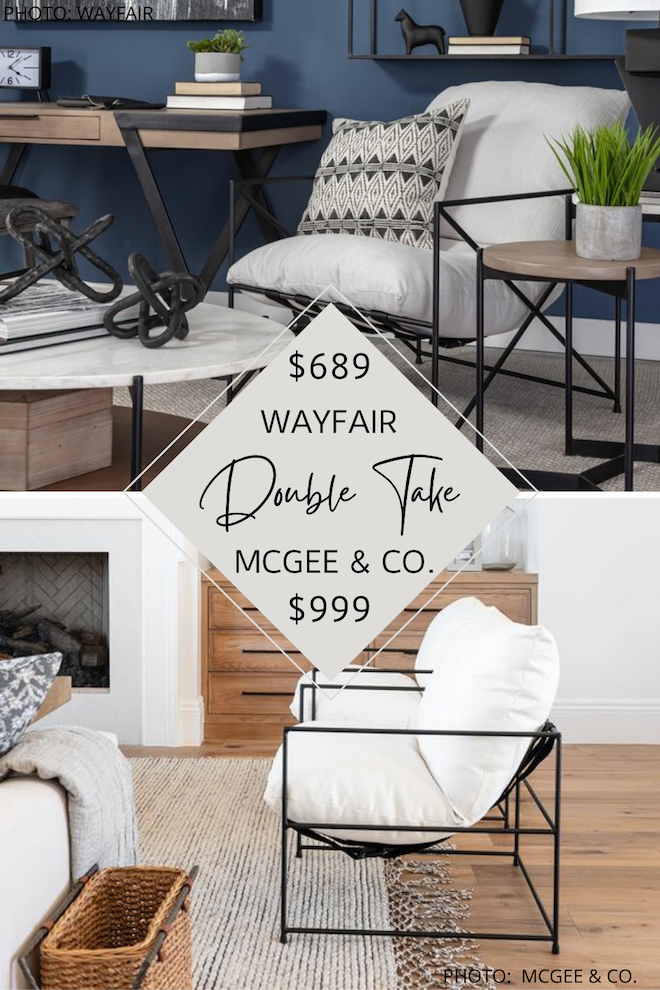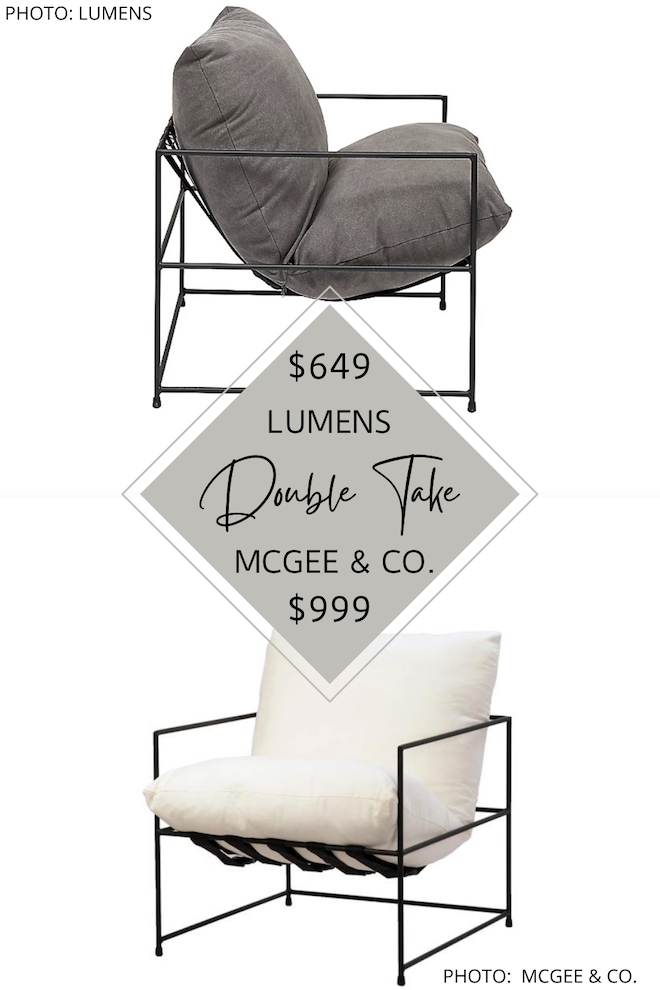 3. ANTHROPOLOGIE WALLACE CANE AND OAK ARMOIRE DUPE
I love cane furniture – dining chairs, stools, benches – you name it, I'm into it. The only problem is that it can be pretty expensive, which is where I come in. France and Son's cane armoire comes in two colours and gives you the same look as Anthropologie's Wallace Cane and Oak Armoire…but for literally half the price.
Top: France and Son Lemari Teak and Cane Wardrobe – Ivory, $1,499
Bottom: Anthropologie Wallace Cane and Oak Armoire, $2,998
Walnut: France and Son Lemari Teak and Cane Wardrobe – Walnut, $1,579
Alternate Dupes: Crate & Barrel Annie Natural Storage Cabinet, $1,699
Target Arched Wood Cabinet Brown – Opalhouse, $430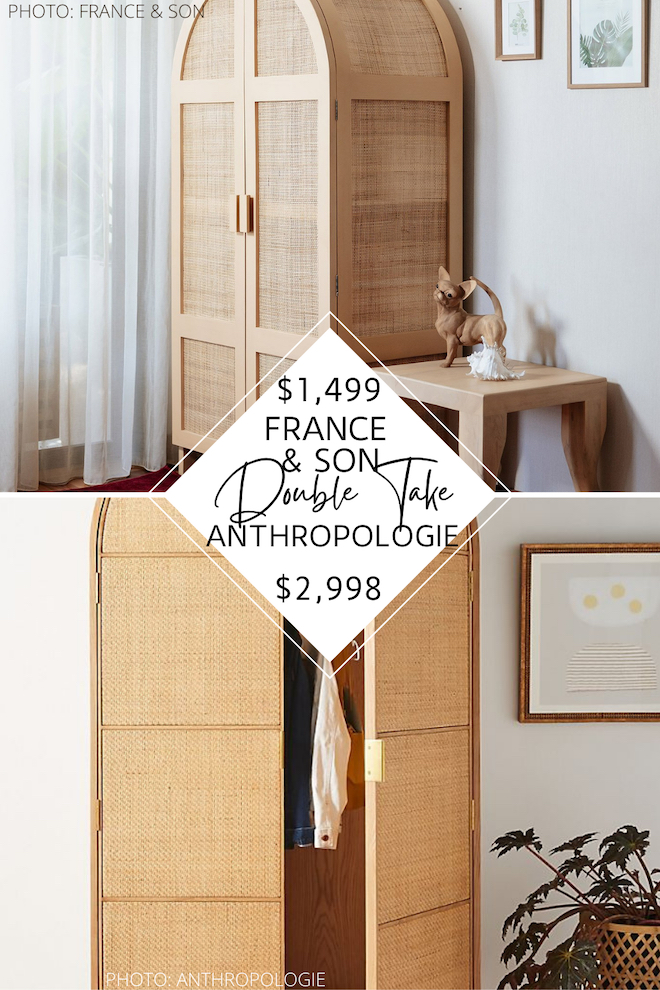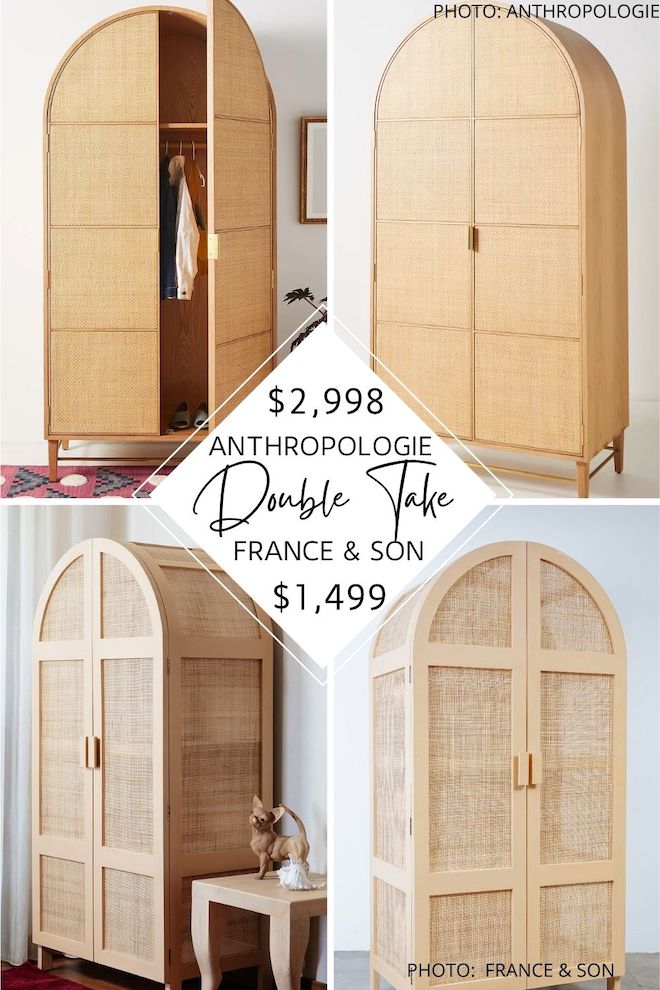 4. POTTERY BARN BENCHWRIGHT ROUND DINING TABLE DUPE
I've always loved round dining tables because I grew up with one and I feel like they really bring people together. Pottery Barn's round Benchwright dining table features an X-base and their signature Pottery Barn vibe; I did some "finding" and found a bunch of dupes that will save you up to $1,500! The best part is that many of my dupes are the same size as the Pottery Barn version, so you're not compromising size for price.
Pottery Barn Benchwright Round Pedestal Extending Dining Table, $1,999
Dupes: Wayfair Burlington Dining Table, $719
Wayfair Artirio Round Dining Table, $759
Wayfair Guarani Dining Table, $599
Wayfair Fanning Dining Table, $429
Wayfair Counter Height Dining Table, $509
Overstock Benchwright X-Base Round Dining Table, $866
Wayfair Leonila 48″ Trestle Dining Table, $489
Overstock The Gray Barn Rain Hut Slate Table, $422
Target Sierra Round Dining Table Wood Brown – Inspire Q, $1,524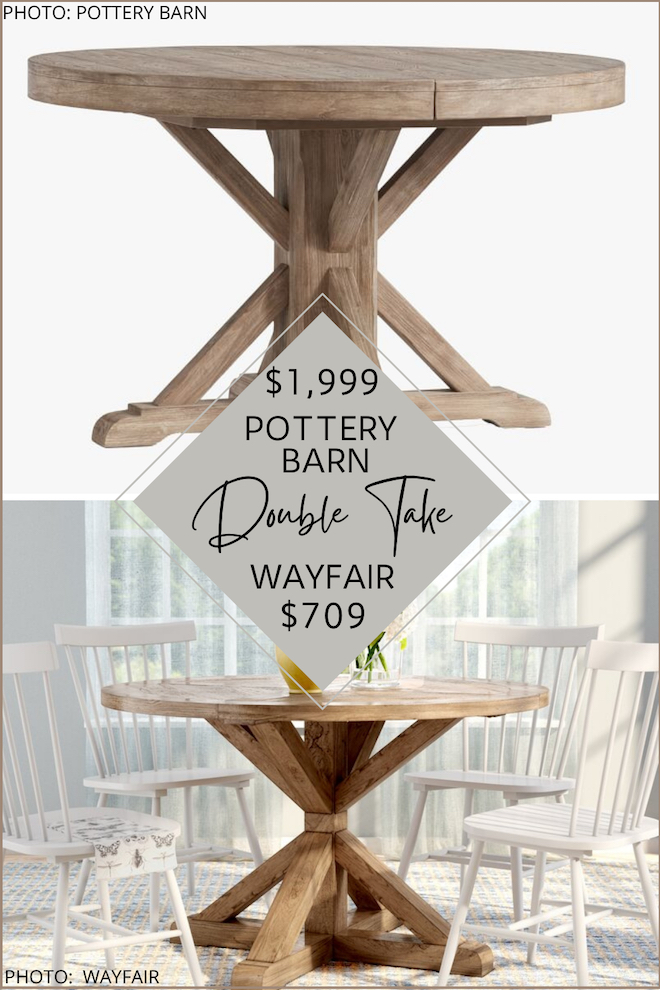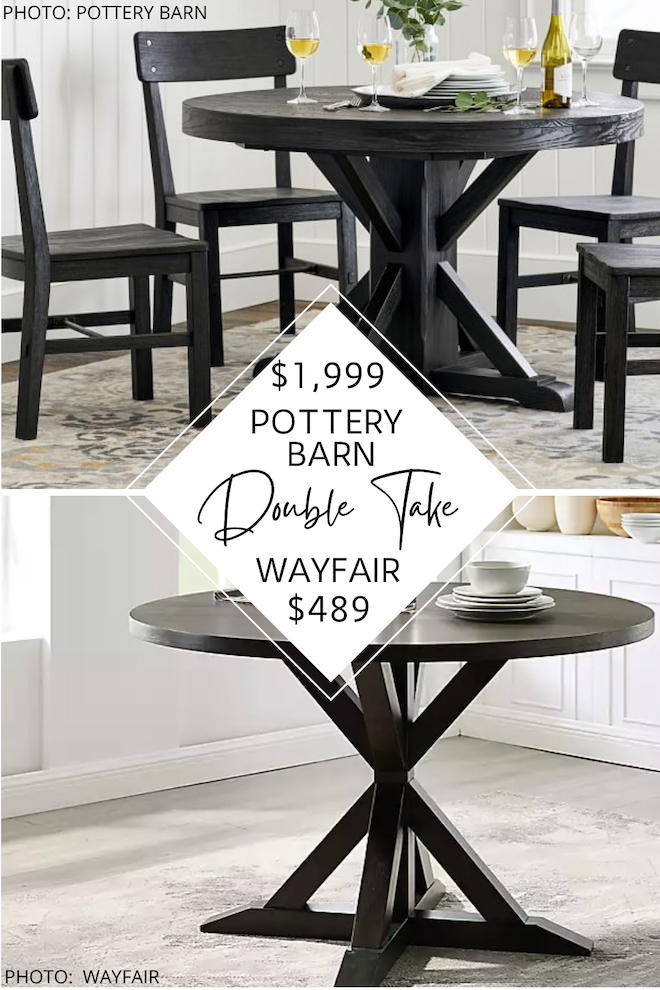 5. RESTORATION HARDWARE CLOUD BED DUPE
This find came about as a request by one of my followers on TikTok (yup, I joined everyone else and finally got an account. You can follow me here if you like). She loved my Restoration Hardware Cloud sofa Splurge and Save and wanted to know if I could find the bed. Ask, and you shall receive!
Bonus: if you want to save money, you can totally purchase just the bed frame or just the headboard.
Splurge: Restoration Hardware Cloud Bed, $6,795
Saves: Etsy Soft Frame Ultra – Headboard Only, $449
Etsy Soft Frame Ultra – Modern Platform Bed Frame, $649
Etsy Soft Frame Ultra Headboard and Frame, $1,099
Wayfair Dodu Bed, $2,432
EQ3 Cello Bed, $2,199
Rove Concepts Ophelia Bed, $2,019
Wayfair Omar Upholstered Low Profile Platform Bed, $1,063
Sundays Furniture Movie Night Bed, $3,250
One Kings Lane Leigh Platform Bed, Ivory Linen, $3,395
One Kings Lane Edson Platform Bed, Natural Linen, $3,445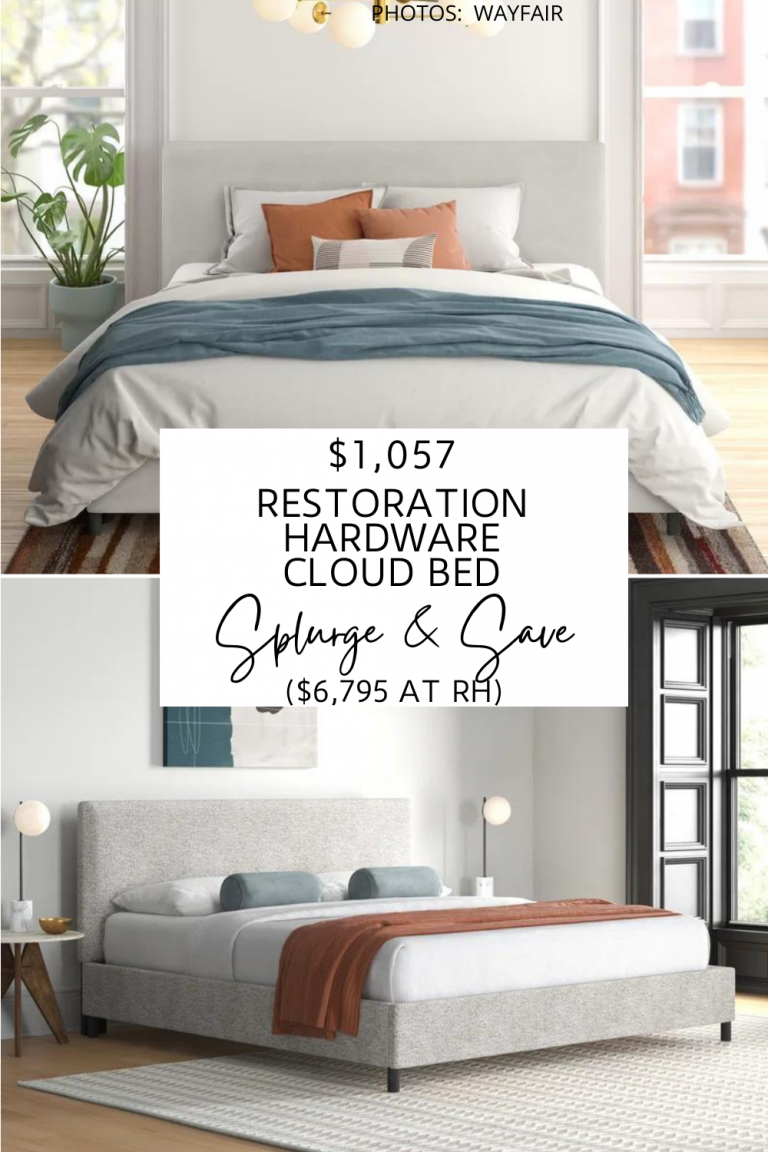 Still want more? Check out my extensive list of fashion, beauty, and decor deals at Kendra Found It or follow me on Instagram.