– Affiliate Post –
Disclosure: This post uses affiliate links. This means that if you purchase something that I feature, I'll get a small commission (this will not increase the price of the item).
If you've landed here, you're likely familiar with the joys of copycat decor. But just in case you aren't, allow me to explain:
A copycat or dupe looks similar to an expensive item, but costs way less. Love that $3,000 Restoration Hardware sideboard? I've got a much more affordable copycat for you. Drooling over that Serena & Lily pendant? I've got that too. If you're on a budget and love decorating, this is the place for you. Today I've rounded up five home decor dupes that will save you thousands, so sit back, relax, and let me do the shopping for you.
P.S. Don't forget to check out my previous copycat decor articles if you want more home decor dupes and look-alikes.
1. Restoration Hardware Parsons Slipcovered Side Chair Copycat
I found this copycat by accident; I was searching for a dupe for a Pottery Barn chair (see #5), and these slipcovered chairs showed up in my you may also like section at the bottom of the page. As someone that visits Restoration Hardware frequently, I instantly knew that these were an RH copycat; at $120 per chair vs. $670, they will save you $550 each.
Top: Wayfair Abbate Upholstered Dining Chair, $142
Bottom: Restoration Hardware Parsons Slipcovered Side Chair, $670
2. McGee & Co. Allen Table Lamp Copycat
McGee & Co. is one of my favorite places for home decor inspiration, but it can be super pricey (case in point: this $478 Allen table lamp). After a bit of digging, I was delighted when I discovered this $35 copycat – so much so that I bought it for myself!
My McGee & Co. lamp dupe comes in gold and silver, just like the Allen Table Lamp. I love the look of clear base table lamps, and at just $35, this one will give you the look for more than $400 less.
Top: McGee & Co. Allen Table Lamp, $500
Bottom: Target Project 62 Brass Table Lamp, $35
3. Serena & Lily Kentfield Pendant Copycat
Okay, so I know that I just said that McGee & Co. is one of my favorite places for inspiration, but Serena & Lily's lighting section is also a top contender. They have some of the most unique and stylish pendants, chandeliers, and lamps, but the prices can get very expensive very quickly. Serena and Lily's gold lantern pendant caught my eye, so I did a little searching, and Wayfair to the rescue! Their lantern chandelier looks very similar (even down to the white faux candle arms) and will save you $600. Bonus: Wayfair's dupe comes in black, silver, and gold.
Top: Serena & Lily Kentfield Pendant, $848
Bottom: Wayfair Tanguay Lantern Chandelier, $240
Alternate Dupes: Tanguay 6 – Light Lantern Rectangle Chandelier, $260
Maggiemae 4 – Light Lantern Geometric Chandelier, $135
4. Serena & Lily Balboa Bar and Counter Stool Copycat
I've got so many emails, DMs, and comments asking me to tackle Serena and Lily's Balboa Counter Stool that I had to listen. I'm not going to lie – this one was hard.
Serena and Lily is known for their beachy, coastal style so I had to find counter and bar stools with a similar wicker frame and the overall vibe. After a LOT of searching (it can take me hours), I was able to come up with Balboa Counter Stool dupe that I'm super proud of.
The rattan frame, square shape, and white cushions on my dupe look so similar to Serena and Lily. The best part? You'll likely be purchasing more than one stool, so you'll be saving $800 or more. Bonus: it also comes in a Balboa dining chair dupe version!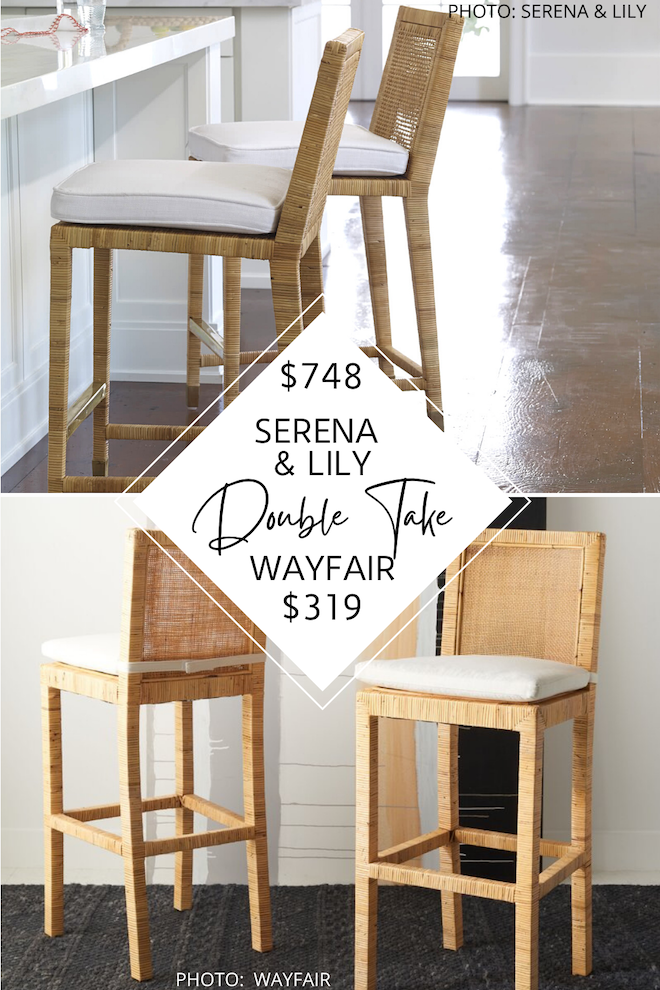 Top: Serena & Lily Balboa Bar and Counter Stool in Natural, $748
Serena & Lily Balboa Bar and Counter Stool in Mist, $748
Bottom: Mariah Solid Wood 29.53″ Bar Stool, $319
Alternate Dupes: Elaina Side Chair in Natural/White (Set of 2), $409
Wayfair Pine Isle Dining Chair, $517
Wayfair Pine Isle 24″ Counter Stool, $457
Pine Isle Side Chair, $374
5. Pottery Barn Raylan Upholstered Armchair Copycat
Pottery Barn's Raylan Upholstered Armchair pops up all over Pinterest as you're browsing living rooms; it's most frequently styled with a pair of them in a living room, but I've also seen them used in guest bedrooms, offices, and even a nursery. At $879 for the upholstery version (it also comes in leather and other materials), it's quite the investment if you're purchasing two. Wayfair's gray Gassville Armchair is a perfect dupe for Pottery Barn's Raylan chair and will save you $500 per chair.
Top: Pottery Barn Raylan Upholstered Armchair, $879
Bottom: Wayfair Greyleigh Gassville Armchair, $340
Still want more? Check out my extensive list of fashion, beauty, and decor deals at Kendra Found It or follow me on Instagram.