My mom breastfed me until I was three. She had milk for days and even donated some to hospitals way back when. So I figured I'd be just like her and I never even considered that I would have an issue breastfeeding my firstborn. Not the case. It was nearly impossible. Nipples cracking, bleeding, breaking into a full-body sweat with each latch, my cracking nipples drying to my shirts between feedings; nightmare. The doctors and some around me encouraged me to try "harder", it's your age, you're stressed out, you have a business, you need to relax, get some rest, etc, the stuff that mom-guilt is made of. So I ended up pumping exclusively for 5 months and that was also excruciating. Turns out at her 6-month check-up, a new pediatrician quickly found that she had a severe lip-tye and said that was the sole reason she couldn't latch. OMG. Can you say relief and anger all at the same time! To the other pediatricians we saw, f-you for making me feel bad and for not catching it the day she was born. UGH, it still gets me.
The second time around I was fully prepared. I had my two pumps, fresh cords, bottles, the works. My son came out and latched immediately. No issues at all. Basically, a freaking dream come true and as I type this, it's day 6 of him being fully weaned at 18 months. It really couldn't have gone better. It was pleasurable like all the books said. The bonding, the cozy mornings just me and him. The ease of going out and needing nothing but me. Not needing to pump was a dream all by itself. Feeling like a failure the first time around and then being redeemed the second time around, made it all that much more sweet.
I say all this to explain that my breastfeeding journey as a mother has been traumatic and terrific all wrapped into one. It truly is a miracle and once I saw that breastmilk jewelry was a thing, I knew I wanted to encapsulate a little of my body's own magic into a special keepsake. Something special to remind myself just how incredible being a mother can be. I'm so in love with the result, I don't even want to take my ring off.
If you aren't into this or you don't get it, that's totally cool, this post isn't for you… it's for those who immediately say, OMG ~ I want one too!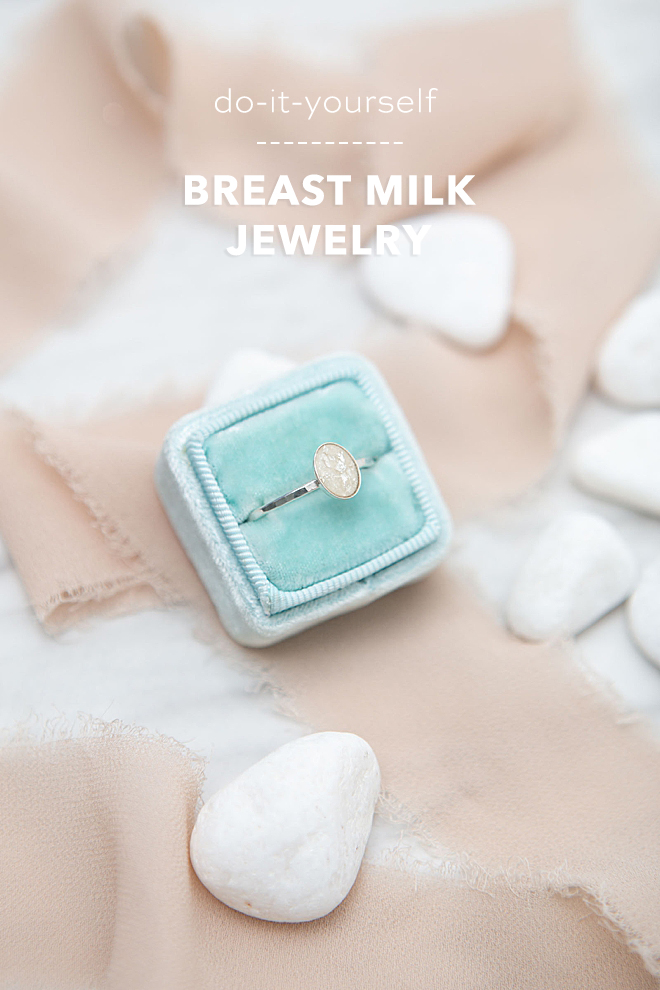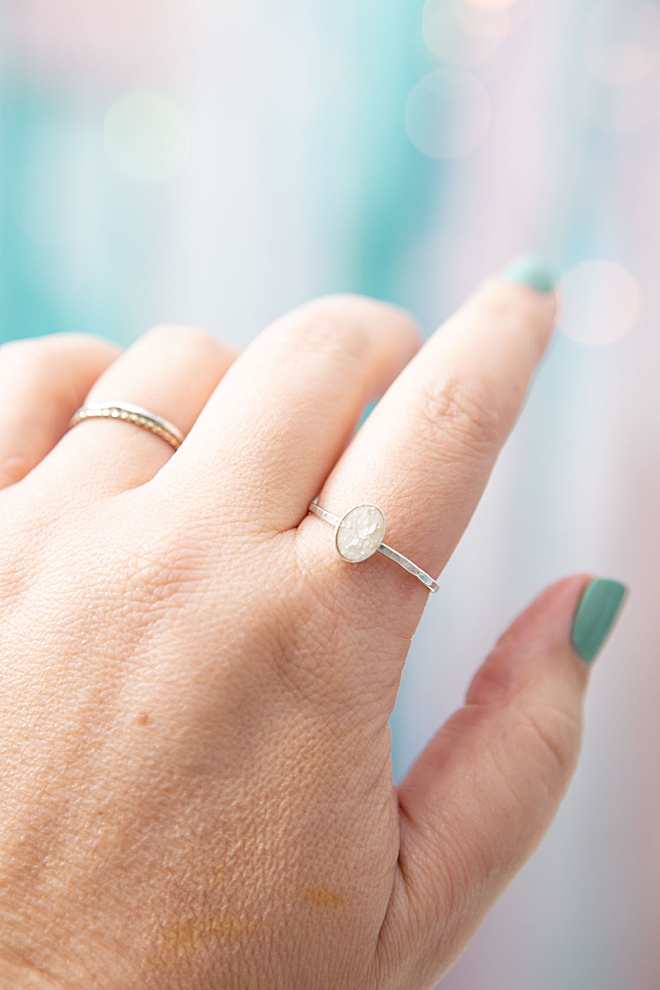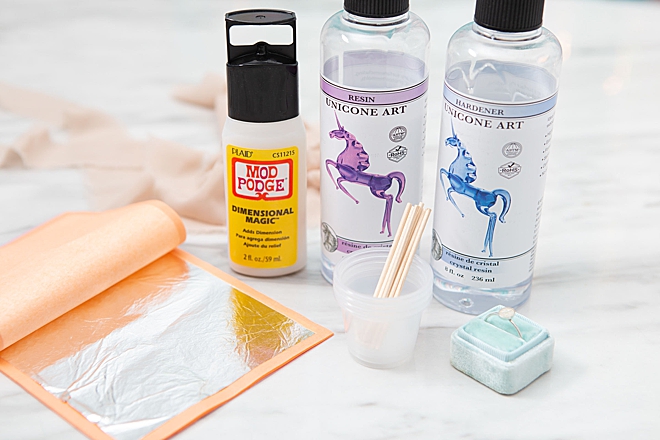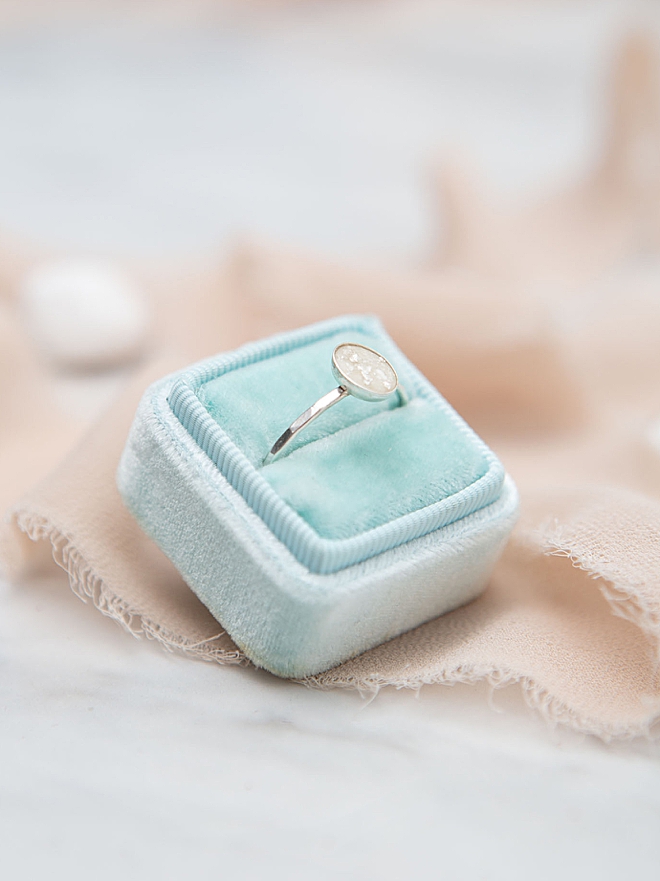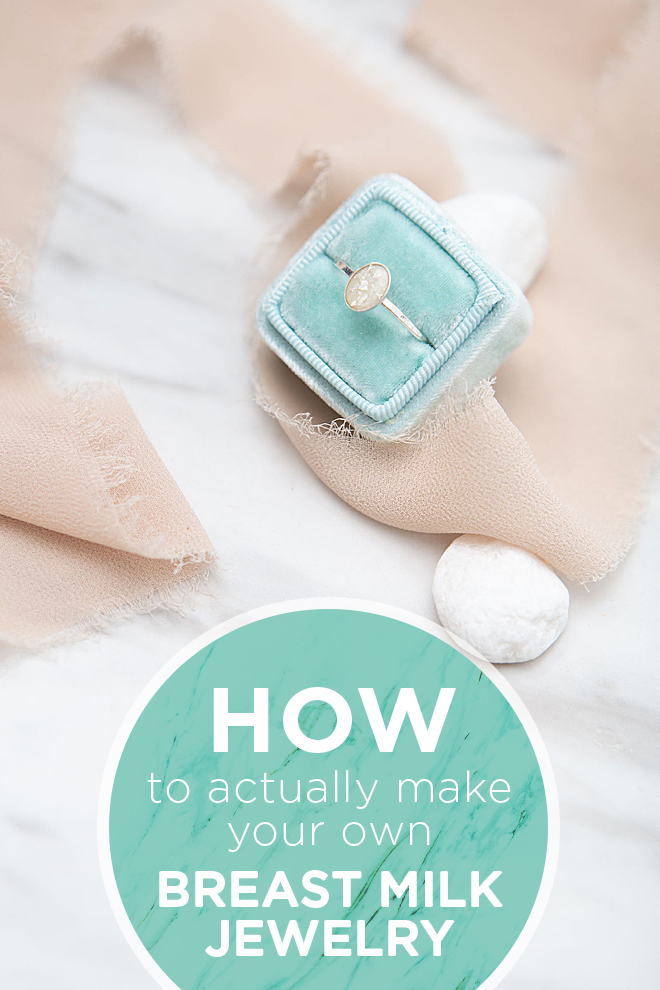 If you create one of our projects, please share a picture with us on Instagram or Twitter using the hashtag #somethingturquoisediy, we regularly reshare our favorites! Your profile will need to be public for us to see it otherwise, you can always DM us!
DIY Tutorial Credits
Photography + DIY Tutorial: Jen Causey-Kidder of Something Turquoise // 8mmx6mm Sterling Silver Oval Bezel Cup Ring Blank: ArmoredSupplyCo via Etsy // Unicone Art Epoxy Resin: Amazon // Mod Podge Dimensional Magic: Amazon // Genuine Silver Leaf: Amazon // Cornstarch: the grocery store // little cups: my personal craft stash // Ring Holder: The Mrs. Box
Shop The Supplies:
Find the supplies you'll need for this project from our affiliate links below: