– Affiliate Post –
Disclosure: This post uses affiliate links. This means that if you purchase something that I feature, I'll get a small commission (this will not increase the price of the item).
Decorating on a budget? Love saving money? Like nice things?
If any (or all) of these sound like you, you've come to the right place. I'm Kendra Found It, and I'm all of these things. I believe that you can shop big, but spend small, and a bigger price tag doesn't necessarily mean bigger style.
Today I'm sharing five of my Double Takes (also known as decor dupes) for your home. What's a dupe? It's an item that looks similar to an expensive product but costs much less.
This is not my first rodeo around here, so if you like what you see, check out the rest of my dupes and deals here (we're talking Restoration Hardware, Pottery Barn and more).
Okay, enough small talk; let's get to the good stuff.
1. POTTERY BARN BANKS ROUND PEDESTAL DINING TABLE DUPE
Pottery Barn does so many things well: entertainment units, couches, beds, and dining tables, to name a few. So when one of you asked me to find a Pottery Barn dining table dupe, I was up for the challenge. The requestor wanted a round table similar to the Pottery Barn Banks dining table, and I got bonus points if it had some intentional distressing and farmhouse vibes.
Not only did I find one Pottery Barn dining table copycat, I actually found eight different options! I feel like I aced this test, but go check them out for yourself and leave a comment below which one you like best.
Pottery Barn Banks Round Pedestal Extending Dining Table, $2,199
Dupes: Wayfair Cheatham Solid Wood Dining Table, $759 World Market Round Gray Pine Wood Lisette Dining Table
Wayfair Fortunat Extendable Dining Table
Overstock Carbon Loft Nightingale Round Wood Dining Table
Wayfair Whitten Dining Table
Overstock Copper Grove Asperg Grey Weathered Teak 54-inch Round Dining Table
Overstock Alpine Furniture Kensington Natural FInish Pine Round Dining Table
Overstock Pengrove Round Mango Wood Dining Table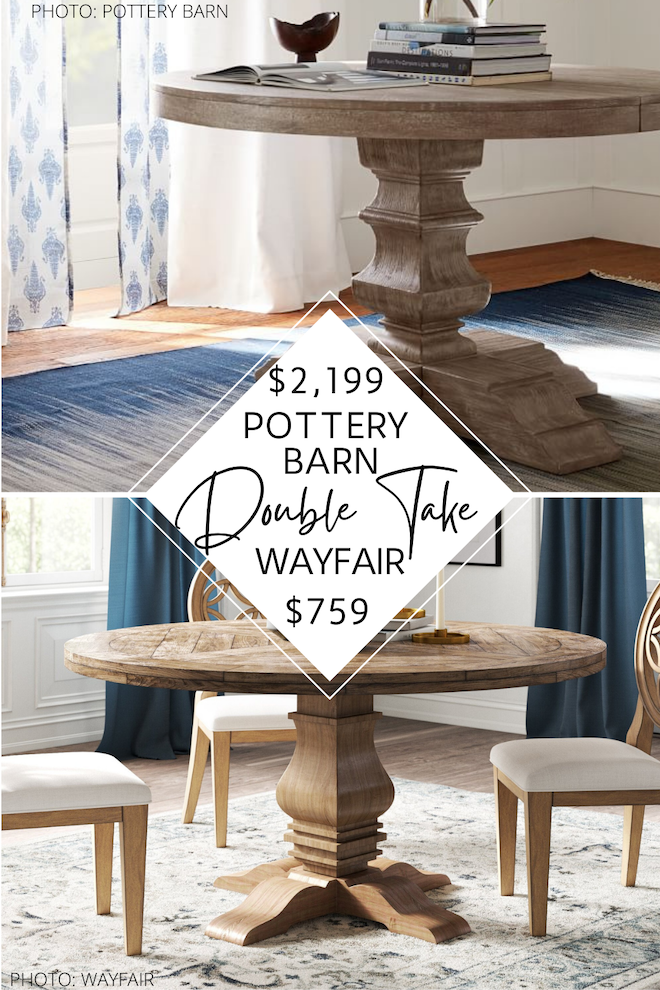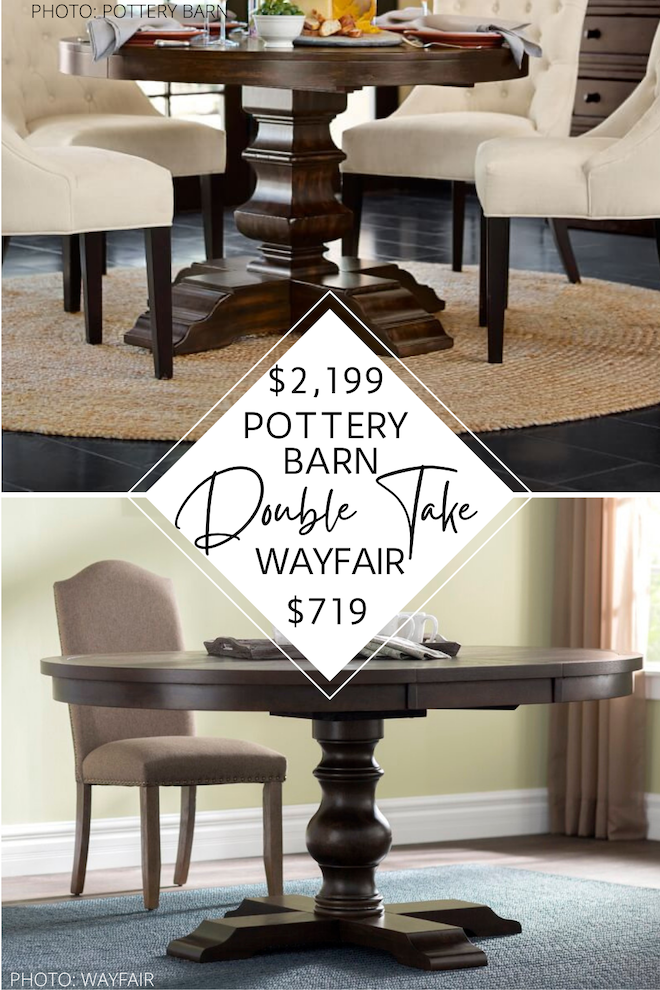 2. ANTHROPOLOGIE DECO BED DUPE
When it comes to beds, Anthropologie has a great selection of unique, funky, and vintage style beds. A follower on TikTok asked me for an Anthropologie Deco Bed dupe and as soon as I searched it, I knew I had seen similar options at a few different retailers.
After some digging and searching, I found six different metal deco beds that look so similar to Anthropologie! The best part is that they come in different colours, so you can choose from white, black and gold, copper, and more. If you want more Anthropologie bed copycats, make sure you check out my Anthropologie Lombok bed Double Take.
Anthropologie Deco Bed, $1,598
Dupes: Home Depot Delacroix Black Metal King Bed with Gold Detail, $401
Wayfair Astrid Platform Bed, $859
Joss and Main Paloma Standard Bed, $383
Joss All Modern Paloma Open-Frame Headboard, $221
Walmart Novogratz Boutique Olivia Metal Bed, Queen Size Frame, Black and Gold, $250
Joss and Main Marceno Standard Bed, $383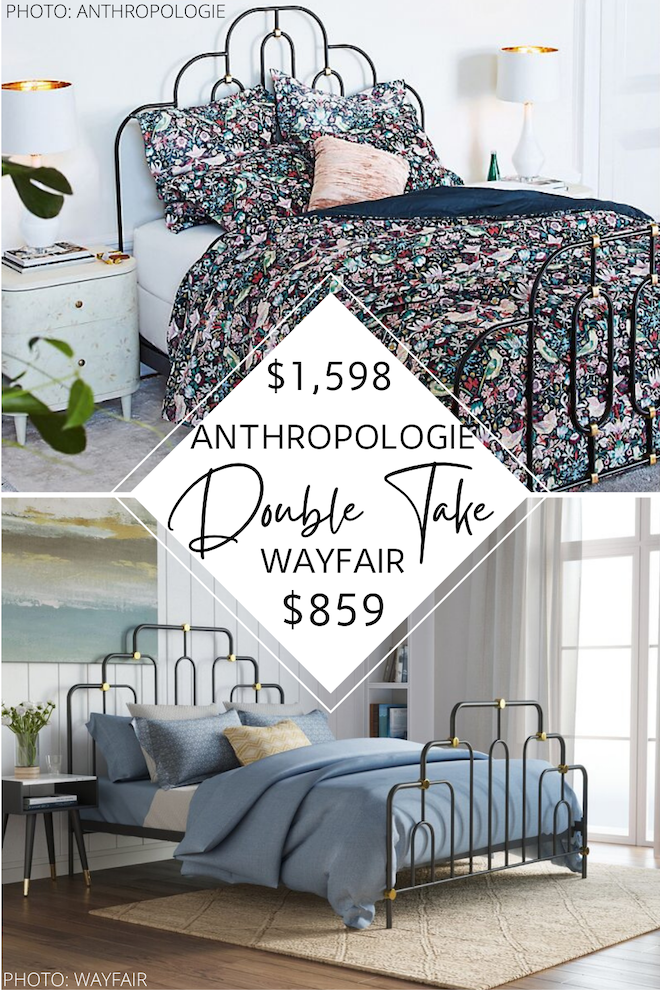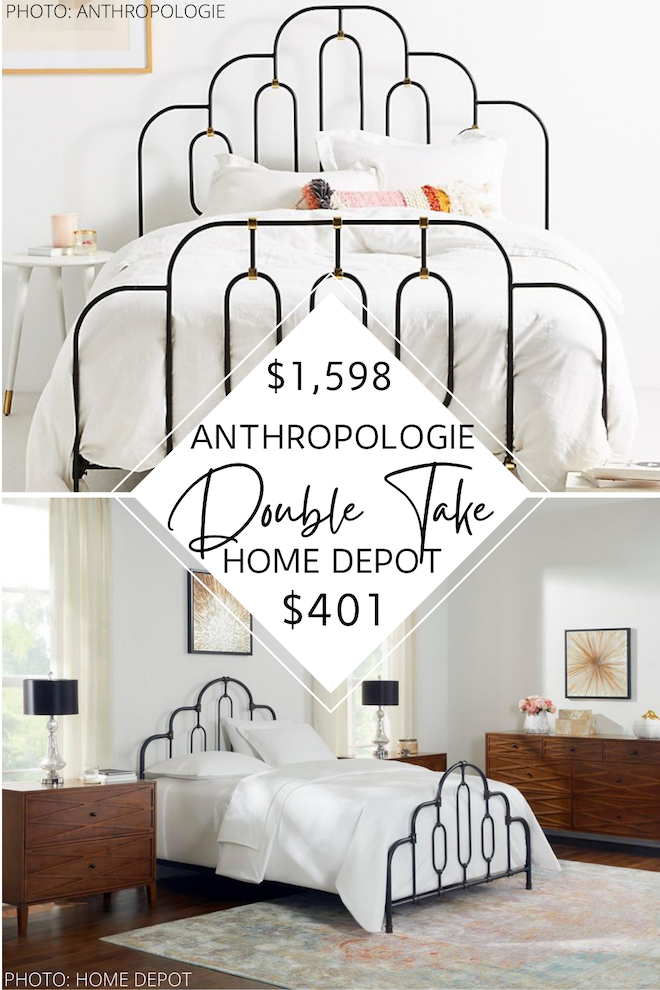 3. WEST ELM AUDREY NIGHTSTAND DUPE
By nature, my copycats are supposed to look similar (obv.). But sometimes even I'm shocked how similar two different items (and prices) from two different companies can be. This West Elm Audrey Nightstand is a perfect example of that. I literally had to pull up each photo and compare it next to each other to really identify the differences (the leg configuration).
If you're looking for a sleek bedside table, Wayfair's 2-drawer nightstand could be it. The enamel finish combined with the geometric texture drawers create a modern, yet vintage vibe.
P.S. Don't forget to check out my other West Elm nightstand Double Take here.
West Elm Audrey Nightstand – Charcoal, $699
Dupe: Wayfair Francesca 2 – Drawer Nightstand, $299
Matching Dressers: Wayfair White Capra 3 Drawer Chest, $699
Wayfair Capra 7 Drawer Double Dresser, $1,029
Wayfair Capra 5 Drawer Chest, $839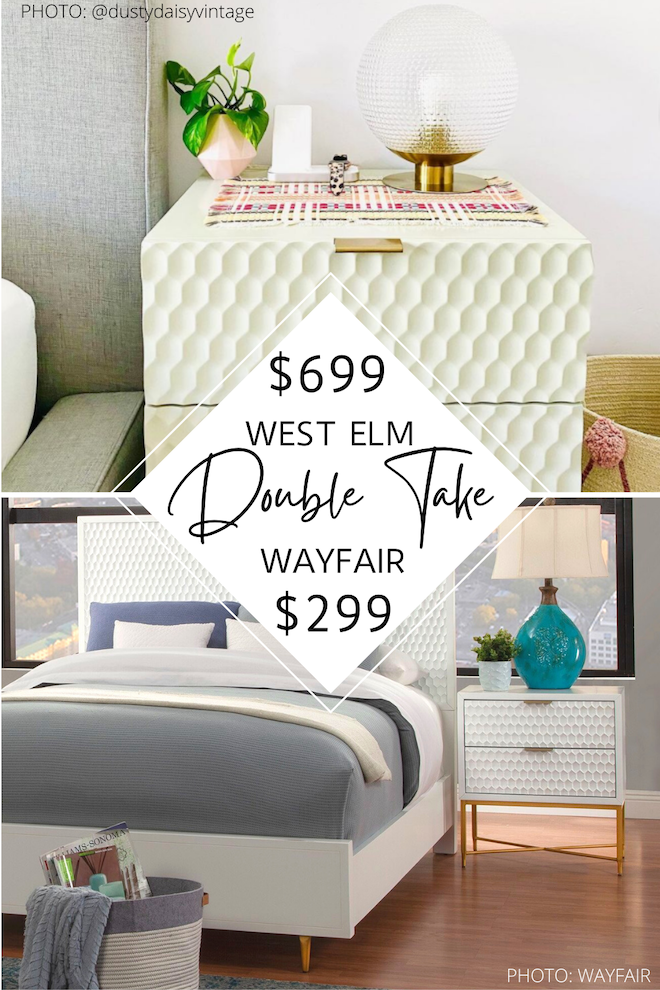 Top photo: @dustydaisyvintage
4. POTTERY BARN BERLIN SQUARE OTTOMAN DUPE
If you love a good Pottery Barn dupe, this find is for you; I discovered this Double Take while I was searching for a coffee table copycat for a reader. I literally did a bit of a double take (which is where the name came from) when I saw this Pottery Barn Berlin Square Ottoman dupe.
The great thing about this find is that this tufted ottoman can actually also be used as a coffee table! Just put a tray on top of it and boom – you've got yourself a tufted coffee table. The only thing I love better than a Double Take is a Double Take that does double duty!
Pottery Barn Berlin Square Ottoman, $849
Dupes: Wayfair Aadi French Tufted Cocktail Ottoman, $549
Wayfair Hailey Shelved Tufted Cocktail Ottoman, $329
Wayfair Acantha Cocktail Ottoman, $369
Wayfair Euphony 30″ Shelved Tufted Square Cocktail Ottoman, $289
Wayfair Fasano Tufted Cocktail Ottoman, $459
Wayfair Mayfair Tufted Cocktail Ottoman, $409
Wayfair Kierra Tufted Cocktail Ottoman, $429
Wayfair Athena Solid Wood Floor Shelf Coffee Table with Storage, $519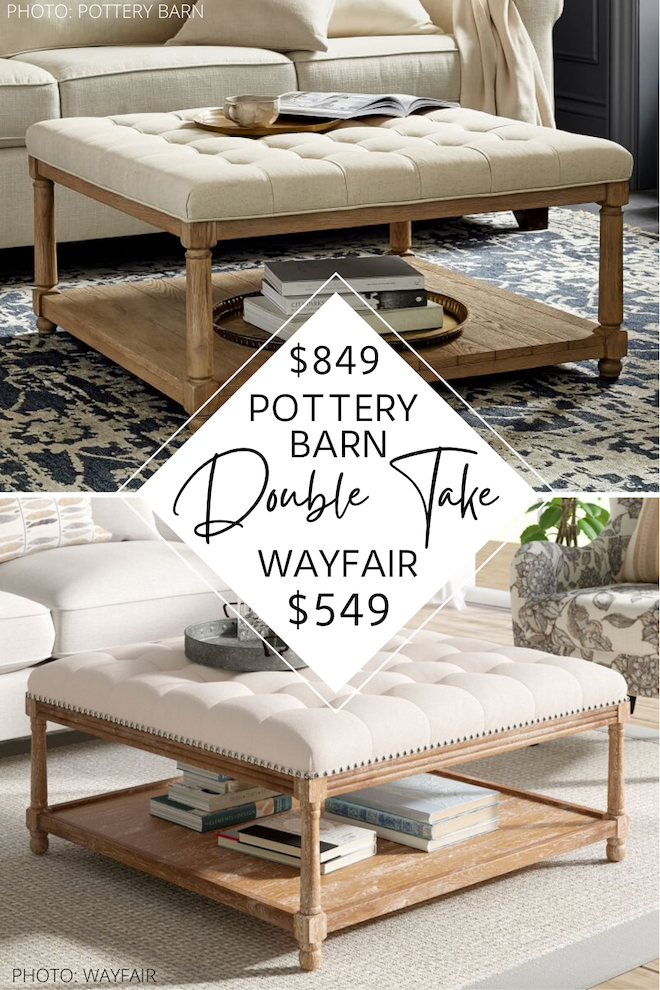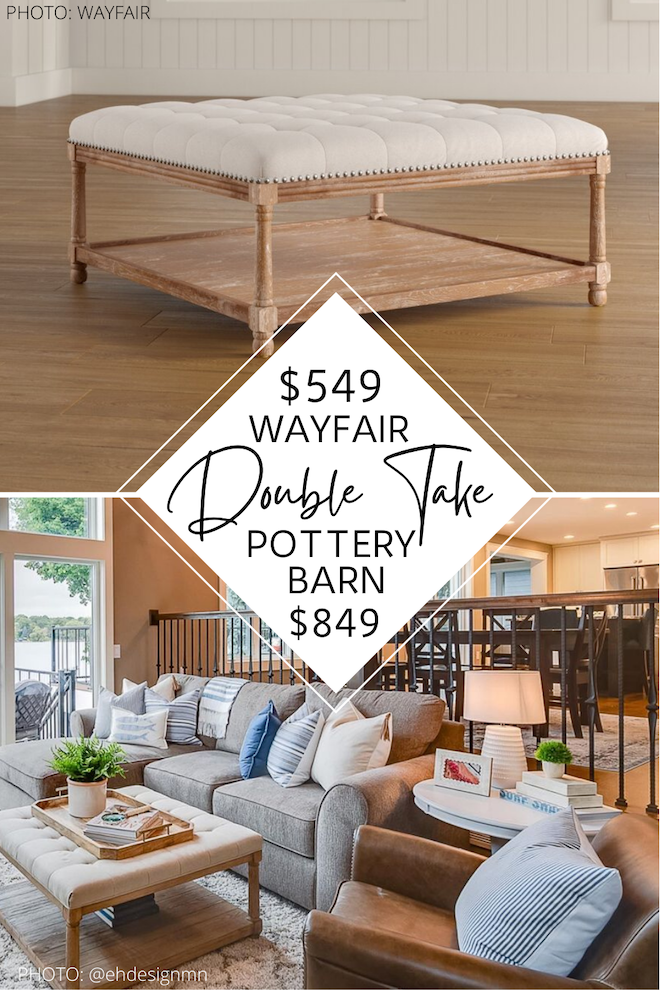 Photo: @ehdesignmn
5. SPLURGE AND SAVE: WEST ELM MID-CENTURY MINI DESK
The West Elm Mid-Century Mini Desk is small but mighty. It's a mini version of their best-selling Mid-Century Desk and features a sleek mid-century design, a rectangular drawer, rounded legs, minimalist metal hardware, and is made of kiln-dried solid and engineered wood.
World Market's Oakpark Walnut Brown Wood Desk features a mid-century style, rounded legs, sleek lines, rich brown tones, a rectangular drawer, and is made of solid rubberwood, MDF and birch veneer.
Splurge: West Elm Mid-Century Mini Desk, $499
Saves: World Market Oakpark Walnut Brown Wood Desk, $249
Wayfair White Grady 35.75" Desk, $269
Wayfair Grady 35.75" Desk, $239
Wayfair Brown Lundquist 35.5" Desk, $379
Still want more? Check out my extensive list of fashion, beauty, and decor deals at Kendra Found It or follow me on Instagram.