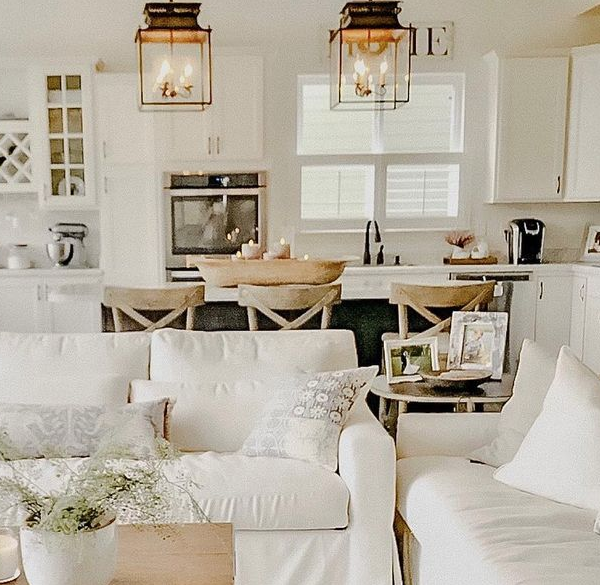 Home Decor Dupes for Serena and Lily, Anthropologie, and Pottery Barn
– Affiliate Post –
Disclosure: This post uses affiliate links. This means that if you purchase something that I feature, I'll get a small commission (this will not increase the price of the item).
Decorating on a budget? Love saving money? Like nice things?
If any (or all) of these sound like you, you've come to the right place. I'm Kendra Found It, and I'm all of these things. I believe that you can shop big, but spend small, and a bigger price tag doesn't necessarily mean bigger style.
Today I'm sharing five of my decor dupes for your home. What's a dupe? It's an item that looks similar to an expensive product but costs much less.
This is not my first rodeo around here, so if you like what you see, check out the rest of my dupes and deals here (we're talking Restoration Hardware, Pottery Barn and more).
Okay, enough small talk; let's get to the good stuff.
1. SPLURGE AND SAVE: SERENA & LILY AVALON DINING CHAIR
Serena and Lily's Avalon Dining Chair is the quintessential coastal dining chair. It's is made of hand-shaped, handwoven rattan, features an airy, elegant frame, and the cushion can be customized with 12 different fabric options.
Walmart Baxton Studio Orchard Modern Bohemian Rattan Dining Chair is made of natural rattan, comes fully assembled, has a white fabric seat, and features a modern coastal style.
Thanks for finding it with me.
Splurge: Serena & Lily Avalon Dining Chair, $698
Saves: Walmart Baxton Studio Orchard Modern Bohemian Rattan Dining Chair, $309
Home Depot Baxton Studio Orchard Fabric Dining Chair, $377
Target Orchard Fabric Upholstered and Rattan Dining Chair White/Natural, $458
World Market Natural Rattan Nylah Dining Armchair, $249
Wayfair Sawyer Barrel Chair, $276
Wayfair Stotts Modern Bohemian White Upholstered And Natural Rattan Dining Chair, $479
2. Pottery Barn Faith Bar and Counter Stool Dupe
If you love wishbone chairs, this find is for you. If you're not sure what a wishbone chair is, you're looking at it. Also known as a Y Chair, it has roots in Danish design and is named for its Y (or wishbone-shaped) backrest.
Pottery Barn's Faith bar and counter stool is absolutely stunning, but at $550 a chair, it's not in everyone's budget. I did some digging and not only did I find a copycat wishbone counter stool, I found dupes in multiple colors. So no matter your budget and color preference, I've got something for you!
Top: Wayfair Sydnee Bar & Counter Stool, $243
Bottom: Pottery Barn Faith Bar & Counter Stools, $549
Alternate dupes: Wayfair Danera 26.5" Counter Stool, $296
Wayfair Zeitler Bar Stool, $390
Home Depot Wishbone Bar Stool, $239
Amazon Stone & Beam Beech Wishbone Barstool, $249
Joss and Main Rashid Counter & Bar Stool, $328
3. SPLURGE AND SAVE: ANTHROPOLOGIE LOMBOK BED
Love Anthropologie? Me too. Their unique decor and bedding is my favorite, and it seems like it's yours too; I get Anthropologie furniture Splurge and Save requests all the time, so today I'm tackling the Anthropologie Handcarved Lombok Bed.
Anthropologie's Lombok bed features an intricate handcarved headboard, is made of tropical hardwood, and is available in a natural, white-washed, or indigo finish.
I found similar medallion patterned beds at Wayfair, World Market, Home Depot, and Ashley Furniture; they are available in a full bed or just a headboard and come in grey, white, black, and cream.
Splurge: Anthropologie Handcarved Lombok Bed, $3,198
Saves: Wayfair Grey Boho Chic Bed, $1,494
Wayfair Black Corder Queen Solid Wood Platform Bed, $2,029
World Market Gray Carved Mahogany Floral Medallion Verena Bed, $1,499
Ashley Furniture Bantori Panel Bed, $1,529
Home Depot Chennai Whitewash Queen Platform Bed, $2,100
Wayfair Orellana Panel Headboard, $989
Wayfair Standifer Queen Solid Wood Platform Bed, $2,999
Wayfair Baxter Low Profile Standard Bed, $1,400
4. SPLURGE AND SAVE: VISUAL COMFORT GO LIGHTLY CHANDELIER
Lumens' Go Lightly Small Chandelier is a traditional and contemporary chandelier that features slim metal arms, silk light shades, and is 19.75 inches wide. It comes in black, silver, and gold, and has a sleek, modern silhouette.
Wayfair's Carmack Classic / Traditional Chandelier features a modern traditional style, 100% cotton shades, a gold finish, and is 15.5 inches wide.
Top: Lumens Visual Comfort Go Lightly Small Chandelier, $739
Bottom: Carmack 4 – Light Shaded Classic / Traditional Chandelier, $135
5. Pottery Barn Bolton Metal Lantern Pendant Dupe
Lantern lighting is so versatile. You can use it almost anywhere: a bedroom, home office, dining room, guest bedroom, living room, entryway, over a kitchen island, and even outdoors.
I loved the sloping roof and classic lantern shape of Pottery Barn's Bolton metal pendant, so I did some digging and found Ballard Designs' lantern pendant! It has the same rustic vibes and shape, but is almost half the price.
Pottery Barn Bolton Metal Lantern Pendant, $499
Ballard Designs Piedmont 4-Light Lantern, $279
Photo: @emariehome
Photo: @Humble_haven
Still want more? Check out my extensive list of fashion, beauty, and decor deals at Kendra Found It or follow me on Instagram.