With the rise in popularity of the charcuterie board… and the rise in population at my house (LOL), snack dinners have become something of a favorite in our home. I absolutely love cooking but oohh, when it's snack night, I love that too and so do my girls. I keep my fridge and pantry stocked with healthy grab-and-go type snacks regularly anyway, so whipping up a cute snack board usually takes me about 15 minutes. If I'm implementing something that I'm cooking or chopping that adds a few minutes onto the prep. My hubby is 39% Irish, thank you spit tube test, and so I wanted to make us something extra fun for the holiday. I added a few specialty items to my grocery list for the week and in no time flat, assembled this amazing board. Steps and video below!
Grocery Shopping
With three under four, actually getting to the grocery store is a treat for me, so I ordered all my supplies via InstaCart, PrimeNow, and Amazon. I wanted to include the typical Irish items, like corned beef (that the hubby picked up from our local deli), potatoes, and cabbage, plus some fun green and gold-colored foods as well that I know my family enjoys. The only unusual items that I had to add beyond our regular weekly shopping was the corned beef, pretzels, cabbage, and the colored candies, which I added very sparingly. Here's my final list:
Corned Beef Slices
Soft Baked Pretzels
Shredded Cabbage
Tater Tots
Salami
Gerkins
Sliced Carrots
Potato Chips
Hard-Boiled Eggs
Colby Cheddar Cheese
Green Grapes
Green Apple
Olives
Kiwi
Bell Peppers
Hummus
Mustard
Gold Coins
Green Lifesavers
Shamrock Sprinkles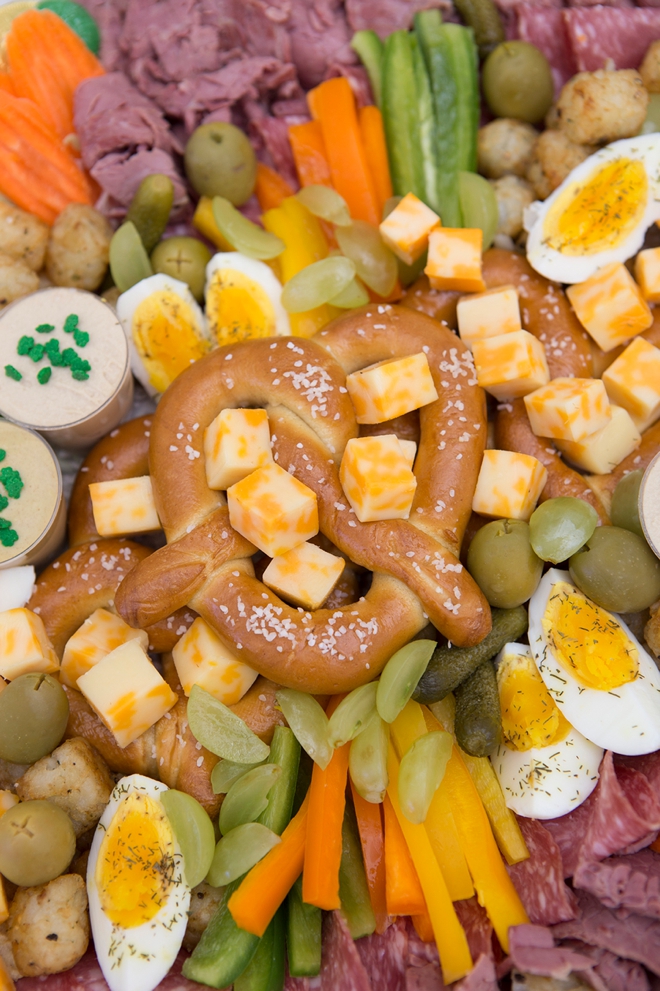 Chop While You Bake
The Tater Tots took 28 minutes to bake and the pretzels took 4, so I put them in the oven and got to chopping. The bell peppers, kiwi, eggs, grapes, apple, and cheese really didn't take that long to chop it was about 12 minutes. The rest of the baking time I used to get the other items together, including putting the mustard and hummus in plastic shot glasses.
Assemble
I have a set of 3 brand new cookie sheets in 3 sizes that I use for my "family" snack boards. I have many other beautiful wooden and marble trays, but let's be real, they're not for the littles, so cookie sheet it is. I knew I wanted to put the corned beef on a bed of shredded cabbage in each of the corners and then I filled things in from there. I went to the next biggest items, the pretzels, and the chips, then filled in the board diagonally with the medium and small snacks. Sprinkled in the little stuff and checked to make sure the coloring was even. Added shamrock sprinkles and cocktail picks to finish the board!
Start With The Big Stuff; meat, chips, pretzels.
Then Look At Color; try to evenly distribute it.
Add The Small Stuff; small stuff is fun because it can go anywhere
Fill In The Gaps; look for any gaps and see what color you need
Finish With The Details; add sprinkles and cocktail picks!
Shamrock Picks
I used my Cricut Maker and some gold glitter paper to whip up some themed cocktail picks. Put them together with skewers and Glue Dots, and while they only lasted for a few minutes because the girls destroyed them, they were pretty cute.
Snack Meal Success
Don't worry, my child doesn't eat on the table, I got her new leggings and did it just for the cute picture and board reveal, LOL. Both Grandma's we're over and so they also enjoyed this special snack board meal. With four adults and two littles, the only things that remained were a few strips of bell pepper and some shredded cabbage. When the plates (or tray) are clean, this mama is happy!
If you create one of our projects, please share a picture with us on Instagram or Twitter using the hashtag #somethingturquoisediy, we regularly reshare our favorites! Your profile will need to be public for us to see it otherwise, you can always DM us!
DIY Tutorial Credits
Photography + DIY Tutorial: Jen Causey of Something Turquoise // Large Gold Cookie Sheet: Target // Most Groceries: Sprouts // Shamrock Sprinkles: Amazon // Gold Coins: Amazon // Plastic Shot Glasses: Amazon
Shop The Supplies:
Find the supplies you'll need for this project from our affiliate links below: