Taking care of your guests on your wedding day starts the moment they arrive. It's your big day, but the big rule of hospitality is that you want to make sure everyone is happy and comfortable the entire time you are entertaining them. And heck, that's just Party 101 so no one will be dragging to get into the celebration spirit!
Weddings tend to be all-day affairs, and while exciting, can be tiring, so be sure to communicate to your guests that you want them to enjoy every second by creating custom bathroom baskets with amenities to freshen them up and get them back to the dance floor or snacks ASAP.
Since my husband and I try to live an eco-conscious life the best we can afford, I've designed this basket inspiration around awesome consumable products that guests and the Earth would approve of. If you wouldn't personally use it at home, then don't include it since there may be leftovers and guess who's stuck with it? Minimize waste and give your best recommendations to your loved ones!
Eco-guilt is also real, so be kind to yourself and focus on what's available to you within your budget while you curate a thoughtful basket. Either way, a little refresh station is always a good idea no matter what all is included.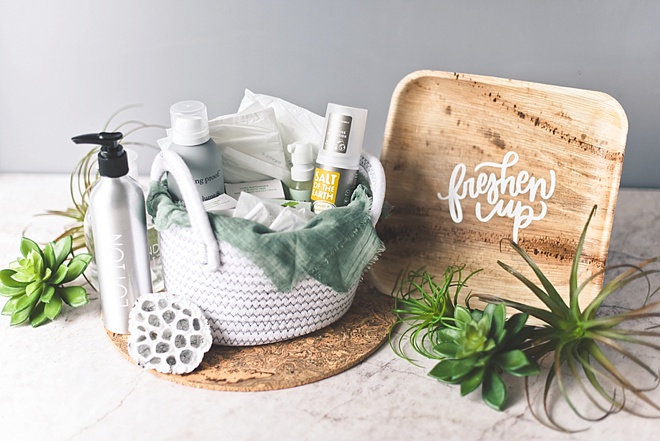 BASKET SUPPLIES:
BASKET SIGN SUPPLIES:
---
Maker's Note
The best part about assembling your own baskets is that you can customize them in any way that fits your event. Beyond eco-conscious, these ideas I'm sharing are with "many people will use this" and works with any event in mind. If you're having an outdoor wedding, you may want to also include sunscreen or bug spray. If you're having a destination wedding, you may want to include a few locally-made skincare items in your baskets. If you're having an after party, you may want to include heel liners or shoe inserts. Set a budget and get creative!
Save some money, and rebottle some of your at-home favorites by putting lotions or other liquids into reusable aluminum bottles. Be sure to label them with your Cricut so guests know what they are!
---
CHOOSE A BASKET
Find a basket that is not too big, not too small, and can fit all of your goodies. Look around your house and ask family first before going to buy one. Save a few pennies but also upcycle something pre-loved to minimize waste.
I chose a sustainable cotton rope one because it matched my home decor. So if you need to buy new, make sure it's something that you can use again after the wedding and would fit in at home.
CHOOSE FABRIC LINER
Take a few gauze or linen napkins to create a liner over the edge of your basket. Of course this step is optional, but it sure does look nice!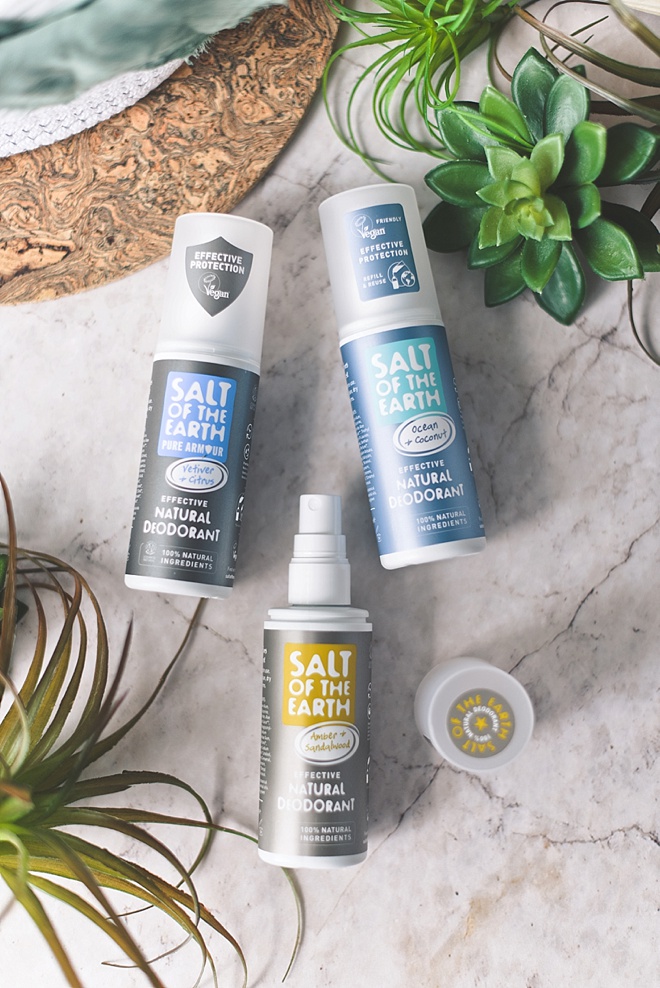 REMEMBER THE PITS
Every wedding I have attended and have seen a bathroom basket, there is always a spray deodorant… and for good reason! We kinda don't want to get stinky while working up a sweat in our wedding day finest. Fair enough, so let's offer up a tried-and-true natural option for under the arms for better health and better Earth-friendliness. Avoid roll-ons or bar deodorants for obvious hygiene issues.
If you're new to natural deodorants, you'll want to look for all-natural ingredients, free from synthetic chemicals, and will not block your skin's pores, allowing your body to sweat naturally. Many natural deodorants are also cruelty free and vegan as well as being aluminum-free. When natural active ingredients are used, they absorb moisture, soothe skin, and of course leave you feeling fresh and smelling fragrant.
Bundled with all of that knowledge, that's why I'm including Salt of the Earth in these eco-conscious wedding bathroom baskets. It checks all the boxes, and people can choose their own scent!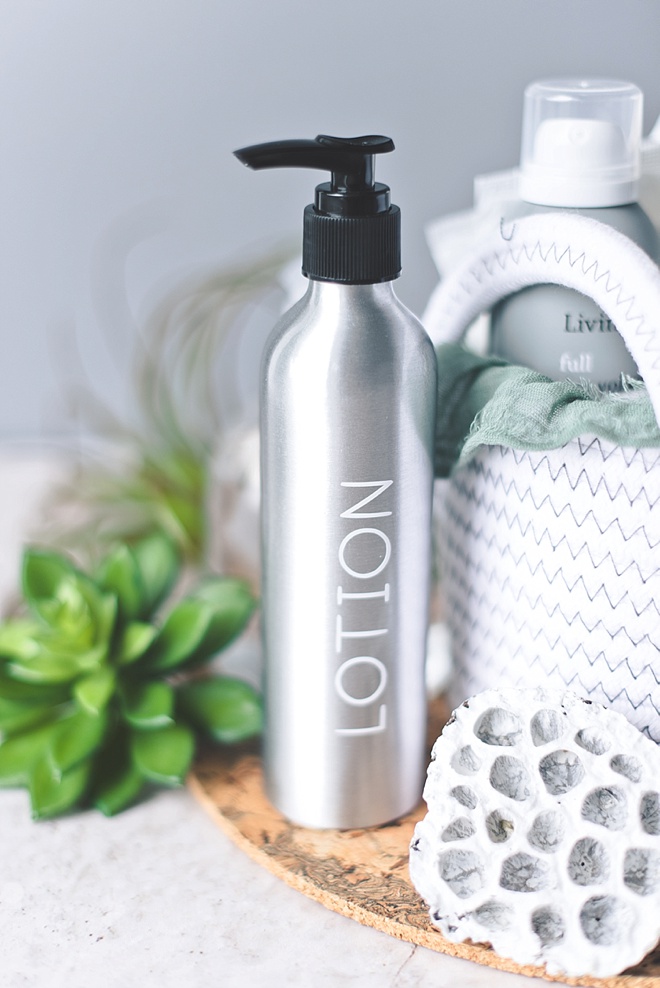 MOISTURIZE THOSE LIMBS…
Offer up some body lotion or hand cream for your guests to give their skin some moisture, especially if you're having a winter wedding or a wedding in a dry heat location. Consider unscented lotion for sensitive skin or a non-offensive scent like lavender or citrus so everyone can partake. For an all natural brand, look for lotions without parabens, sulfates, phthalates and other synthetic ingredients. Your skin is your largest organ, so give your guests the very best just like the food you're serving. I personally love Weleda Skin Food as a basic lotion that can be used as hand, face, or body lotion. You'll sometimes find this discounted at TJ Maxx or Marshalls!
If you're rebottling your favorite lotion from home, don't forget to personalize your bottles with your own labels, too, with your Cricut or Silhouette.
… AND THOSE EYES!
If it's hot or cold, tired dry eyes are bound to happen for an all-day event. Herein enters the cringey eye drops that may or may not be safe for contact lens wearers and may or may not have touched a bunch of people's eye skins. Nope, I was on a mission to find an all-in-one eco-friendly solution and found it with Peep Club's Instant Relief Eye Spray. Instead of dripping into your eye and blinking a makeup mess everywhere, this is sprayed onto closed eyelids. The best part? This can also used over makeup and won't smudge the look.
Designed by an award-winning optometrist with a mission for more convenient and more natural eye care, this eye spray is alcohol-free, preservative-free, vegan, and organic (wild-harvested), so you can feel good about sharing the spray with all of your friends and family. It's safe for contact lens wearers and sensitive eyes, so no more red itchy eyes in the photo booth!
FRESHEN THAT BREATH
Spoiler Alert: Did you know most chewing gum has plastic in it?! Like the actual gum itself, not the packaging. Insert green emoji face here. I had no idea until recently, so I've been trying to find better gum choices myself, and thankfully, there are a ton of options on the market. Look for "eco-friendly chewing gum" or "plastic-free gum" when searching for your personal favorite.
Tuck a few of these plastic-free gum boxes into your basket and get the word out about better gum and encouraging minty mouths.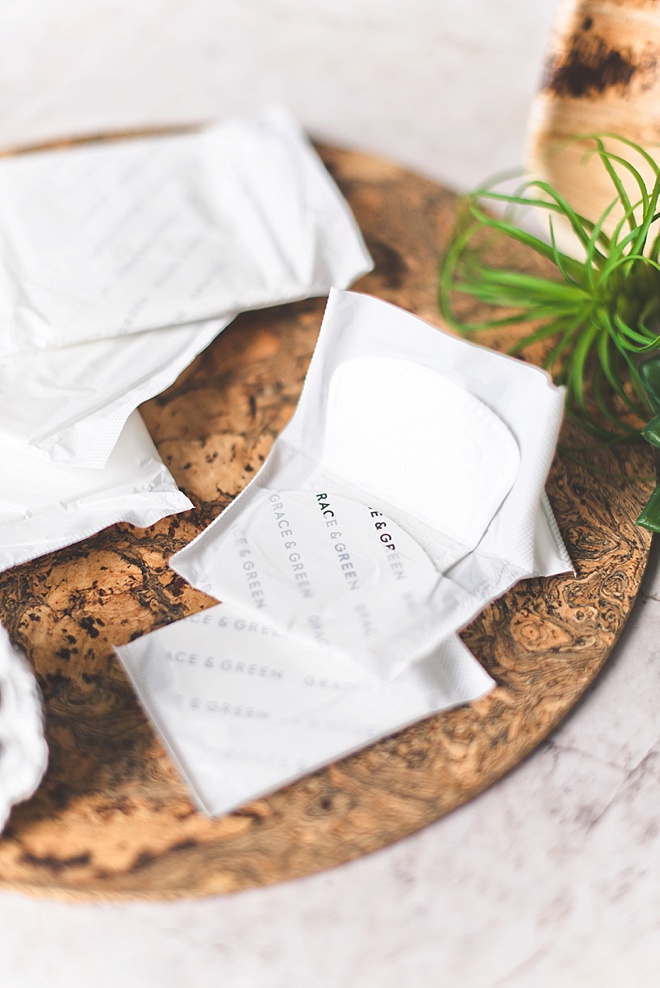 PREP FOR THE UNEXPECTED
As an advocate for accessible period care products, there's no question pads, liners, or tampons wouldn't be included in this eco-conscious bathroom basket! Thankfully there is more choice nowadays than ever for thoughtful, affordable organic products unlike when I was growing up in the 90s. If you're new to eco-friendly period care, look for 100% organic cotton (aka cotton that hasn't been treated by chemicals — remember your skin is your largest organ!) or bamboo (an even more sustainable material) products that have plant-based adhesives or waterproofing elements. If you want to take it another ethical step further, find out if the company contributes to eradicating period poverty and donates to homeless shelters, schools, and other places in need.
When I lived in the U.S., my personal choice was LOLA. And now being in the UK, it's Grace & Green and their organic bamboo products. Both of their pads and liners are especially great in hot, humid weather without bunching! Because let's be real, that is the absolute worst when you're trying to look your most glamorous for wedding photos or just want to enjoy your cake without the period anxiety.
You might also want to include an eco-friendly on-the-go stain remover pen in your baskets for anyone who might not have caught Aunt Flo before she visited.
SANITIZE
We're still living in pandemic days, so hand sanitizer is going to be an event staple for awhile. Keep it handy in many spots throughout your wedding, but especially in the bathroom. Some soaps might irritate people's skins, so give them an alternative option to clean their hands or give them a refresh. Make sure the sanitizer has no artificial fragrances or is organic to keep in line with the eco-conscious theme.
BLESS YOU!
Include some pocket tissue packs in your bathroom basket. Whether it's to blow one's nose, dab away some happy tears, or wipe off some makeup, tissues are always a good idea. To make an eco-friendly choice, consider tissues that have plastic-free packaging and are made from bamboo instead of wood pulp. Not only fabulously sustainable and highly renewable, bamboo is naturally anti-bacterial, anti-fungal, hypoallergenic, and odor-resistant.
VOLUME UP
I don't know anyone who doesn't need a little lift in their hairdos on an event day, so make it easy for guests to freshen up their styles by including a dry shampoo or texture spray in your bathroom basket. Not all sprays are created equal, so just like the lotions, look for a spray without parabens, sulfates, phthalates and other synthetic ingredients along with being cruelty-free by not being tested on animals. Ideally, texture spray wouldn't be in an aerosol can for environmental reasons (forgive me!), but it is more user-friendly for all guests, especially those with arthritis or fine motor difficulties.
MAKE A BATHROOM STATION SIGN
Get out your Cricut or electronic cutting machine to make a super quick and easy refresh station sign using this exclusive Something Turquoise "Freshen Up" SVG file. Upload the file into your Design Space, cut it out, and stick on your sign! You can use a photo frame, the bathroom's mirror, or any surface depending on your venue.
ABOUT THE MAKER
Considered an enthusiastic creator in the wedding industry since 2009, Chelsea LaVere Barton is the owner and editor-in-chief of Coastal Virginia-inspired online wedding publication, Tidewater and Tulle. Before her photographer days, Chelsea was a classroom art teacher and adheres to the mantra of "making life more beautiful" in all she does. When she's not DIYing, she loves to go on local British adventures with her husband, write about said UK adventures on It's a Hard Biscuit Life, and quietly relax at home with their cats Pickles Barrington and Juniper McIntyre. You can find her scrapbook of life on Instagram.
If you create one of our projects, please share a picture with us on Instagram or Twitter using the hashtag #somethingturquoisediy, we regularly reshare our favorites! Your profile will need to be public for us to see it otherwise, you can always DM us!
DIY TUTORIAL CREDITS
Photography + DIY Tutorial: Chelsea LaVere Barton // Instant Relief Eye Spray: Peep Club // Natural Spray Deodorant: Salt of the Earth // Freshen Up SVG File: Something Turquoise Shop
SHOP THE SUPPLIES
Find the supplies you'll need for this project from our affiliate links below.