– Affiliate Post –
Disclosure: This post uses affiliate links. This means that if you purchase something that I feature, I'll get a small commission (this will not increase the price of the item).
If you've landed here, you're likely familiar with the joys of Splurge and Saves. But just in case you aren't, allow me to explain:
I'm Kendra Found It, and I find home decor that helps you decorate on a budget. I pick a popular style and find it in different sizes, price points, colors, materials, and finishes. All items are similar, but there are details that set them apart (kinda like us, right?!). This is where you find your perfect fit according to what YOU need and what attributes you value the most. Got some money to invest? Check out my splurges. On a budget? Check out my saves.
Today I've rounded up five home decor Splurge and Saves, so sit back, relax, and let me do the shopping for you.
P.S. Don't forget to check out my previous Splurge and Save articles if you want more home decor finds.
1. CRATE AND BARREL EDGE BLACK ARCH WALL MIRROR SPLURGE AND SAVE
This Crate and Barrel find came from one of you! I love it when you message me on Instagram or email me your finds; in fact, I loved this one so much that I had to share it with everyone (with permission, of course).
Crate and Barrel's Edge Black Arched Wall Mirror features a minimalist design, a slim black stainless steel frame, and has beautiful rounded edges.
Kirklands' Black Metal Arch Mirror has similar clean lines, an iron frame, and is slightly larger than the Crate and Barrel version.
Splurge: Crate and Barrel Edge Black Arch Wall Mirror, $299
Saves: Kirklands Black Metal Arch Mirror, $169
Wayfair Gravitt Accent Mirror, $284
2. RESTORATION HARDWARE FRENCH CONTEMPORARY GLASS 4-DOOR SIDEBOARD SPLURGE AND SAVE
Restoration Hardware's Glass 4-Door Sideboard can be used as a sideboard, a media console, or a cabinet, but no matter what you use it for, there's no denying that it's beautiful. Available in grey, brown, black, or light oak, it features a contemporary shape and minimalist hardware.
Wayfair's 30" Tall 4 – Door Accent Cabinet by Red Barrel Studio has similar tapered legs, clean lines, and gold pulls. It's only available in black right now, but I'll update this post if I find it in any other colors.
Splurge: Restoration Hardware French Contemporary Glass 4-Door Sideboard, $3,285
Save: Wayfair 30" Tall 4 – Door Accent Cabinet, $739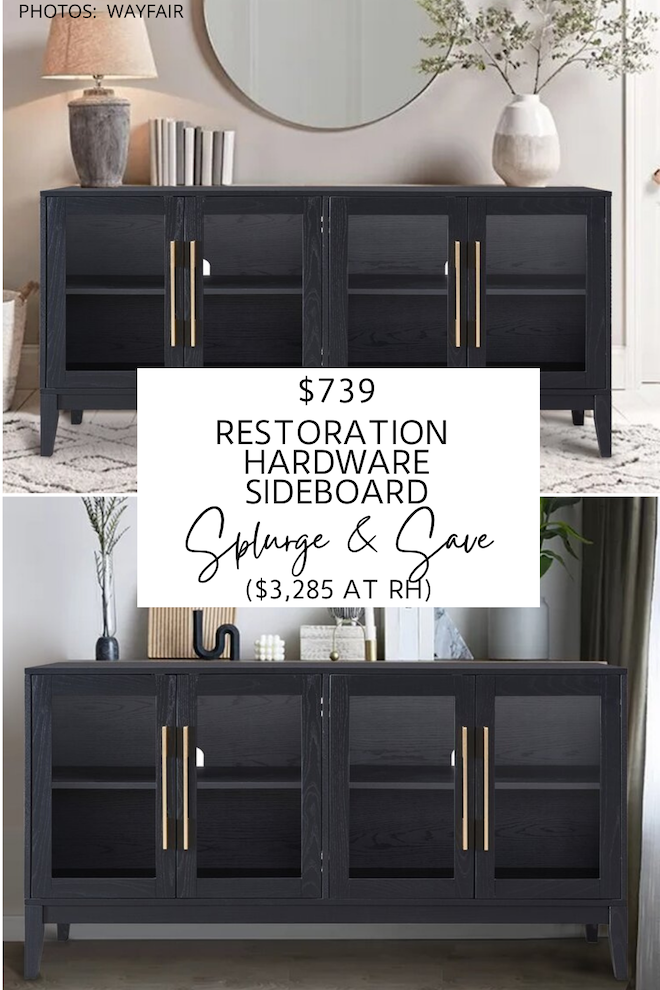 3. LULU AND GEORGIA CEYDA MOROCCAN STYLE RUG SPLURGE AND SAVE
Lulu and Georgia has the most beautiful rugs. Their Ceyda Moroccan style rug features a Moroccan-inspired diamond pattern, a black and white colour palette, and is made of 80% Wool/20% Cotton.
I found similar rugs at Walmart, Target, Amazon, and Home Depot; they all feature the same diamond, Moroccan-inspired pattern and are made of jute and synthetic materials. They come in a variety of sizes and have a low pile, which means they are easy to vacuum and clean. Speaking of cleaning, the Amazon version of this rug is machine washable (bonus points)!
Splurge: Lulu and Georgia Ceyda Moroccan Style Rug, $1,398
Saves: Target nuLOOM Romina Diamond Pinstripes Area Rug, $108
Wayfair Washable Off-White Area Rug, $316
Amazon nuLOOM Romina Machine Washable Diamond Stripes Area Rug, $116
Home Depot Romina Diamond Pinstripes Gray Area Rug, $91
Walmart nuLOOM Romina Diamond Pinstripes Area Rug, $108
Overstock nuLOOM Geometric Romina Machine Washable Diamond Stripes Area Rug, $216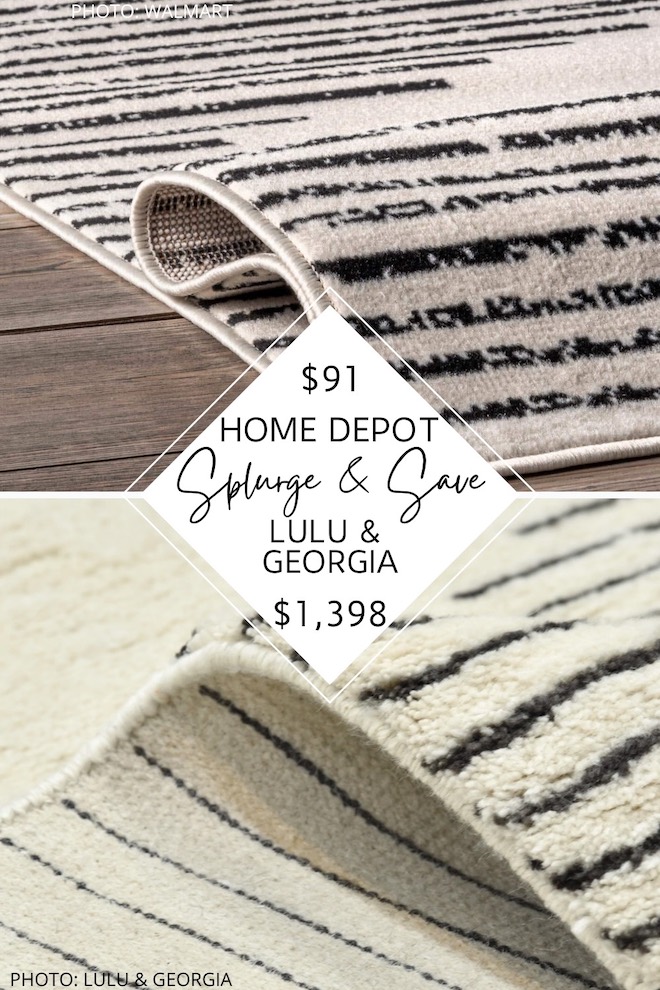 4. ARHAUS POPPY CHANDELIER SPLURGE AND SAVE
The only thing better than finding a great Splurge and Save is finding a great Splurge and Save with fantastic reviews. This Arhaus Poppy Chandelier find is exactly that; depending which item you choose, I've got chandeliers with 4.8, 4.9, and 5 star reviews for you! There are also some stunning photos in the reviews that let you see the light in real life.
Arhaus' Poppy Chandelier features a vintage eclectic style, hundreds of crystals, and an antique hardware finish.
Wayfair's version also features a glam style, suspended crystals, and vintage metallic hardware that pulls it all together.
Splurges: Arhaus Small Poppy Chandelier, $1,099
Arhaus Large Poppy Chandelier, $2,399
Saves: Wayfair Stoke Bishop 4 – Light Globe Pendant with Crystal Accents, $266
Wayfair Andrews 1 – Light Single Globe Pendant with Crystal Accents, $154
Wayfair Haviland 3 – Light Single Globe Pendant, $759
Wayfair Stoke Bishop 3 – Light Unique / Statement Globe Pendant with Crystal Accent, $204
Wayfair Sloane 3-Light Single Globe Pendant, $439
Wayfair Blanche 1 – Light Single Globe Pendant, $329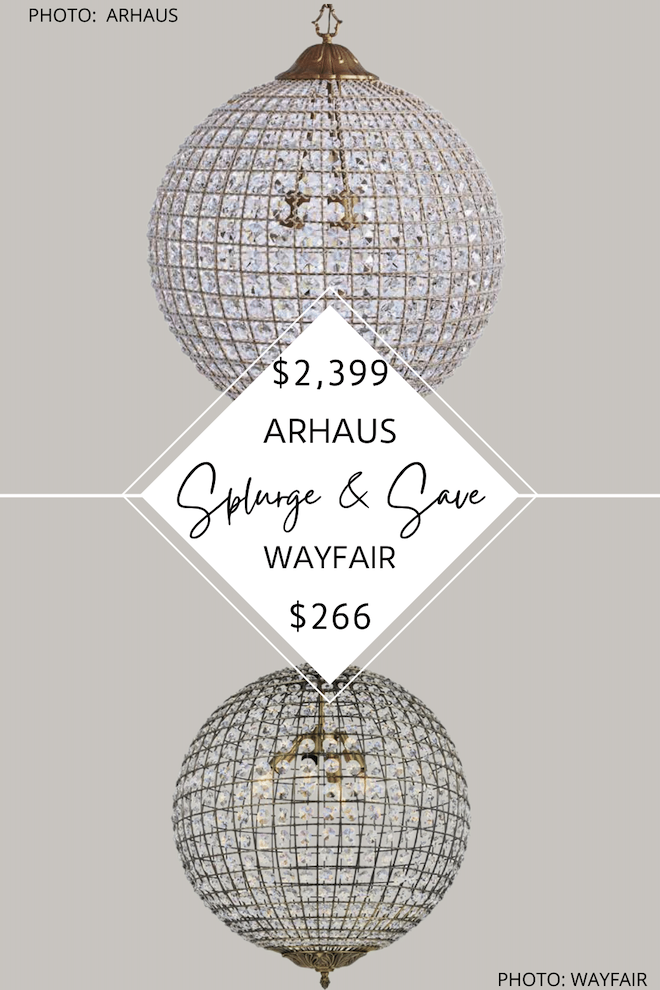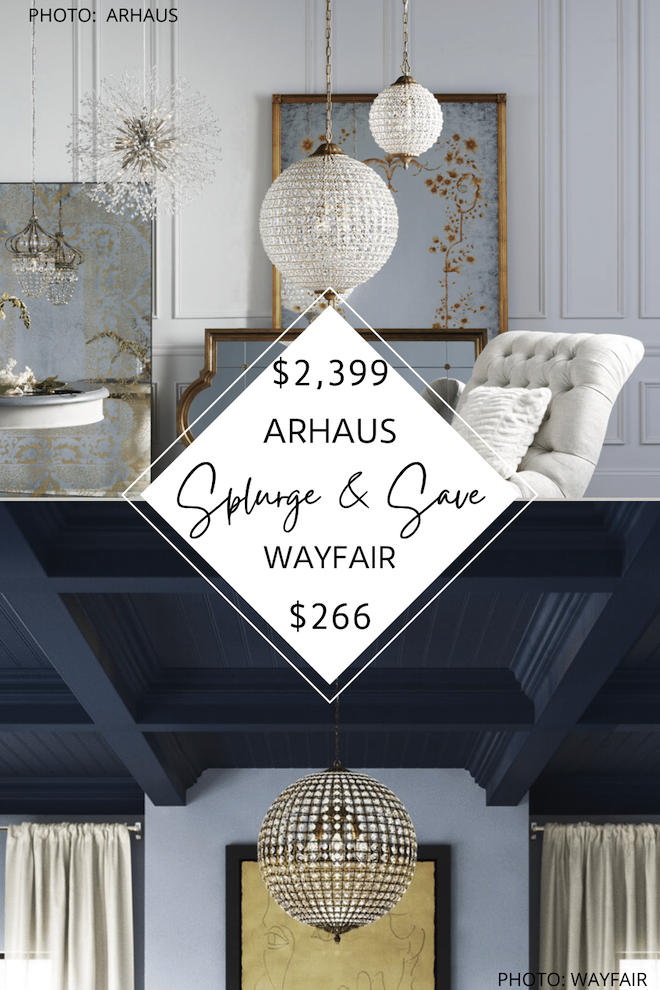 5. MCGEE AND CO. NODES FLUSH MOUNT SPLURGE AND SAVE
I discovered this Splurge and Save while searching for a new flush mount for our hallway. I was looking for something modern traditional (also known as transitional) and wanted something simple, elegant, and statement-making. As always, my first stop was McGee and Co., so I was thrilled when I found a similar single-light flush mount on Wayfair.
Splurge: McGee and Co. Notes Flush Mount, $175
Save: Wayfair Alcalde 1 – Light Simple Cylinder Flush Mount, $64
Still want more? Check out my extensive list of fashion, beauty, and decor deals at Kendra Found It or follow me on Instagram.