Multipurpose and pretty? That's what this next DIY wedding project is all about! Inspired by practical decor that not only makes a lovely statement but also communicates to guests, these water carafes make the perfect table number for any modern wedding reception. Grab some window cling vinyl, your preferred cutting machine, and some glass bottles to get started because it's literally that easy. And after the wedding, remove the window cling and use these carafes at home or give away as gifts. Read until the end for a fun little alternative idea you can also use with these table numbers!
SUPPLIES:
---
Maker's Note
Since I craft with reusing or upcycling in mind to minimize waste, I chose window cling for this project since it's a great material that you can easily remove after the wedding! A more permanent, alternative method for this project is frosting your carafes with glass etching cream and a stencil (which can also be cut on your electronic cutting machine with stencil vinyl). So whether you want an eco-conscious DIY or more permanent decor, you have options!
For the glass bottles, I purchased mine at IKEA, so if you live near one, their Korken bottles with the white stoppers are the best for weddings! If not, our affiliated supply links will send you to Amazon for easy delivery.
---
MEASURE YOUR BOTTLES
Using a measuring tape, measure the diameter around your glass bottle and determine how tall you'd like your "belly band" to be for your table number.
My bottles are 11" tall and 11.5" in diameter, so my "belly band" is 11.5" in length and 4" in height and my number itself is 2.5" tall.
CREATE TABLE NUMBERS
In your Design Space or Studio, make a long rectangle shape and choose the font you'd like for your numbers. Chunkier the font, the better! After you have chosen your font, size your numbers accordingly. To get an inverted appearance for your table numbers, you will need to splice your rectangle and your numbers together. Splicing will consolidate your design and ensure your number will cut inside of your rectangle. (Think of it as digitally sewing it into place.)
Once everything is spliced, you will have three layers — a number, a rectangle, and your consolidated belly band (number + rectangle). Delete the solo number and the solo rectangle layers. You should only have the consolidated belly band remaining. You should see your Design Space or Studio "grid background" in the middle of your number; this means it's transparent and your belly band will cut correctly.
CUT & WEED
Since you're using window cling vinyl, you will need to make sure your cut settings are chosen for the window cling material. The frosted side of the window cling vinyl should be facing up. Select your machine's proper settings and cut! After it's finished, take away the bits that you do not want on your water carafe.
APPLY TO YOUR CARAFES
Place the table number wrap face down (shiny side up) on a table and center appropriately. Once you have it in place, wrap your frosted prettiness around the bottle and now you have yourself a table number!
TIE YOUR NAPKINS
If you've been to a fancy restaurant that has a sommelier or serves good wine, you'll notice that wine bottles (especially for red!) have adorable little bottle scarves on them to prevent wine from dripping on everything after pouring. (I like to also call them little capes because why not!)
Do the same for your carafes to help your guests keep your table number in good condition and for a little detail that will make your bottles a lovely statement. Window cling is waterproof, but with an important multi-purpose sign detail being handled by multiple people, it's best to future-proof it.
If you create one of our projects, please share a picture with us on Instagram or Twitter using the hashtag #somethingturquoisediy, we regularly reshare our favorites! Your profile will need to be public for us to see it otherwise, you can always DM us!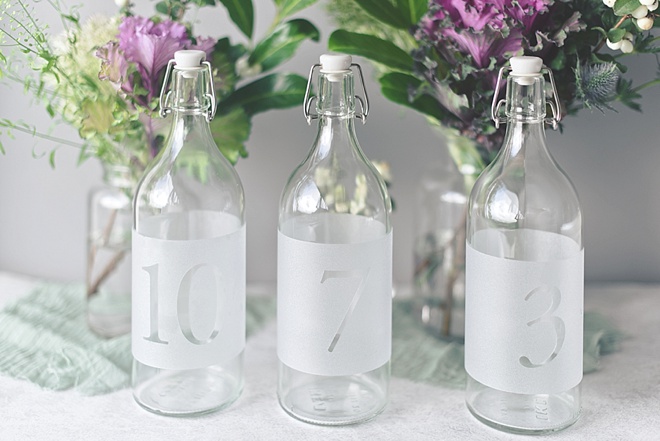 ALTERNATIVE WEDDING TABLE NUMBER IDEA
Not having water carafes on your reception tables? You can even use these frosted window clings on your glass floral vases!
ABOUT THE MAKER
Considered an enthusiastic creator in the wedding industry since 2009, Chelsea LaVere Barton is a retired wedding photographer, editor-in-chief of Coastal Virginia's online wedding publication, Tidewater and Tulle, and co-owner of UK-based wedding signage shop, High Oak & Co. Before her photographer days, Chelsea was a classroom art teacher and adheres to the mantra of "making life more beautiful" in all she does. When she's not DIYing, she loves to go on local British adventures with her husband, write about said UK adventures on It's a Hard Biscuit Life, and quietly relax at home with their cat Pickles Barrington. You can find her scrapbook of life on Instagram.
DIY TUTORIAL CREDITS
Photography + DIY Tutorial: Chelsea LaVere Barton // Glass Carafes: IKEA or Amazon // Window Cling Vinyl: Cricut // Gauze Napkins: DecoVita via Etsy
SHOP THE SUPPLIES
Find the supplies you'll need for this project from our affiliate links below.