Get ready for literally the world's easiest wedding DIY ever because you will end up wanting to upcycle all the fabrics in your house after this one! With a bit of fabric paint, objects found around your house, and some high quality linen napkins, you can create chic hand-stamped details for your bridal/wedding shower, engagement party, or any wedding-related event!
Depending on your budget and your time available, sure, you can even make this project for your actual wedding day, too! I do try to be realistic with the DIYs I share though, and linen napkins aren't the most affordable natural fabric out there to purchase in a large quantity, so if you do want to make your own napkins for the big day and have a small budget, you might want to consider a simple blank cotton napkin as an alternative. Again, no household fabric is safe once you've discovered fabric paint!
Either way, your celebration place settings will totally get the upgrade when you can say "I made that!" to your guests. After the event, they'll make a great addition to your home collection!
SUPPLIES:
---
Maker's Note & Linen Sourcing Advice
Practically anything can be a stamp! Look around your house and your fridge for potential stamps. Bottle caps, leaves, brushes, veggies, and more are all great ideas in utilizing what you already have while also also giving you unique, organic marks on your napkins.
For your linen, there's just no comparison to linen fabric that comes from Europe, and Etsy makes it easy to connect with small shops who make some gorgeously unique things. It's always my go-to when needing anything linen for the home. Since standard hemmed linen napkins are commonly found, I was drawn to these ones from Linen & Rock Homeware for this project because of their modern boho frayed edge. It adds a beautiful texture to any place setting with that hand-stitched detail that you won't find in many places!
---
PRE-WASH & IRON YOUR NAPKINS
Pre-wash your napkins using your normal laundry detergent. Do not use any added softeners as this can affect the fabric paint application. Allow to dry and then iron. Linen materials are naturally wrinkly so embrace the lovely texture, but make sure that the deep creases are smoothed out for even stamping.
PREP YOUR STAMPS
Take your paper straws and cut to multiply the amount of stamps you have. If creating a foam or wood block stamp with string, tightly wrap the string around your block and tie it on the back side. Adjust your yarn lines to your preference in pattern. The great thing about making your own stamps is that there is no one way to do it! Have fun and make a variety if you'd like!
DETERMINE YOUR NAPKIN PATTERN
Use cardboard or another material to do some tests on how you want your pattern to look. A more organic vibe is always great looking on linen! Place additional cardboard or newspaper to protect your surface as some paint may press through due to the looser weave of linen.
---
WHEN USING A STRAW FOR YOUR STAMP…
Be sure to lightly blow into your straw if a bubble forms at the tip or you'll get a unintentional burst of paint on your napkin! As paint absorbs into your paper straw, you may find the straw softening and thickening your lines. Switch out for a fresh straw to prevent blobby lines.
---
START STAMPIN'
Add fabric paint to your stamp with a paintbrush or just dip your straw into a thin layer of the paint. Starting at the corner of your napkin, firmly press your stamp to create your first impression. Repaint your stamp and create your next impression. Repeat until you stamp your entire napkin!
After you have stamped your napkin, look over and see where it would be beneficial to fill in some of your stamped lines or dots to look more full. Using your paintbrush, brush lightly over any faint or empty patches you want to enhance to achieve that organic stamp mark.
REPEAT STEPS FOR ALL NAPKINS
Make all of your linen napkins beautifully hand-crafted. Change up your patterns or keep them all of the same for your intended wedding look.
ALLOW TO DRY
Allow to dry for 48-72 hours and then wash your napkins on your washing machine's gentle cycle. Hang to dry or dry on low heat. That's it! Enjoy your hand-stamped napkins!
After the wedding-related event, upcycle your napkins into gifts or to keep at home!
If you create one of our projects, please share a picture with us on Instagram or Twitter using the hashtag #somethingturquoisediy, we regularly reshare our favorites! Your profile will need to be public for us to see it otherwise, you can always DM us!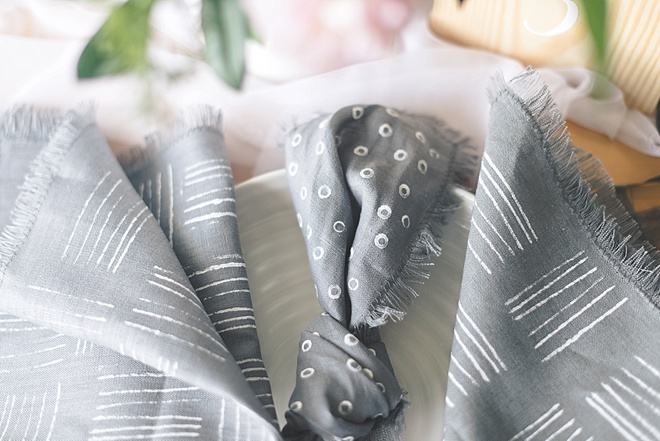 ABOUT THE MAKER
Considered an enthusiastic creator in the wedding industry since 2009, Chelsea LaVere Barton is a retired wedding photographer, editor-in-chief of Coastal Virginia's online wedding publication, Tidewater and Tulle, and co-owner of UK-based wedding signage shop, High Oak & Co. Before her photographer days, Chelsea was a classroom art teacher and adheres to the mantra of "making life more beautiful" in all she does. When she's not DIYing, she loves to go on local British adventures with her husband, write about said UK adventures on It's a Hard Biscuit Life, and quietly relax at home with their cat Pickles Barrington. You can find her scrapbook of life on Instagram.
DIY TUTORIAL CREDITS
Photography + DIY Tutorial: Chelsea LaVere Barton // Linen Napkins: Linen and Rock via Etsy // Fabric Paint: DecoArt // Table Number: High Oak & Co. via Etsy
SHOP THE SUPPLIES
Find the supplies you'll need for this project from our affiliate links below.