Inspired by my own English garden wedding and our signature cocktail that we named after our kitty Pickles Barrington, this simple DIY project gives a sweet touch to any signature wedding cocktail using sola wood flowers. If you haven't heard of sola flowers before, today's the last day for that! Sola (or shola) flowers are not real flowers, but are handmade with renewable wood from a marshy plant. They are incredibly lightweight making them perfect for a tall drink stirrer. Since this plant grows incredibly fast, it's an eco-friendly and sustainable craft supply that doesn't get enough love!
These drink stirrer cuties are perfect for a little floral touch to any wedding style or theme and can be personalized to any color palette depending on the ribbon color you choose. And after the project, you'll also find the recipe for the "English Garden Cocktail" that we used to create our Pickles' Punch, so get ready to say cheers!
SUPPLIES:
---
MAKER'S NOTE
You will need about 5″ of ribbon per drink stirrer, so calculate how many drink stirrers you want to make before ordering your ribbon of choice. Silk ribbon generally comes in yards. With 36 inches in a yard, you can get about 7 drink stirrers using one yard of ribbon.
---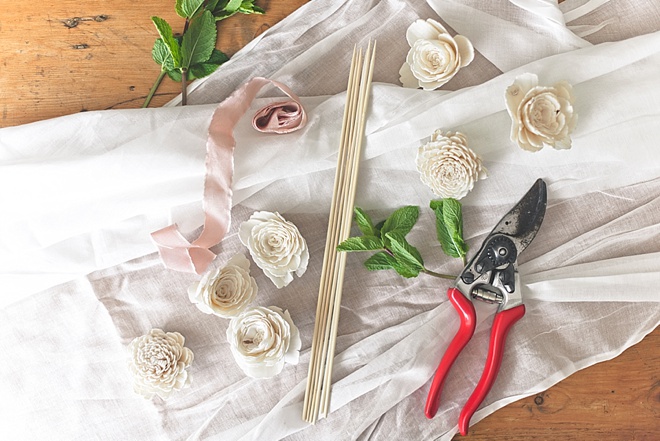 CUT YOUR STICKS
Determine how tall your cocktail glasses will be and choose your length. Generally, most drink stirrers around 7 inches tall, so we have cut our bamboo skewers to 7 inches. Using your garden shears, snip your sticks to your preferred length. Remember to keep your pointy ends as you will need this to add your sola flowers onto your stirrers.
MEASURE & TRIM YOUR RIBBON
Using sharp fabric scissors, trim your ribbon to 5 inch pieces. For a fun twist, mix colors and have a variety of drink stirrers. It's a great project to use up your ribbon scraps!
LOOP RIBBON ON STIRRERS
To create a flag-like appearance for your ribbons, make a flat loop, wrap around the stick, and push the end bits through the loop. Tighten the ribbon and now you have a great little detail on your drink stirrer!
ADD FLOWERS
On the pointy end of your bamboo skewer, gently wedge your flower in the center. Avoid pushing too hard or too much as sola flowers are still delicate, and you don't want your bamboo skewer to push all the way through. You want your sola flower topper to be firmly in place with no wiggle room.
CHEERS
Adjust your ribbon flags closer to the sola flowers and then place into your signature cocktail for a super sweet little detail for your garden or outdoor wedding. Stirred not shaken, please!
---
English Garden Fizz Cocktail Recipe
I recently got married in a 16th century walled garden in England, and my and Mr. B's signature cocktail was called Pickles' Punch, a spin off of the traditional English Garden cocktail (and named after our precocious kitty) — this very recipe I'm sharing now.
If you haven't tasted elderflower before, it is summery perfection! A very popular British flavor (and made more well-known in the U.S. with Harry and Meghan's wedding cake), elderflower has lemony floral notes and oh so refreshing when mixed together in this English Garden cocktail. It's lovely with or without alcohol!
(Transatlantic Note: Cider is always alcoholic here in the UK, but U.S. cider is traditionally non-alcoholic except when you put "hard" in front of it. So wherever you are, find a bubbly/fizzy non-alcoholic version of apple juice for this recipe.)
INGREDIENTS
(makes one cocktail)
250ml sparkling apple juice
25ml dry gin
25ml elderflower liqueur
10ml lemon juice
Ice cubes
Mint stems and leaves for garnish
SUPPLIES
Drink stirrer that you just made!
Paper straw (optional)
HOW TO MAKE THIS COCKTAIL
Mix cocktail ingredients and preferred amount of ice cubes all together in a hi ball glass. Stir with your sola flower drink stirrer. Garnish with a stem of mint and enjoy!
Want to make a mocktail with no alcohol?
Remove the gin and swap the elderflower liqueur for Belvoir elderflower cordial/syrup mixer. It's my personal drink of choice right now, especially with plain sparkling water!
ADDITIONAL RECIPE NOTES
As an American now living in the UK, I have both of my feet in two countries. To accommodate what's more readily accessible on both sides of the pond, find the brands below to help you make your English Garden Fizz cocktail.
For U.S. Cocktails
For UK Cocktails
If you create one of our projects, please share a picture with us on Instagram or Twitter using the hashtag #somethingturquoisediy, we regularly reshare our favorites! Your profile will need to be public for us to see it otherwise, you can always DM us!
ABOUT THE MAKER
Considered an enthusiastic creator in the wedding industry since 2009, Chelsea LaVere Barton is a retired wedding photographer, editor-in-chief of Coastal Virginia's online wedding publication, Tidewater and Tulle, and co-owner of UK-based wedding signage shop, High Oak & Co. Before her photographer days, Chelsea was a classroom art teacher and adheres to the mantra of "making life more beautiful" in all she does. When she's not DIYing, she loves to go on local British adventures with her husband, write about said UK adventures on It's a Hard Biscuit Life, and quietly relax at home with their cat Pickles Barrington. You can find her scrapbook of life on Instagram.
DIY TUTORIAL CREDITS
Photography + DIY Tutorial: Chelsea LaVere Barton // Sola Wood Flowers: Friendly Flowers via Etsy // Bamboo Skewers: Amazon // Silk Ribbon: Pompom Blossom via Etsy // Garden Shears: Amazon
SHOP THE SUPPLIES
Find the supplies you'll need for this project from our affiliate links below.