Have you seen the trend of the over-sized dried palms? I personally love this look! It's such a fun statement way to add depth and texture to a room that's different than getting another plant. I've actually added a few of these palms I speak of to my cart on Etsy, never to purchase because they are more than I wanted to spend. Then a few weeks back I was hired to create a stunning dried greenery backdrop. This backdrop, pictured below, is exactly my style, so I knew I wanted to make it. Unfortunately, the client's budget couldn't quite get us the look we were going for. As I always do, I got creative. I made dozens of paper palm fronds to use as the base layer of the back drop. And, I loved them so much, I made some for my house instead of spending big on the real ones!
These paper palm fronds are definitely the look for less, much less. You may even have most of the supplies to create! Plus bonus, I show how I layered my paper and dried greens to create a one-of-a-kind backdrop!
---
---
SUPPLIES:
kraft paper roll
scissors
glue gun
bamboo stakes (cut to size)
---
CUT KRAFT PAPER
Cut about a yard of the kraft paper. That's the size I've used in the images, but you can play with the size of paper to change the scale of the leaf.
---
FOLD PAPER
Fold accordion style, long ways, with pleats about 1″.
---
FOLD IN HALF
Fold the entire pleated paper in half.
---
CUT A SLIT
Cut 1cm slit in bottom of folded paper.
---
GLUE AT CENTER
Use your glue gun to glue the top portion of the paper together. Glue about half way down. This will allow for you to insert and glue around the bamboo stake. If you are not going to insert the stake, glue the entire length of center.
---
CUT POINTS OF FRONDS
Cut from edge inward on each peak of each fold, toward the valleys.
---
INSERT STEM
Insert a bamboo stake into the slit you cut, up to the glued portion.
---
GLUE STEM
Use glue gun to glue stem in place. Attach the folded portion together to hide stem.
---
STYLE IN A VASE
These large paper palms look amazing, and make a HUGE statement in a floor vase or even hanging on a wall!
---
USE IN A STATEMENT BACKDROP
I recently used these paper palms in a large-scale dried green installation.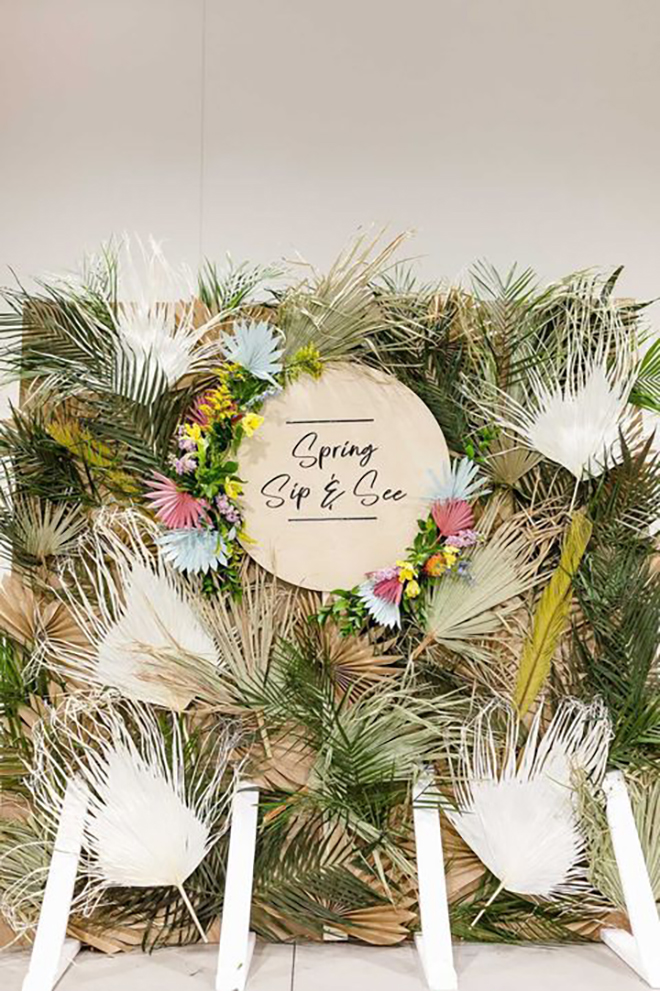 ---
ATTACH PAPER PALMS TO WALL
I save hundreds by using these paper palms as the base of this installation.
---
ADD GREENS
Next add more affordable dried robellini.
---
SPRINKLE IN THE DRIED GOODS
Finally layer in a variety real oversized dried and bleached palms.
---
---
DIY TUTORIAL CREDITS
photography + DIY tutorial: Lauren Koster of Lauren Koster Creative // kraft paper // scissors // glue gun // bamboo stakes // giant bleached palms // dried palm fronds // Sahara dried palm leaves // large dried palms
SHOP THE SUPPLIES