I am just loving the simple non-fussy design of the on-trend pedestal tables out there. I'm infatuated with the clean look of this pedestal side table, but I don't like the price, $498! And if you are investing in a pair, that'll set you back over a grand! I figured out a way to get the look for less, way less, just over $50, and only one trip to the hardware store, always a win for me! This charming minimal table would look fabulous in a living room, you could do a series in different heights as a coffee table, it would be perfect as a bedside table or as I've styled it, in my sunroom. Scroll down to see just how simple this is to make!
---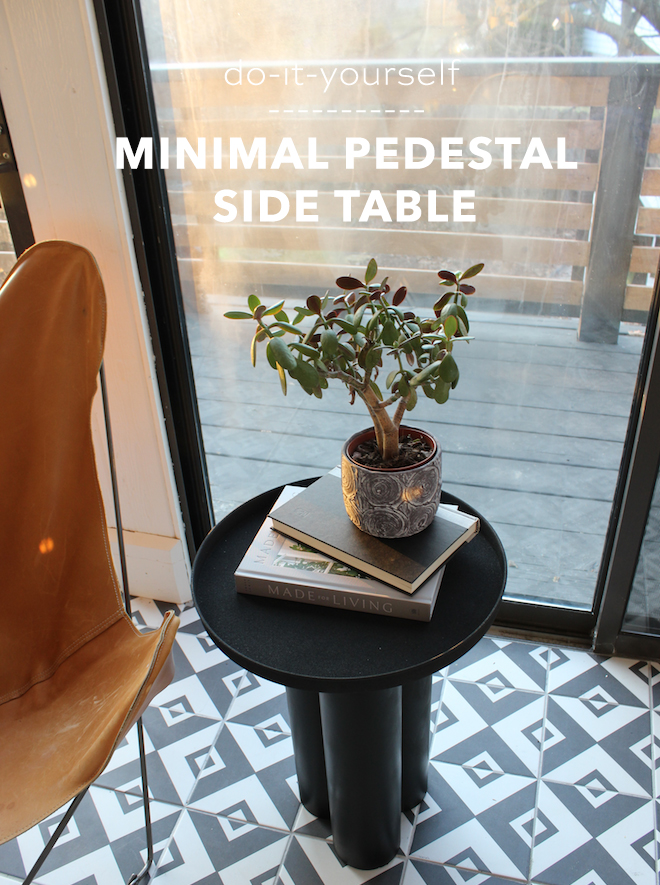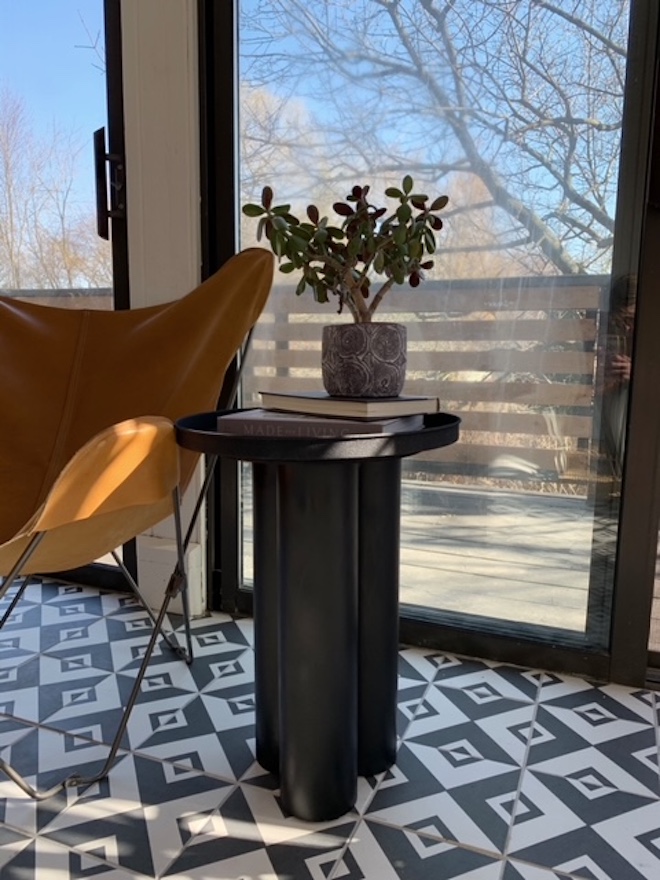 ---
SUPPLIES:
4″ PVC Pipe – 3 pieces cut to 20″
metal tray or table top
3/4″ corner braces
spray paint
1/2″ plywood cut into a circler at least a couple inches smaller than the tray
1/2″ screws (if they don't come with your braces)
screw driver
construction adhesive
---
SPRAY PAINT ALL THE COMPONENTS
I used matte black spray paint to paint the cut PVC pipes, wood circle and corner braces. You may also have to spray paint your tray.
---
ATTACH THE LEGS
Use two corner braces on each leg to attach to the plywood circle. You can play around with the spacing you like best. Each of my legs were only about a 1/2″ apart.
---
ATTACH THE TOP
Use construction adhesive to fix the top to the legs. I put a paint can on top of it to let it dry overnight.
---
DIY TUTORIAL CREDITS
photography + DIY tutorial: Lauren Koster of Lauren Koster Creative // 4″ PVC Pipe // metal tray or table top // 3/4″ corner braces // spray paint // 1/2″ plywood // 1/2″ screws // drill // construction adhesive
SHOP THE SUPPLIES