Hi friends! Shea back with another DIY for all you mama's who are running out of activities for your toddler during quarantine. My little guy just turned 2 a few weeks ago and lately he is OBSESSED with colors. He points out everything and lets me know its color. His favorite water cup is now just referred to as "blue" and his beloved toy leaf blower is now called "red black". He's also SUPER into matching things up lately. So I wanted to make something that incorporated both colors and matching and these little felt popsicles were just the thing!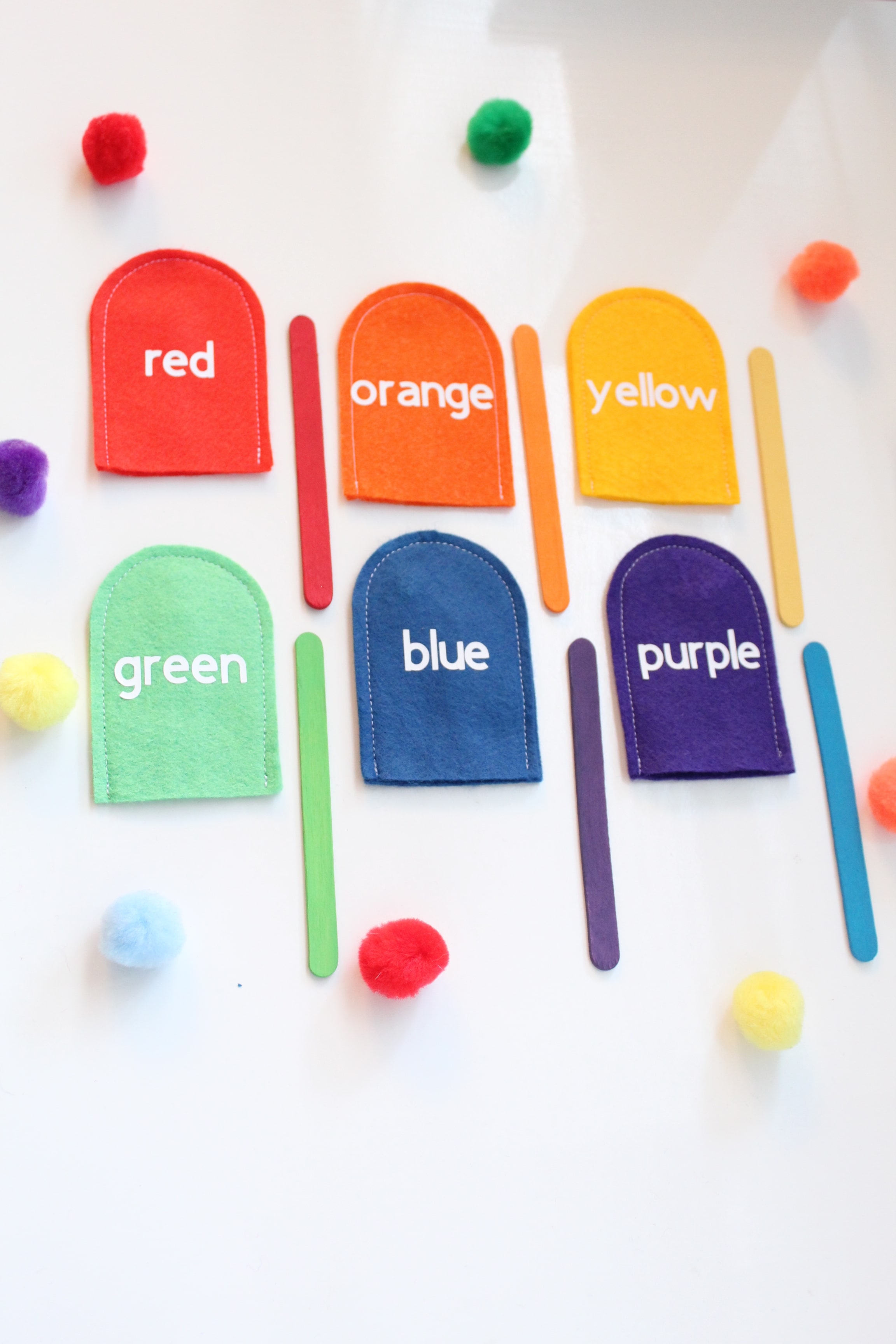 I understand that not everyone has a Cricut (but if you don't, seriously, go get one! It is hands down my favorite crafting tool of all time.) so I'll be sharing how to make this project both with and without one.
Supplies:
Felt
Paint in coordinating colors
Paintbrush
Popsicle sticks
Cricut Maker (or scissors/rotary cutter)
Cricut FabricGrip Mat
Rotary Blade
Iron on Vinyl (optional)
Cricut EasyPress Mini (optional)
Sewing Machine and thread (Not pictured) OR hot glue gun and glue
Open Design Space
All of the hard part has been done for you with this project! I laid everything out in Design Space so you can just click make it! (Feel free to go in and tweak the colors if there are some you'd like to leave out or some you'd like to add.)
Cut Your Felt
The Cricut Maker makes it SO easy to cut felt! I'll be honest, I was never a big felt fan before I got my Cricut Maker. I just found it kind of hard to work with, but now I'm excited to work with felt! Especially the felt from Benzie Design, omg it's seriously amazing! I had only ever used the cheap felt from the craft store but Renae over at Benzie Design has the absolute BEST felt in the dreamiest colors. I used the Bright Side Palette for this project.
(Like I mentioned earlier in the post, I understand that not everyone has a Cricut Maker and while it definitely makes this project easier, it can be done without it. I included a printable cut file that you can print and use as your guild to cutting your felt either with scissors or a rotary cutter.)
Sew Your Popsicles
I originally had planned to do a fun blanket stitch by hand to attach my pieces but then I thought about my son and how he treats things and thought you know what, let's keep this project as simple as we can so I don't loose my mind watching him play with them haha. So I did a simple straight stitch on my sewing machine around the curved edge of the pieces, being sure to leave the bottom open. If even that is a little intimidating for you or you don't have a sewing machine, feel free to just use your glue gun and some hot glue to attach the pieces, just again, be sure to leave the bottom open.
Paint Your Popsicle Sticks
In coordinating colors, paint your popsicle sticks to match your felt, one for each popsicle. If you're a true crafter like me you probably have every color you need on hand already or are at least able to make them with what you have on hand. I'm not a huge purple fan so I didn't have a great purple color so I used the dark purple I had and added a little white and voila! Purple! (Or as my little one says, "pupu".) This was honestly the most time consuming part of this project because I chose to paint both sides which leaves you literally having to sit and wait for paint to dry. If you're super impatient I'm sure you could use markers, sharpies or even crayons in a pinch.
Label Your Popsicles
Now, this step is totally optional, especially seeing as how most toddlers don't know how to read but I decided to add the color names to each popsicle using iron on vinyl and my EasyPress Mini (which is so small and perfect for projects like this one).
And that's it! Now you're ready to let your little one match to their hearts content. I started with just the basic six rainbow colors but I think I'll add more as my little one gets better aquatinted with his colors.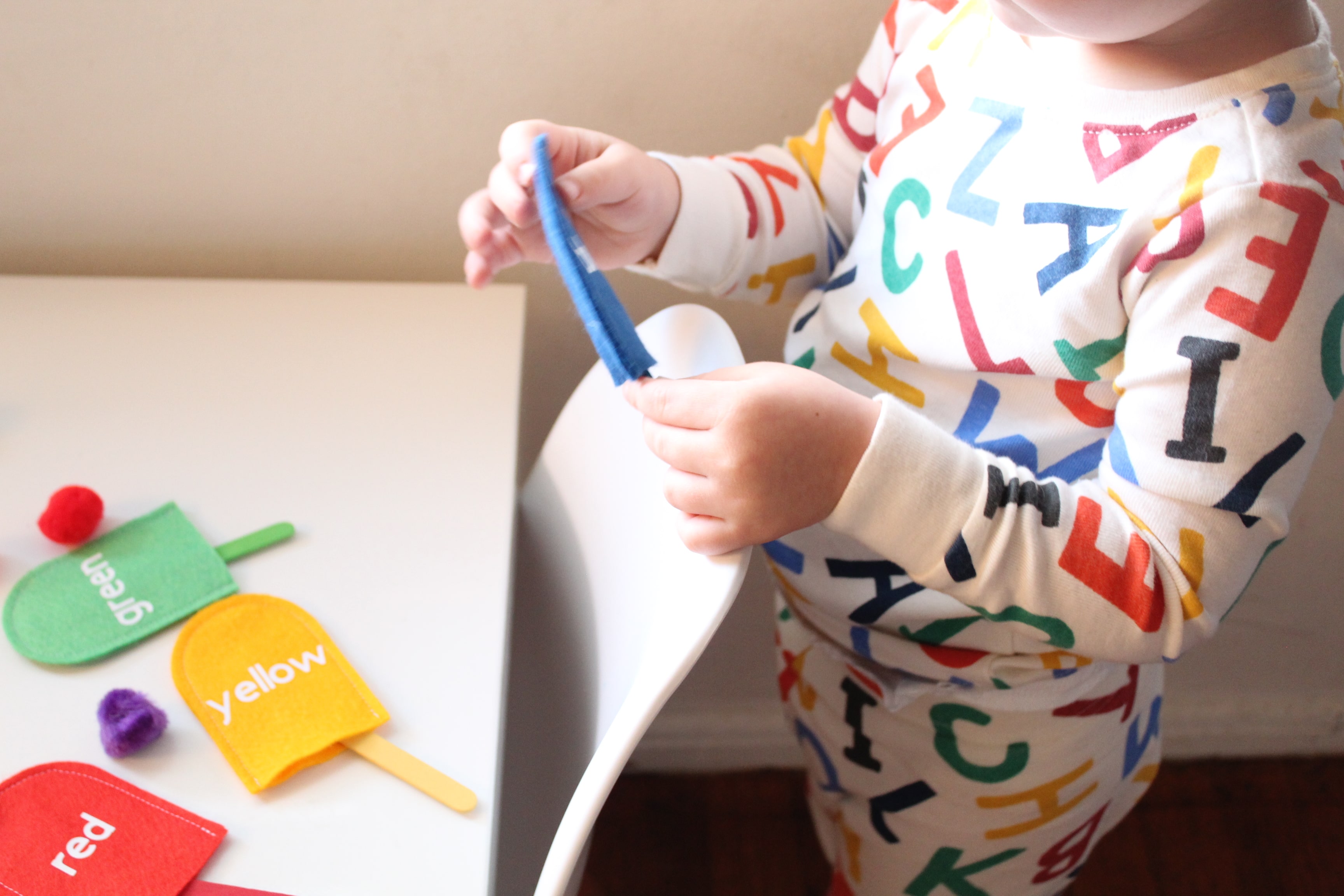 We of course had to taste test every popsicle. Haha.
If you create one of our projects, please share a picture with us on Instagram or Twitter using the hashtag #somethingturquoisediy, we regularly reshare our favorites! Your profile will need to be public for us to see it otherwise, you can always DM us!
DIY Tutorial Credits
Photography + DIY Tutorial: Shea O'Quinn of Not So Cli-Shea // Cricut Maker and accessories courtesy of Cricut // Felt courtesy of Benzie Design // Paint, paintbrush, popsicle sticks: personal stash // Sewing Machine: My absolute FAV
Shop The Supplies:
Find the supplies you'll need for this project from our affiliate links below: