– Affiliate Post –
Disclosure: This post uses affiliate links. This means that if you purchase something that I feature, I'll get a small commission (this will not increase the price of the item).
If you've landed here, you're likely familiar with the joys of copycat decor. But just in case you aren't, allow me to explain:
A copycat or dupe looks similar to an expensive item, but costs way less. Love that $3,000 Restoration Hardware sideboard? I've got a much more affordable copycat for you. Drooling over that Serena & Lily pendant? I've got that too. If you're on a budget and love decorating, this is the place for you. Today I've rounded up five home decor dupes that will save you thousands, so sit back, relax, and let me do the shopping for you.
P.S. Don't forget to check out my previous copycat decor articles if you want more home decor dupes and look-alikes.
1. Anthropologie Gleaming Primrose Mirror Copycat
I found this copycat for someone that DM'd me on Instagram asking for some help (yes, I do that! Feel free to message me here). She said that she loved the Anthropologie Gleaming Primrose mirror, but couldn't justify the high price. I did a little searching, and then couldn't stop…so I've included all six dupes blow.
Update: Ballard Designs has discontinued the old Beaudry Mirror and released a new one, which is now priced at $529.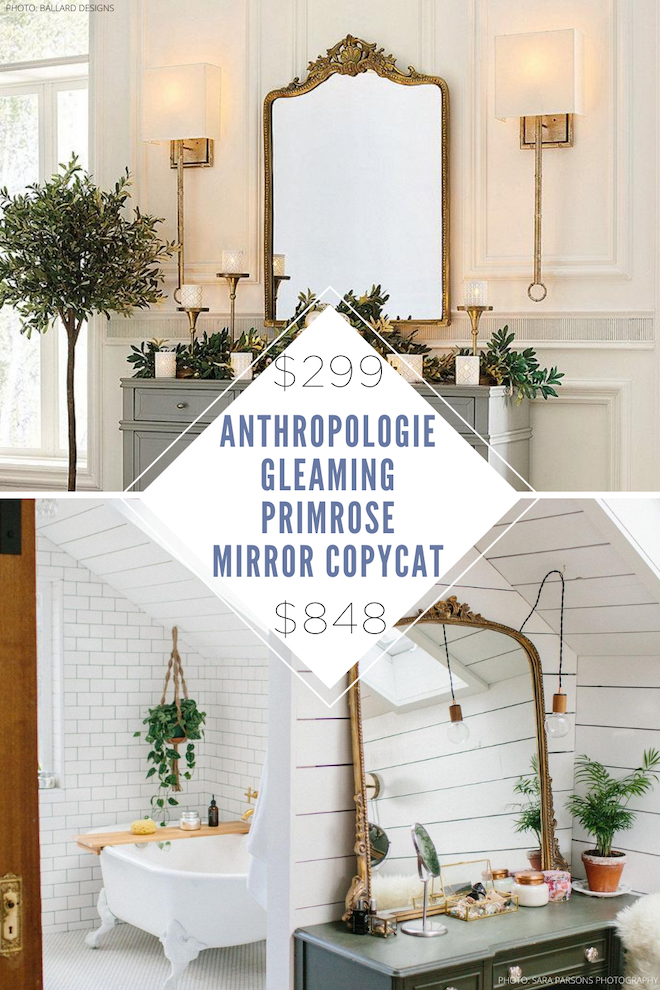 Bottom Photo: Sara Parsons Photography. Sara is a ridiculously talented photographer and also has the most charming home.
Top: Ballard Designs Beaudry Mirror, $299
Bottom: Anthropologie Gleaming Primrose Mirror, $848
Alternate Dupes: Arhaus Amelie Mirror, various prices
Kirklands Antique Gold Victoria Scroll Mirror, $79
Black Ornate Antique Carved Mirror, $99
Kirklands Gold Antique Style Mirror, $239
Claypoole Traditional Accent Mirror, $629
Gold Bordeaux Ornate Scroll Mirror, $129
Brass Vintage Style Vanity Mirror, $120
Wayfair Anglo Arendahl Traditional Beveled Accent Mirror, $142
Arhaus Amelie Wall Mirror in Gold, $599
Silver Bordeaux Ornate Scroll Mirror, $129
White Ornate Antique Catherine Mirror, $89
Arhaus Amelie Mirror in Gold, $549
Wayfair Hofstetter Napoleon Accent Mirror, $319
Pottery Barn Ornate Filigree Mirrors, $299 – $449
Target Arendahl Arch Wall Mirror Silver, $129
Target Arendahl Arch Wall Mirror Black, $119
Kirklands White Ornate Antique Catherine Mirror, $90
Arhaus amelie floor mirror in gold, $899
Arhaus amelie dresser mirror in black, $593
2. Restoration Hardware Madeleine Side Chair Copycat
Distressed wood, caning, and European design makes this cafe-inspired chair one of Restoration Hardware's most popular styles. Wayfair's version looks almost identical, is highly reviewed, and comes in a range of frame colors like black, walnut, gray, and more.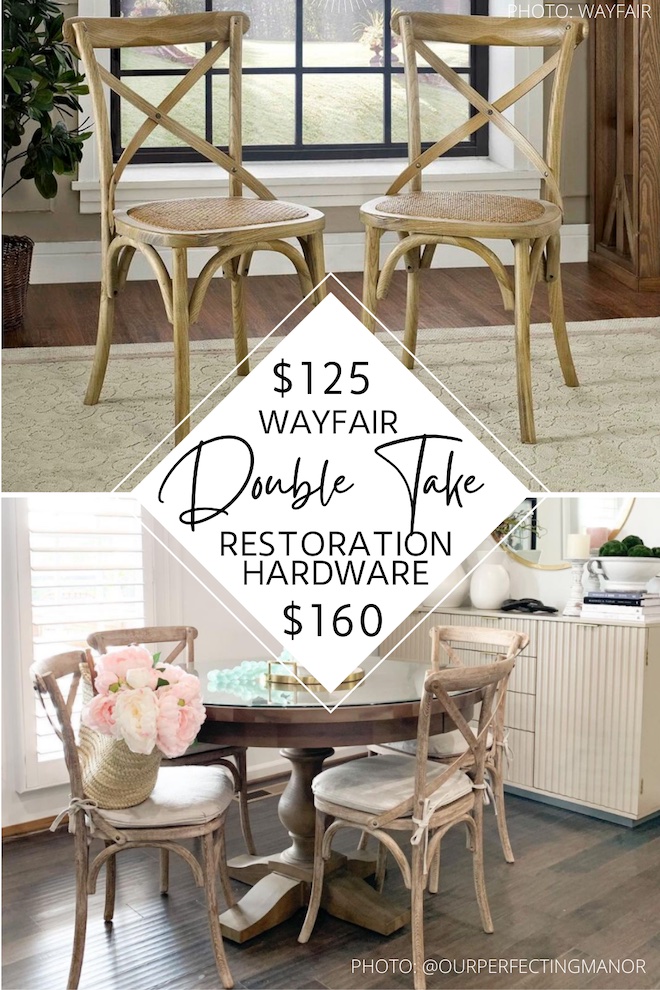 Bottom photo: @ourperfectingmanor. Janice is an interior stylist and has a home full of endless modern farmhouse inspiration.
Top: Wayfair Aalijah Solid Wood Dining Chair (Set of 2), $115 each
Bottom: Restoration Hardware Madeleine Side Chair, $160
Alternate Copycats: Amazon Poly and Bark Cafton Crossback Chair in Ash Gray (Set of 2), $250
World Market Gray Wood And Rattan Syena Side Chairs Set Of 2
Wayfair Gayla Dining Chair (Set of 4), $619
3. Serena & Lily Round Headlands Pendant Copycat
This is why I do what I do – just look at that price difference! Serena and Lily has some of the most beautiful lighting around, but it often comes with a hefty price tag. World Market's bamboo version looks incredibly similar, but costs almost $600 less.
Top: Serena & Lily Headlands Ring Pendant, $648
Bottom: World Market Bamboo Open Weave Orb Pendant Shade, $69
4. McGee & Co. Malta Table Lamp Copycat
McGee & Co. is one of my all time favourite places to get home decor inspiration. While doing some online window shopping, I found the McGee and Co. Malta Table Lamp. It features a chalky finish, vintage design, and rustic shape; it would look amazing on a bedside table, in a home office, in a living room, or even in a dining room.
I also found some vintage-inspired lamps at Pottery Barn, Target, and Rugs USA. They have similar elements and will all give you the modern traditional (also known as transitional) style that we know and love.
Splurge: McGee & Co. Malta Table Lamp, $550
Saves: Rugs USA Ivory 20-inch Ceramic Vintage Vase Table Lamp, $99
Pottery Barn Faris Ceramic Table Lamp, $299
Target Large Ceramic Table Lamp Black – Threshold, $65
5. Restoration Hardware Balustrade Salvaged Wood Side Table Copycat
This find was inspired by my Restoration Hardware Balustrade Coffee Table copycat. I was thrilled when I found the coffee table version, so I thought I would try and complete the set by finding a side table copycat. This dupe would go perfectly in an entryway or small space and will save you over $1,000.
Top photo: @sswansondesign. Sarah makes the best art (yes, MAKES!) and has a beautiful, bright home.
Top: Restoration Hardware Balustrade Side Table $1,925
Bottom: Wayfair Hinsdale 71″ Solid Wood Console Table, $699
Alternate Dupes: Wayfair Jarrell 71″ Solid Wood Console Table, $779 Wayfair Shameka 54″ Console Table, $469
Wayfair Karla 72″ Console Table, $639
Still want more? Check out my extensive list of fashion, beauty, and decor deals at Kendra Found It or follow me on Instagram.