"I photographed the sweetest in-home newborn session for the Revels family. Proud parents Alix and Chris were thrilled to welcome their son, Leo, on September 25. He is their first baby. Alix and her mother created an amazing Star Wars themed nursery together in preparation for Leo's arrival. Alix's mother recently retired from a career in advertising as a creative director – you can definitely see her artistic side come into play in this adorable, incredibly personalized room! Alix and Chris are huge fans of the Star Wars movies – they are hoping Leo will love these films as much as they do!
The wall behind Leo's crib is painted with chalkboard paint; Alix's mother hand-lettered the "The Force Is Strong With This One" quote on the wall, complete with an iconic light saber. The rest of the room is painted a soft, soothing gray with various touches from Star Wars around the room, including framed drawings of movie characters and tiny stuffed animals from the movies as well. You'll also see various Star Wars themed balloons hanging in the room as well, in addition to space-themed stencil shapes on the chalkboard wall. They even carried the space theme into baby's crib with some pretty neat crib sheets that feature a moon pattern. Of course this session wouldn't be complete without Leo in his Yoda hat – you'll see that included as well! He's even in cute black and white Star Wars footie pajamas for a portion of his session! It's clear so much time and love went into making this room the perfect place for a much-loved little boy to grow up." –Kristal Bean Photography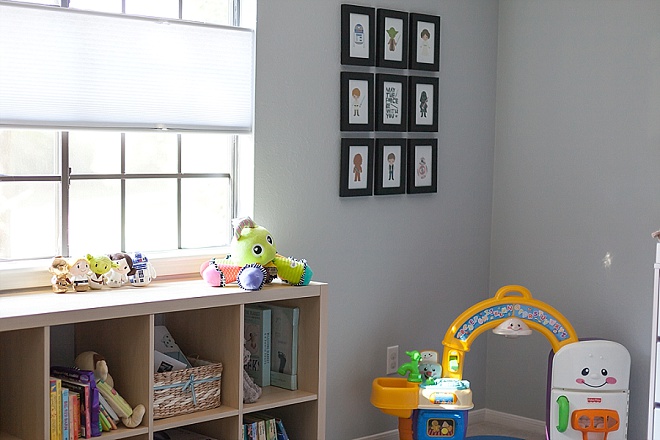 "We knew that we wanted a happy medium between modern and playful, but we really had a hard time deciding on a theme. We wanted the theme to be something that my husband and I grew up loving and still love today, so we were torn between Disney, Pixar, Winnie the Pooh, Harry Potter and Star Wars. If we could have figured out how to incorporate all of those things without causing a complete mess, we would have. Honestly, it came down to the fact that all of the Star Wars décor we were finding just happened to match the modern theme we were wanting.
Once we had our theme chosen, my Mom and I started the design process. We knew that having a Star Wars theme meant black – but how to incorporate such a harsh color into a child's room? That's when my mom had the cool idea to have a black accent wall, but to actually use black chalkboard paint. That way it would give it the feel of outer space, but also become a fun, interactive activity for Leo when he gets older. Until he's old enough to do it himself, we'll continue to change up the sayings on his chalkboard wall. Luckily, Star Wars has a ton of one-liners for us to choose from.
In order to offset the black wall, we went with a light grey color for the remaining walls. Since we had so much black/grey/white going on, we figured we needed a 'pop' of color, and that's how we came up with the aqua blue you see on his name sign. We also got some matching aqua blue chalk to write on the chalkboard wall as well.
We are so excited to see Leo grow up and enjoy this room. For now, we are enjoying him just as he is – an adorable, chatty, giggly, and cuddly 6 month old who still sleeps in our room at night and has no idea he even has a nursery. Oh well, we're enjoying every minute!" -Alix, Mom
Event Credits
Photography: Kristal Bean Photography // Name Sign: Hickory Hollow Designs // Crib: Pottery Barn Kids // Dresser/Changing Table: Target // Crib Sheets: Pottery Barn Kids // Quilt: Pottery Barn Kids // Glider: Amazon // Star Wars Needlepoints: Pottery Barn Kids // Star Wars BB-8 Lamp Pottery Barn Kids // Star Wars Character Prints: Kids Print Studio // Star Wars Inflatable Decor: Amazon