Alright, you just got engaged. You are standing at the book store, or browsing Amazon for a wedding planning workbook/organizer. You're thinking one or two might pop up. WRONG! The choices are endless! And girl, let me tell you, you are about to embark on a journey filled with decision fatigue, you don't want to start out with a debate on which is the right wedding planning book for you! I spent an afternoon at the bookstore pouring though the slew of planners they had in stock, and it was more than you'd think!!
I own my own wedding planning business, Lauren Koster Creative, so it's safe to say I am a reliable source on this topic. I have been planning weddings for 6 years, so I've been through the process many times. Each of the organizer options I evaluated had positives and negatives and I've called those out below, but I wanted to tell you a little about what my perfect planner would look like. I prefer the binder style, with room to store receipts and contracts. I loved the books that had quizzes and prompts to help point couples in the right direction. I also like a lot of tips, especially ones presented with diagrams, charts or illustrations. Additionally, I find real samples very helpful – budgets, floor plans, invites, it's great to see what a real example would look like. I also like room to take notes. What do you find helpful in an organizer?
---
---
THE BUDGET SAVVY WEDDING PLANNER & ORGANIZER
price: $12.99
perfect for: the couple on a budget (duh)
This planner begins with a helpful quiz to point you in the right direction and organize your priorities. There are LOADS of tips in this book, especially cost-cutting tips. It is extremely well organized and laid out and follows an order and process that make the most sense to me. I love all the real budget examples, as well as the cute diagrams.
favorite thing: diagrams and budget tips
least favorite thing: lacks the organization of a binder
Budget Savvy Bride by Jessica Bishop
---
WEDDING PLANNER
price: $22.99
perfect for: the bride who values design and loves to take notes
I love the cute design of this planner, void of any loud branding. There are built in convenient tabs and lots of space to take notes. Great quizzes help guide and give direction. Compared to some of the other options, it was lacking tips.
Favorite thing: cute design
Least favorite: lack of tips
Wedding Planner by Frances Lincoln
---
ALL THE ESSENTIALS WEDDING PLANNER
Price: $35
perfect for: The bride who loves polls all her friends and loves examples
I love the cute colors, that there are a lot of tabs and organization. There is also an extensive calendar. Lots of helpful tips sprinkled throughout the binder and thorough checklists to vet your vendors. I LOVE the real examples they included like floor plans, timelines and invitation wording. This planner, more than others spends time on style and decor. I also love the additional resource list they provide in the back of the binder.
favorite thing: samples timelines and floor plan
least favorite thing: for a large binder they didn't include folders
All The Essentials Wedding Planner by Alison Hotchkiss
---
SIMPLE STUNNING WEDDING ORGANIZER
price: $24.95
perfect for: The bride who need a little help with everything A great medium size binder with stellar organization.
I love the tabs and sleeves to keep your things in order. They thought of everything with organizer, there is plenty of room to write your guest list and capture your thank you note notes. There are also a lot of great tips.
favorite thing: binder, tabs and sleeves
least favorite thing: the order and organization does not seem intuitive
Simple Stunning Wedding Organizer by Karen Bussen
---
THE KNOT ULTIMATE WEDDING PLANNER
Price: $17.99
perfect for: the bride who is overwhelmed by the thought of it all, and wants a quick start guide
This is the compact version of the big bider. It's well organized and easy to follow. It's from The Knot, so you know it's loaded with tips. Lot's of place to collect relevant information, but not much room to take additional notes. Not an abundance of time spent exploring decor. I love that it's packed with information, but light and easy to carry.
Favorite thing: easy to follow order
least favorite: not a lot of space to make additional notes
The Knot Ultimate Wedding Planner
---
THE WEDDING: PLANNER AND ORGANIZER
Price: $29.95
Perfect for: The girl who carries EVERYTHING
This is a large binder. It can fit all of your receipts, contracts and inspiration tears. I love that it's well organized and has easy to navigate tabs. There are folders and lots of room for notes. I appreciate the organization with a quick reference guide up front to jot down vendor contacts and a thorough checklist. They included great charts to make notes on vendors, but only gave space to compare two vendors. There are a few tips, but this not a tip-heavy planner.
favorite thing: those vendor charts really help you ask the right questions
least favorite: those vendor charts – they only give room for two vendors
The Wedding: Planner and Organizer by Mindy Weiss
---
THE KNOT ULTIMATE WEDDING PLANNER & ORGANIZER
Price: $29.99
Perfect for: the bride who wants all the info at her finger tips
I love that they deep dive into decor, style and even touch on color theory. They did an exceptional job with the providing couples with fun and leading "worksheets" to help figure out their needs and wants. I love the order an organization of this organizer. There are a lot of tips, and many presented with illustrations and diagrams.
favorite thing: The "worksheets"
least favorite thing: not a lot of room for notes
The Knot Wedding Planner & Organizer by Carley Roney
---
INSTANT WEDDING PLANNER
price: $16.95
Perfect for: a design-conscious bride, who needs to align with her betrothed
This has a lovely, cute design, compact size, organization tabs to make my organization and design-loving sides happy. I love the section at the front which prompts couples to discuss their visions for all aspects of their wedding from design, to location, to budget.
favorite thing: lots of info you haven't thought of
least favorite thing: not a lot of room for notes
Instant Wedding Planner by Jennifer L. Shawne
---
THE EVERYTHING WEDDING ORGANIZER
Price: $18.99
Perfect for: A more pragmatic bride who wants tons of helpful information
There are so many tips, charts and lists in this book. It's amazing!! One thing that made this particualr planner stand out is that they included a social media section. They also included money saving tips, and who doesn't love that! One thing couples often ask me about is the ceremony, and this planner did a great job providing direction on the ceremony, as well as invitation wording – a tricky topic. I also loved the name change check list.
favorite thing: lots of great info and charts
least favorite: the order doesn't seem intuitive and wish there were more room for notes
The Everything Wedding Organizer by Shelly Hagen
---
MISS TO MRS WEDDING BINDER
Price: $48
perfect for: the gal who knows what she wants and loves to capture a memory beautifully
This binder is beautiful. There is space to capture relevant info, but it is definitely more of a keepsake than a planner. There are tips sprinkled throughout, but it does not seem that information is the main objective with this organizer.
favorite thing: It's so pretty!
least favorite thing: No tips or guidance
Miss To Mrs
---
WEDDING PLANNER
Price: $19.95
perfect for: the minimalist bride who loves design, but needs a little help figuring it all out
I love the great design, compact size, easy to navigate tabs and sleeves for collected items. This planner has some great charts that help you ask your vendors the right questions. I also love the helpful section on "What to do after the wedding."
favorite thing: cute design and travel size
least favorite Thing: not a lot of real life examples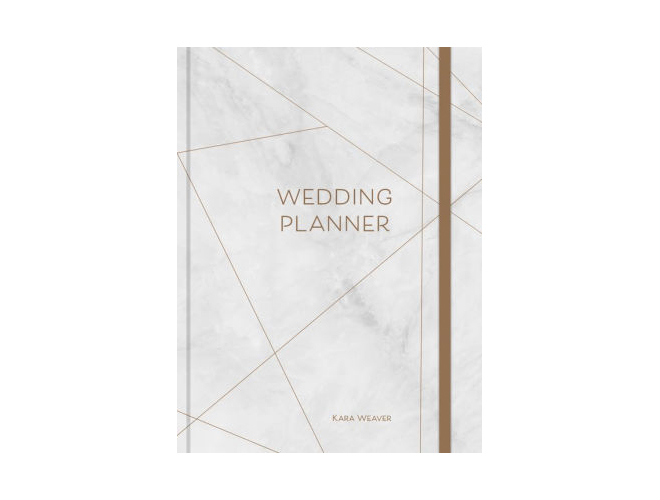 Wedding Planner by Kara Weaver
---
THE BRIDE'S ESSENTIAL PLANNER: DELUXE EDITION
price: $24.95
Perfect for: The note taking bride who never throws away a receipt
This binder is HUGE! It includes lots of organization tabs with folders and a handy business card sleeve. It is also dense with information advice. I love the very thorough vendor comparison charts, with room for five vendors. However, I do not find the order intuitive.
favorite Thing: vendor charts
least favorite thing: It is big, really big and has a lot of info, presented in a dense way
The Bride's Essential Planner by Amy Nebens
---
---
Enter To Win:
Use the Rafflecopter widget below to enter to win your own copy of our bestie, Jessica Bishop's book The Budget Savvy Wedding Planner! Contest ends 3/7/2020 at 11:59pm PST. Winner chosen at random and will be announced the following Saturday the 14th. If the winner doesn't respond in 48 hours another winner will be chosen. Winners of ST giveaways within the past 3 months are not eligible to win. Open to US residents only. A $15 value.
---
---