Although it's only February, I still feel like Spring (and Spring cleaning) is right around the corner. Maybe it's just that 'after-the holiday's-purge' that starts creeping in… or maybe it's this 68-degree weather in Tennessee this February…Either way, I've been getting a jump on re-organizing every closet of ours that I can get my hands on, from the laundry room shelf, our linen closet, the hall closet and more – I can't get enough.
If you're anything like me, one glance at a Home Edit label and a bin clip make me happy and ready to tackle some organization as organization is apparently my love language. (Along with a clean house, a good dinner and puppy kisses, but I digress…) Not only does it help to purge and organize at least once a year, but if I actually put the time and effort into making the space aesthetically pretty, then I'm way more likely to keep it organized throughout the year. Insert The Home Edit and The Container Store. The Home Edit book is a lifesaver. It breaks down their organizational method, which is pretty much everything in bins with labels. Sounds simple? It will change your life! They also have super pretty labels for sale in their shop (found here) that I may or may not be addicted to…
Anyways, onto some inspiration and then I'll share my favorite linen closet organization project and the products I used.
---
My Linen Closet Inspiration
---
Image Credit: Blesser House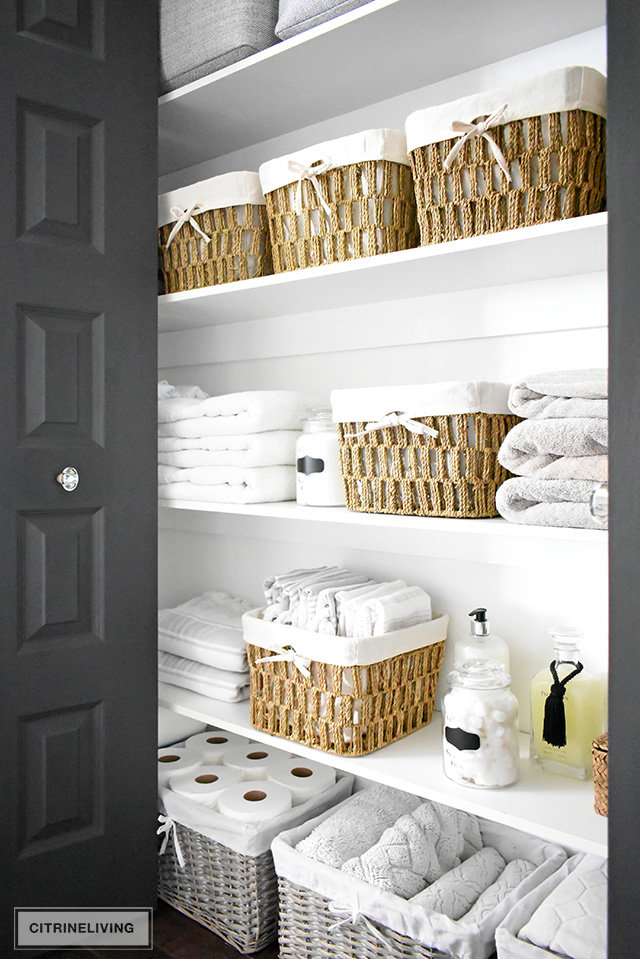 Image Credit: Citrine Living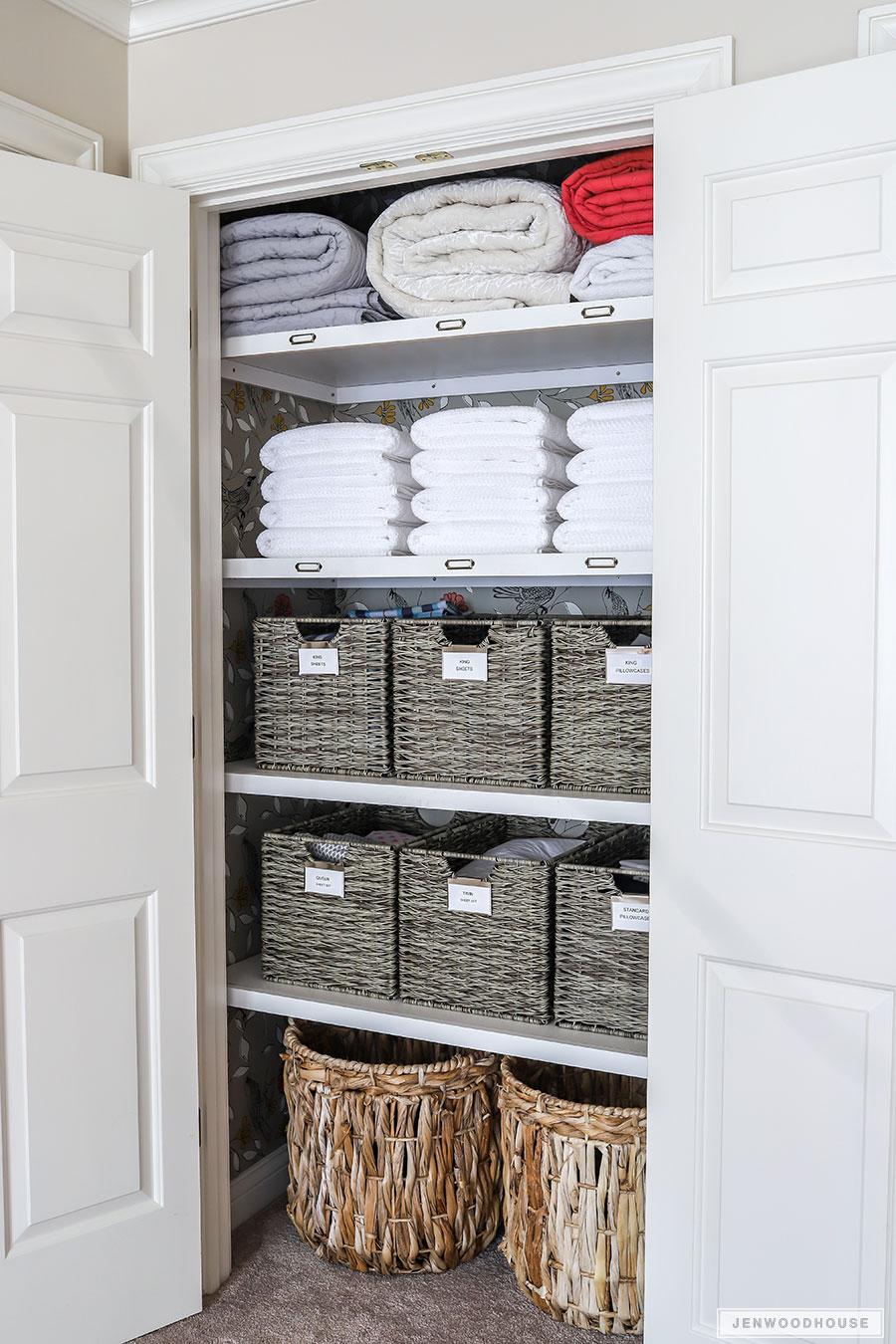 Image Credit: Jen Woodhouse
Image Credit: Shades of Blue Interiors
Image Credit: Simply Organized Home
---
Items I purchased + My Game Plan
---
As you can see from my inspiration photos above, I basically wanted to have everything organized in bins, labeled and where we could see it and it be functional for everyday use, (instead of the mountain of pillows and linens that I had to do a jumping shove to get to stay as was currently.) I wanted it to look pretty so that meant throwing out some of the old (I see you towels from college) and bringing in some new items. So, I was onto buying the items to make this happen. When thinking through this area, I knew I needed a few various bins and baskets to hold the items I currently needed to store (i.e. extra bedding, towels, washcloths, toiletries and backstock, the coverlet for our bed and last but not least, dog toys). So thinking through what you're actually going to store is always a good first step in deciding what to purchase.
---
Two Folding Storage Baskets
---
I grabbed two of these for the top shelf and used one for extra bedding and one for our extra set of sheets so there's always one ready to go. I don't know about you, but I still can't fold a fitted sheet to save my life, so in the mindset of having this closet look pretty, I knew I needed storage for sheets and bedding.
Hyacinth Storage Baskets $40.49 for 2
---
Two Wire Storage Baskets
---
I also grabbed two of these. One for our hand towels so they can easily be seen and grabbed and one for our toilet paper. You know, to make it look pretty.
Wire Storage Basket $13.27
---
Hamper
---
I knew I wanted to add a new hamper to the bottom floor area so functionality-wise, so I grabbed this pretty little hamper from Target that fits perfectly and I can easily throw the liner in the wash if it gets gross.
Hamper $24.99
---
Wire Basket with Liner
---
I also grabbed one of these for the floor area for the dog toys. If you don't know, we have a 102 pound Goldendoodle 2 y/o puppy (see his cute face here) that has a bad habit of swallowing toys whole…so we have dedicated 'toy time' and allow them to grab them out of here instead of him having full-access 24/7. Also, I made sure to get a wire basket with a washable liner to keep the entire closet from smelling like a dog toy!
Wire Basket with Liner $9.99
---
Fabric Basket
---
Like in my inspiration photos, I loved a basket on the floor for our beds Winter coverlet. Easy to grab, easy to store, easy for your husband to find when you're not home, perfect.
Amazon Fabric Basket $14.99
---
New Towels
---
As I mentioned previously, I wanted this space to feel luxe and look pretty, so the old, mismatched towels had to go. I purchased a couple sets of these to refresh. Super comfy, thick and soft. Highly recommend.
MicroCotton Bath Towels $12.99
---
Glass Gallon Jars
---
So, I didn't exactly purchase these new for this space. If you've been a long-time reader, you'll maybe recognize these from my wedding cookie bar (found here). After a good scrub, they were ready to house some items to make the closet feel more spa-like. I added some Epsom salt and a small wooden scoop to one and purchased some lavender bath bombs for the other.
Gallon Glass Storage Jar $14.98
---
Mini Glass Jar
---
I grabbed a smaller canister to store all of our travel sized skincare products that we take on each trip. I've even started storing the small bottles to be able to easily find and refill for each trip!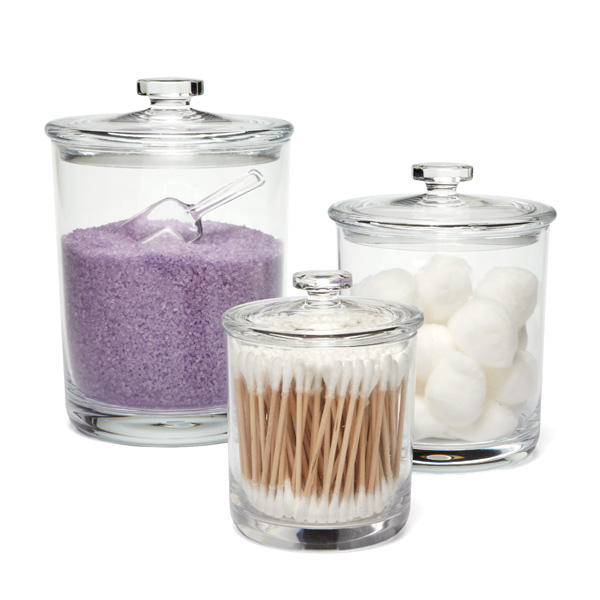 Small Acrylic Canister $8.99
---
Bin Clips
---
Once I had all of my bins and baskets, I grabbed bin clips and Home Edit labels so I could have everything labeled, pretty and easy to spot. No more, where are the sheets, etc.
Black Bin Clips $9.99 per pack of 3
The Home Edit Bath and Laundry Labels $9.99 for pack
---
The Big Reveal
---
Overall, I am super happy with how it turned out and how much easier it is to actually use this space. Thankfully, just by following along with my inspiration images, I felt like I had a good idea of what I needed to buy and how I wanted it to look and the best part was it only took about an hour or so to complete! Stay tuned for more fun organization projects at the Shoemaker house!
---