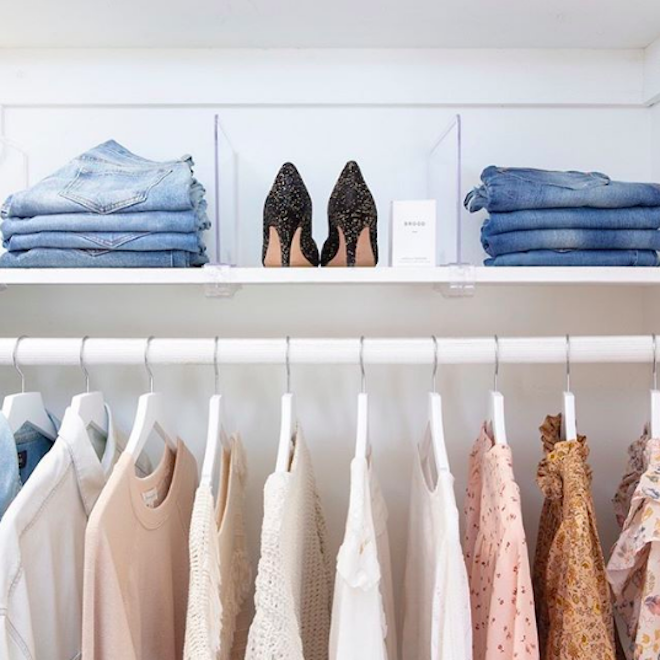 10 Day Decluttering Challenge to Start Your New Year Off More Organized
This 10-day challenge isn't going to Marie Kondo your whole house, but it will get you on the path to an organized New Year. Clutter can seem overwhelming! And some of the methods out there seem even more overwhelming! Hello! I'm not going to be able to empty out every closet, drawer or cabinet anytime soon! But 30 minutes a day for 10 days can set you up on the right track for a new year. And, it's proven that small victories can propel you into much greater ones. So even if your entire house doesn't look like a Container Store ad, it's okay. We are hoping this challenge will motivate you to continue tackling drawers, areas and rooms of your home. Start the year off with this organizational challenge and you just may find yourself with a smoother running house at the end of the year. It is AMAZING what you can do with 30 minutes, without distractions, and that part is really important! If you commit 30 phone-free, tv-free minutes you will make amazing progress. Put on some music, set your timer for 30 minutes and get to work!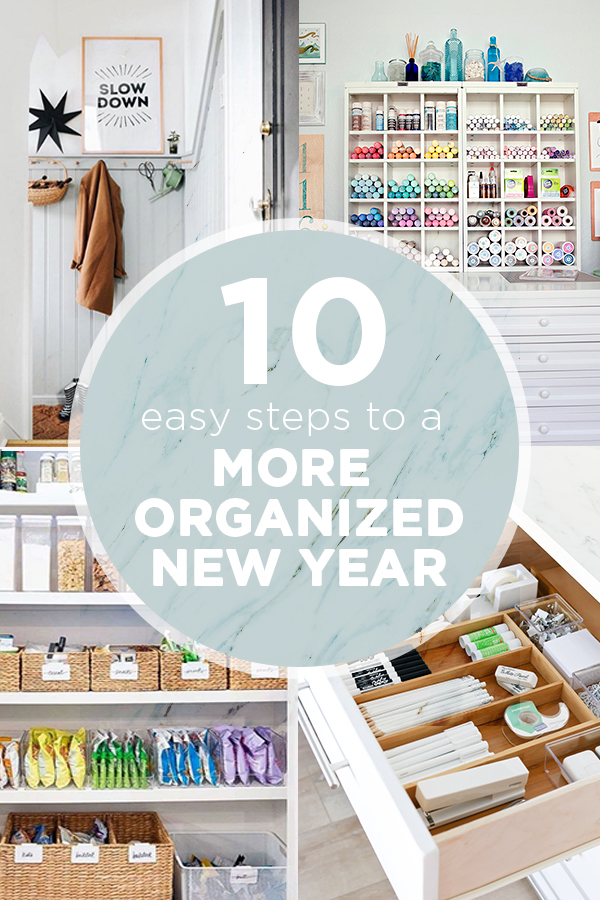 DAY 1: MAKE A LIST OF YOUR PAIN POINTS
We all have areas of our home that are tougher to tackle than others, that seem to collect more stuff or be the dump zone. Maybe for you, it's your kitchen counters or your closet. Maybe it's a utility closet, or even a junk drawer, list out all of your major pain points, those two or three spots that every time you look at them think "I should clean this up," but never do. Last year when I followed these steps it was my entry table, my kitchen counters, and my desk.
Once you have your list, under each pain point write down what you could do to tackle this area. Using an entryway for example, you may need a shoe shelf, a coat rack, storage for cold-weather gear. For my entry, I placed a small trash can inside my closet to ditch junk mail.
@organizedhome
DAY 2: SET UP A SELL AND A DONATE BOX
You have two tasks today, don't worry, it still shouldn't take you longer than 30 minutes. First, gather two boxes and label one "Sell/Donate" and one "Maybes." Over the next 8 days, you will use these boxes to collect anything you are thinking of parting with. As you work your way through this challenge you will no doubt come across things you haven't used in the last 6 months, put it aside in one of the two boxes.
Second, spend the remainder of the 20 minutes attacking clutter at it's source. Unsubscribe from emails (have you tried Unroll Me?, go paperless for your bills, put that shredder or trash can by your door as I mentioned in Day 1, keep a running donation box and commit to taking it monthly, set a reminder to file away papers each week.
Lauren Koster Creative
DAY 3: TACKLE YOUR BEDROOM
Spend 30 minutes putting away laundry, gathering up stray socks, tidying up that drawer that will never close, clearing off your dressers and putting away the pocket junk you empty onto your nightstand at the end of each day. Chances are 30 minutes won't be enough time to go through your whole closet, every drawer, and your jewelry box, but that's okay, as we mentioned before it's about getting the ball rolling. Just having your piles of clothes put away and dressers clear will leave you feeling more relaxed when you get into bed. Don't forget to deposit any donate or sell items in your boxes.
@shiraGill
DAY 4: TAKE ACTION ON YOUR PAIN POINT PLAN
On day 1 you listed out your pain points, and needs to solve them, now it's time to take action. Hop on Amazon or head over to Target to shop for any items you need to make your pain points functional areas for you. Here is where you purchase drawer organizers, storage boxes, coat hooks, etc. If you don't have any purchases to be made, roll up your sleeves and start working on one of your areas.
Organization by The Home Edit via Good Morning America
DAY 5: DECLUTTER THE KITCHEN
Just like we did in the bedroom, set your timer for 30 minutes, go through your kitchen and look for items that are out of place or need to be tossed or donated. Start with your countertops and table, then go through drawers, cabinets, free-standing furniture and the top of the fridge. Don't forget to place any appropriate items in the sell or donate boxes.
@theneatmethod
DAY 6: DECLUTTER YOUR LIVING ROOM
You know the drill set your 30-minute timer, clear the coffee table, don't forget to look under. Check under and behind the sofa. Clear out of place items from your side and sofa tables, shelves and entertainment center. Put items away or sort into your boxes.
@thefauxmartha via Domino
DAY 7: TACKLE YOUR OFFICE
Today spend 30 minutes on your office. Start with your desktop. Sort those nagging papers, hide away the extra pens, pencils, and notebooks. If it takes less than a half-hour to tackle the desktop move on to a drawer that needs attention. Clearing the clutter will help you have a clear mind and be more productive.
Tidbits
DAY 8: WALK YOUR ENTIRE HOUSE WITH A LAUNDRY BASKET
Since we won't be able to dedicate an entire day to every single room, we will speed declutter the other bedrooms, laundry room, and living spaces. Spend 30 minutes, walk your house with a laundry basket, and look for any items that are out of place or ready to be sorted.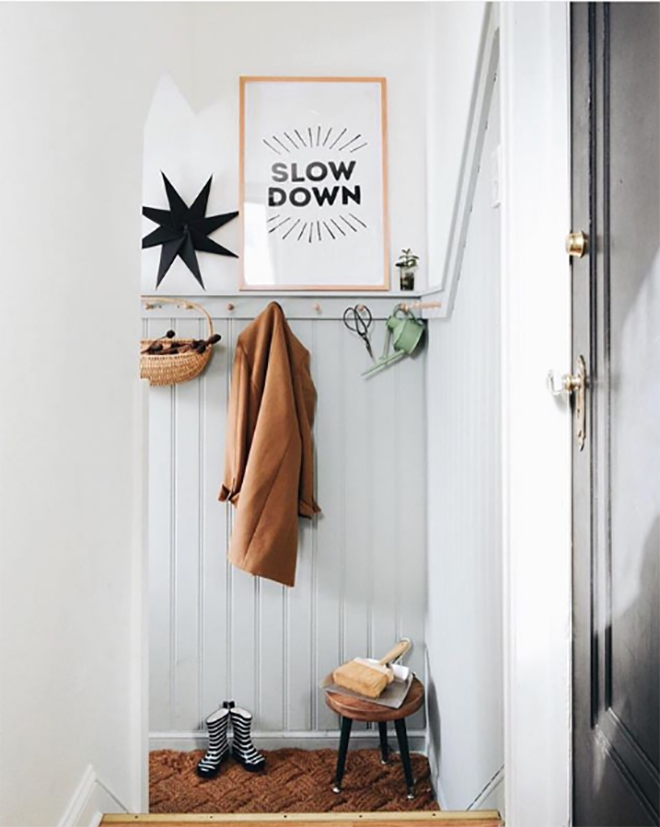 @francoisetmoi
DAY 9: MAKE SURE YOUR PAIN POINT AREAS ARE IN WORKING ORDER
Hopefully, you ticked your shopping list off to fully take on your pain areas. Today you should make sure that these zones are clutter-free, and functioning for your home and family.
Jen's First Something Turquoise Craft Room
DAY 10: SELL OR DONATE ANY THING YOU'VE DECLUTTERED
SELL – post your items on Facebook Marketplace, Craigslist, Poshmark, Thread-up or your other favorite selling ap.
DONATE – Take your box to your local GoodWill, Salvation Army, or other thrift shop. Or send your donations for free using Give Back Box, learn more here.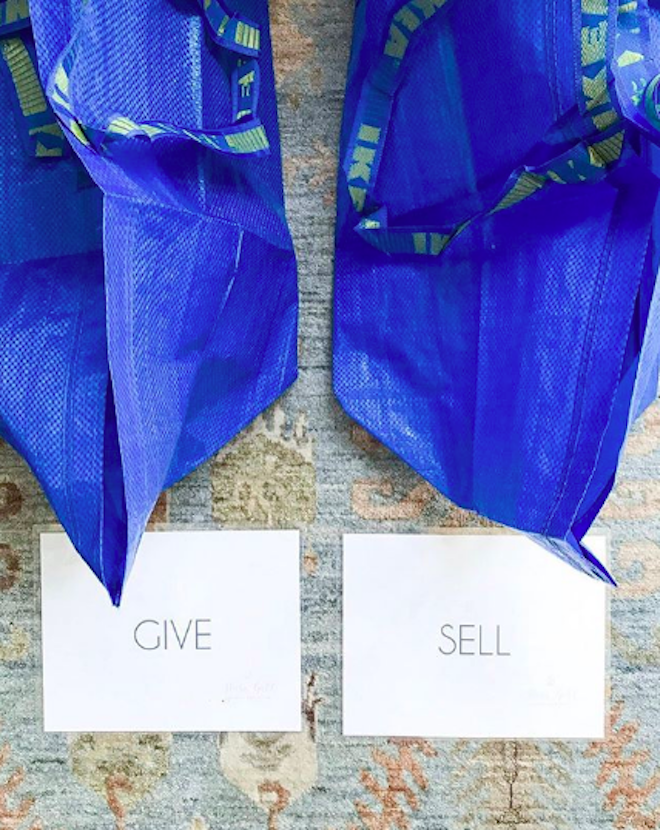 Shira Gill
---
CONGRATS! You did it! Take a look at your decluttered home and breathe a sigh of relief that you have some mental space. Hopefully you feel inspired to keep going and keep 2020 clear and clutter-free!
---