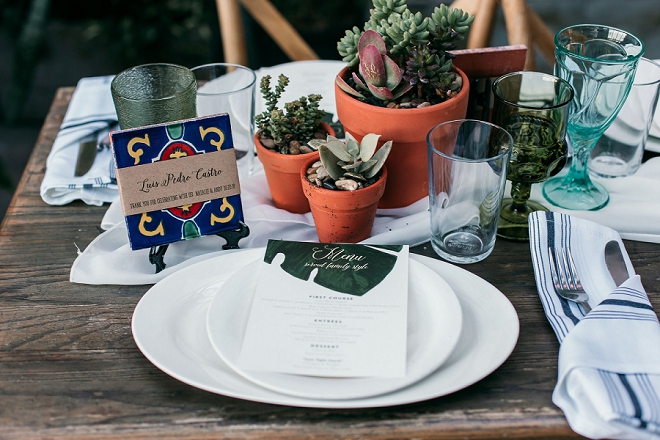 What is your favorite wedding day memory?
Right after the ceremony, Andy and I walked to the little hallway in the corner of Madera We were both crying and hugging each other. Everything felt a little fuzzy, like we were in a dream, but that moment is so vivid in my memory now. We kept asking each other, "did we just get married?!", "did we really just do this?!". It was the only time all night that we were completely alone. We checked in with each other and shared an incredibly special moment. Then we partied!
What did you DIY for your wedding?
We did a lot of hybrid DIY projects. We planted all of our own succulents. We bought large palates of succulents from a local farmers market along with soil and pebble toppers. We planted them in the pots purchased from Amazon. We did about 65 larger 5″ and 98 smaller 2-3″ pots. With the help of our graphic designer friend, we made our own table assignment cards and table name cards. Our table names were the names of our favorite bars, so we either downloaded the bar logos from their website or took a photo of the bar logo from a menu, and our friend generated a high resolution PDF which we printed on 5×7 rustic card stock and inserted into the frames we purchased on Amazon. We used a smaller version of the logo for the seating card chart with guest names which I typed out and then also printed on rustic card stock. These were clothes pinned on a rustic picture frame with twine. We also did a BIY – bring it yourself! We have about 15-20 plants in our apartment and we thought it would be so fun to bring that to our wedding. So the ceremony area was decorated with plants from our home.
Did you have a something old, new, borrowed and blue?
I actually only had something new! I skipped this tradition!
Any advice for brides currently in the planning process?
Our process was surprisingly less stressful than I anticipated! Make decisions WITH your partner. We decided on everything together. We were partners in the decision-making through and through, which helped alleviate excess stress on one of us. It also made the wedding really feel like "us". Be flexible, but stand your ground. Don't let others dictate your taste/preferences or up-sell you, but be open to suggestions. We raised a few eyebrows when we told people we didn't want any fresh cut flowers. That threw a lot of people. How can you not have flowers at a wedding?! But we absolutely love potted plants and succulents are just the coolest, so we went with what we really wanted and not what was expected. Understand that the planning is an evolutionary process and your taste may change. If possible, utilize a wedding coordinator. I understand that there may be budgetary constraints, but seeing how much our wedding coordinator did for us, I would gladly cut the budget in other areas if needed! She kept everything so organized and working with her alleviated so much stress. She kept us on track and coordinated all the logistics so the day of all we had to do was show up! Ask for help if you need it. We had a lot of help from family and friends. My best friend made the cupcakes, another good family friend helped us plant all of the succulents, and another friend gathered the bar logos and designed the table signs. Don't lose sight of what's important – love! From the very beginning, we kept reminding ourselves that this was a celebration of our love, and we wanted the process and wedding day to be FUN and reflect us as a couple. There was no reason to lose sight of that. Lastly, it's all going to be ok. Don't let any mishaps, missteps, hiccups, blunders, or malfunctions take away from what an incredibly special day this truly is. -Natalie, the Bride
Event Credits
Photography: Holly Castillo Photography // Venue + Catering: Madera Kitchen // Wedding Coordinator: Red Light Special Events // Bride + Bridesmaid Bouquets: My Cotton Branch // Invitations: Minted // DJ: Style by Rich Martinez // Chair Rentals: Party on Rentals // Goblet Rentals: Fern and Bone // Engagement Ring: Jewelluxe // Bride's Attire: BHLDN // Hair: Nicoletta Gauci // Groom's Attire: Calvin Klein // Wedding Welcome Sign: Weddings Decor Studio // Wedding Event Schedule Sign: The Rustic Earth // Wedding Seating Chart Holder: The Mountain Bluebird // Belly Bands: Packaging Boutique // Wedding Favors: Amazon // Stands for Tiles: Amazon // Guest Book Postcards: Amazon // Table Runners: Amazon