"Sally and Austin met in Hawaii while both were involved with Teach for America, with Austin teaching elementary special education and Sally teaching high school English. From there, the couple would begin dating and eventually get engaged, attributing their love for adventure and purpose to that strong foundation they first built 10 years ago.
The lovebirds knew they wanted a summer camp-style wedding near Washington's Mt. Rainier, as both loved the experience when they were growing up and wanted to re-create something nostalgic with their friends and family. With their venue nestled in the forest, Sally and Austin rented out cabins for their guests to stay in for the weekend, planning fun activities like tether ball, a talent show, and a s'mores station to get everyone in the spirit! These were some of the couple's favorite moments, complete with singing by the campfire with their loved ones.
Sally and Austin enlisted help from their family to DIY their flowers, with her aunt creating a lovely bouquet and her mother adding sentimental touches with a handmade flower crown. The couple remembers hiding in the forest watching the processionals and waiting to walk down the aisle as one of the sweetest moments of their big day, and as for advice for other couples planning their wedding, the pair says, "Hire a day-of event coordinator! You definitely want someone taking care of all the little details so you can sit back and enjoy your day. And something will go wrong – it will rain or the food will be delivered late, but don't get caught up in the details! At the end of the day, you will be married, and that's all that matters."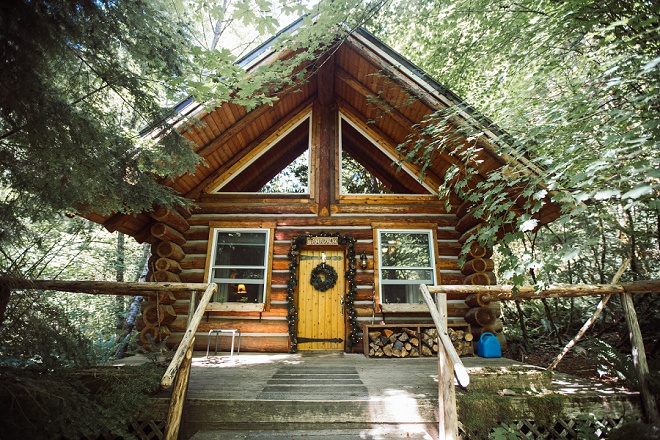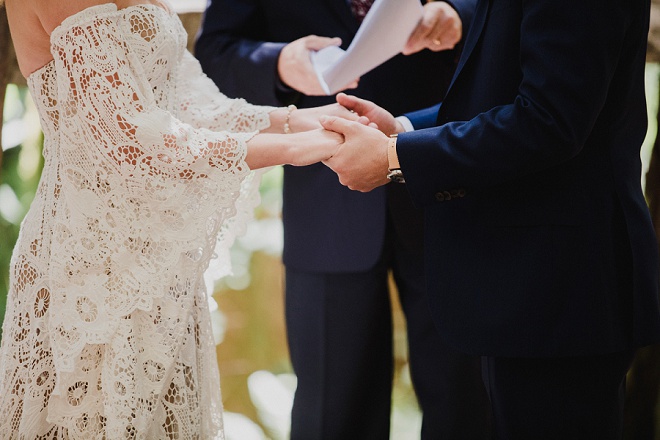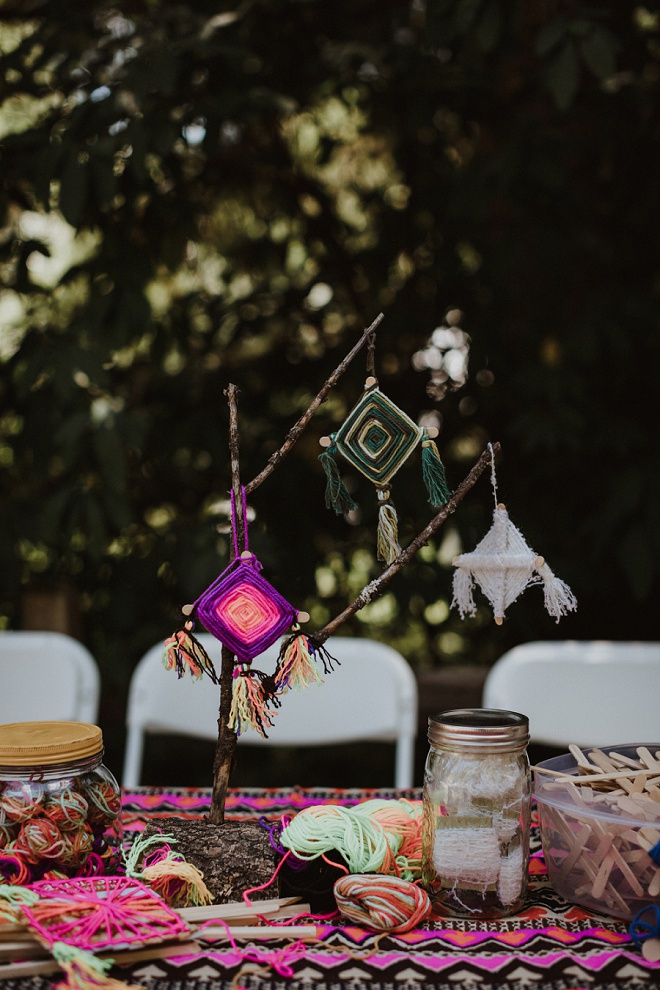 What is your favorite wedding day memory?
There are so many! Hearing the tall trees creak as the wind blew through the forest, having family members dance – lead songs – do readings – and make the ceremony come to life, the gourmet smores bar, my husband singing a song to me, the hilarious family talent show, and ending the night singing songs with friends around a campfire.
What did you DIY for your wedding?
Lots! The Chuppah, my dad built a chuppah out of birch trees to honor the groom's Jewish heritage; my mom sewed the chuppah cover out of linen with a piece of her wedding dress and my grandma's wedding dress. Our Flowers, we DIY'd my flower crown, the men's boutineers, the flower girls' crowns, the table flowers, the chuppah flowers, etc. Flower girl dresses and ring bearer's bow ties. My mom sewed the dresses and the bow ties, they were adorable. The table decor, my mom gathered moss, pine cones, and other natural elements for months before the event while my dad helped by building wooden boxes to hold the table displays. Our cake stand and cake decor. I wanted a natural looking tree stump-style cake stand, so my dad made one from a tree. Everyone DIY'd a wood cookie name tag when they arrived to get in the summer camp spirit My aunt and uncle hosted a gourmet s'mores bar with all sorts of fancy marshmallow flavors (i.e. mint chocolate) and ghirardelli chocolate squares (i.e. chocolate caramel). We even DIY'd the entertainment – before we started dancing, we had a talent show to fit with the summer camp theme. From jokes to magic tricks to poems to skits, it was awesome! Lastly, on Thursday night, we went around and delivered DIY'd welcome gift bags to all of our friends and family staying in the cabins on site. It was so fun to spend some time with everyone!
Did you have a something old, new, borrowed or blue?
Yes, I did! My something old was a pearl necklace from my Grandmother. My something new was my Rue de Seine wedding dress. My something borrowed was a gold ring from a friend and lastly, my something blue were my undies!
Any advice for brides currently in the planning process?
Create the vision that you want and do not try to please everyone. Everyone will have opinions and preferences, but you do not want to get to your wedding day and wish you had done it differently. This is your day, have fun creating your dream! Next, hire a day-of coordinator. I didn't know this position existed and wish that we had someone to coordinate the sequence of logistics on the day of. I spent all morning setting up on the day of my wedding and didn't have time to eat lunch – I recommend taking a bubble bath, relaxing with your girls, and definitely have something to eat! We had family stay on-site in cabins with us from Thursday to Sunday. I really cherished having this extra time with family throughout the weekend since your actual wedding day will go by so fast. -Sally, the Bride
Event Credits
Photographer: Zoe Burchard // Videographer: Fibre Creative // Venue: Wellspring Spa at Mt. Rainier // Ceremony Musician: String Thyme // Florals: Blooms by the Box // Catering: Rablin' Jacks // Rentals: Cort Party Rentals // Cake: Corina Bakery // Bride's Attire: Rue de Seine // Bride's Jewelry: Logan Hollowell Jewelry