Awesome Books To Prep Your Little For Back To School
Hi, my name is Jacki and I am addicted to children's books. Luckily, I have passed my love of reading onto my five-year-old daughter. She will sit and look at books while making up stories for hours some days. We have been working on reading sight word books for a while and she is getting the hang of it however I still sit down and read books with her when she asks me to. At this point, it is not as often as it once was because she wants to read them herself.
A couple of weeks ago I pulled a stack of books from our vast collection to help her get excited to start Kindergarten. She has always loved going to school and I hope she continues to love it for the rest of her life. Tomorrow is her first day of Kindergarten and I am beyond ready! I am excited for her to make new friends and learn new things. As I was gathering books I realized we own a decent amount of books that would be great for back to school. Some are classics that I remember as a child and some are newer but I thought I would share them with you!
Mo Williams
Mo Williams has become one of my favorite authors. His characters are hilarious and some of my daughter's favorites. She will literally laugh throughout the entire book, in other words, not a go-to bedtime book for us because she is too excited afterward. I selected a few Elephant and Piggie books to add even though they are not specifically about school because they are about friendship. How to be a good friend is something we try to encourage nonstop. It is a great reminder at the beginning of the school year when there are many opportunities to make new friends.
My New Friend Is So Fun, $9 on Amazon
My Friend is Sad, $8 on Amazon
Can I Play Too, $9 on Amazon
The Pigeon HAS To Go To School, $10 on Amazon
Do Unto Otters
This book is such a great one all year round! I love the message and the artwork. Mr. Rabbit gets new neighbors who are otters. He is worried that because he does not know much about Otters and wonders if they will get along. Through the book, Mr. Rabbit goes over how he would like the Otters to treat him and how he will treat them. This is a great book to introduce or reinforce manners.
Do Unto Otters, $5 on Amazon
The Rabbit Listened
I originally bought this as a sympathy book but quickly realized it was a perfect book for many occasions. This book is about dealing with difficult emotions and being supportive of others who may be going through something. I personally think kids need to learn compassion and empathy very young because it is a difficult concept to grasp. This book did a terrific job showing how empathy can be simple to give to others. This is defiantly a must own!
The Rabbit Listened, $14 on Amazon
Charlie and Lola
My Daughter loves Charlie and Lola books. I found a bunch at a used book sale a few years ago and grabbed them on a whim. They have colorful unique illustrations and focus on a brother and sister pair. In this book, Lola is scared to start school for the first time and Charlie helps her see it is not scary. When I found this book at Target last year I bought it for full price, which I very rarely do! I tend to get most of our books used, from scholastic book sales through the school or on super sale. This book was worth the full price!
I am Absolutely TOO Small For School, $7 on Amazon
The Gingerbread Man Loose in the School
If you have not read any of the Gingerbread man books, you are missing out! They are written like a comic book and pretty entertaining. This one is about the Gingerbread Man when he explores the school. He gets separated from his class but makes it back eventually after seeing the principal's office, the gym and even somebodies lunch bag. This earned quite a few laughs from my daughter!
The Gingerbread Man Loose in School, $10 on Amazon
Pete the Cat
Pete the Cat is a staple in our house… we most of the books and are constantly reading them. There are a few books about school but I like this book because it shows Pete helping a friend learn to like math by making it fun. I have always been a math person and thought it was fun so this book stuck out to me.
Pete the Cat's Got Class, $6 on Amazon
Classics
I feel there are certain characters all children should know. I remember loving the whole series of Berenstain Bears books and still love to read them to my daughter. They have a bunch of school-related books but Go To School is my favorite for this year. Little Sister starts Kindergarten in this book and it is perfect since my daughter starts kindergarten too.
The Berenstain Bears Go To School, $5 on Amazon
Froggy was a staple of every doctor or dentist's office waiting room when I was a kid. I must have read them every time I went to the doctor because I remembered the story way too well when I read it for the first time as an adult. Froggy Goes to School is a cute story and made my daughter laugh. I have always loved sharing characters from my childhood with her and Froggy is one of our favorite classic characters!
Froggy Goes to School, $8 on Amazon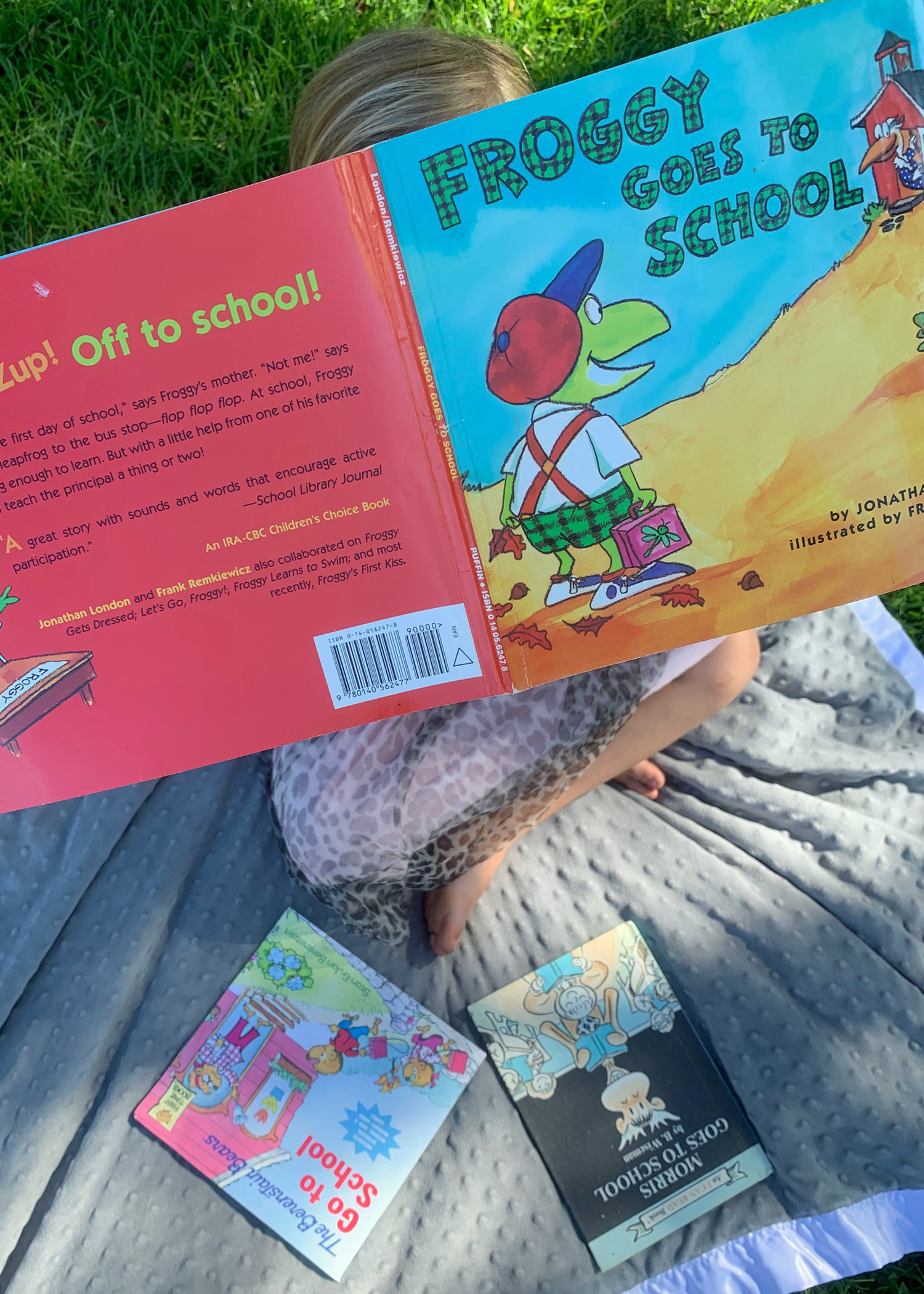 Morris Goes to School is just a silly book! In the end, Morris realizes he can apply math to the real world but it is goofy all the way through. This book has a copyright of 1970 and I still find Morris endearing!
Morris Goes to School, $8 on Amazon
---