It's Decor + Details day!!! I literally have SO much to tell you about my space that I had to split the full-reveal into 2 days… and it's actually going to be 3 because I'm sharing a video of my entire start-to-finish process tomorrow! There is a lot going on in my room and so I've done my best to credit everything (within the post and in the credits at the end) that I can think of but if you have any questions at all, about anything you see here – don't hesitate to ask because I'll be thrilled to talk about it. Some items are brand new, some are really old and some are past DIY's… my "open" style of decorating lends to easy access + interesting vignettes!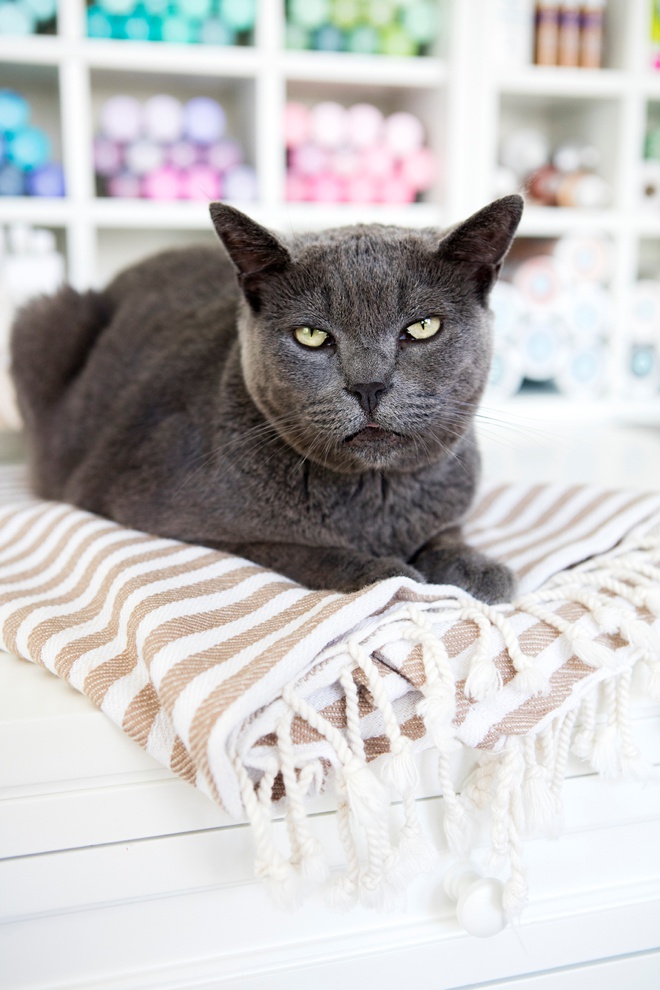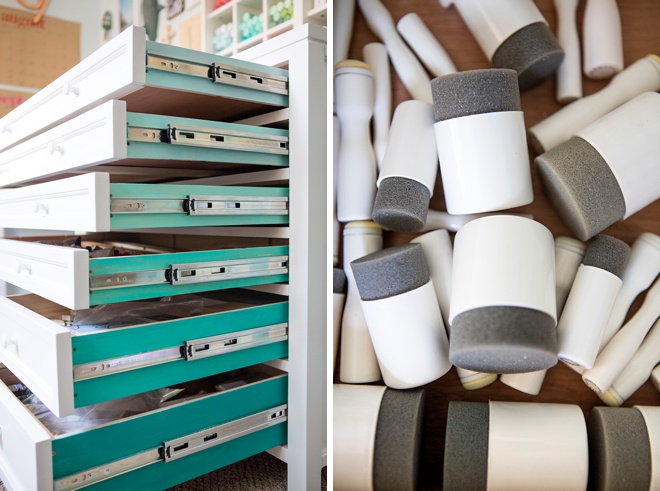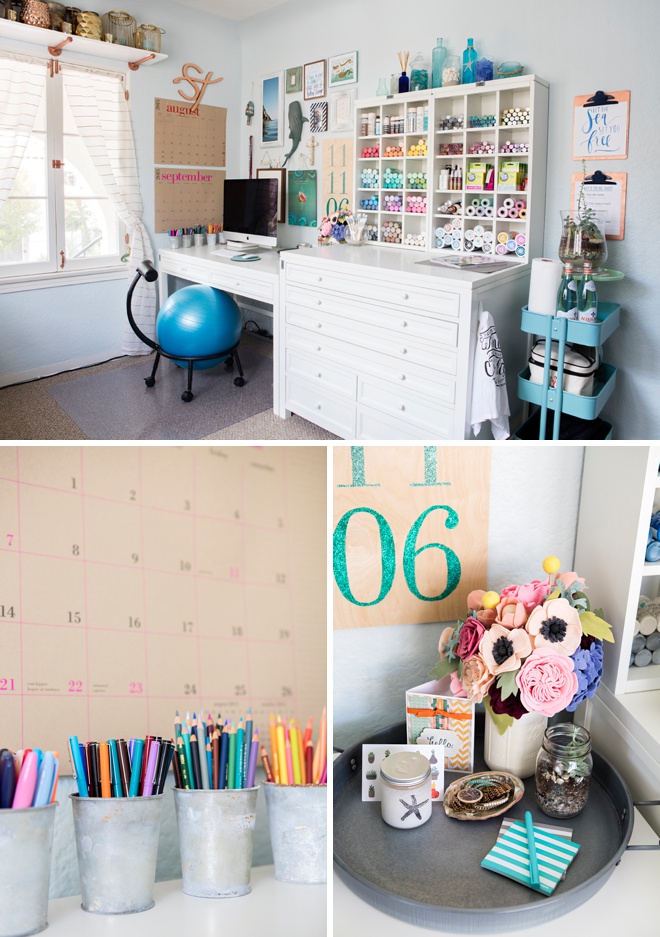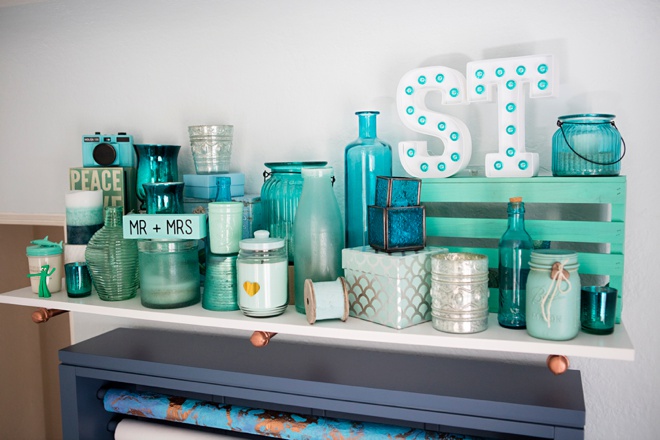 iPhone Snaps:
Here are a few pics from my phone during the final steps of building my space. 1. Cutest baby ever. My sweet cat Marina snoozing while Mom works. 2. The drawers are painted ombre! 3.4.6. Amazing boxes of fresh craft supplies start to land at my door like these from JoAnn Stores, Fiskars and Little B! 5. My new aqua, diamond mouse pad and coaster from Little Hawthorne.
Craft Room Credits:
Special thanks to Offray®, Afloral.com and Little B for partnering with us on this project!
Photography: Something Turquoise // All furniture in this space is courtesy of: Martha Stewart Living™ Home Decorators Collection // All paints, all paintbrushes, all glitter, scoring board, gift box punch and more courtesy of: Martha Stewart Crafts™ // Cricut Air + tools courtesy of: Cricut // Large gray cutting mat on DIY station, All scissors, Punch drawer, Rotary cutter, and Paper trimmer courtesy of: Fiskars // Crystalline Falls (walls) + Snowfall White (trim): Behr Paint // Adhesives: courtesy of Glue Dots® // Canon PIXMA iP8720 Crafting Printer + all thread courtesy of: JoAnn Stores // Gift Wrap, Mermaid print, Warnings Mermaid Sign + Giant wall calendar: Paper-Source // Copper "ST" Sign: Host & Toast // Almost all decor jars (ask me for specifics) + all faux flowers courtesy of: Afloral.com // All Ribbons courtesy of: Offray® // Diamond Mouse pad: Little Hawthorne // Aqua utility cart: Ikea // Let the sea set you free print: A Fabulous Fete // Gaiam Yoga Ball Chair: Amazon // Vinyl Chair mat: Amazon // Pipe Washi Tape Holder, Clipboards, Clock, Shelves, Outlet covers, Door knobs and Peg boards: DIY by Jen // All Washi tape courtesy of: Little B // White Peg board pegs (WallPeg): Amazon // Statement necklace: DIY by Something Turquoise // Hanging Air-plant: Kelso Doesnt Dance // Shoe organizer holding the spray paints: Amazon // Crafts + Wine Towel: Amazon // Dress: Nordstrom // Striped Blanket: The Anatolian // Ironing Board cover: like 4 years old from Target //
---
All images copyright of SomethingTurquoise.com®. If you'd like to share these images, please do! Guidelines: only 1-2 images can be shared at one time, in their original format, with a direct link to this exact post including that express credit for the image and idea is given to "Something Turquoise".
---
This is part four, don't miss the other features:
---
Craft Room Partners:
I have partnered with the brands listed above to create this craft space. All expressed opinions and experiences are my own.
---
#stcraftroom sweepstakes!
---
These awesome #stcraftroom giveaway prizes just don't quit! Today we have Offray® sponsoring a sweet stash of high quality ribbons in various types, colors, patterns and widths valued at $200 – ribbons for days! Next up, Afloral.com is granting one lucky reader a $100 e-gift card to their website that is packed full of the most amazing faux flowers, decor elements and more. DIY brides, you MUST checkout Afloral.com. Last, we have my most favorite washi tape company ever, Little B – who is giving away a terrific bundle of assorted washi tapes, embellishments and notes! Seriously, are these brands spoiling you or what!?! Good luck to all who enter!
Use the individual Rafflecopter Widgets above to enter. All contests end on Friday, 8/21/15 at midnight, PST. Winners chosen at random. Winners will be contacted via the email address that they provide to the Rafflecopter Widget. If the winner doesn't respond to our contact email by 8/26/15 at midnight, another winner will be chosen. Winners will be announced here within this blog post no later than 8/31/15. Only one #stcraftroom sweepstakes winner per household. Readers are allowed to enter to win all 11 prizes, but can only win once during the Sweepstakes period. Available to US residents only. Must be at least 18 years old to enter. Click here to read the official rules for the $200 Offray® ribbon bundle prize, the $100 Afloral.com e-gift card prize, and the $75 bundle of Little B embellishments prize.
---
No related posts found.