Obsessed. There is something romantically rustic and boho-chic about this months super-budget friendly Bouquet Blueprint from our fav Floral Design By Jacqueline Ahne. These flowers are available year round, they are easy to handle and I'm in love with the pairing! Swap out the 6 roses for any 6 focal flower you please and keep the price so low it will make your wallet to a happy dance. Other than the roses, the rest of the flowers used are called "filler" flowers and are typically just used as volume and filler in most bouquets and arrangements, except they are the shining star in this design!
Availability
The great thing about this bouquet is that it's so very versatile! The roses can be switched out to match any color theme or they can be substituted with another flower for a different look (try calla lilies or orchids!). As this bouquet is designed it is available year round and is perfect for a rustic wedding.
Care
This bouquet is actually very hardy! Unlike most flowers, these filler flowers can be out of water longer than most. Just because the flowers are hardy, it's still best to keep it in water as long as possible. This bouquet is designed to have a lot of movement when it's being carried down the aisle and can be carried by the Bride or Bridesmaids! You could even ombre the rose varieties for each bridesmaids bouquet to add a unique touch.
Recipe
Keep in mind most accent flowers (or filler flowers) are sold by a "growers bunch".
1/3 bunch Limonium
3/4 bunch short seeded eucalyptus (or 1/2 bunch regular size)
6 stems Versila roses
1 bunch Queen Anne's lace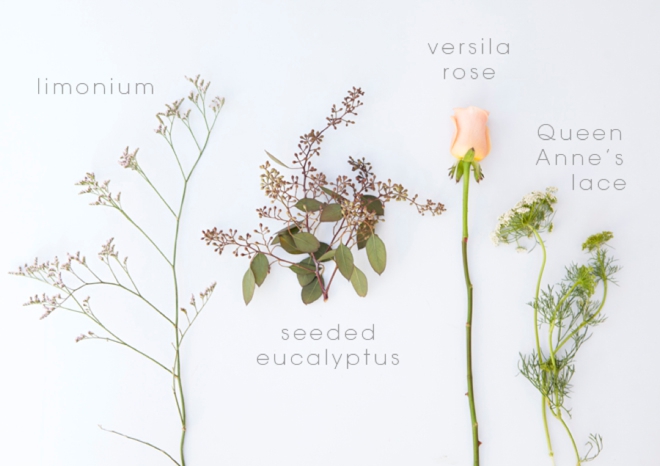 Boutonnieres
A boutonnière is a great way to bring this theme to the Groom. These three boutonnières are created from only one type of flower to keep the design clean and cheap. Since the boutonniere is just meant to be an accent, be sure to select something that is the correct size for your Groom's lapel. A simple wrap with your choice of ribbon is all it takes. The Limonium actually looks lovely dried so you can preserve the bout if you'd like!
DIY Clay Bouquet Charm
This is such a sweet little detail that will bring a smile to your bridesmaids faces and make darling pictures! The best part is it's quick, easy and totally inexpensive. Learn how to make them for the entire bridal party in this DIY tutorial that we shared a few months ago!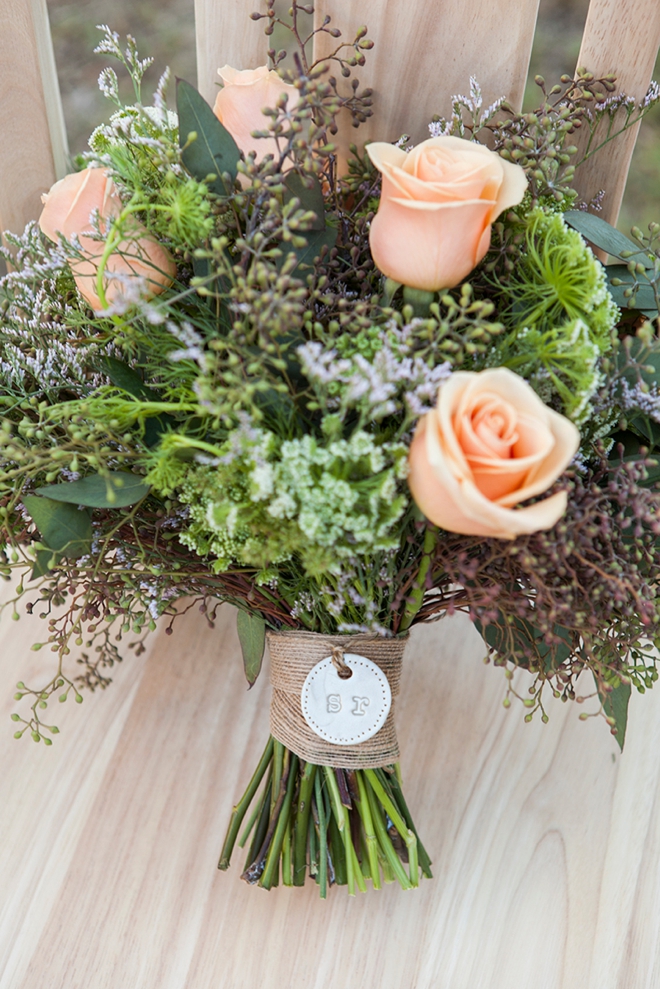 Bouquet Blueprint Credits
Photography: Something Turquoise Photography for Something Turquoise // Florals by: Floral Designs by Jacqueline Ahne // Styling: Jen | Something Turquoise
No related posts found.