I'm beyond excited to share this very special party with you today!!! Something Turquoise was invited to help launch Martha Stewarts brand new line of party supplies called 'Martha Celebrations' available exclusively at JCPenny! A giant box of fab turquoise goodies arrived at our door and I was instantly inspired to throw myself (yep ~ why not!) a seaside bridal shower brunch with three of my gorgeous friends!
I'm constantly inspired by the sea… it's my favorite place to be – and so why not throw this girly bash with our toes in the sand! In the morning sun, we enjoyed a mini-style brunch with refreshing mimosas and delectable desserts. The turquoise, gold, and white color scheme played perfectly with the beautiful beach setting. Clouds slowly rolled past us and briefly gave us hints of sun, making absolute perfect conditions for photography… and when you have a photographer as good as I do – the beauty below is what you get!
Playing off these pretty Martha Celebrations plates and napkins, I loosely formed a girly seaside theme with gold lanterns and turquoise seashells. The addition of the beautiful flowers from Jaqueline Ahne (my favorite florist!) all around the lanterns was the final piece to our oceanic puzzle. The color of the spanish moss and the texture of the hanging amaranthus embodied that of what might be growing in the sea. These flowers are absolutely stunning.
Ohh… these desserts!!! Wedding cake cupcakes with gold leaf hearts in the frosting, stacked wedding cake cookies, and cake pops that should be illegal – Sweetsicle Bake Shop outdid herself with these beautiful turquoise confections! Aren't those wedding cake cookies to die for!!! They also melt in your mouth! Can you say sugar rush! To learn how to make these super cute cupcake wrappers check out the link in our credits below.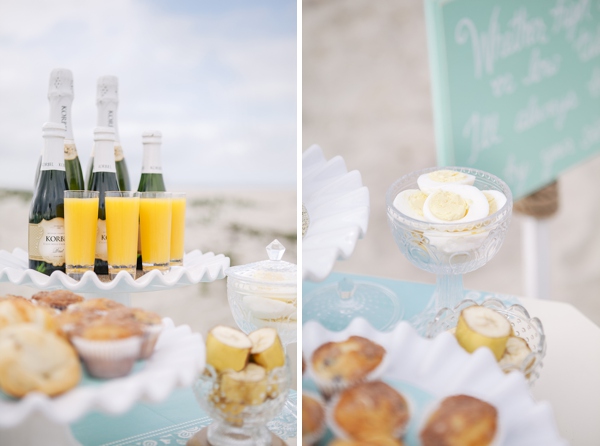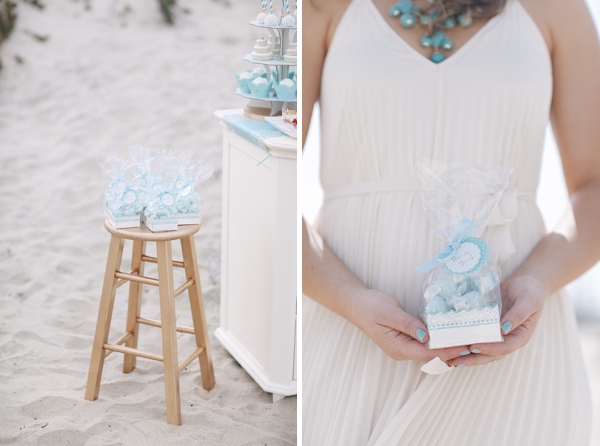 I made the beachy sign below… stay tuned – we will be sharing a 'reception sign DIY' in the near future! Whether high tide or low tide, I'll always be by your side… the perfect sentiment for a seaside bridal shower.
Why do only the bride and groom normally get 'reception chair signs'…? I think my girls deserved a seat being saved just for them!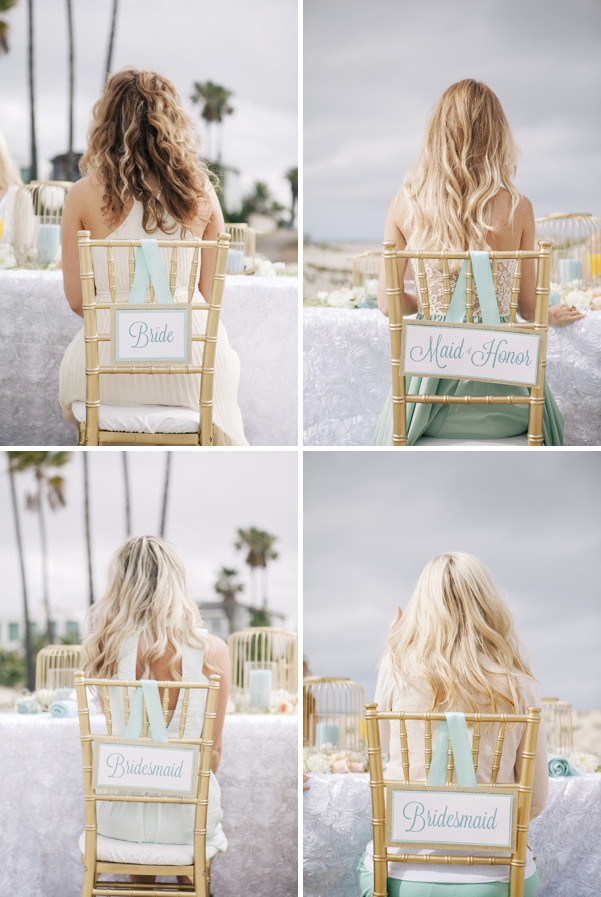 Let's talk about the food! We enjoyed an adorable mini-brunch… so that we could leave room for those delicious desserts! Mini everything ~ yogurt parfaits, fruit cups, hard-boiled eggs, bananas, blueberry muffins and yummy turkey and cheese croissants! I made sure that even the oj for our mimosas was mini ~ served in shot glasses!
Now I have to talk about my gorgeous friends who I spent this lovely morning with! First up, the beautiful Jaymi – you might remember her from her stunning wedding or our romantic valentines styled shoot. I'm so glad that this beauty is always up for a photo shoot!
Onto my radient cousin… prego with her second and I'm thrilled to say that it's a boy! Turquoise sure does look good on her and that little baby belly!
…and then we have the always fab Brittany Hart of The Fashion Drug. My personal stylist and our 'Aisle Style' monthly contributor… the photo shoot guru – this girl is the bomb!
In closing, I am full of gratitude not only for this opportunity but that I get to spend my life surrounded by such lovely people. I hope this shoot inspires you in some way. xoxo, Jen.
"All the Martha Celebrations at JCPenney products featured in this post were provided by the Editors at Martha Stewart Living, a team that loves a good party and deeply admires the bloggers who throw them." 

Martha Celebrations is available exclusively at JCPenny.
Click on the images above to find out how to make each project!
beautiful photography: Something Turquoise Photography of Studio 11 Weddings // event coordination and styling: Jen of Something Turquoise // Martha Celebrations items used: large white balloons, large turquoise bows, plates, napkins, chocolate covered candies, favor bag kit, table runner on dresser, three tier cupcake stand, turquoise ribbon and printable invitations: courtesy of the Editors at Martha Stewart Living // cupcake wrappers: made using the Martha Stewart Circle Edge Punch // florals: Floral Design by Jacqueline Ahne // sweets, treats and white cake stands: Sweetsicle Bake Shop // rentals: BeDazzle My Events // clothing and jewelry styling: The Fashion Drug // lanterns and candles: Target // aqua pashminas: OnePriceScarf via Ebay // cake-pop straws and drinking straws: Koyal Wholesale // mini-appetizer containers: Mozaik // glassware: Ikea // beach sign: Jen // venue: Seal Beach, CA // Jen's ivory dress: Victorias Secret // Brittany's Dress: Motel Rocks // ST DIY tutorials soon to come: starfish bunting banner, frost painted glassware, seashell seating card favors, and bridal chair signs
No related posts found.