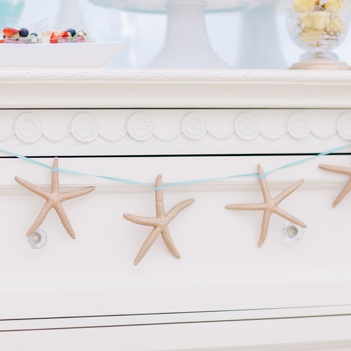 DIY | starfish bunting banner
I love the sea and everything in it… especially with the addition of gold spray paint! Here is the first of four DIY tutorials from our 'Seaside Bridal Shower with Martha Celebrations' shoot…
SUPPLIES:
Krylon Metallic Gold Spray Paint
fingerling starfish
1/8″ ribbon
spray painting area
Paint the backside of your starfish and then the front side!
This paint dries very quickly… but at the same time starfish are very porous. Do as many coats as you need until you are satisfied with the coverage – making sure to get the sides too.
I'm only adding 5 starfish to this banner so I cut about 5 feet of ribbon.
Tie a simple knot around one arm of the starfish, make sure the knot is on the backside and tie a final knot to secure.
When adding your next starfish, make sure to leave an appropriate amount of space in between so they don't hit each other.
Tie a second knot on the backside to secure it.
That's it! Simple and so pretty… I wish you could see these gorgeous starfish in person! They look like expensive, gold decor pieces… what a difference a coat of paint can make!
Perfect for a seaside bridal shower…
As with all our DIY tutorials, if you create one of our projects please send us a picture or a trackback – We Love Seeing Your Creativity! If you use Instagram or Twitter please use the hashtag #SomethingTurquoiseDIY. Happy Crafting!

beautiful photography: Studio 11 Weddings // DIY tutorial: Jen | Something Turquoise // white fingerling starfish: California Seashell Co. // Krylon Metallic Gold Spray paint and turquoise ribbon: Michaels // nail polish: OPI liquid sand in Get Your Number
Click here to see the entire 'Seaside Bridal Shower with Martha Celebrations'
No related posts found.