– Affiliate Post –
Disclosure: This post uses affiliate links. This means that if you purchase something that I feature, I'll get a small commission (this will not increase the price of the item).
If you've landed here, you're likely familiar with the joys of Splurge and Saves. But just in case you aren't, allow me to explain:
I'm Kendra Found It, and I find home decor that helps you decorate on a budget. I pick a popular style and find it in different sizes, price points, colors, materials, and finishes. All items are similar, but there are details that set them apart (kinda like us, right?!). This is where you find your perfect fit according to what YOU need and what attributes you value the most. Got some money to invest? Check out my splurges. On a budget? Check out my saves.
Today I've rounded up five home decor Splurge and Saves, so sit back, relax, and let me do the shopping for you.
P.S. Don't forget to check out my previous Splurge and Save articles if you want more home decor finds.
1. MCGEE AND CO. JUDY CHAIR SPLURGE AND SAVE
I discovered this Splurge and Save while sourcing new dining room chairs for myself! I love Amber Lewis' Teagan side chair and also McGee and Co.'s Judy chair; they both feature caning and a Mid-Century Modern design.
The Amber Interiors Teagan and Waverly chairs come in black, and the and McGee and Co. Judy chair is available in white, teak, or black.
Wayfair's versions come in natural, brown, walnut, and black, while Target's version is available in black and natural.
Splurges: McGee and Co. Judy Chair, $760
Amber Interiors Teagan Side Chair, $798
Amber Interiors Waverly Dining Chair, $799
Saves: Wayfair Clemente Arm Chair in Dark Brown, $325
Wayfair Atticus Side Chair, $320
Wayfair Graig Arm Chair in Oak, $419
Wayfair Graig Arm Chair in Brown, $409
Wayfair Falco Slat Back Arm Chair in Natural, $409
Target Tormod Backed Cane Dining Chair – Project 62, $110
Pottery Barn Cane Back Dining Chair, $399
2. AMBER INTERIORS PENNY BED SPLURGE AND SAVE
I'm SUPER proud of this find. Why? You need two different pieces, which somehow makes it feel like a massive decor hack.
Amber Interiors' Penny bed is solid oak and features her signature California-cool style. It also has the headboard cushion that you've likely seen all over Instagram and Pinterest; headboard cushions are really having a moment right now, and you can customize your cushion through Amber's website.
Crate and Barrel's Solano Wood Bed is also solid oak (!!!) and you can purchase a headboard cushion separately for $200 or less, depending what size bed you choose. Note that the cushion only comes in the one colour (white).
Splurge: Amber Interiors Penny Bed, $5,000
Save: Crate and Barrel Solano Wood Bed, $1,699
Crate and Barrel Solano King Wood Bed Headboard Cushion, $200
3. PELLE BUBBLE CHANDELIER SPLURGE AND SAVE
Statement lighting is one of my favorite ways to decorate; it adds character to a room and can pull things together in a way that nothing else can.
The Pelle Bubble Chandelier has been on my Pinterest board for a long time. As the name suggests, it's reminiscent of bubbles, which lends itself well to bathroom lighting, but I also love it in a dining room or home office.
Wayfair's version features a cluster of globe bubbles and a similar wrapped column.
World Market's version features globe bubbles and is more minimalist overall.
Splurges: 1st Dibs Pelle Bubble Chandelier, $3,900
1st Dibs Jumbo 29 Bubble Chandelier in Black Leather and Satin Brass by Pelle, $6,450
Lumens Bubbles Chandelier, $1,437
Saves: Wayfair Modern Style Bubble Glass Chandelier In Black/White, $629
Wayfair Cen 3 – Light Unique / Statement Sphere Chandelier, $339
Wayfair Modern Creative Glass Bubble Pendant Light, $365
Wayfair Modern Glass Bubble Chandelier, 4 Lights, 12 Glass Bubbles, $379
Wayfair Tullu 6 – Light Unique / Statement Sphere Chandelier, $529
Wayfair Satin Bronze Logan 3 – Light Unique Sphere Chandelier, $540
World Market Clear Blown Glass Bubble Pendant Lamp, $100
Wayfair Ciska Modern Glass Bubble Chandelier Pendant Lamp, $339
4. SERENA AND LILY BROMPTON FLOOR LAMP SPLURGE AND SAVE
Serena and Lily has the best lighting. Floor lamps, table lamps, sconces, flushmounts – you name it, they have it. I was immediately drawn to the simplicity of their Brompton Floor Lamp; the linen shade, tripod design, and minimalist style would fit in perfectly in a coastal or modern traditional living room.
I also found floor lamps at Target and Wayfair that feature a tripod design, wood legs, and a fabric shade. The target version features brass accents and the Wayfair versions feature slightly different leg variations and wood finishes.
Splurge: Serena and Lily Brompton Floor Lamp, $598
Saves: Target Oak Wood Tripod Floor Lamp Brass, $100
Wayfair Geoffrey 63″ Tripod Floor Lamp, $420
Wayfair Ezra 61″ Tripod Floor Lamp, $139
Wayfair 63″ Tripod Floor Lamp, $253
5. RESTORATION HARDWARE PARSONS SLIPCOVERED BED WITH FOOTBOARD SPLURGE AND SAVE
Sometimes less is more, and Restoration Hardware's Parsons Slipcovered Bed is the perfect example of this. This streamlined and simple bed comes in a variety of colours and fabrics (linen, velvet, and cotton, to name a few) and features a padded headboard and optional footboard.
Wayfair's version features a similar shape, muslin fabric, and a stitched flanged edge.
Splurge: Restoration Hardware Parsons Slipcovered Bed With Footboard, $4,990
Saves: Wayfair Highland Park Upholstered Low Profile Standard Bed, $1,444
Wayfair Madison Upholstered Low Profile Platform Bed, $854
Macy's Bernhardt Highland Park Upholstered King Bed, $1,241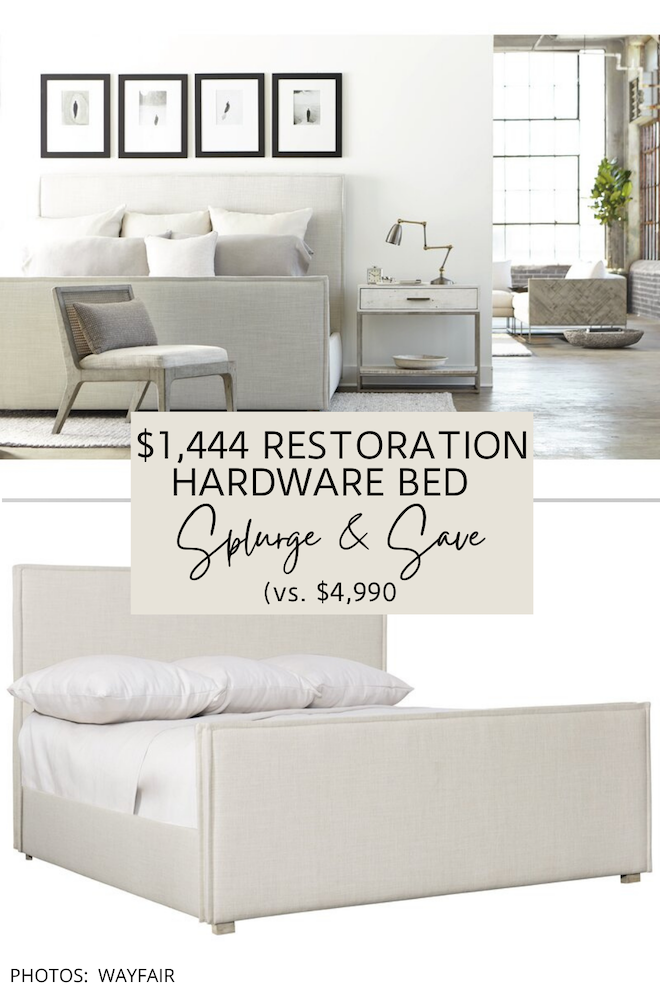 Still want more? Check out my extensive list of fashion, beauty, and decor deals at Kendra Found It or follow me on Instagram.