– Affiliate Post –
Disclosure: This post uses affiliate links. This means that if you purchase something that I feature, I'll get a small commission (this will not increase the price of the item).
If you've landed here, you're likely familiar with the joys of copycat decor. But just in case you aren't, allow me to explain:
I'm Kendra Found It, and I find home decor dupes. A dupe or copycat looks similar to an expensive item, but costs way less. Love that $999 Pottery Barn console table? I've got an affordable copycat for you. Drooling over West Elm nightstands? I've got that too. If you're on a budget and love decorating, this is the place for you. Today I've rounded up five home decor dupes that will save you thousands, so sit back, relax, and let me do the shopping for you.
P.S. Don't forget to check out my previous copycat decor articles if you want more home decor dupes and look-alikes.
1. WEST ELM MODERNIST WOOD & LACQUER NIGHTSTAND DUPE
We all love options, and boy, does this find have them! West Elm's Modernist Wood and Lacquer Nightstand features a sleek silhouette, metal hardware, and antique brass legs.
I found similar modern nightstands at Wayfair, Amazon, and Overstock. The best part? They come in a huge range of colors (especially the Wayfair option). If whitewashed wood isn't your style, I also love the walnut and the black/white combination.
Splurge: West Elm Modernist Wood & Lacquer Nightstand – Winter Wood, $499
Saves: Wayfair Cream/White Washed Heidrick Nightstand, $229
Target Genevieve 2 Drawer Nightstand – Safavieh, $168
Overstock SAFAVIEH Genevieve 2-drawer Nightstand – Grey/White Washed, $179
Amazon Safavieh Nightstand, Black/White Washed, $177
2. POTTERY BARN RIOLA DOUBLE SINK BATHROOM VANITY DUPE
I feel like a proud mom right now – this Splurge and Save was submitted by one of you.
Pottery Barn's Riola bathroom vanity comes in a variety of sizes and colours; it also has metal hardware and a Calacatta Quartz top.
Amazon's version also comes in a variety of sizes and colours and even has similar knobs. The KFI reader sent me the 60" version and I loved it so much, I did some digging and found more sizes. The links below are for larger cabinets, but if you need something smaller, just click on the links below and the smaller ones will come up in the "similar items" highlight at the bottom.
Splurges: Pottery Barn Pottery Barn Riola 48″ Single Sink Vanity, $1,999
Pottery Barn Riola 60″ Double Sink Vanity, $2,149
Pottery Barn Riola 72″ Double Sink Vanity, $2,499
Saves: Amazon ARIEL 49″ Inch Rectangle Sink White Bathroom Vanity Cabinet, $1,425
Wayfair Hamlet 49″ Single Bathroom Vanity Set with Mirror, $1,760
Amazon Dorel Living Otum 60 Inch Double Bathroom Vanity with Sink, 60″, Gray, $999
Amazon ARIEL 73″ Inch Grey Double Vanity with Pure White Quartz Countertop, $1,919
3. MCGEE AND CO. JUDY CHAIR DUPE
I discovered this Splurge and Save while sourcing new dining room chairs for myself!
I love Amber Lewis' Teagan side chair and also McGee and Co.'s Judy chair; they both feature caning and a Mid-Century Modern design. The Amber Interiors Teagan and Waverly chairs come in black, and the and McGee and Co. Judy chair is available in white, teak, or black.
Wayfair's versions come in natural, brown, walnut, and black, while Target's version is available in black and natural. They are also available with or without arms, so you've got lots of choices to make!
Splurges: McGee and Co. Judy Chair, $760
Amber Interiors Teagan Side Chair, $798
Amber Interiors Waverly Dining Chair, $799
Saves: Wayfair Clemente Arm Chair in Dark Brown, $325
Wayfair Atticus Side Chair, $320
Wayfair Graig Arm Chair in Oak, $419
Wayfair Graig Arm Chair in Brown, $409
Wayfair Falco Slat Back Arm Chair in Natural, $409
Target Tormod Backed Cane Dining Chair – Project 62, $110
4. POTTERY BARN ARCHITECT'S WOOD CONSOLE DUPE
Pottery Barn's Architect Console table is pure entryway, kitchen, or dining room decor perfection. It features two large drawers and an open shelf, which offers plenty of storage and styling space. It has the signature Pottery Barn style that they are known for, and is finished off with (my favorite detail), antique bronze-finished bin pulls.
Wayfair's Gray Nowell Console Table features a similar reclaimed style and even has similar drawer pulls. There are actually a few versions of it that I found on Wayfair, so be sure to check out all of them if the first one you click on is sold out.
Splurge: Pottery Barn Architect's 62″ Reclaimed Wood Console Table, $999
Saves: Wayfair Gray Nowell 58" Console Table, $439
Wayfair Wink 58" Console Table, $559
Wayfair 58" Console Table, $499
5. SERENA & LILY RIVIERA BISTRO DINING CHAIR DUPE
These Parisian-inspired wicker dining chairs are affordable and also durable. They are great for kids and families because many of them are indoor/outdoor, which means you can easily wipe them down. They come in a variety of colors, so if you don't see a color you like in the first link you click, check out the other options.
Splurge: Serena & Lily Riviera Dining Chair, $298
Saves: Walmart Safavieh Salcha Outdoor French Bistro Side Chair, $121
Home Depot Celie White and Blue Dining Chair, $151
Wayfair Underhill Wicker/Rattan Patio Dining Side Chair, $220
Wayfair Patio Dining Side Chair, $180
Target Remi Outdoor French Bistro Chairs, $122
Target Salcha Indoor Outdoor French Bistro Side Chair, – Safavieh, $157
Wayfair Pim Patio Dining Arm Chair, $195
Wayfair Rhianne Stacking Patio Dining Armchair, $235
Wayfair Hooper Stacking Patio Dining Chair, $160
Wayfair Oswaldo French Stacking Patio Dining Chair, $210
Overstock Safavieh Salcha Grey Indoor/ Outdoor Stackable Chair, $136
Wayfair Stacking Patio Dining Chair, $212
Amazon Safavieh Indoor-Outdoor Stacking Side Chairs, $116
Overstock Furniture of America Ariel Natural Tone Patio Bistro Chairs, $180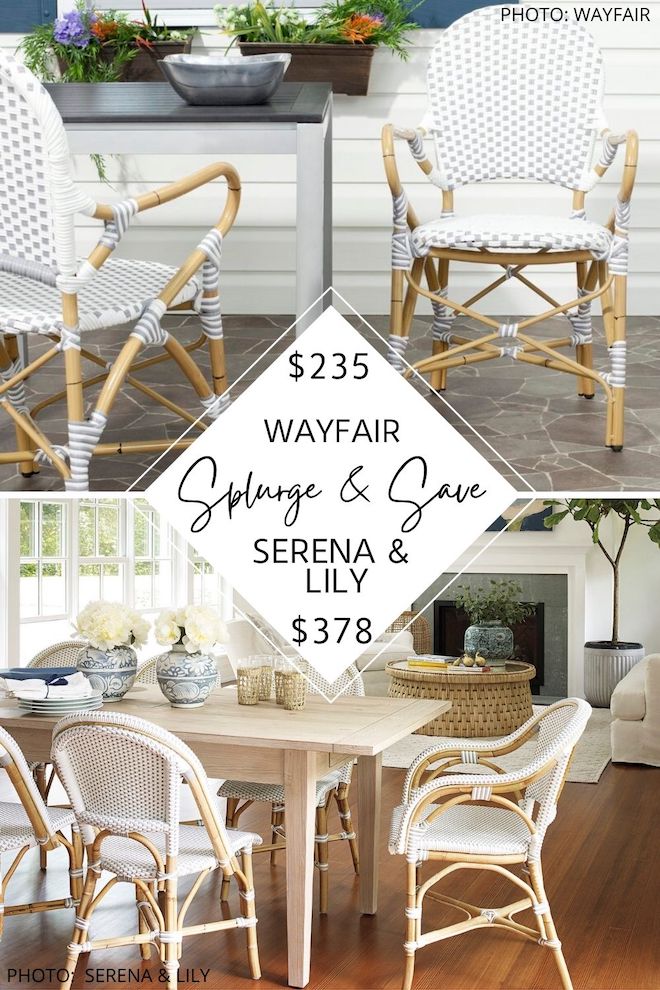 –
Still want more? Check out my extensive list of fashion, beauty, and decor deals at Kendra Found It or follow me on Instagram.