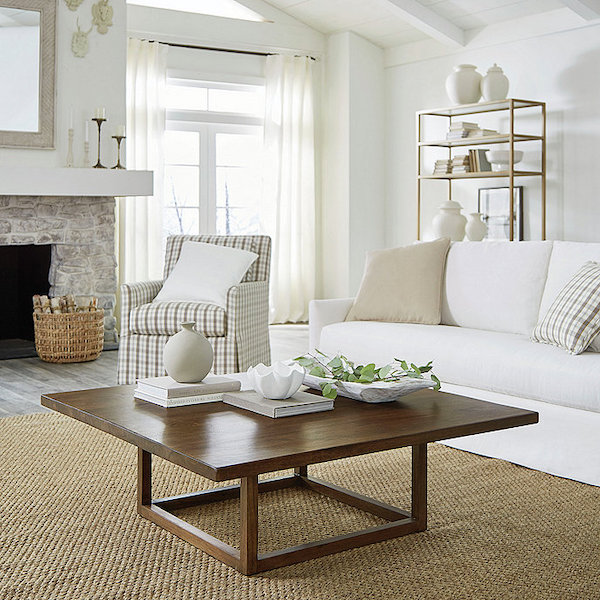 AMBER INTERIORS, SERENA AND LILY, WEST ELM, AND MADEWELL DUPES
– Affiliate Post –
Disclosure: This post uses affiliate links. This means that if you purchase something that I feature, I'll get a small commission (this will not increase the price of the item).
If you've landed here, you're likely familiar with the joys of copycat decor. But just in case you aren't, allow me to explain:
I'm Kendra Found It, and I find home decor dupes. A dupe or copycat looks similar to an expensive item, but costs way less. Love that $4,800 Amber Interiors Coffee Table? I've got an affordable copycat for you. Drooling over Serena and Lily's bar stools? I've got that too. If you're on a budget and love decorating, this is the place for you. Today I've rounded up five home decor dupes that will save you thousands, so sit back, relax, and let me do the shopping for you.
P.S. Don't forget to check out my previous copycat decor articles if you want more home decor dupes and look-alikes.
1. AMBER INTERIORS WOODLAKE COFFEE TABLE DUPE
Amber Lewis is one of my favourite designers. Her moody, cozy spaces make my heart sing and so does her shoppe, where she sells pieces curated by her. Basically, I want everything in her entire online store.
Amber's Woodlake coffee table features an open square base, plank tabletop, and comes in five different colours. Ballard Designs' Palisades coffee table also has an open square base, comes in a walnut finish, and is made of solid wood.
Splurge: Amber Interiors Woodlake Coffee Table, $4,800
Save: Ballard Designs Suzanne Kasler Palisades Coffee Table, $799
2. SERENA AND LILY CARSON BAR AND COUNTER STOOLS DUPE
I'm so excited to share this find with you! A while back, I found a [Serena and Lily Carson Dining Chair Splurge and Save[(https://www.kendrafoundit.com/archive/serena-amp-lily-carson-dining-chair-copycat), and now I'm sharing my Serena and Lily Carson bar and counter stool find with you.
Ever since I posted my original find, I've been getting requests to tackle the Carson stool, but I couldn't find anything that I was really happy with….until today. There are plenty of seagrass or woven bar stools out there, but most of them don't have the signature black stripes down them.
Splurges: Serena and Lily Carson Bar Stool, $828
Serena and Lily Carson Counter Stool, $798
Serena and Lily Carson Bar Stool – White, $828
Serena and Lily Carson Counter Stool – White, $798
Saves: Wayfair Diggs 29.5″ Bar Stool, $255
Marshalls Woven Stripe Counter Stools, $175
3. MADEWELL CITYWALK LUGSOLE CHELSEA BOOT DUPE
It's been a while since I've done a fashion Splurge and Save, so I was thrilled to find this one while shopping for some new fall boots for myself. I love Madewell (especially their bags, backpacks, and leather goods); as soon as I saw the Madewell Citywalk Lugsole Chelsea boot, it was love at first sight. Lug sole boots are very on-trend right now and fall is officially here, so it's perfect timing.
Nordstrom's Caslon Miller Boot has a similar shape, Chelsea boot style, lug sole, and stitching, and comes in at just under $100.
Splurge: Madewell Citywalk Lugsole Leather Chelsea Boot, $198
Saves: Nordstrom Caslon Miller Water Resistant Chelsea Boot, $99
Sam Edelman Nordstrom Laguna Chelsea Boot, $169
4. WILLIAMS SONOMA CAMPAIGN 6-DRAWER DRESSER DUPE
This dresser reminds me a lot of my McGee and Co. Kelan Nighstand Splurge and Save. It has a similar campaign style, brass handles, and comes in a variety of sizes.
I'm a sucker for good hardware, and both my Splurges and my Saves have plenty of it. All of my finds feature the signature rectangular hardware and many of them even come with brass strapping. If you see an item you like, make sure to check the colour options, as each one comes in a variety of colours. Choices are great to have!
Splurge: Williams Sonoma Campaign 6 Drawer Dresser, $2,495
Saves: Wayfair Dania 6 Drawer 59.75" W Double Dresser, $933
Wayfair Delafuente 6 Drawer Double Dresser, $428
Wayfair Monarch Hill Haven 6 Drawer Double Dresser, $329
Wayfair Menlo Station 12 Drawer Solid Wood Dresser, $1,459
Overstock Avenue Greene Jordan 6-Drawer Dresser – Graphite Blue, $422
Overstock Kedric 6-Drawer Gold Accent Dresser by iNSPIRE Q Bold – Espresso, $1,059
5. WEST ELM SCULPTURAL METAL FLUSH MOUNT DUPE
West Elm's Sculptural Metal Flushmount is sleek, modern, and comes in white, black, and gold. Wayfair's Ringwood flushmount has a similar shape and style and comes with three light sources; it also comes in black, grey, and white.
These lights would look fantastic in a bathroom, entryway, stairway, bedroom, or above a kitchen sink. And great news for all the Canadians out there – the Canadian Save is only $13 more than the US (that never happens).
Splurge: West Elm Sculptural Metal Flushmount, $199
Save: Wayfair Ringwood 3 – Light, $110
Still want more? Check out my extensive list of fashion, beauty, and decor deals at Kendra Found It or follow me on Instagram.