– Affiliate Post –
Disclosure: This post uses affiliate links. This means that if you purchase something that I feature, I'll get a small commission (this will not increase the price of the item).
If you've landed here, you're likely familiar with the joys of copycat decor. But just in case you aren't, allow me to explain:
I'm Kendra Found It, and I find home decor dupes. A dupe or copycat looks similar to an expensive item, but costs way less. Love that $2,000 Restoration Hardware chair? I've got a more affordable copycat for you. Drooling over McGee and Co. nightstands? I've got that too. If you're on a budget and love decorating, this is the place for you. Today I've rounded up five home decor dupes that will save you thousands, so sit back, relax, and let me do the shopping for you.
P.S. Don't forget to check out my previous copycat decor articles if you want more home decor dupes and look-alikes.
1. POTTERY BARN RENA TAPER CAST IRON CANDLE HOLDER DUPES
I'm so excited for this find because I couldn't have timed it better myself! With fall officially here and spooky season coming, I knew it was time to hunt down some major deals on taper candle holders.
You've likely seen these on Pinterest, Instagram, and online, but in case you haven't, tall skinny candlesticks are having a moment right now. Even though they have some fall vibes, they absolutely can be used year-round. In fact, I purchased a set for myself and they sit on my coffee table 365 days of the year. They go perfectly in my modern traditional (also known as transitional) home, but I could also see these working well with farmhouse or traditional decor.
Splurges: Pottery Barn Rena Taper Cast Iron Candle Holders, $119
Arhaus Cast Iron Taper Candle Holder (set of four – two small and two large), $176
Saves: Wayfair 3 Piece Cast Tall Iron Candlestick Set, $60
CB2 Rho Black Taper Candle Holder Set of 3, $60
Amazon 3Pcs Taper Candle Holders Matte Black, $21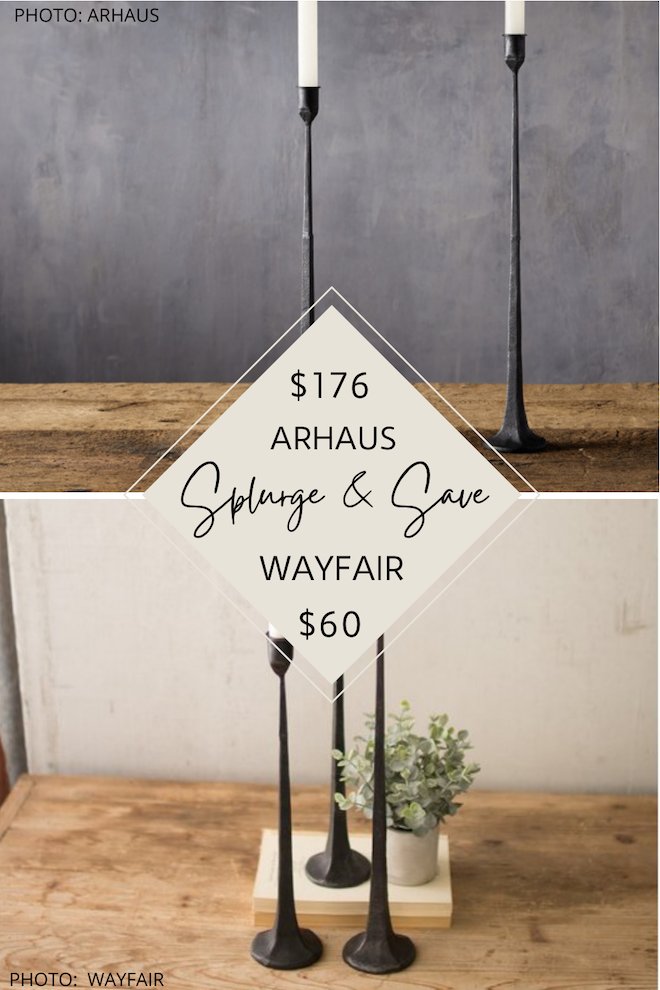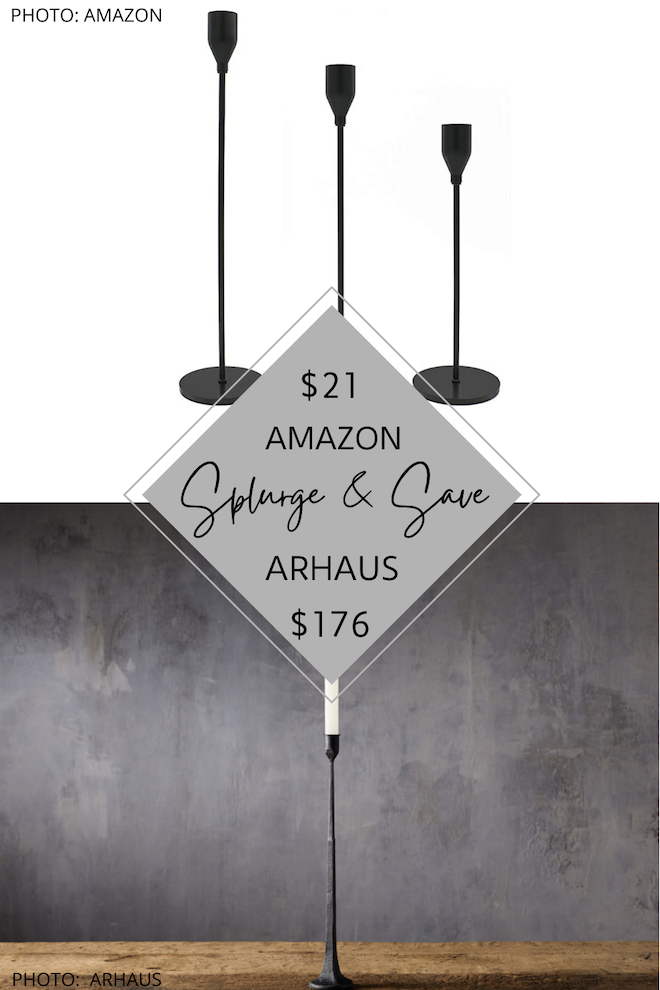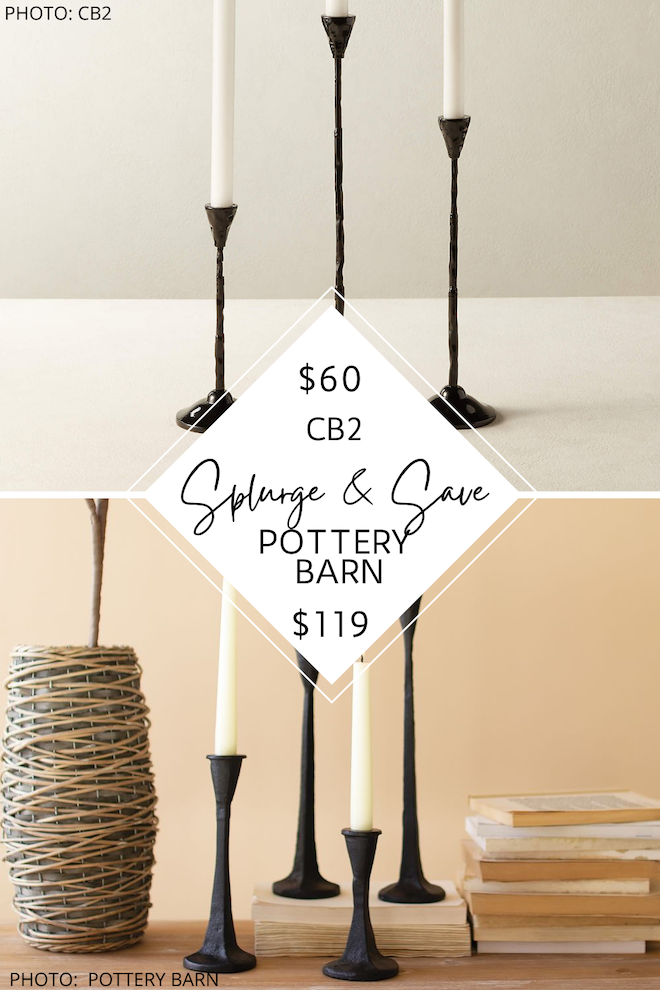 2. RESTORATION HARDWARE CLARKE TABLE LAMP DUPE
This Restoration Hardware lamp Splurge and Save is SO good. If you love the Restoration Hardware Modern collection, you'll love their Clark Table Lamp. And if you're a Target lover like I am, you'll love Target's Window Pane lamp! Both lamps feature an open metal frame, rectangle shade, and come in black, silver, and gold. This lamp would be a great office lamp, but it would also look right at home on an entry table or on a pair of nightstands.
Splurge: Restoration Hardware Clarke Table Lamp, $405
Saves: Target Weston Window Pane Table Lamp, $45
Wayfair Calais 27.5″ Black Standard Table Lamp Set, $116
Home Depot D'Alessio 20 in. Matte Black Table Lamp with White Linen Shade, $40
Walmart Modern Table Lamp, $70
Wayfair Larde 20″ Table Lamp, $63
3. MCGEE & CO. KELAN 2-DRAWER NIGHTSTAND DUPE
Once again, this find was inspired by you! I posted this McGee & Co. Splurge and Save on Instagram and I got a bunch of questions about the nightstand in the photo. I could never leave you hanging, so I did some digging and found the original McGee and Co. bedside table and also some Save options. Happy decorating!
Splurge: McGee and Co. Kelan 2-Drawer Nightstand, $1,270
Saves: Wayfair Mikel 3 – Drawer Nightstand, $449
Wayfair Evander 3 – Drawer Solid Wood Bachelor's Chest, $169
Wayfair Adam Accent Chest, $549
Overstock Avenue Greene Jordan 3-Drawer Dresser, $303
4. POTTERY BARN ARIA GLASS TABLE LAMP DUPE
Pottery Barn's Aria Glass Lamp is both beautiful and simple; I love the minimalist design and how the light can shine through the glass base.
I did some digging and found clear glass minimalist lamps at both Target and Wayfair. I think I should also get some bonus points because in addition to gold and bronze, I found silver and black too!
Splurge: Pottery Barn Aria Glass Table Lamp, $299
Saves: Wayfair Kemmer 28″ Table Lamp, $88
Wayfair Popel 29″ Clear Table Lamp, $172
Target Fillable Accent with USB Table Lamp Brass – Project 62, $40
Wayfair Darvon 29.25″ Oil Rubbed Bronze Table Lamp, $92
Wayfair Silberston 29.25″ Table Lamp, $118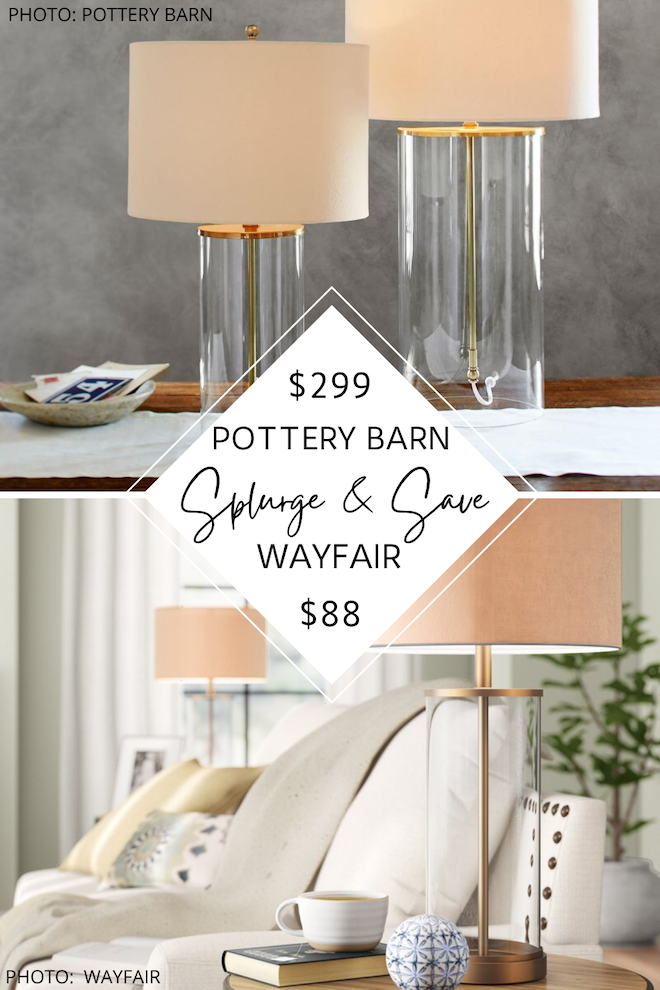 5. RESTORATION HARDWARE 1950S ITALIAN SHELTER ARM SWIVEL CHAIR DUPE
A good swivel chair can be the perfect finishing touch on a living room, bedroom, home office, or nursery. I fell in love with the clean lines of Restoration Hardware's 1950s Italian Shelter Arm Swivel Chair, so I did some digging and found a super similar version on Wayfair! No matter which one you choose, you'll be sitting in style.
Splurge: Restoration Hardware 1950s Italian Shelter Arm Swivel Chair, $2,495
Save: Wayfair Donovan Tufted Barrel Chair, $630
Still want more? Check out my extensive list of fashion, beauty, and decor deals at Kendra Found It or follow me on Instagram.