– Affiliate Post –
Disclosure: This post uses affiliate links. This means that if you purchase something that I feature, I'll get a small commission (this will not increase the price of the item).
If you've landed here, you're likely familiar with the joys of copycat decor. But just in case you aren't, allow me to explain:
I'm Kendra Found It, and I find home decor dupes. A dupe or copycat looks similar to an expensive item, but costs way less. Love that $4,000 Restoration Hardware dresser? I've got a more affordable copycat for you. Drooling over McGee and Co. beds? I've got that too. If you're on a budget and love decorating, this is the place for you. Today I've rounded up five home decor dupes that will save you thousands, so sit back, relax, and let me do the shopping for you.
P.S. Don't forget to check out my previous copycat decor articles if you want more home decor dupes and look-alikes.
1. RESTORATION HARDWARE MACHINTO 6-DRAWER DRESSER DUPE
I get asked weekly for Restoration Hardware dupes, so I'm happy to report that I have a new Restoration Hardware Machinto Dresser look for less for you! If you love Restoration Hardware's Modern line, you'll love this sleek, minimalist dresser.
Splurge: Restoration Hardware Machinto Dresser, $3,955
Saves: Wayfair Aria 6 Drawer 70" W, $1,630
Wayfair Dendron 8 Drawer 55.12″ W Double Dresser, $293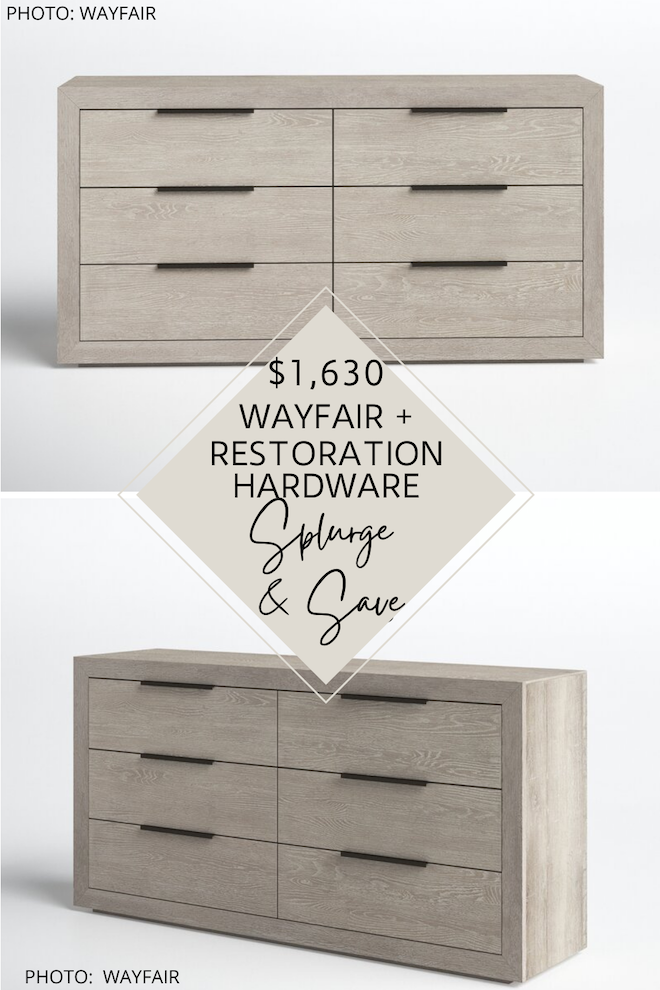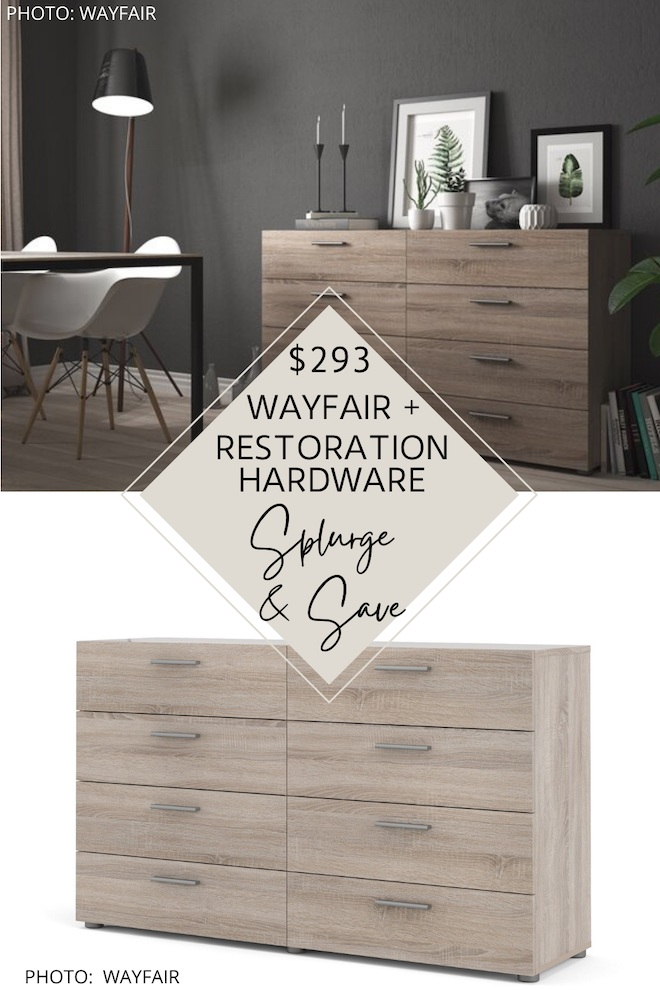 2. MCGEE & CO. WALT BED DUPE
Sometimes you just want a good modern traditional (also known as transitional) upholstered bed; for anything transitional, McGee & Co. is my first stop. They have been my absolute favourite design firm for a long time, so today I'm doing another McGee & Co. Splurge and Save (to see my past Studio McGee finds, click here). The McGee and Co. Walt Bed is is an upholstered transitional bed that comes in a variety of colours, so I was sure to find some Saves in a variety of colours too.
Splurge: McGee & Co Walt Bed, $2,900
Saves: Wayfair Amera Upholstered Low Profile Standard Bed, $1,039
Wayfair Charlotte Upholstered Low Profile Standard Bed, $1,039
Wayfair Carey Solid Wood and Upholstered Low Profile Bed, $959
Wayfair Low Profile Standard Bed, $842
World Market Talc Linen Wingback Bryn Upholstered Bed, $1,299
World Market Charcoal Gray Shelter Charissa Upholstered Bed, $699
Target Wingback Platform Bed Milano – Project 62, $1,315
Wayfair Lankford Upholstered Wingback Headboard, $839
Target Antwerp Woven Upholstered Wingback Bed Linen – Project 62, $1,132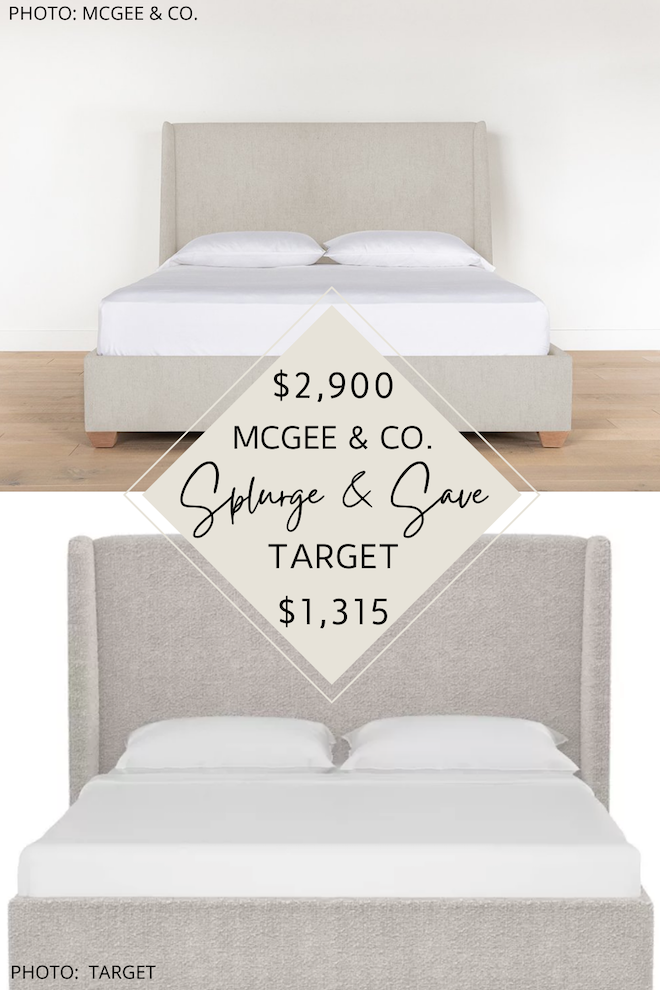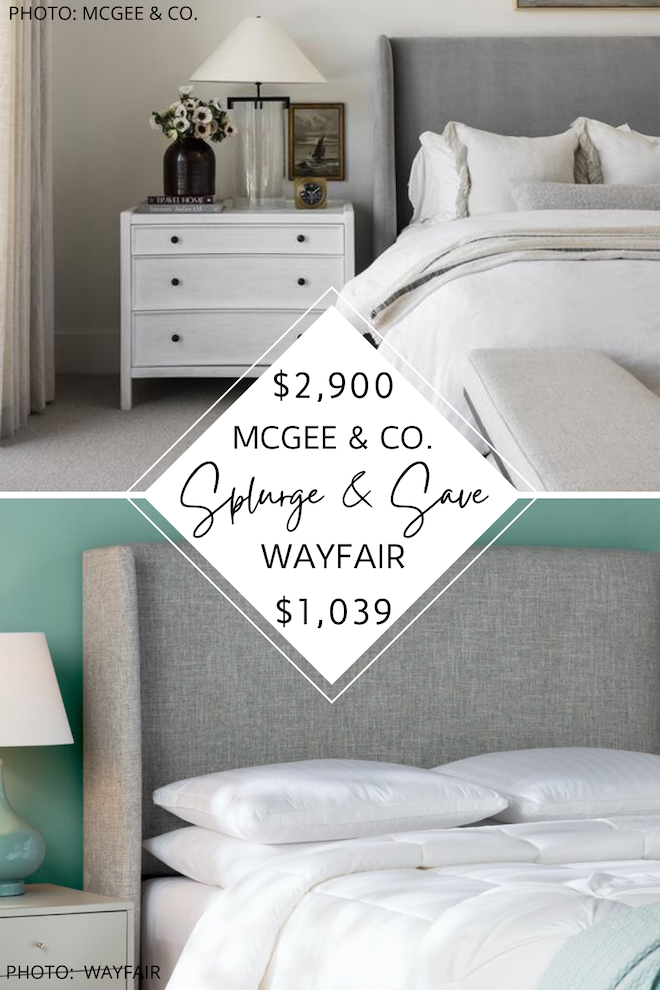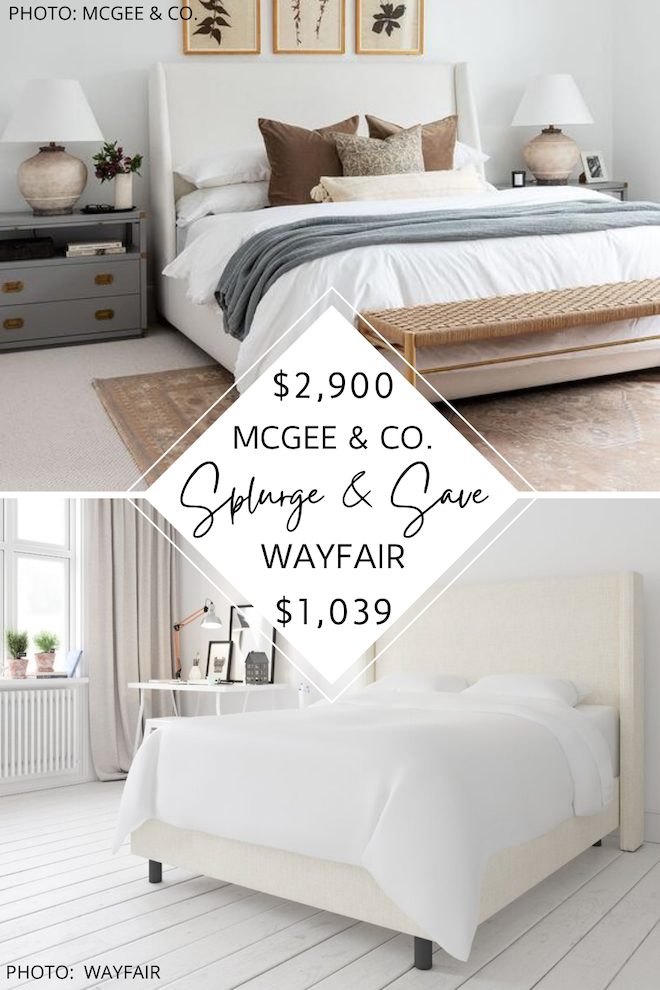 3. CRATE AND BARREL ARLINGTON CHANDELIER DUPE
…and if I'm looking for beautiful lighting, Crate and Barrel is one of the first places I go to. They have everything from unique chandeliers to traditional lights, and I love browsing their website for inspiration. I'm currently redecorating my home in a modern traditional style, so this Arlington Chandelier jumped out at me right away. I then found similar chandeliers at Target, Walmart, and my personal favorite – Amazon.
Splurge: Crate and Barrel Arlington Bronze Chandelier, $379
Saves: Amazon Brand – Stone & Beam Contemporary Pendant Chandelier, $110
Wayfair Presidio 5 – Light Unique Drum Chandelier, $289
Target Presidio Chandelier White/Gold, $249
Walmart Madison Park Signature Chandelier in White/Gold Finish, $316
Target Presidio Chandelier Silver, $249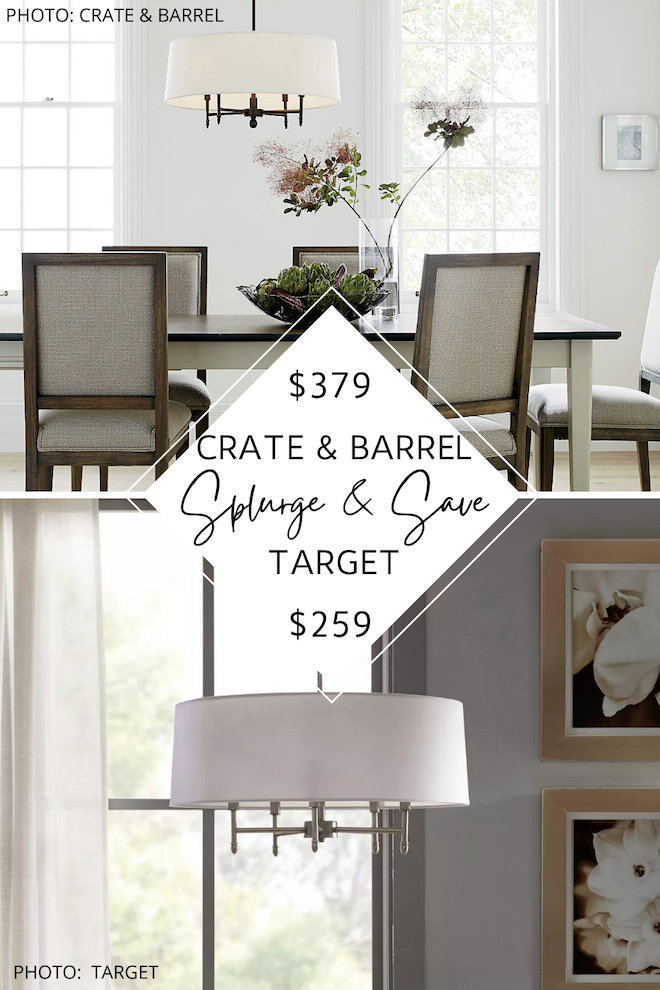 4. LULU AND GEORGIA ORSELINE ROUND COFFEE TABLE DUPE
Round drum coffee tables can look so chic; they are a little minimalist, a little boho, and a lot practical. By practical, I mean If you're a parent, you'll appreciate the rounded edges of this coffee table. This was never something I considered before I had a child, but if you know, you know!
I found wood drum coffee tables at Lulu and Georgia, Target, Etsy, Amazon and Wayfair, so there's plenty of options for you.
Splurges: Lulu and Georgia Orseline Round Coffee Table, $2,199
Lulu and Georgie Arteriors Jacob Round Coffee Table, $2,175
Saves: Target Rochelle Reclaimed Wood Drum Cocktail Table – Natural – Inspire Q, $945
Etsy Handcrafted Mango Wood Round Coffee Table, $660
Wayfair Cassius Solid Wood Drum Coffee Table, $439
Wayfair Natural Vivienne Solid Wood Drum Coffee Table, $679
Wayfair Hindsville Solid Wood Drum Coffee Table, $1,399
Etsy Round Shaped Mango Wood Drum Coffee Table in Natural colour, $840
Target Delle Coffee Table – Poly & Bark, $899
Amazon The Urban Port Distressed Mango Wood Coffee Table, $899
5. SERENA AND LILY WEBSTER BED DUPE
Spindle beds, spool beds, Jenny Lind beds – whatever you call them, there's no denying that these beds are stylish. The design actually dates back to the 1800s and is both timeless and versatile.
Serena and Lily's Webster bed is a perfect example of a modern take on this timeless design, but I took it a little further; I found spindle beds at Wayfair, Ballard Designs, Perigold and more.
Splurge: Serena and Lily Webster Bed, $2,298
Saves: Perigold Lind Island Solid Wood Low Profile Standard Bed, $1,859
Ballard Designs Savoy Spool Bed – Queen, $1,349
Ballard Designs Savoy Spool Bed Twin, $1,103
Wayfair Twin and Full Rowan Valley Panel Bed, $459
Bonus toddler versions: Target Davinci Jenny Lind Toddler Bed, $159
Wayfair White Monarch Hill Wren Bed, $298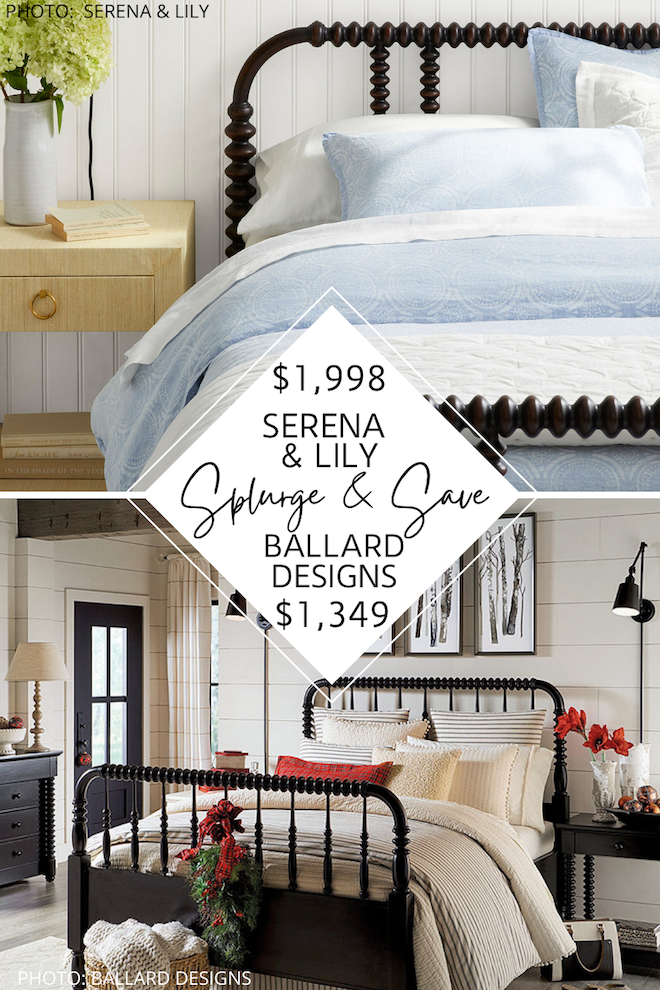 Still want more? Check out my extensive list of fashion, beauty, and decor deals at Kendra Found It or follow me on Instagram.