– Affiliate Post –
Disclosure: This post uses affiliate links. This means that if you purchase something that I feature, I'll get a small commission (this will not increase the price of the item).
Decorating on a budget? Love saving money? Like nice things?
If any (or all) of these sound like you, you've come to the right place. I'm Kendra Found It, and I can relate to all of these things. I believe that you can shop big, but spend small, and a bigger price tag doesn't necessarily mean bigger style.
Today I'm sharing five of my Double Takes (also known as decor dupes) for your home. What's a dupe? It's an item that looks similar to an expensive product but costs much less.
This is not my first rodeo around here, so if you like what you see, check out the rest of my dupes and deals here (we're talking Restoration Hardware, Pottery Barn and more).
Okay, enough small talk; let's get to the good stuff.
1. RESTORATION HARDWARE RECLAIMED ENGLISH BEAM CONSOLE TABLE DUPE
I did it – I finally found a Restoration Hardware Reclaimed English Beam Console Table dupe. I've been trying to dupe this console table since I found it months ago, and I couldn't believe my eyes when I discovered the Arhaus Ubud Console Table.
Not only is my console table copycat more than $2,000 less, it's sustainably sourced, has a solid wood frame, and is also handcrafted.
Bonus: there's also an Arhaus Reclaimed Ubud bench that matches it.
Restoration Hardware Reclaimed English Beam Large Console Table, $4,850
Dupe: Arhaus Ubud Console, $2,099
Note: due to photo usage rights, all photos below are of my dupe. But trust me when I tell you that they are SO similar. Check out the RH version and then the Arhaus version and you'll be shocked.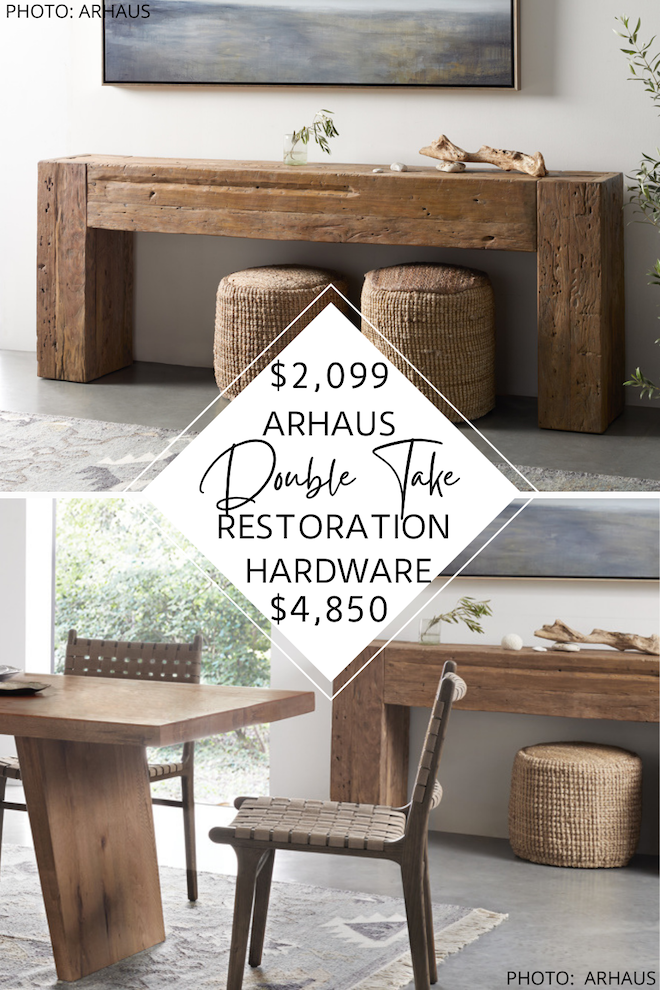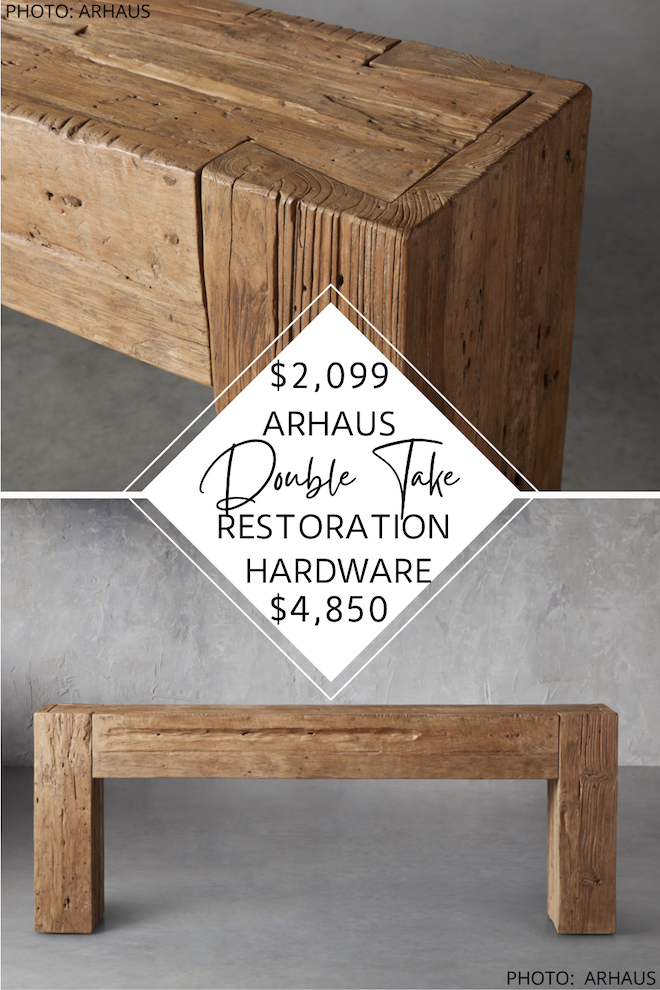 2. CRATE & BARREL TAJ LEATHER STRAP DINING CHAIR DUPE
What's better than one dupe? Two dupes, of course! This is the first time that this has happened – I have a Crate and Barrel Taj Leather Strap Dining Chair dupe and an Arhaus Henry Dining Side Chair dupe.
Both these chairs are a mid-century decor lovers' dream, but at up to $699 a chair, seating for a full dining table would get extremely pricey very quickly.
And this is where we dupe! From World Market to Target, I've found affordable leather strap (or leather-like) dining chairs that will give you the mid-century look for much less.
Crate and Barrel Taj Leather Strap Dining Chair, $499
Arhaus Henry Dining Side Chair, $699
Dupes: World Market Dark Gray Faux Suede Strap Camden Dining Chairs Set Of 2, $359
Opalhouse Ceylon Woven Dining Chair – White & Natural Wood, $140
Target Safavieh Taika White/Natural Woven Leather Dining Chair Set of 2, $306
Wayfair Bridget Solid Wood Woven Leather Dining Chair Set of 2, $429
Wayfair Woven Solid Manufactured Wood Solid Wood Side Chair in Beige, $289
Joss and Main Caruso Solid Wood Upholstered Dining Chair, $342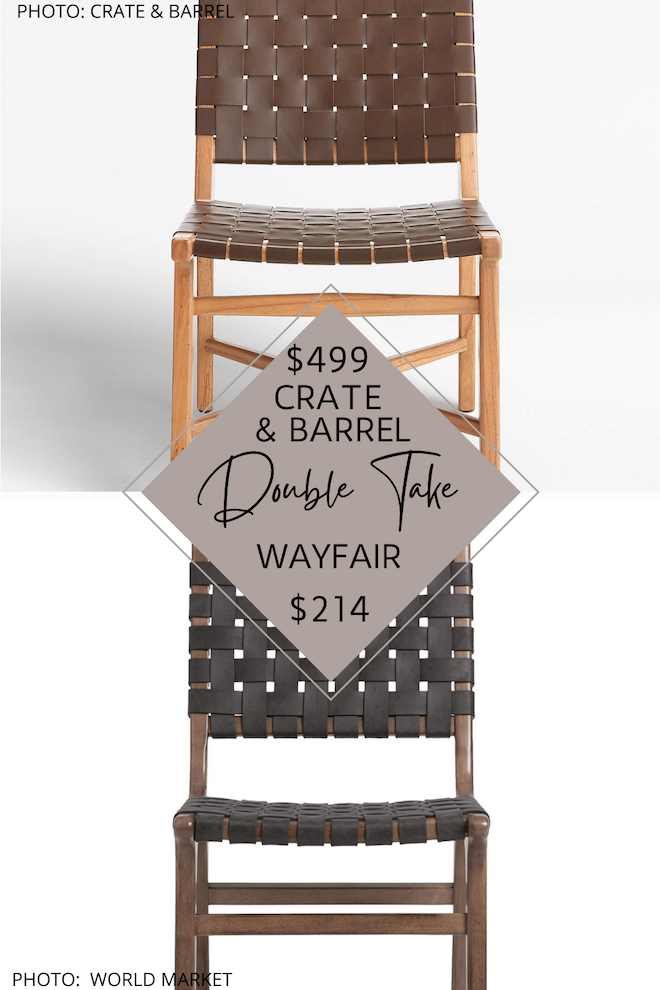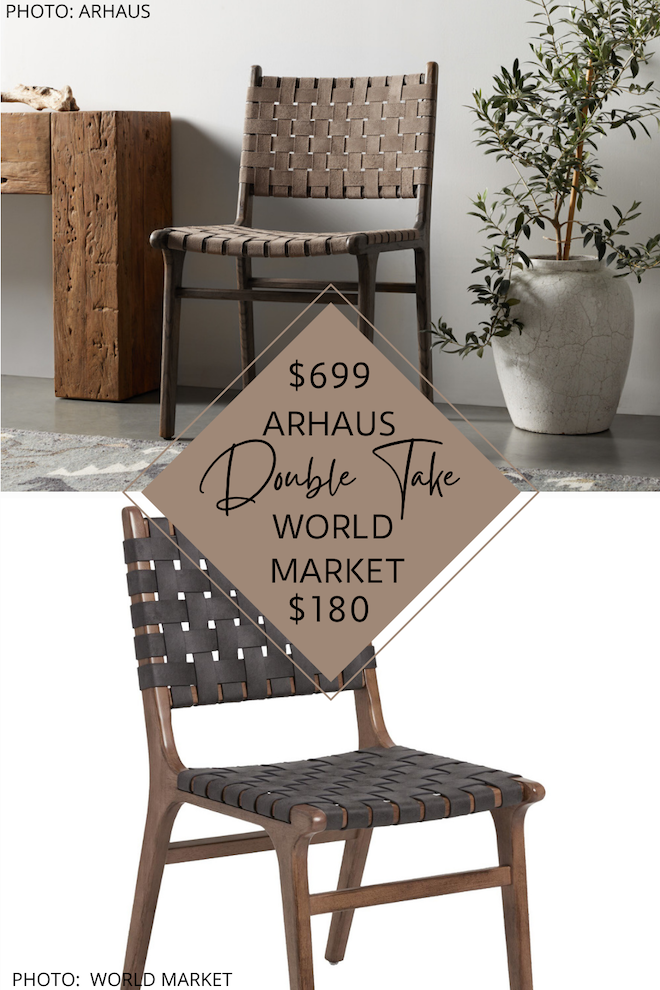 3. SERENA AND LILY BECKETT SPINDLE ARMCHAIR DUPE
Spindle side chairs come in a variety of colours and materials, but they can be very pricey. Maybe you've seen them on Pinterest – they are often styled in sets of two and frequently come in a dark or white wood with printed or neutral material. This style of chair is actually inspired by 17th-century bobbin furniture, but has been updated with a modern twist.
I actually have 17 different dupes for this classic accent chair, so you've got a variety of prices, materials, fabrics, and sizes to choose from.
Serena and Lily Beckett Chair, $2,998
Dupes: Wayfair Amedeo Armchair, $539
Wayfair Chelle Armchair, $450
Wayfair Pohl Armchair, $589
Wayfair Stanardsville 30″ W Polyester Blend Armchair, $459
Wayfair Benedetta Armchair, $689
Overstock Furniture of America Digg Beige Fabric Accent Chair, $570
Wayfair Anemarie Spindle Armchair, $479
Wayfair Anemona Spindle Armchair, $479
Wayfair Laureins Shellplant Spindle Armchair, $319
Overstock Studio Designs Home Colonnade Spindle Black Wood Frame Accent Chair, $486
Overstock The Curated Nomad Annie Chair – Azure, $312
Wayfair Briaroaks Armchair, $529
Wayfair Anelys Spindle Armchair, $499
Wayfair Anelyse Spindle Armchair, $499
Wayfair Reynolds Armchair, $559
Amazon Avenue Six Kaylee Spindle Accent Chair, White Frame with Navy Fabric, $240
Williams Sonoma Spindle Chair, $1,295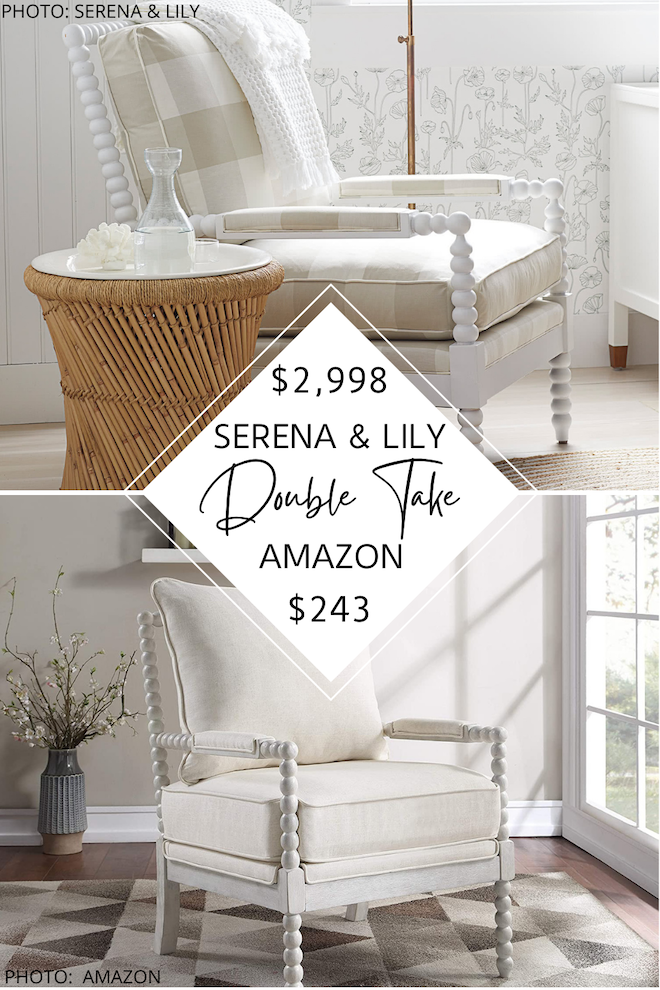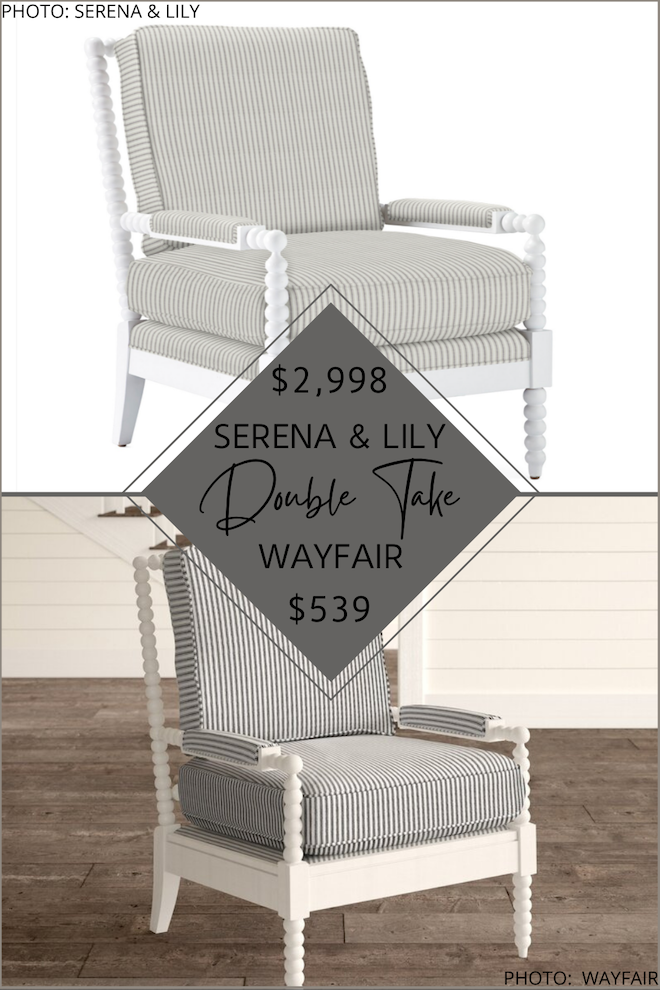 4. ANTHROPOLOGIE BOWEN CHAIR DUPE
This Anthropologie Bowen Chair dupe will get you that coveted Anthropologie look for half the price.
It was important to me to find a velvet side chair with gold (or silver) legs, just like the Anthropologie version (but I also included one with wood legs if that's more your style). Bonus: two of my Double Takes below come with both silver and gold legs so, you get to choose!
Anthropologie Bowen Chair, $998
Dupes: AllModern Velvet Armchair, $469
All Modern Elora Lounge Chair, $435
Wayfair Elora Lounge Chair, $434
AllModern Hayward Armchair, $440
Wayfair 32″ W Velvet Armchair, $429
All Modern Vera Armchair, $509
AllModern Coles Armchair, $520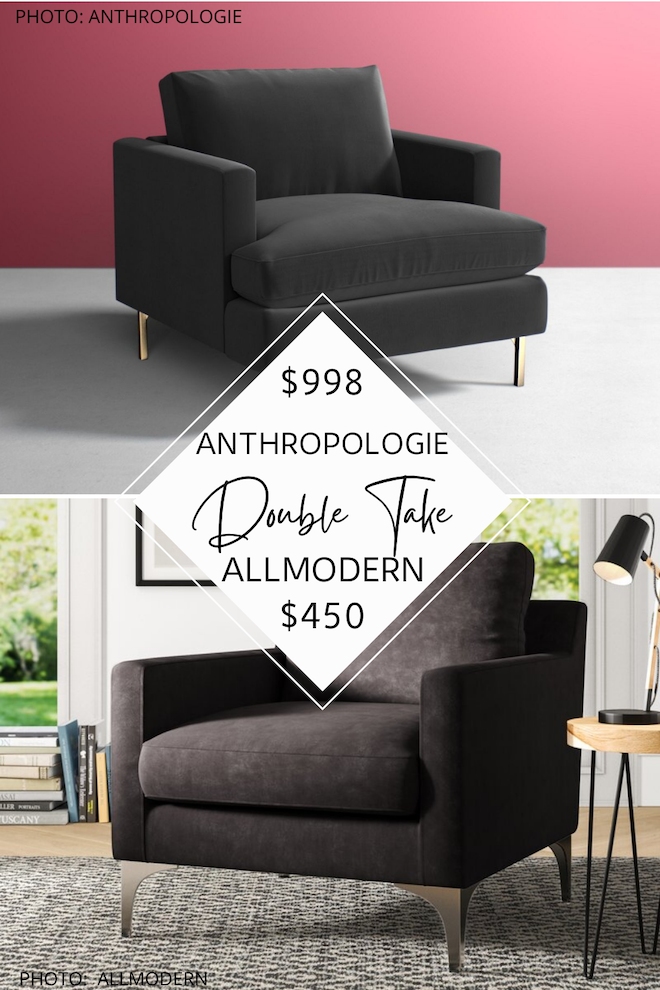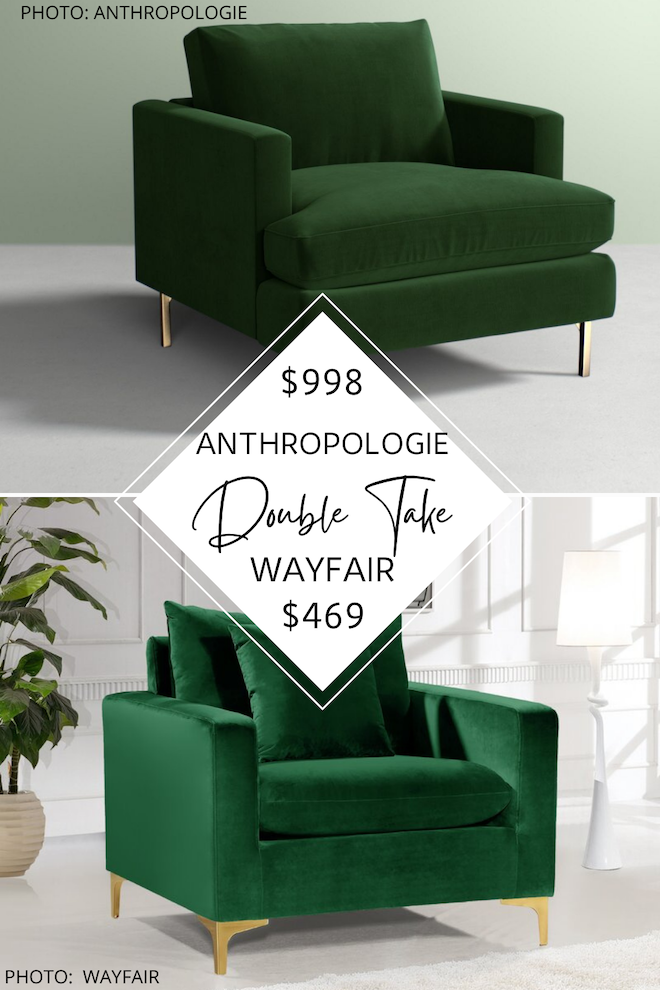 5. LULU AND GEORGIA BUNGALOW RUG BY JENNI KAYNE DUPE
Another first! This is my first Lulu and Georgia dupe. If you're not familiar with Lulu and Georgia, you need to check them out now because they have some absolutely beautiful home decor. Pillows, lighting, sofas, desks, and of course, rugs!
I was contacted via Instagram by a reader asking for a dupe of this Jenni Kayne rug; it took me a while, but I was eventually able to find a Lulu and Georgia Bungalow Rug dupe that will save you over $500.
I love the coastal design, horizontal stripes, and casual feel, so I knew my dupe had to have all of these things. My copycat not only will give you the same vibe and look, but it also comes in cream, blue, and black.
Lulu and Georgia Bungalow Rug By Jenni Kayne, $998
Dupes: Wayfair Ludlow Stripe Flatweave Cotton Sepia Area Rug, $460
Wayfair Orwell Geometric Handmade Flatweave Cotton Ivory/Gray Area Rug, $229
Crawford Handwoven Flatweave Wool/Cotton Light Blue/Ivory Area Rug, $319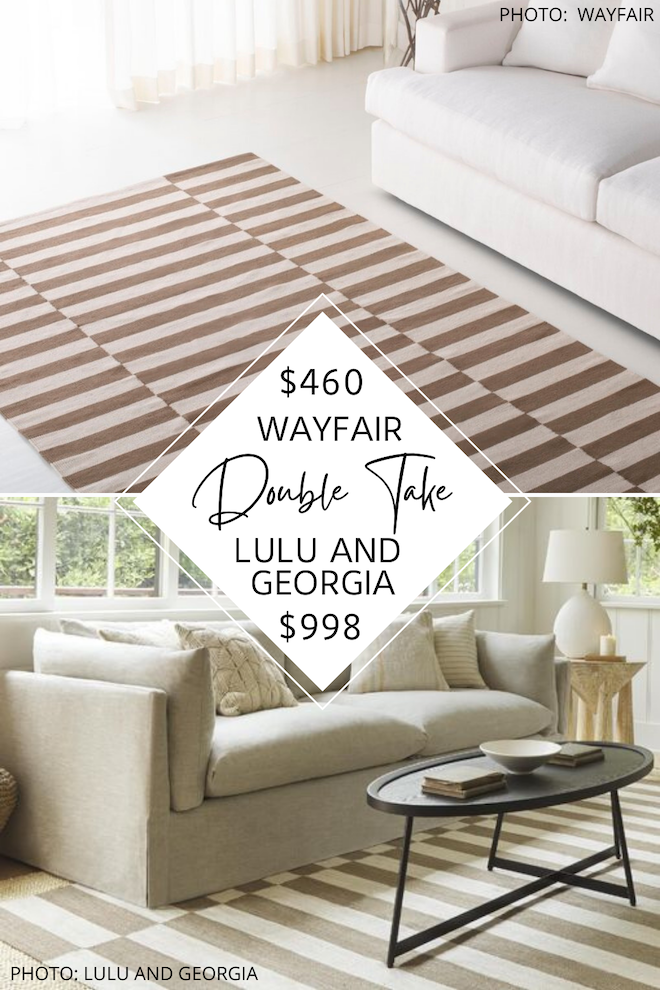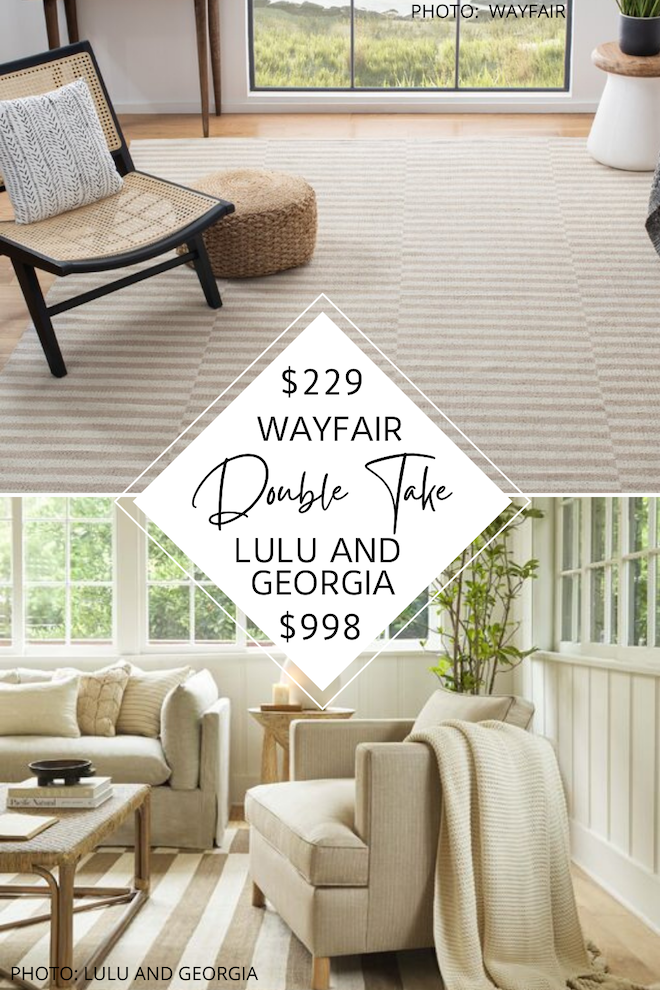 Still want more? Check out my extensive list of fashion, beauty, and decor deals at Kendra Found It or follow me on Instagram.