– Affiliate Post –
Disclosure: This post uses affiliate links. This means that if you purchase something that I feature, I'll get a small commission (this will not increase the price of the item).
Decorating on a budget? Love saving money? Like nice things?
If any (or all) of these sound like you, you've come to the right place. I'm Kendra Found It, and I can relate to all of these things. I believe that you can shop big, but spend small, and a bigger price tag doesn't necessarily mean bigger style.
Today I'm sharing five of my Double Takes (also known as decor dupes) for your home. What's a dupe? It's an item that looks similar to an expensive product but costs much less.
This is not my first rodeo around here, so if you like what you see, check out the rest of my dupes and deals here (we're talking Restoration Hardware, Pottery Barn and more).
Okay, enough small talk; let's get to the good stuff.
1. MCGEE & CO TORY COFFEE TABLE DUPE
I asked on Instagram what brands you wanted to see more Double Takes of, and the answer was clear: McGee & Co. (also known as Studio McGee)! You guys love the transitional/modern traditional style, so today I'm sharing a McGee & Co. Tory Coffee Table dupe.
This slab coffee table makes a REAL statement. In fact, it's one of my absolute favourite coffee tables ever (yes, I have a list of dream decor on Pinterest). Block coffee tables, also known as slab coffee tables or live edge coffee tables, are often made of solid teak, which can make them very expensive.
I think we all know where I'm headed here – I did some digging, and not only did I find a Tory Coffee Table copycat, I found SIX more Double Takes! The best part about this decor dupe (besides the $1,000 price savings) is that my look-alike has almost the exact same measurements.
McGee & Co. Tory Coffee Table, $1,954
Dupes: AllModern Slice Coffee Table, $890
Wayfair Rea Solid Wood Drum Coffee Table, $309
Wayfair Teak Slice Coffee Table, $1,489
Wayfair Slice Coffee Table, $999
Wayfair Slice Low Profile Coffee Table, $889
Wayfair Slice Solid Wood Block Coffee Table, $1,489
Wayfair Artlone Solid Wood Block Coffee Table, $629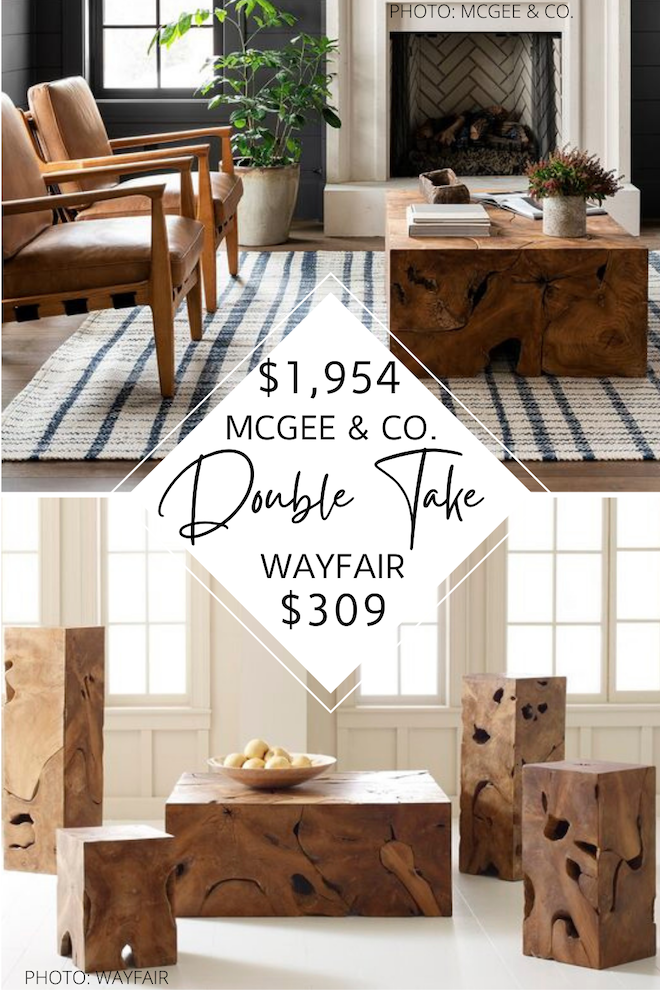 2. ARHAUS ROSELYN MIRROR DUPE
Another request that keeps coming up is mirrors. And it makes total sense; a thoughtfully placed mirror adds light, dimension, and function to a space. Oh, and you can check out your fine self when you walk on by….
So today I'm tackling the Arhaus Roselyn mirror. You guys LOVE Arhaus, so I'm going to start doing more dupes for them – think of this as the first one of its kind. Arched and crown top mirrors are super popular right now and come in different sizes and finishes. Arhaus' version is almost $900, so I found ten different copycats for it. My favourite is Wayfair's arch top vertical mirror, which is only a few inches smaller than the Arhaus version and will save you $700.
If you're looking for black, gold, or wood arched mirrors, check out my alternate dupes because I found those too.
Dupes: Wayfair Arch Top Vertical Wall Mirror, $209
Wayfair Clariandra Arched Wall Mirror, $289
Kirkland's Brown Arch Metal Frame Wall Mirror, $379
Wayfair Pataskala Arch Accent Mirror, $276
Wayfair Amelia Arched Vanity Mirror, $177
Target French Country Wall Mirror – Threshold, $70
Wayfair Ehrlich Accent Mirror, $183
Kirkland's Rustic Bronze Metal Arch Wall Mirror, $619
Kirkland's Silver Metal Arched Mirror, $289
Ballard Designs Rosamund Mirror, $399
Ballard Designs Chapelle Mirror, $449
Wayfair Lanesborough Accent Mirror, $233
Wayfair Glam Distressed Accent Mirror, $309
3. ANTHROPOLOGIE FERN STORAGE CABINET SPLURGE AND SAVE
I'm on a roll with the Anthropologie cabinet dupes! If you missed my Anthropologie Wallace Cane and Oak Armoire , click here.
Anthropologie's Fern Storage Cabinet is a fan favourite, and it's not hard to see why. The arched top, practical storage, and sleek style come together to form a cabinet that can be used as a display case, hutch, china cabinet, or wardrobe. It comes in grey, black, white, and sage.
Urban Outfitters' Mason Storage Cabinet has a similar arched top, shelf/drawer mixture, and translucent doors. It comes in black, green, natural, and blue.
Splurge: Anthropologie Fern Storage Cabinet, $2,498
Save: Urban Outfitters Mason Storage Cabinet, $1,499
4. SPLURGE AND SAVE: MCGEE AND CO. VENDOME SCONCE
McGee and Co.'s Vendome Wall Sconce features curved arms, cream paper shades, transitional style, comes in four colors (antique brass, nickel, bronze, and silver), and is available in a single or double light option.
I found modern traditional wall sconces at Target, T.J.Maxx, Amazon, and Wayfair. They all feature a gold base, white or cream shades, a contemporary design, curved edges, and one, two, or three light options.
Splurges: McGee & Co. Vendome Single Sconce, $260
McGee & Co. Vendome Double Sconce, $360
Visual Comfort Thomas O'Brien Vendome, $435
Saves: Target Jaxson Wall Sconce – Safavieh, $50
T.J.Maxx Safavieh Sawyer Wall Sconce, $40
Amazon Pathson Set of 2 Vintage Wall Sconces with Linen Fabric Shades, $96
Amazon Permo Vintage Double Sconce Antique 2-Lights with Shade, $130
Target Sawyer 3 Light Wall Sconce – Safavieh, $99
Wayfair Carmack 3-Light Armed Sconce, $110
Wayfair Carmack 2-Light Armed Sconce, $82
Wayfair Carmack 1-Light Armed Sconce, $58
5. RESTORATION HARDWARE FRENCH CASEMENT DOUBLE-DOOR CABINET
Restoration Hardware's French Casement Double-Door Cabinet features classic French panel doors, crown molding, cast-iron hardware, glass doors, is made of oak and veneers, and comes in four different wood finishes.
I found French display cabinets at Wayfair and Ballard Designs; they feature double doors, lattice windows, vintage-inspired hardware, are made of manufactured wood and solid wood, and are available in a variety of finishes.
Splurge: Restoration Hardware French Casement Double-Door Cabinet, $3,410
Saves: Wayfair Summit Lighted Natural Wood Curio Cabinet, $1,639
Wayfair White Bulloch Display Stand, $1,389
Wayfair Hadlee 33" Wide Display Stand, $1,299
Wayfair Smythe 44" Wide China Cabinet with Lighting, $1,670
Wayfair Blakely 42" Wide Solid Wood China Cabinet, $1,749
Wayfair Cast 49.2" Wide Display Stand, $1,550
Ballard Designs Salerno Glass Door Cabinet, $2,099
Still want more? Check out my extensive list of fashion, beauty, and decor deals at Kendra Found It or follow me on Instagram.