I am so excited that Something Turquoise has expanded their content and I am thrilled to be part of the team sharing not only amazing wedding content, but lots of post-wedding lifestyle content as well. I know all too well the pains of having a new home or apartment and not being able to find exactly what you are looking for, or not having the funds to furnish it the way you dreamed. I also know that this is a DIY loving crowd. I, myself, am a DIY home enthusiast and I'm excited to share awesome finds and things I've learned with you!
To kick off this brand new category on our blog, I wanted to find some fabulous DIY projects that I think would resonate with you guys! I have put together a round-up of amazing DIY modern headboard ideas. Whether you are refreshing your bedroom, or have found yourself with a guest room to decorate, these ideas really are genius and look like you found them at the priciest furniture store in town.
OVERSIZED WOVEN HEADBOARD
Love the graphic lines and rich texture of this oversized woven headboard.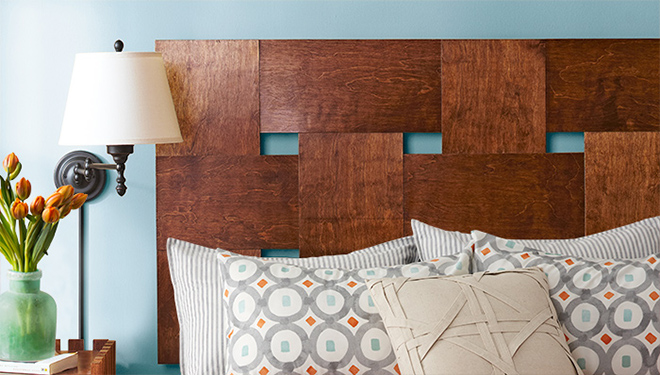 Lowes
A MODERN-RUSTIC IKEA HACK
We love a good Ikea Hack and this one is such a perfect balance of modern and rustic.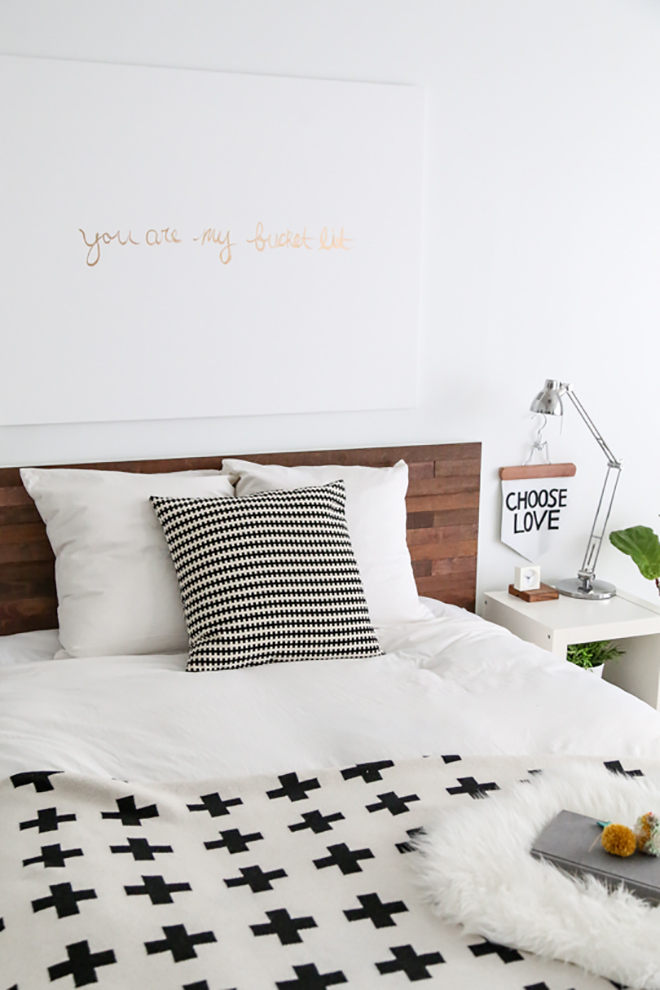 Sugar & Cloth
SLATS ARE A FAB TEXTURE
This textural headboard can be executed at a great price point. I love the naked wood they chose, but it would look great with a dark stain as well.
The Merry Thought
BE ON TREND WITH AN UPHOLSTERED ARCH
The epitome of "on-trend," the arched shape and the pretty pink color are so perfectly now.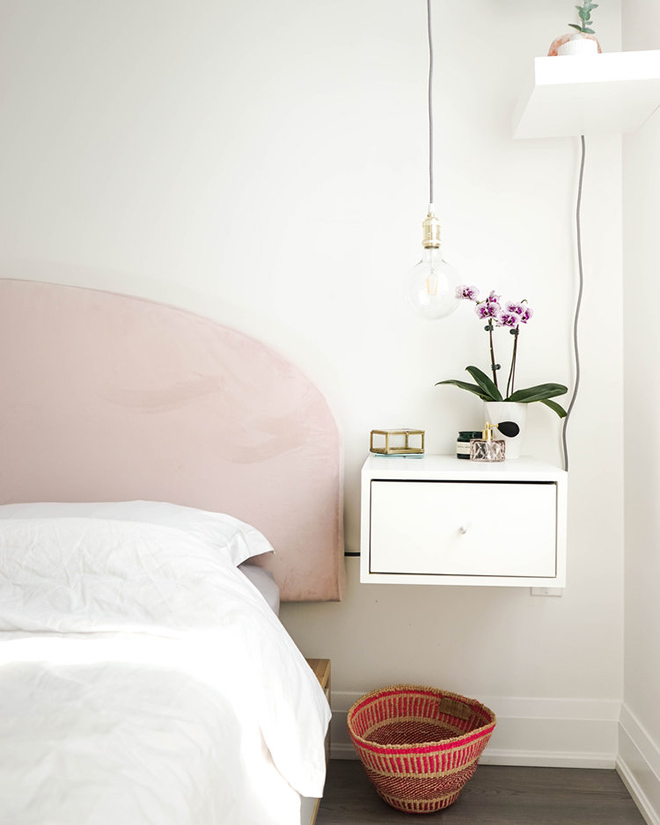 The Sorry Girls
A FUNCTIONAL AND SIMPLE PLYWOOD HEADBOARD
I love the clean trend of naked plywood. This DIY adds function and texture to a boring wall.
Mr. Kate
JOIN THE HANGING PILLOW TRAIN
Hanging pillows is a cool way to add a cozy element to a basic bed, and there are so many fabulous ways to execute this.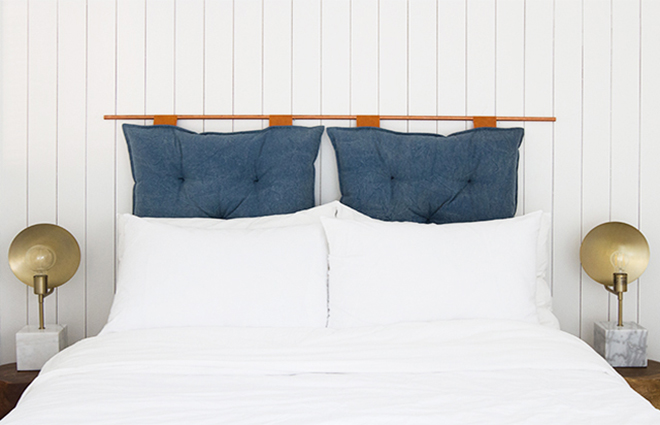 Sarah Sherman Samuel
ADD BOLD TEXTURE TO YOUR BEDROOM WITH CHANNEL TUFTING
Give us all the leather. This channel tufting looks so luxe.
Bright Green Door
ADD A TOUCH OF CANE WITH AN AFFORDABLE IKEA HACK
Breezy and beachy, we love cane detailing! This is another excellent Ikea Hack.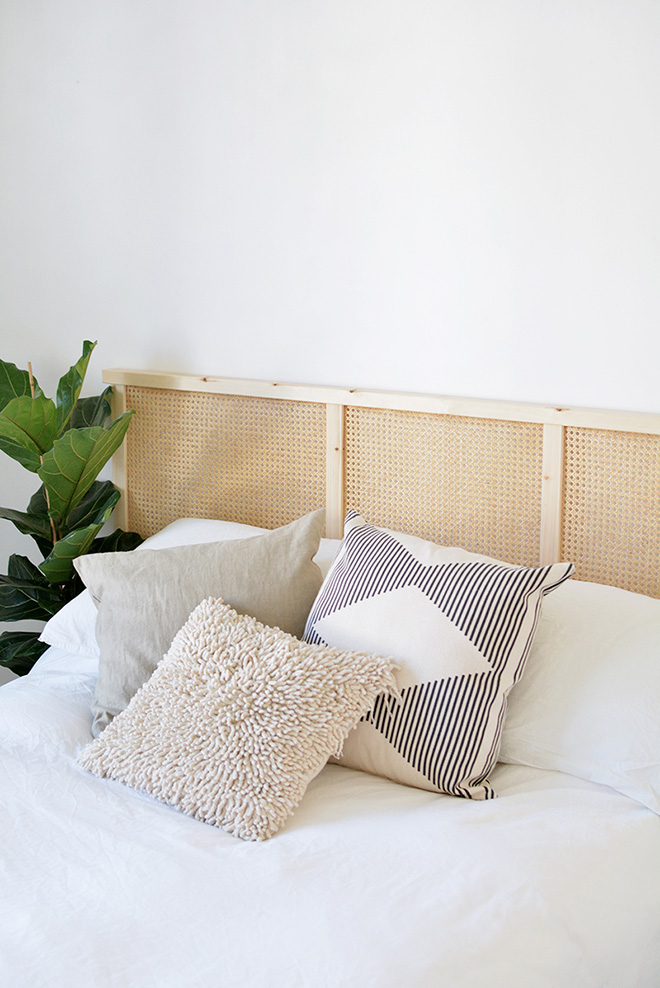 Burkatron
CONTINUE THE HEADBOARD ON THE CEILING FOR A UNIQUE LOOK
Continuing the texture onto the ceiling is brilliant! We just love this idea!!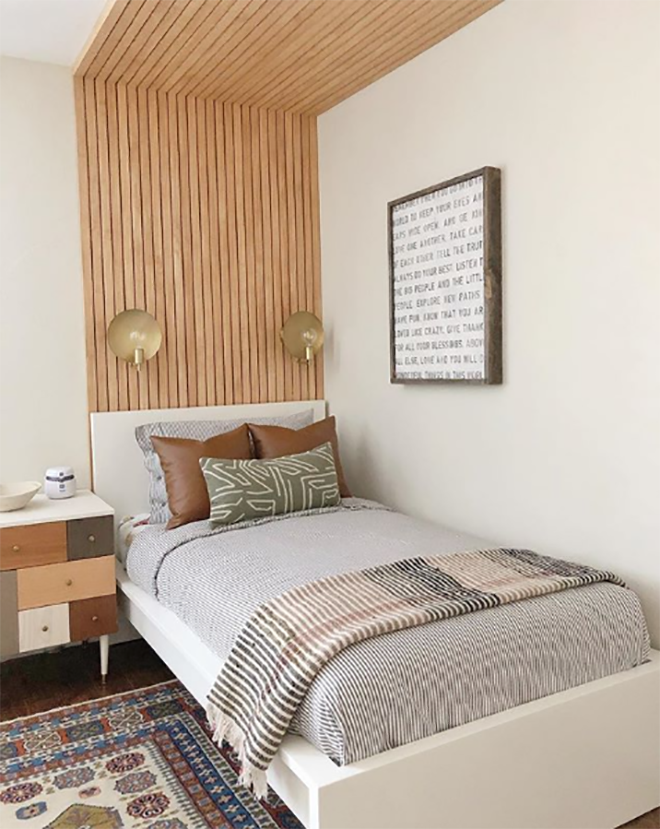 Reside Design
TRY A FAUX LIVE EDGE HEADBOARD
Make a simple plywood slab look foraged and natural with this live edge tutorial.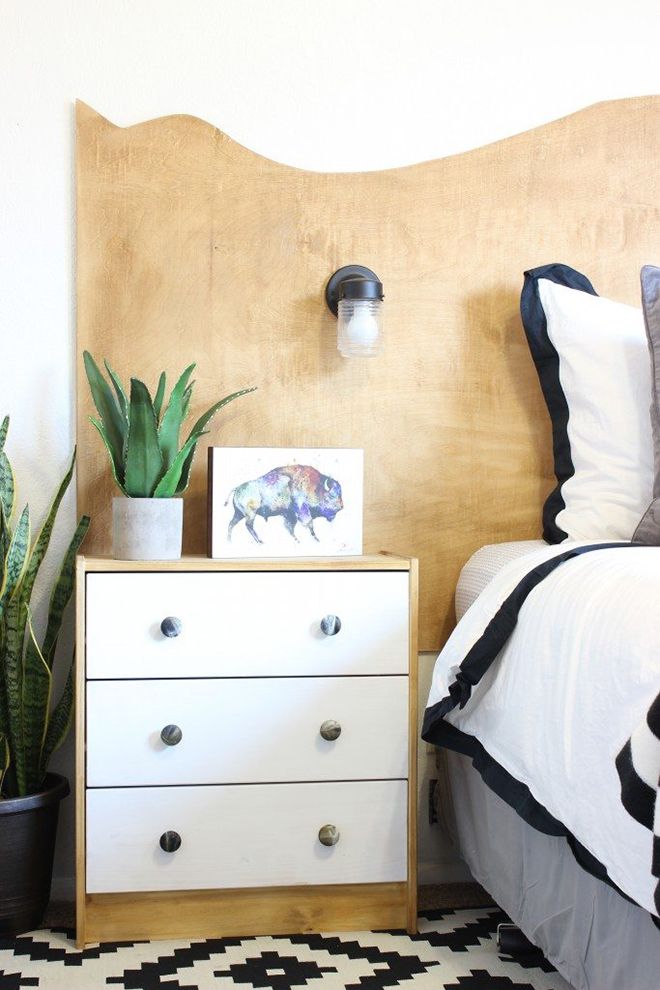 Classy Clutter
TRY AN AFFORDABLE UPHOLSTERED BED FRAME
Another fabulous Ikea hack, this one is actually by yours truly. I love how rich this felted wool looks on my son's bed.
Lauren Koster Creative
VERTICAL TUFTING GIVES AN ART DECO FEEL
We adore how vintage, yet modern this vertical tufting is, especially in this rust velvet fabric.
Jeweled Interiors
THIS WOVEN IKEA HACK LOOKS SO EXPENSIVE!
Using a basic bed frame, this woven detail looks like a million bucks!
Apartment Therapy
FOR A WHIMSICAL LOOK MAKE A PAINTED PLYWOOD HEADBOARD
A super easy DIY, perfect for a kids room or even an adult with whimsical style.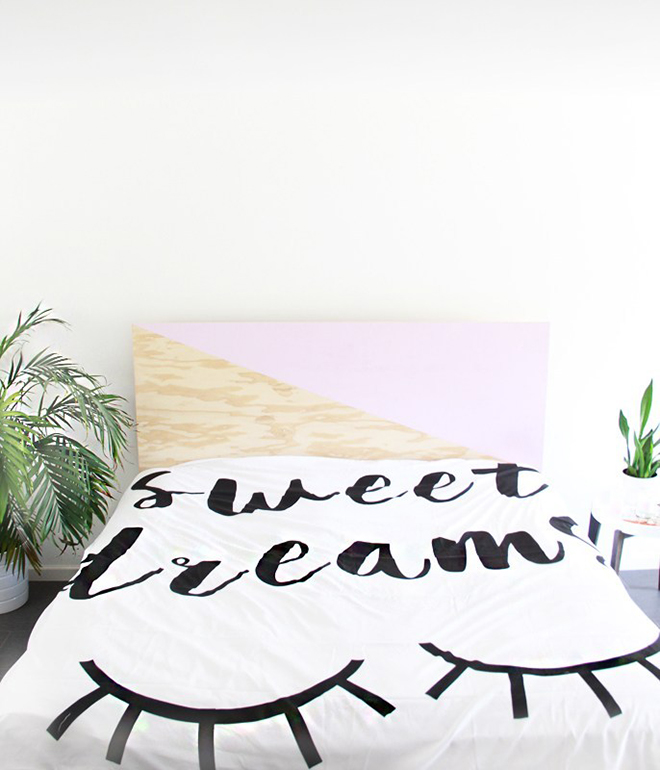 A Bubbly Life
GO BIG OR GO HOME WITH YOUR CHANNEL TUFTING DETAIL
Channel tufting is so hot right now and looks incredibly rich, especially in velvet.
Emily Henderson
---

Lauren Koster is the owner of [Lauren Koster Creative][30], a West Michigan based wedding design company that specializes in the unique and whimsical look. Her eclectic style and modern hipster vibe always has us entranced. We always love when she graces our blog with her monthly "[Steal This Style][31]" article. Want to know more? You can personally follow or find her from these links below:
website // blog // instagram // facebook // twitter // pinterest
---