As wedding planner and a blogger for a creative wedding blog, my job is to offer suggestions to bring personality and create "moments" in a couple's wedding celebration. There are thousands of places to insert special details into a wedding day, some more impactful than others. One of my favorite places to get creative is through escort cards and seating displays. After a beautiful ceremony and a relaxing cocktail hour, the seating display is the first thing the guests will see as they enter the reception. Guests don't only look at an escort card, but they have to study it, looking for their names, then they touch it, interact with it and carry it to their table. Of all places this is the perfect place to make a statement.
Because it's the first thing your guests will see as they enter the reception, sometimes in the foyer of a venue before they even enter, your escort card display can set the tone of your reception. Is it playful? Formal? Traditional? I suggest designing your seating display accordingly. Place cards are a great spot to tell a little story, like a few of the displays below, or to gift your guests a darling favor. Now that we've established how fabulous a display can be, scroll below for some of my all-time favorite ideas to get your juices flowing.
---
---
GUESTS CAN TAKE A TOKEN TO WEAR WITH THIS BOUTONNIERE BAR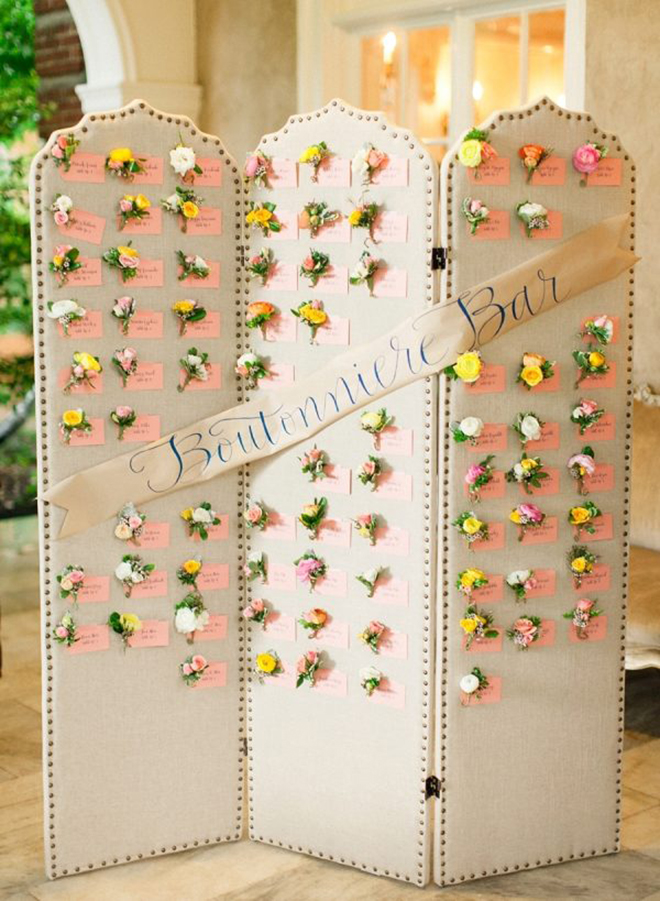 photo: Jodi and Kurt Photography // designer: Karson Butler Events // florals: Holly Chapple Flowers // via: Style Me Pretty
---
WE LOVE THIS DARLING BUTTERFLY SEATING DISPLAY
found on: Martha Stewart Weddings
---
CREATIVE AND STATEMENT-MAKING, THIS DISPLAY IS SO UNIQUE!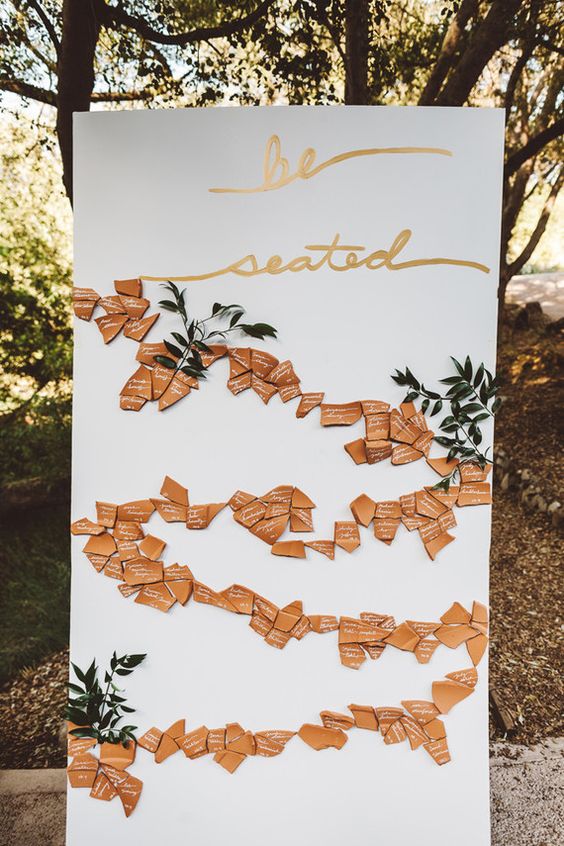 photo: Steve Cowell Photography // design: Jesi Haack Design // planning: The Love Riot // via: 100 Layer Cake
---
TRY BRINING FLOWERS INTO YOUR SEATING MOMENT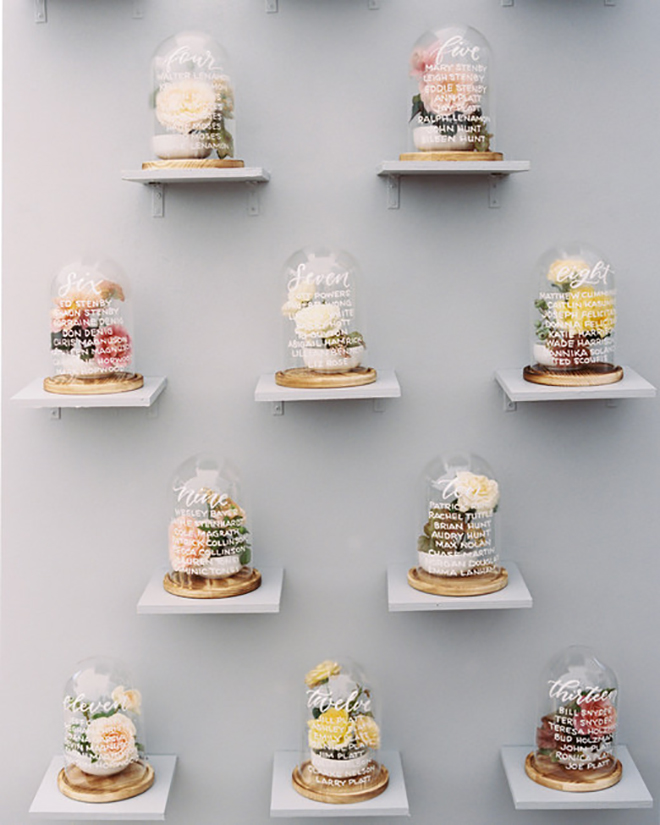 photo:Ashley Sawtelle // design: A Vintage Affair // florals: Park Floral Designs // calligraphy: Taryn Klund // via: Martha Stewart
---
LET YOUR PERSONALITY SHINE
photo: Taryn Kent // design: Jesi Haack Design // via: 100 Layer Cake
---
THIS SEATING DISPLAY PAYS HOMAGE TO THE VENUE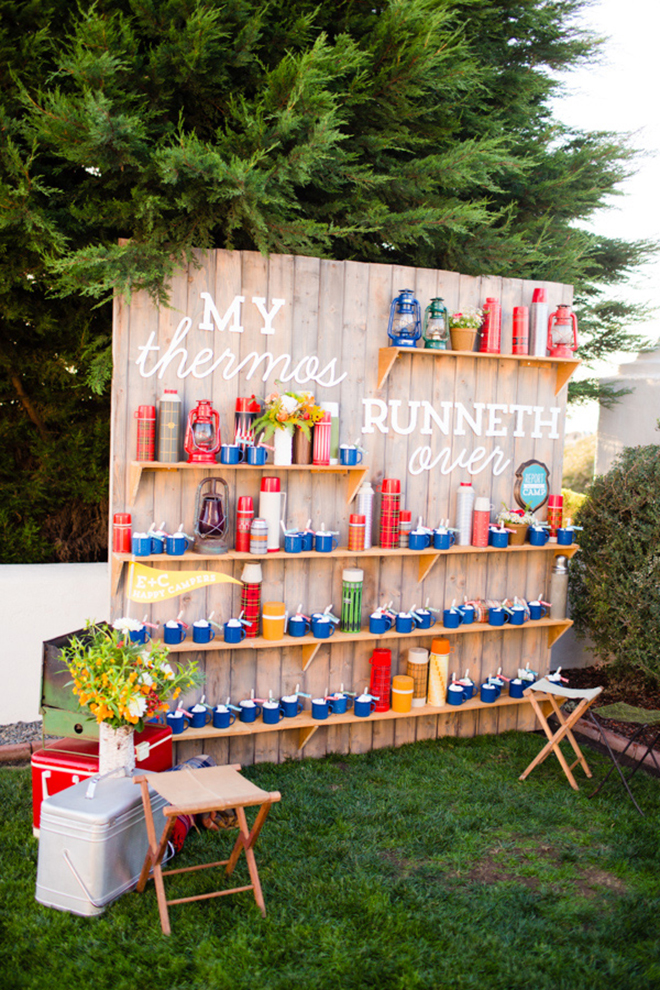 photo: Jen and Shane // design: Amorology // thermos rental: Adore Folklore // venue: San Clamente Historic Cottage // via: Ruffled
---
GUESTS WILL LOVE TO TAKE MULE MUGS AS THEIR FAVOR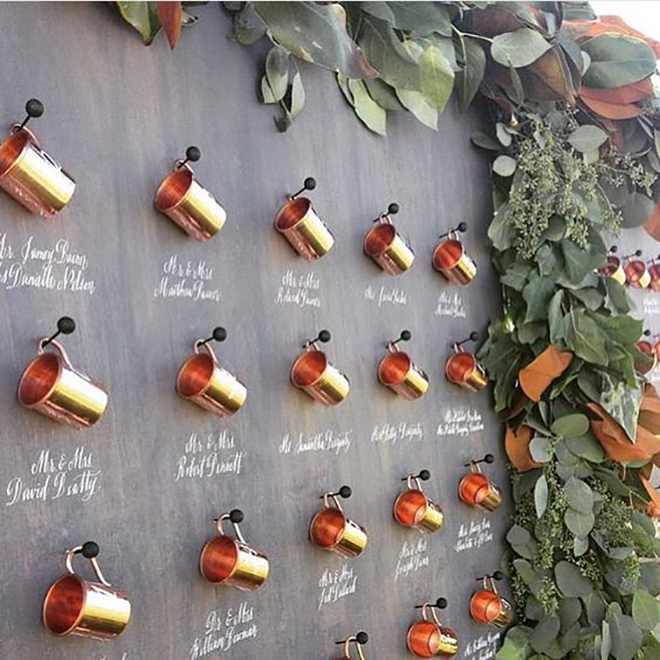 photo:Maybelle Imasa-Stukuls // display: PS Paper // design: Jenna Lam Events // via: Jordan Weiland Photography
---
LET THE CALLIGRAPHY MAKE THE STATEMENT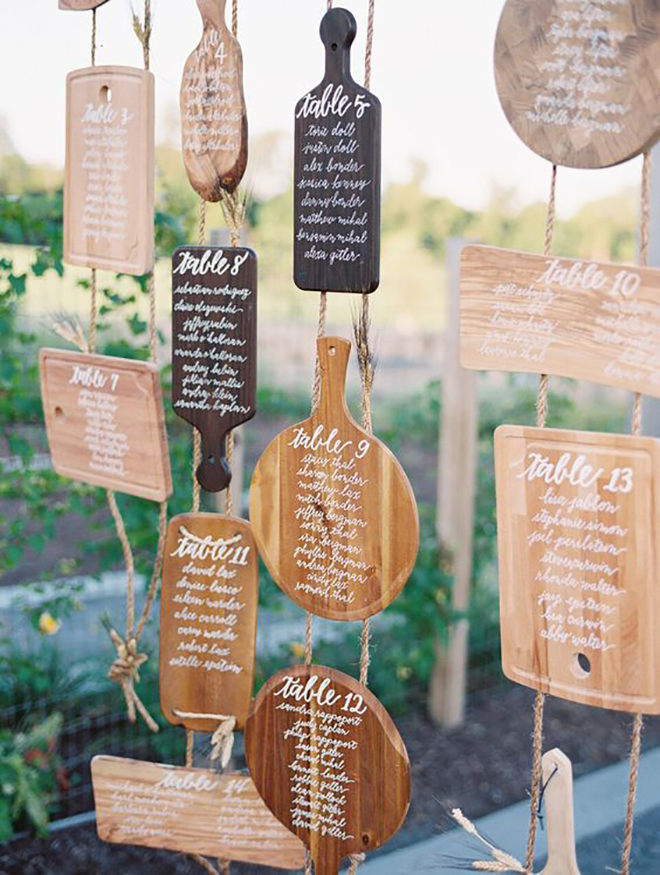 photo: Adam Barnes // planning: Grit and Grace // calligraphy: Laura Hooper Calligraphy // florals: Holly Chapple Flowers // via: Laura Hooper Calligraphy
---
USE A SEATING DISPLAY TO TELL YOUR STORY
photo: Bandon Kidd Photography // display: Laura Made It + Back Up Backdrops // design: Amorology // via: Green Wedding Shoes
---
SET THE TONE WITH A UNIQUE STATEMENT PIECE
photo: Greg Finck // display: Laura Made It + Back Up Backdrops // design: Amorology // via: Martha Stewart Weddings
---
GUESTS WILL LOVE TO LOOK AT THIS PHOTO DISPLAY

DIY tutorial: Something Turquoise
---
ADD A POP OF COLOR WITH FRUIT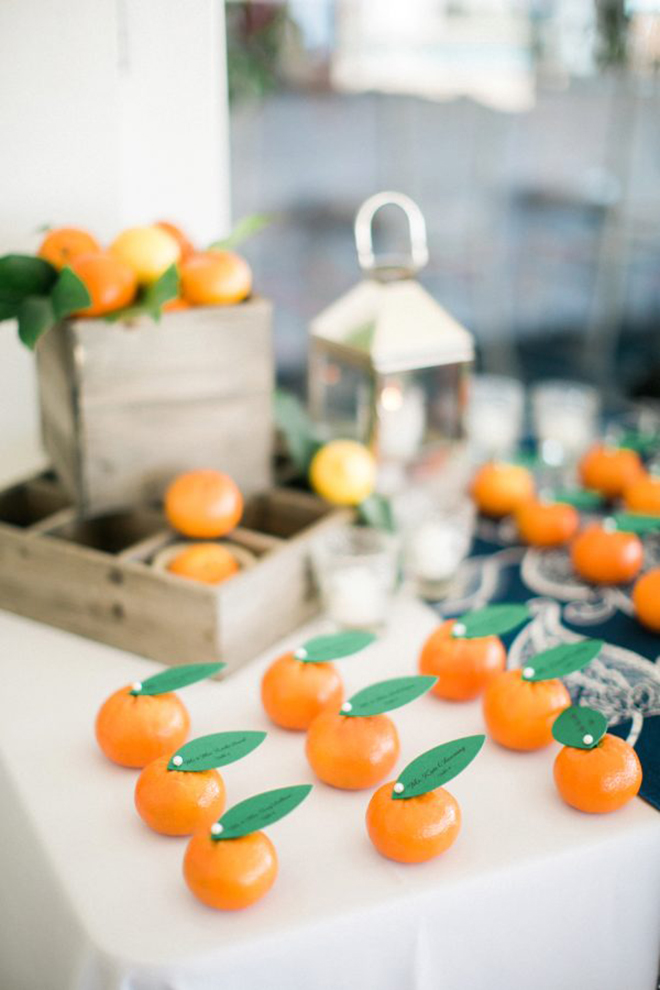 photo: Jacqui Cole // event design:MMD Events // via: Style Me Pretty
---
THIS SCIENCE THEMED DISPLAY SETS A MOOD
photo: Nichols Photographers // florals: The Nouveau Romantics // coordination: The Simplifiers // via: Green Wedding Shoes
---
A SIMPLE MOMENT CAN CREATE MAJOR IMPACT
photo: Blush Wedding Photography // design: White Event Studio // florals: Raspberry Flowers // via: Style Me Pretty
---
WE JUST LOVE THE CREATIVITY OF THIS CAMP-THEMED DISPLAY
photo: Rebekah Westover // designing and planning: Michelle Leo Events // arrows: Fletcher and Fox // arrow display: Mineral and Matter // via: Ruffled
---

Lauren Koster is the owner of Lauren Koster Creative, a West Michigan based wedding design company that specializes in the unique and whimsical look. Her eclectic style and modern hipster vibe always has us entranced. We always love when she graces our blog with her monthly "Steal This Style" article. Want to know more? You can personally follow or find her from these links below:
website // blog // instagram // facebook // twitter // pinterest
---