Hello, my sunny DIY brides! It's down to the last nine days before Joe and I spend the rest of our lives together. Since day one I have been ready to be Mrs. Hein and could not be more excited for Saturday, May 12! Up until now, we have been really good about not worrying about the wedding and not letting planning take over our lives. In the last couple weeks leading up to the wedding, there have been more moments when we need to be intentional about taking time for us. Special time for just us, silly and spontaneous, no wedding talk or planning! Make sure to enjoy each other in the last moments before you are husband and wife.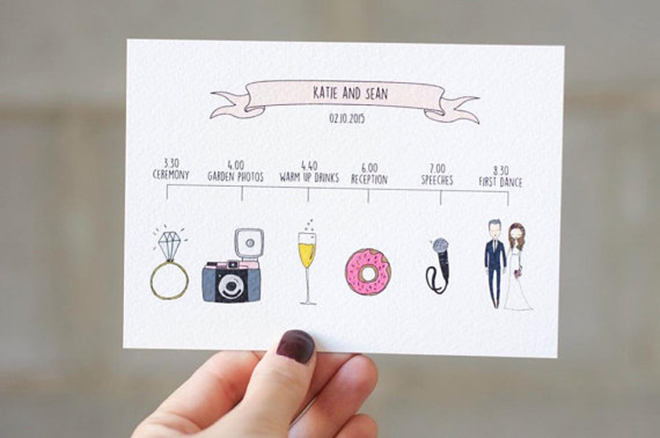 Hand-drawn Wedding Timeline: Blankaillustration on Etsy
In this stage, it's all about the nitty gritty meticulous tasks that need to get done. All the big things are covered: the photographer, the ceremony musicians, the food, everything. This is where I need to put all the things that I have planned into one place. A place where other people know what is happening the day of, especially because we didn't hire a wedding planner or day-of coordinator. I have an acquaintance who only told her Mom and Maid of Honor about her plans, which was a total mistake. No one really knew what was going on and everyone kept bugging and asking her… which I don't want to happen!
The Knot Wedding Timeline
To fully layout the entire day, including the night before, I used The Knot Wedding Timeline. This tool was super helpful because it has suggested events and times but you can also input your own events and customize from there. Although this takes care of your basic timeline needs including your bridal party, it doesn't take care of set up, the cleanup crew, and the guests…
Set Up Steps:
Create a list of all your decorations. Centerpieces, flowers, lanterns, mason jars, candles, hanging lights, etc.
Create a list of the people who will be there that morning to set everything up. For me it's: 2 bridesmaids mom's, 2 bridesmaids boyfriends, and 2 college friends.
Create a detailed description (include photos if possible) of where all the decor is supposed to go, to ensure that everything is set up correctly.
It can be helpful to have sticky notes stuck to special items if there are more details for that piece. Also, if you have extra decor items, send those along too in a box designated with "extras" so they can add them around as needed.
Create a timeline for when set up needs to start and be finished by. Include all set-up peoples names and cell phone numbers, and email everyone so they have it.
Try to communicate all your plans and ideas as thoroughly as possible, so they don't need to contact you asking, "where is this supposed to go!?", while you're in the middle of getting your makeup done and enjoying your mimosa!
Clean Up Steps:
Create a list of 6-8 people who are reliable to stay late and do the dirty work. For us, it's our church friends.
Create a detailed list of what decorations need to go in which car; including what can be thrown away, given away and what needs to make its way home. If you have super special or important items, highlight them on the list.
Make sure your crew knows what time they should start cleaning up and what time you have to be out of the venue! **Some venues will charge you for not properly cleaning up and for not being out on time!
Guest Steps:
There are many different things you might want to communicate with your guests, from who is in the ceremony, to where the cocktails are and what time dinner and cake cutting starts. There are a few different ways to do this, you could make a giant sign that shares important info, you could DIY your own programs, or have someone make them for you on Etsy! Here are my favorites…
DIY Timeline Program
Free Editable, DIY Timeline Program With Tissue: Something Turquoise
DIY Giant Welcome Sign
Katie and Nick's Industrial Wedding Welcome Sign // Image: Sunshower Photography // See entire wedding here: Something Turquoise
Custom Intinerary From Etsy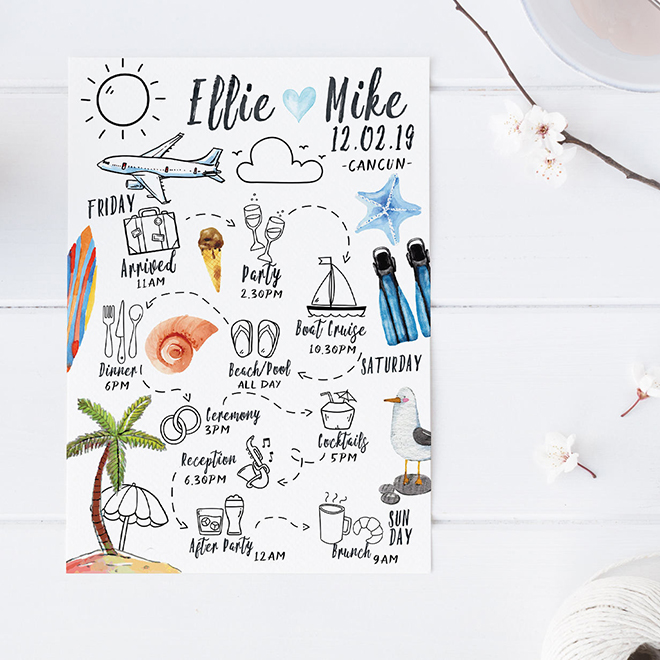 Hand-Drawn Wedding Itinerary: Wedding Sundae Studio on Etsy
Remember What Is Most Important
On that day, you might notice if one candle is in the wrong place or the shade of flower that you ordered isn't perfect, but your guests won't. I've heard that if you can expect that something major will go wrong, it's easier to deal with it if, and when it does. So that's what I'm trying to do. Actually, our florist canceled on us this week and while at first, it was the worst news I could have received, I reached out to my girls and we came up with what might even work out to be a better flower plan. The most important thing is the love and the promise we are making to each other next Saturday, not the chalkboards or the cake, even though those items will make our celebration a little more special!
It has been a blessing being your Bridal Blogger this year. After the wedding, Joe and I will be spending our honeymoon in Kauai, Hawaii for ten days. Enjoy the sunshine, next time you hear from me I'll be Carli Renee Hein!
---
No related posts found.