Alright, so you have the venue, you hired your photographer, got the dress on lockdown, time to get down to the nitty gritty, rentals. Lauren here from I Love Love Events with the 411 on the best rental chair option for your wedding. You can rent anything, and I really mean ANYTHING, a 30′ photo booth wall, a fancy lounge worthy of being pool-side in Miami, enough disco balls to cover a football field, but one of the most important rental items is something you NEED something for your guests to sit down in and enjoy the a lovely meal in, chairs. Of course, the chair options are endless too! When you sit down to start sorting out your rental order it can feel a bit overwhelming. Luckily, I'm here to break it down for you.
If you are having a backyard wedding, or your venue is just a raw space, you will definitely need chairs. Perhaps your venue has chairs, but they really don't suit your wedding vision, you're going to need to choose a new option. The choice you make can dramatically shift the look of your wedding. The same space styled with, the metal chairs shown below will look completely different from the same table styled with the ghost chairs. Or, notice the impact the dramatic specialty white chairs look set for the ceremony below, and contrast that with the photo of the benches. You get the idea, chairs are important to the look and feel of the space.
For most couples, budget will play a big factor in which chair option you spring for. If you are renting many items for each guest, the seating will eat a large part of that budget. The options I have pulled below are arranged from opening price point (between $1.50 and $2.00 per chair) up to premium ($15 and up). If you have your heart set on the luxe, modern covered option, don't panic, my pro tip is to rent enough "dream chairs" for your head table or your sweetheart table. Then choose more affordable, complimenting, seating for the rest of the guests. This way when your photographer shoots the main table, it will capture your vision.
Folding chairs, bentwood, chiavari, benches and cross-back are standard chairs that will be available at most rental companies, the other more specialty options will likely require a more specialty rental company. My advice is to keep scrolling to get a handle on your options, then call around to get the estimate on the cost of your dream chair, since it is such an important key piece to the design puzzle, start with your 1st choice and you can always consider other options from there.
---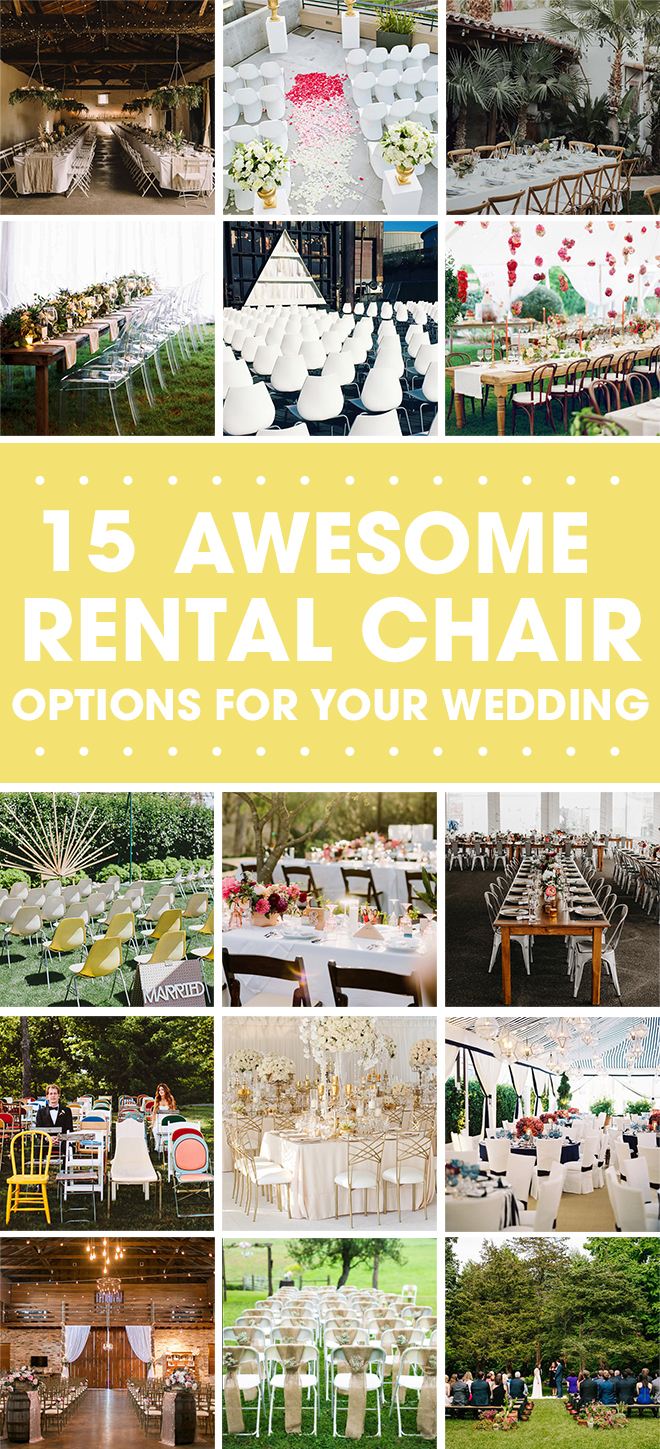 ---
BASIC FOLDING CHAIRS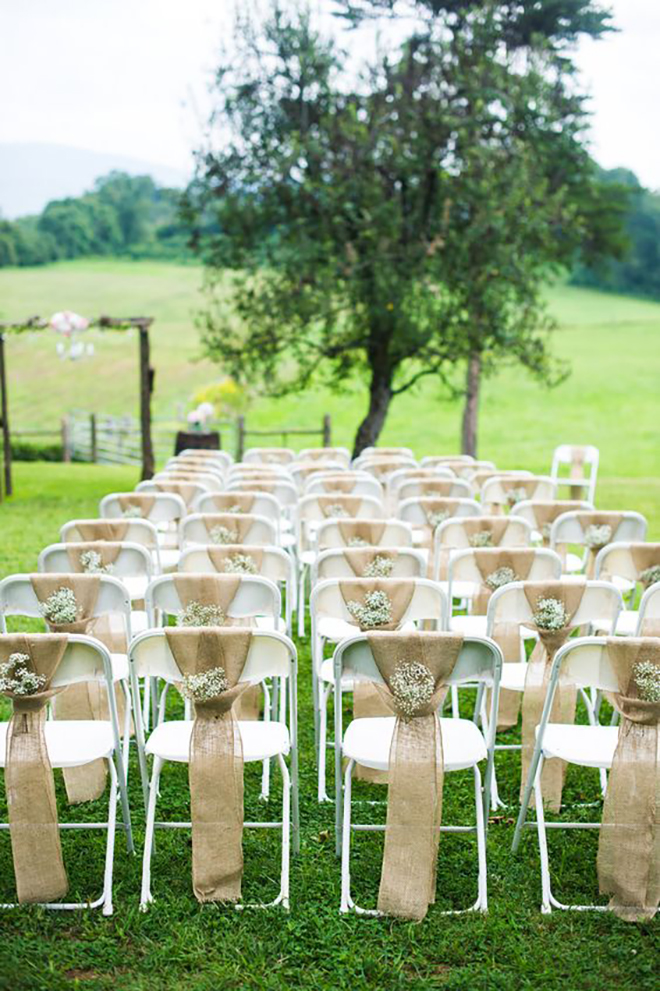 photo: Chelsa Yoder Photography
---
WOODEN FOLDING CHAIRS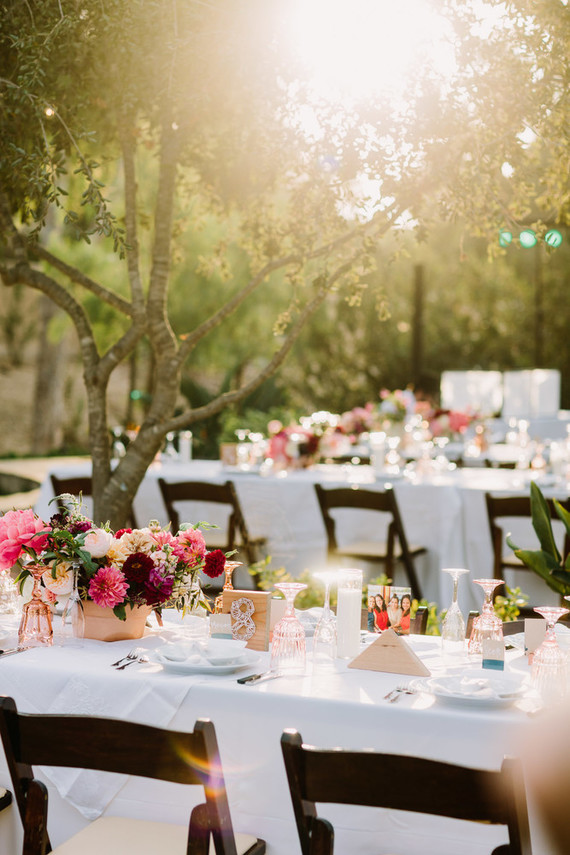 photo: Let's Frolic Together // styling:Samantha Louise Moments // venue:Carrillo Ranch // flowers: The Dainty Lion // via: 100 Layer Cake
---
OUTDOOR FOLDING CHAIRS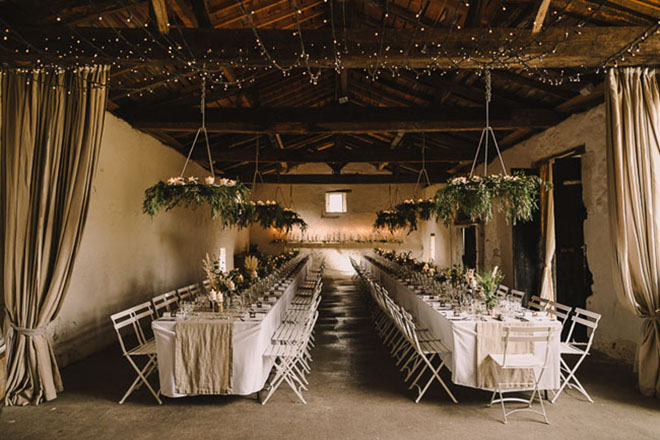 photo: David Wickham from Modern Vintage Weddings // planning:Sarah Thomas from And Then We Got Married // venue:Chateau Riguad // flowers: Heide Lee from Flowers in the Vine // via: Green Wedding Shoes
---
BENCHES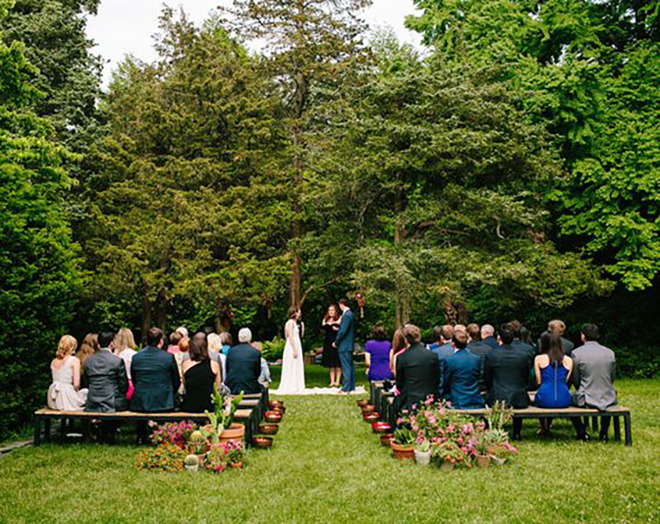 photo: // design: Lauren Wells Events // florals:Wild Folk Studio // venue: Mass Audubon Habitat // rentals: Reserve Modern Rental, New England Country Rentals // via: Green Wedding Shoes
---
CHIAVARI CHAIRS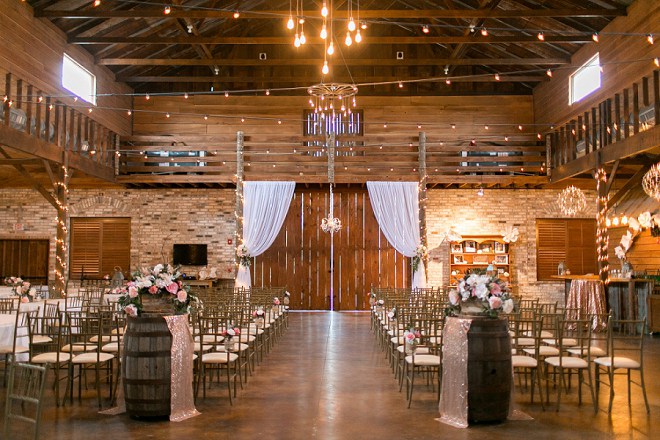 photo: Arte De Vie // venue:The Berry Barn // via: Something Turquoise
---
BENTWOOD CHAIRS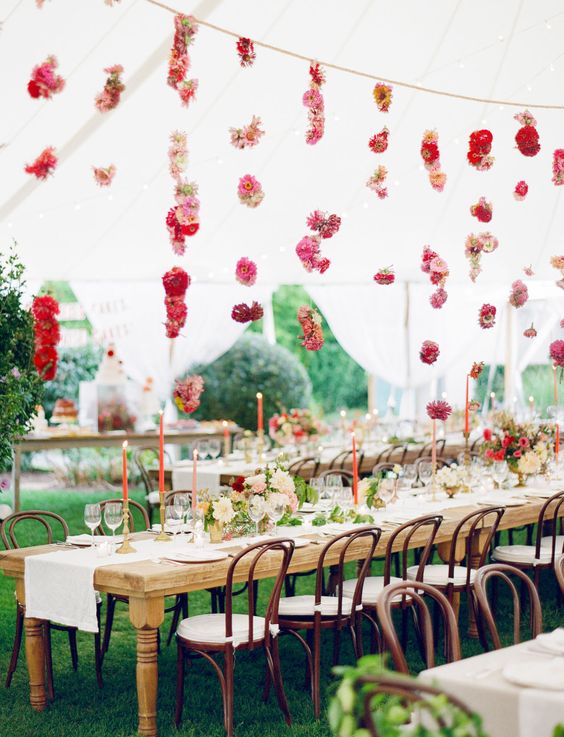 photo: Heather Waraksa // design:Fire Fly Events // venue:Sole East // flowers: Saipua // rentals: Rent Patina // via: Green Wedding Shoes
---
CHAMELEON CHAIRS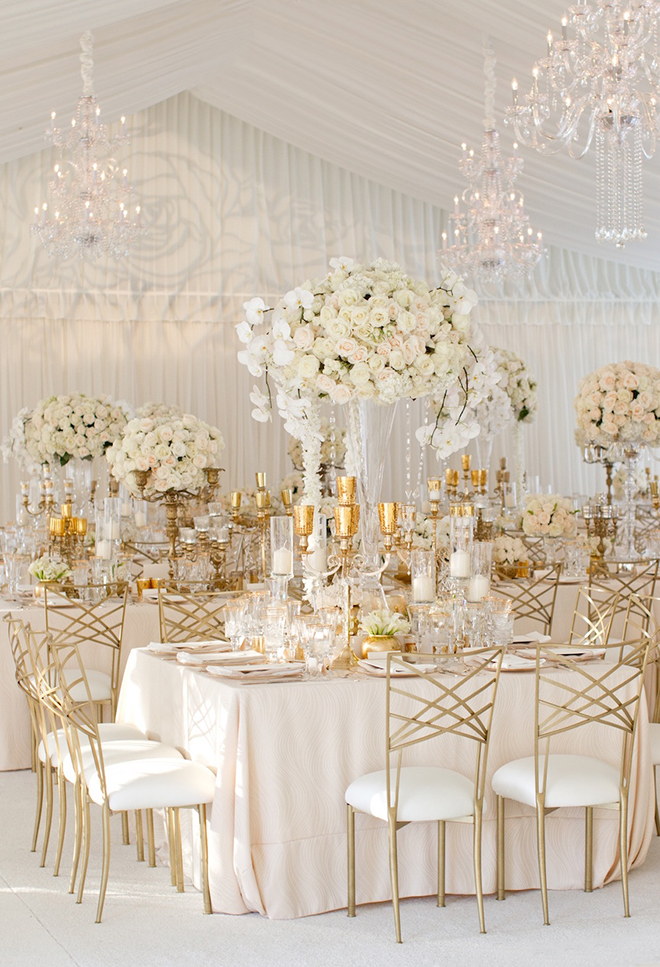 photo: Aaron Delesie Photography // design:Mindy Weiss // venue:Waverley Country Club // flowers: Mark's Garden // rentals: West Coast Event Productions // via: Mindy Weiss
---
METAL CHAIRS
photo: Dylan M. Howell Photography // design:Lauren Wells // venue:Courageous Sailing // flowers: Pollen Floral Design // rentals: Rentals Unlimited // via: Style Me Pretty
---
MID-CENTURY CHAIRS
photo: Steve Coewell Photo // design:Jesi Haack Design // venue:Frank Sinatra Estate // rentals: Yea Rentals // via: Wedding Chicks
---
CROSS BACK CHAIRS
photo: Logan Cole // planner:Beau and Arrow Events // venue:Casa Monte Vista // flowers: Honey and Poppies // via: 100 Layer Cake
---
MIX AND MATCH CHAIRS
photo: Pat Furey Photo // design:Glittter + Rye // venue:Cedar Lake Estate // flowers: Glittter + Rye // rentals: Rent Patina // via: Green Wedding Shoes
---
GHOST CHAIRS
photo: Nathan Westerfield // design:Jessica Sloane Design + Styling // venue:Cheekwood Estate and Gardens // flowers: Vintage Florals // rentals: Music City Rentals, Liberty Party Rentals, 12th Tables // via: Martha Stewart Weddings
---
MOLDED CHAIRS
photo: Birds Of A Feather Photography // design:Sitting In a Tree // venue:Hard Rock Hotel San Diego // flowers: Green Fresh Florals // via: Style Me Pretty
---
WHITE SPECIALTY SEATING
photo: Our Labor of Love // design:Buzzworthy Events // via: Refinery 29
---
MODERN CHAIR COVERS
photo: Jose Villa // design & planning:Mindy Weiss Party Consultants // venue:Beverly Wilshire // rentals: Revelry Event Designers // flowers: Mark's Garden // via: Revelry Event Designers
---

Lauren Koster is the owner of I Love Love Events, a New York based wedding planning company that specializes in the unique and handmade look. Her eclectic style and modern hipster vibe always has us entranced. We always love when she graces our blog with her monthly "Steal This Style" article. Want to know more? You can personally follow or find her from these links below:
website // blog // instagram // facebook // twitter // pinterest
---
No related posts found.