We all want to leave a lasting impression upon exiting, especially on your wedding day. What better way to do that then with a souped up getaway car? Whether you use your own car, a fabulous vintage rental or even a bicycle, your exit from the church, ceremony or the reception is a moment to make a splash and capture an amazing memory. It's Lauren from I Love Love Events sharing ideas from one of my absolute favorite details from a wedding day, the getaway car decor. Vehicles are very important and very personal to people. Maybe your getaway car is a key part of your story, perhaps it's where you first kissed or maybe you fell in love on your first road trip together or it's the car he drove you to the beach to propose. Or maybe, the car is an element that the groom is really excited about. What better time to rent the classic of your dreams than your wedding day? In my case that rental would be a fabulous vintage, turquoise VW Bus, but an old pick up or a classic limo might suit you better. The sky (or more realistically your budget) is the limit, and this is a moment to have fun and let your personality as a couple shine.
Once you've picked the vehicle, then comes my favorite part, the decor! These are just 15 ideas, most can be easily DIYed with a little imagination, pom poms, tassels, tin cans and banners in any combination add life and personality to this exciting moment of your day. Of course most of you reading this are all about the DIY, but incase you are not, Etsy has hundreds and hundreds of options to deck out your ride. Have fun, don't be afraid of going over board, this dramatic exit is the perfect time for it!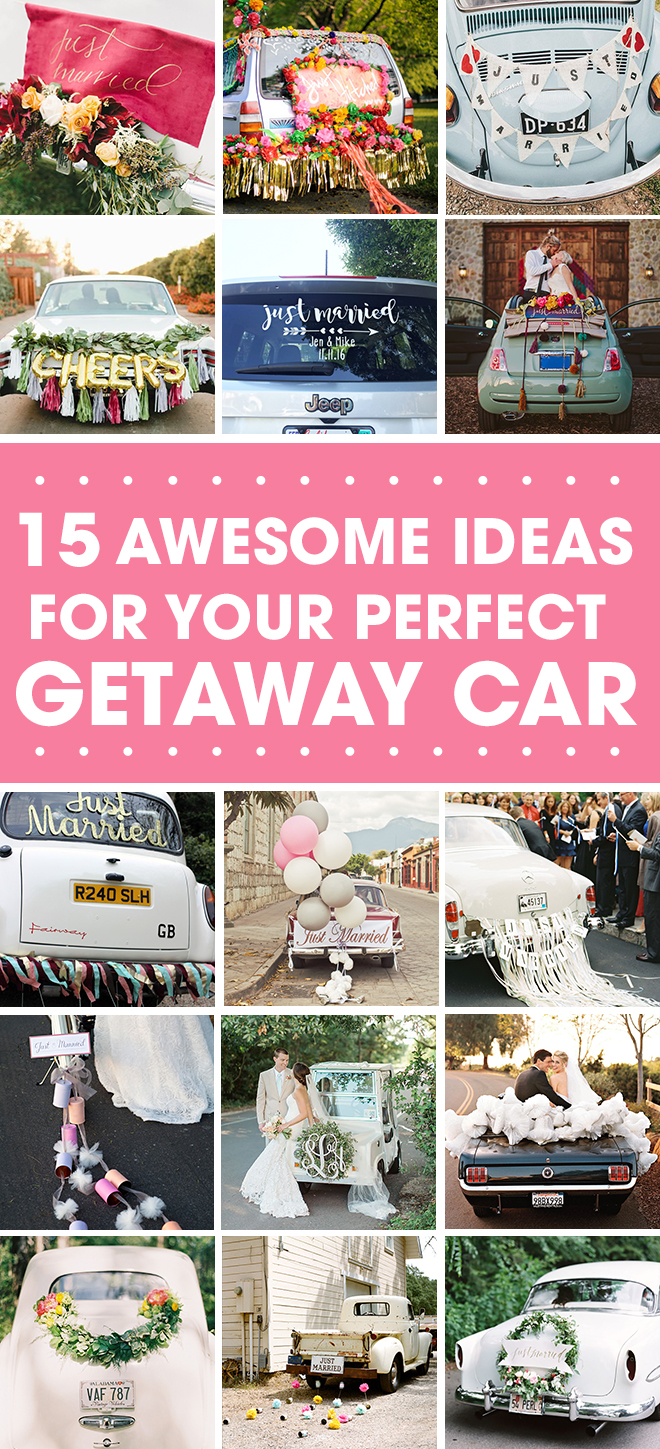 ---
SIMPLE CALLIGRAPHY BANNER WITH A FLORAL SWAG
photo: Elizabeth Fogarty Photography // planning & styling: Infatuating Affairs // florals: My Flower Box Events // calligraphy: Spurle Gul // vintage limo rental: Concours Limo // via: Grey Likes Weddings
---
BOHO OVERLOAD GETAWAY CAR
photo: Jana Kirn // via: Free People Blog
---
DIY IDEA BUNTING FLAGS
photo: The Robertsons // via: Style Me Pretty
---
COMBINATION OF RIBBONS AND CANS IS PERFECTION
DIY tutorial: Pea Green Boat // via: Perfect Wedding
---
CHEERS! MAKES FOR THE BEST GETAWAY SENTIMENT
purchase: Oh Shiny Paper Co. on Etsy
---
TASSELS, A SIGN AND THE WHOLE KITCHEN SINK
photo: Wild Whim // sign & tassels: Laura Stewart Designs // planning & design: Skills+Frills // via: Green Wedding Shoes
---
SIMPLE AND CLEAN DIY FLORAL GARLAND
photo: Odalys Mendez Photography // styling: Ginny Au // florals: Rose Golden Flowers // greenery: Fifty Flowers // via: Once Wed
---
NOTHING CUTER THAN GIANT BALLOONS
photo:Orange Turtle Photography // via: Style Me Pretty
---
WINDOW CLING FOR THE WIN!
DIY tutorial: Something Turquoise
---
PERSONALIZED AND TRADITIONAL, WE LOVE A MONOGRAM!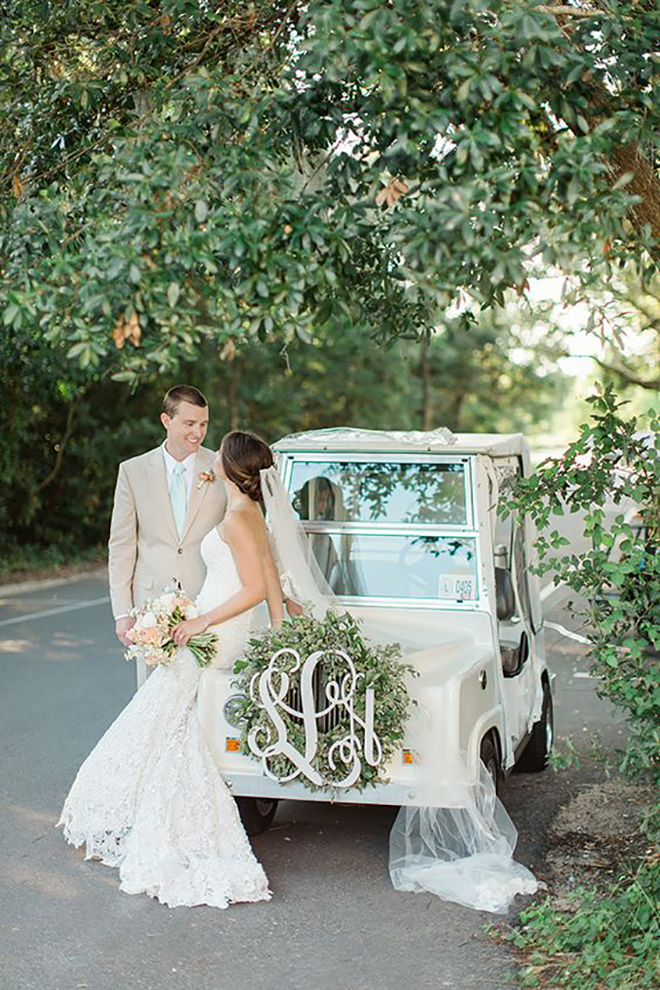 photo: Rachel Red Photography // planner & florist: Kickstand Events // via: Southern Weddings
---
KITSCHY WEDDING BELLS CAN LOOK ON-POINT
photo: Raya Carlisle Photography // event styling: Meet the Foleys // vintage car rental: Classic Mustang Rentals // makeup: Ashley Fierro // day of coordination: Tiffany's Party Design // via: Martha Stewart Weddings
---
BRIGHT POMS AND RUSTIC SIGN IS PERFECTLY CHARMING!
photo: Lisa Lefkowitz // via: Style Me Pretty
---
LONG RIBBONS IN WHITE LOOK ELEGANT
photo: Charlotte Jenks Lewis // event planner: Stacie Shea Events // via: Style Me Pretty
---
OUR DIY COLORFUL CAN TUTORIAL IS SO SWEET
DIY tutorial: Something Turquoise
---
WREATH AND BANNER ARE A WINNING COMBO
photo: Lauren Balingoit // florals: Kelly Lenard // calligraphy: Rebecca Lynn Calligraphy // via: Style Me Pretty
---

Lauren Koster is the owner of I Love Love Events, a New York based wedding planning company that specializes in the unique and handmade look. Her eclectic style and modern hipster vibe always has us entranced. We always love when she graces our blog with her monthly "Steal This Style" article. Want to know more? You can personally follow or find her from these links below:
website // blog // instagram // facebook // twitter // pinterest
---
No related posts found.