I cannot believe that exactly two years ago today I posted our very first DIY here on SomethingTurquoise.com… and today we are celebrating our 100th DIY tutorial!!!! So today's project is a little special… me and the hub's got all dressed up to inspire you to create a fun 'Just Married Tin Can Garland' for your bike or car – just like the old days!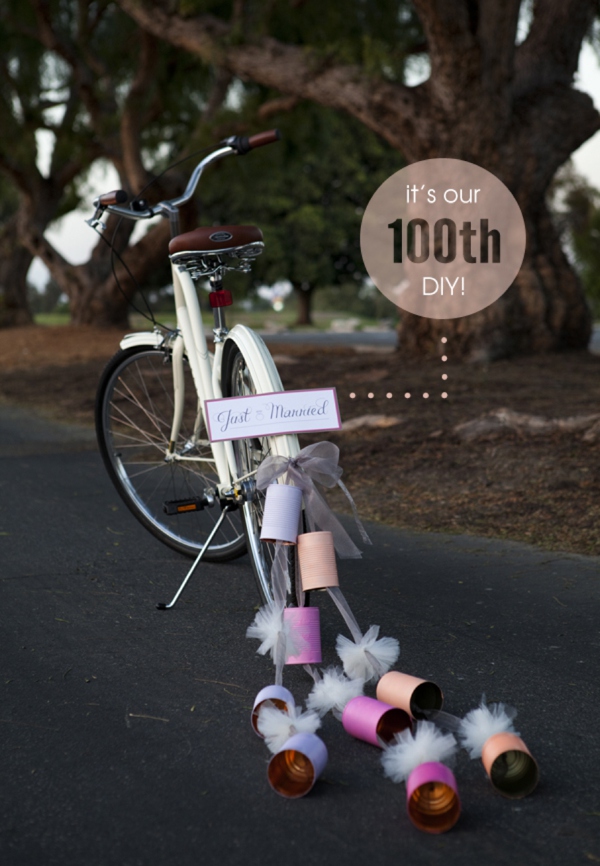 SUPPLIES:
tin cans

hammer and nail
ribbon and tulle
Martha Stewart Craft Paint and brush
cardstock and double sided tape
free 'Just Married' print below
You can paint your cans or leave them 'au naturel'… it's totally up to you. We are painting these cans here in an ombre…
The Easy Ombre: Paint your first can with the original paint color – this will be your darkest shade. **The cans are drying on a sheet of painters easel paper, you can also use wax paper – don't use regular paper or it will stick badly!!!!
For the next shade lighter, simply add a little white paint to the original color. Make sure you have enough paint for two cans – you will be adding more paint to lighten this exact batch.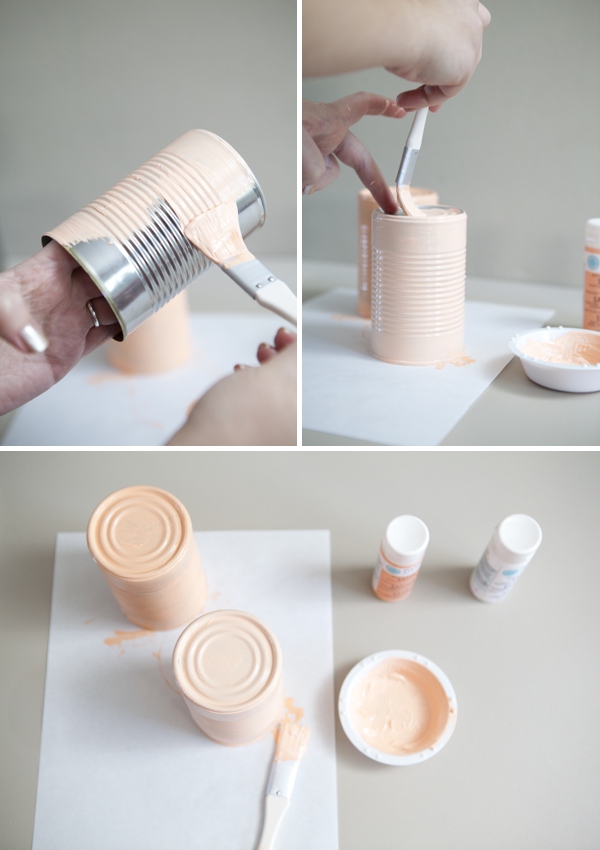 Then, add a little more white paint to the second batch of paint. Depending on the shade of paint, you might need two coats of paint per can. Let them dry at least an hour in between each coat and store your mixed paint in a ziplock baggie so you don't have to re-mix.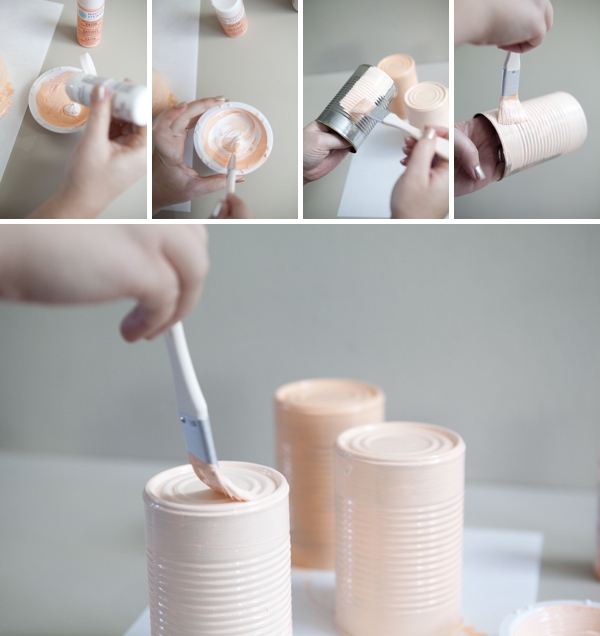 Ombre all your choice of colors!

Then simply poke holes in the tops of each can with a hammer and nail!
///////// HOW TO MAKE A TULLE POM POM /////////
Wrap craft tulle around spread fingers about 10 times. Carefully slide the wrap off your fingers and with a separate 12″ piece of cut tulle, tie a firm not in the middle of the wrap.
Slide your scissors into one end of the wrap and cut – do both sides and fluff! So simple! Leave the ends of the tied piece long so that we can use them later. Make six tulle poms.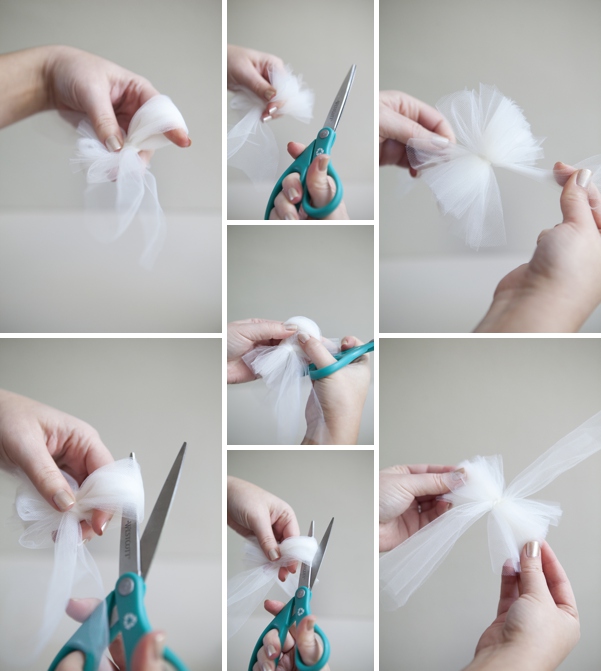 Next, cut three strands of ribbon each 5 feet long. Tie a large knot at the end of one piece of ribbon and slide it through the tin can hole! **If your ribbon knot is smaller than the hole in the tin can, the can will slide right off!
About 6″ down the ribbon, using the long ends of the tulle pom – tie on one pom.
Then, taking into consideration the space for the can, tie another large knot onto the ribbon. Thread the next can onto the ribbon… add another pom… and repeat!
Do this for each strand of the garland. Make as many strands as your heart desires!
///////// JUST MARRIED PRINT //////////
Download and print the FREE 'Just Married' sign above onto 8.5″ x 11″ cardstock.
Cut out the design, and matte it onto your desired color of cardstock – and repeat!
You could even put this little print in a lightweight frame and put it on your bike or car!
Tie all your yummy tin can strands onto your bike or car – add the sign and a ribbon bow…
…and ride off into the sunset with style and a fancy new last name!
It's amazing what can happen in two years… it's literally my dream come true to be able to regularly share these projects with you and I'm eternally grateful for the opportunity!!! xoxo
As with all our DIY tutorials, if you create one of our projects please send us a picture or a trackback – We Love Seeing Your Creativity! If you use Instagram or Twitter please share using the hashtag #SomethingTurquoiseDIY. Happy Crafting!
Photography: Studio 11 Weddings // DIY tutorial and FREE download by: Jen | Something Turquoise // styling: B.Hart of The Fashion Drug // Martha Stewart Craft Paints in Wedding Cake, Hailstorm, Wild Salmon and Raspberry Ice (all Satin finish), brush, little paint dish, gray ribbon, white tulle and cardstock: Michaels // bike rental: Jax Bicycle Center of Huntington Beach // wedding dress (which unfortunately isn't available any more): Nordstrom // tin cans: we ate lots of tomato sauce and olives to bring you this project! // nail polish: OPI Up Front & Personal // last image credit: my Dad
No related posts found.