Elastic hair ties are one of my favorite things in the world. When you have a big, giant curly hair mess like I do, there is always a hair tie nearby! Hair ties probably hadn't changed in 20+ years and then all the sudden here came the most darling, soft, multi-purpose elastics to save the day… and our hair! If you've never tried them, here are a few reasons that you should from an ex-hair professional (me, lol): 1. they are incredibly gentle on your hair 2. they leave less of a "crease" in your style when you take your hair down 3. they look adorbs on your wrist, some people actually think they are bracelets 4. they look adorbs in your hair 5. you can match them to your outfits 6. cats like them more than the other kind. Ok, so now that I've established why elastic hair ties are awesome, now you'll understand why they make the perfect DIY bachelorette party favors… especially with these tags… dying over that saying!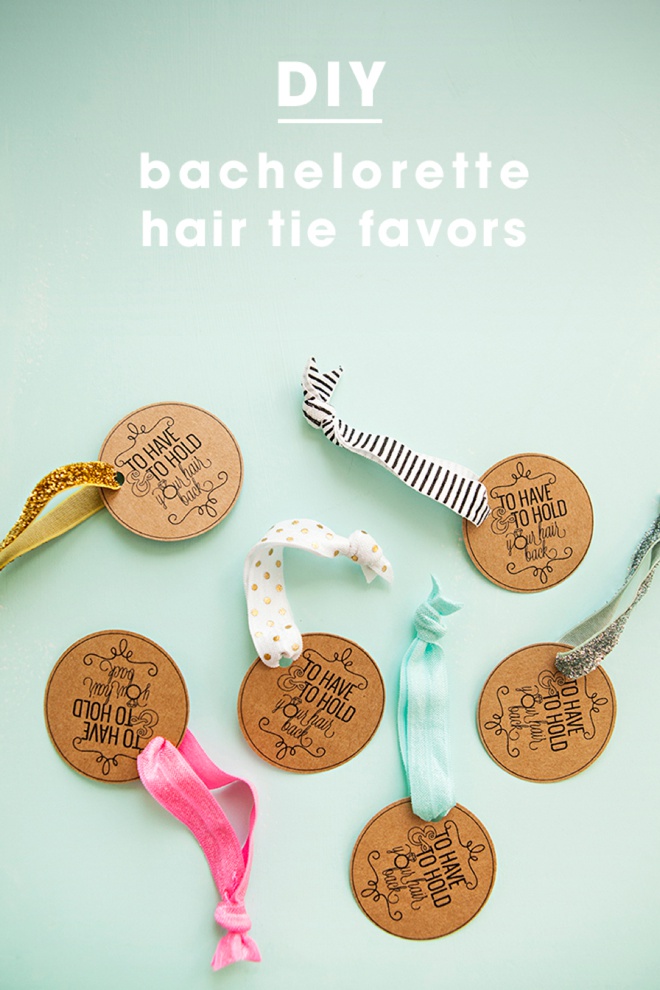 As with all our DIY tutorials, if you create one of our projects please send us a picture – We Love Seeing Your Creativity! If you use Instagram or Twitter please use the hashtag #SomethingTurquoiseDIY and it will show up on our Get Social page. Happy Crafting!
DIY Tutorial Credits
Photography + DIY Tutorial: Jen Carreiro of Something Turquoise // Hair Tie Kit + FREE tag download: Emma of Fl(h)air Accessories // nail polish: OPI – Withstands the Test of Thyme
---
I had to share a picture of what started this fab + crafty partnership with Fl(h)air Accessories… check out these ADORABLE business cards that Emma made just for me! I sent her a message via Etsy, asked if she had any ideas for a custom something turquoise biz card that would stand out from the rest – and did she ever! Being that my background is in the hair biz, these were beyond perfect for me… and like I said before, that saying "to have and to hold your hair back" kills me every time I hear it!
No related posts found.