Hi! I'm Sukey from Dress for the Wedding, and I'm so honored to guest post on Something Turquoise today! For those who don't know Dress for the Wedding, I create shoppable style collages by color scheme or wedding theme to help everyone in a wedding — from couples, attendants, mothers to guests — find the perfect wedding attire! Here's a styled look I created just for Something Turquoise, using the blog's signature color and echoing Jen's own glamorous beach style!
Links to shop sources in this post are from affiliates. Dress: Chiffon Halter Gown by nouvelle Amsale in Aqua from Nordstrom // Earrings: Pavé Ear Jackets in Gold and Turquoise by Melanie Auld from Nordstrom // Bracelet: Multi Row Stone Bracelet by A.B.S. by Allen Schwartz from Lord and Taylor // Invitation: Hex Wash Wedding Invitations from Minted // Shoes:'Evie' Sandals by Michael Kors from Neiman Marcus // Tie: Original Penguin Victorian Dot Tie // Clutch: 'Dorounia' Clutch in Turquoise from Aldo
Shop The Look
[show_shopthepost_widget id="1020217″]
---
Turquoise Symbolism
---
Before I even knew Jen, I was entranced by her amazing DIY projects, and I knew I'd adore her simply because of our shared love of turquoise; it was one of my central wedding colors! Today, I'm going to show you all sorts of ways to incorporate turquoise into your wedding style. I found a few facts about this color and gemstone to get a better understanding of the meaning of this color and some of the properties its representative stone is believed to have. Once you see this list, you'll see why you might want to include this color, or even the actual gemstone, in your wedding!
Did you know?
Turquoise protects from negative energy.
Turquoise is thought to bring good fortune.
Turquoise is the symbol of friendship.
Turquoise brings peace to the home.
Turquoise is a color of serenity.
Turquoise is believed to open the lines of the heart and communication.
---
Turquoise Dresses
---
Turquoise — and the related colors of teal, aqua, and mint — work so well for bridesmaids, mothers, and wedding guests. Turquoise is a universally flattering hue; it looks great on any skin tone and is a timeless shade you won't regret!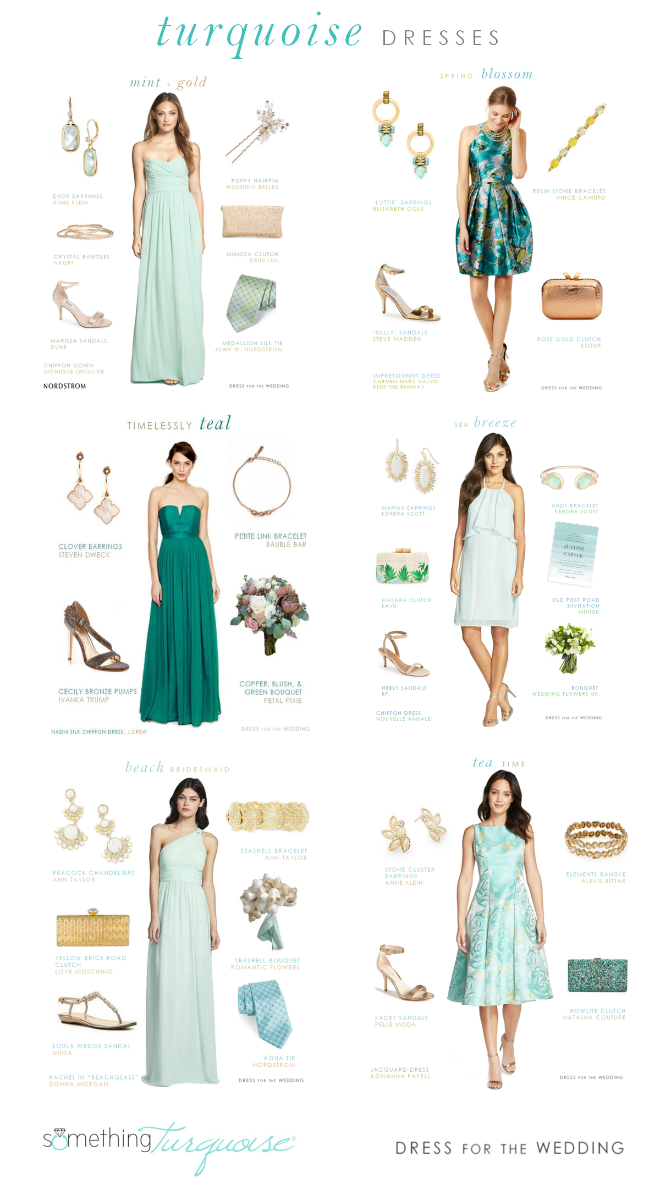 Find these looks and more in Dress for the Wedding's turquoise dress collages.
Shop The Look
[show_shopthepost_widget id="1020445″]
---
Turquoise as an Accent Color
---
Now, turquoise is a go-to shade for beach weddings, and I'm always a proponent of this shade of blue for any summer wedding theme, but turquoise and similar shades like mint, seaglass, seafoam, and teal, can fit with any wedding theme and can work for any season! In the right hue, turquoise a perfect fit for an upscale black tie wedding (There's a reason it's Tiffany's signature color!) but it can also add some fresh tones to a bright and punchy modern wedding. I did an informal check by putting a turquoise necklace against every color top I own, and I realized that turquoise pairs well with everything! Check out some favorite color combinations from collages I've done with a bit of turquoise as an accent.
These looks are all from Dress for the Wedding using turquoise accessories
Shop The Look
[show_shopthepost_widget id="1020415″]
---
As you can see, turquoise blue pops against red, yellow, pink, coral, and cobalt blue. It soothes and blends with other blues or greens, and it absolutely works with metallics. Gold, silver, bronze, copper, burnished browns, and grays all look great next to turquoise. You can lighten it by using a pale aqua or mint and make it work with nearly every pastel, or use teal, and pair it with rich darker tones. There's a reason it looks so universally wonderful – turquoise is the color of the sky and sea, and a beautiful backdrop to the colors in nature! Here are a few of my favorite color combinations using turquoise.
Chartreuse Green + Turquoise
Hot Pink + Turquoise
Coral Red + Turquoise
Bronze + Dark Turquoise or Teal
Cobalt Blue + Bright Turquoise
You can also go with pastels:
Peach + Aqua
Pale Green + Aqua
Lavender + Light Turquoise
---
Turquoise Wedding Details
---
If I've convinced you that something turquoise is a great color to use as a main or accent color in your wedding, you're ready to discover some ways to use it. Since turquoise is technically blue, make it your something blue in any of these ways. So many of Jen's amazing DIYs color be done in this color. I'm loving her Towel Tutorial, her Robe Tutorial, and The Paint Your Shoes tutorial.
Links are from affiliates. 1. kate spade new york glitter stud earrings // 2. Ombre Wedding Invitations by Minted in Deep Cyan // 3.Cabouchon Goa Clutch by Oscar de la Renta from The Real Real // 4. Turquoise + Caicos Nail Polishby Essie from Target // 5. Altea Dot Tie from Sierra Trading Post // 6. 'Tempest' in Blue Satin by SJP by Sarah Jessica Parker from Nordstrom// 7. Turquoise 'Eat, Drink, and Be Married' Cocktail Napkins by Oriental Trading Company // 8. Turquoise 'Truman' Dinner Plates by B by Brandie at Bluefly
Shop The Look
[show_shopthepost_widget id="1020235″]
---
Tips for Turquoise:
---
You could also:
Wear a bit of turquoise nail polish – it's a bold look for hands, or try it on your toes!
Wear turquoise jewelry yourself or select some for your bridesmaids
Have a monogram or meaningful saying embroidered in your wedding gown on on a pocket square in turquoise thread
Turquoise is hard to come by in flowers, but blue hydrangeas can sometimes be pretty close. Otherwise, opt for a bright bouquet and wrap it with a pretty turquoise ribbon. It will set off the colors beautifully!
Keep a real turquoise stone you keep in your pocket or clutch to give you serenity on that day.
Use turquoise in your wedding or shower decor, or register for turquoise items to bring good luck to your home!
So now you have every reason in the world to make something turquoise your 'something blue'! I'll look forward to seeing the pretty ways you incorporate these ideas in your own wedding style! Until next time, thanks for letting me share these wedding style ideas!
---
Turquoise fact sources: The Color Turquoise and The Crystal Cure
---
Sukey Murphy is the editor of Dress for the Wedding, the wedding style blog with attire ideas for everyone in a wedding — couples, brides, grooms, bridesmaid, mothers — even the guests! Her sourced and fully shoppable collages will help you get inspired and find your wedding by style, color, formality, or season. She is thrilled to have Dress for the Wedding's style ideas be a part of Something Turquoise!
No related posts found.