"I had never met Ursula and Ian in person before showing up at their wedding. Had never spoken with them on the phone, only had a series of emails between us. The very moment I walked into the reception space at Dolphins Resort (on the remarkably picturesque coast line of Vancouver Island, Canada), and saw her incredibly thoughtful, beautiful and meaningful details I knew I was going to fall in love with them. A room filled with incredibly meticulous and dreamy elements, from the spray painted animals, to the hand crafted felt flowers, to the sprinkling of gold cut out birds, I was smitten. Anyone who fills a room with love, and not only love but AMAZING quotes to inspire love, are hard not to love. Telling their story through images was an absolute pleasure for me. Between her sweet and lovely demeanor and his sense of humor, their adorable pup and beautiful setting… I think you'll fall in love with this wedding (and the Mr & Mrs) just as I did." – Erin Wallis Photography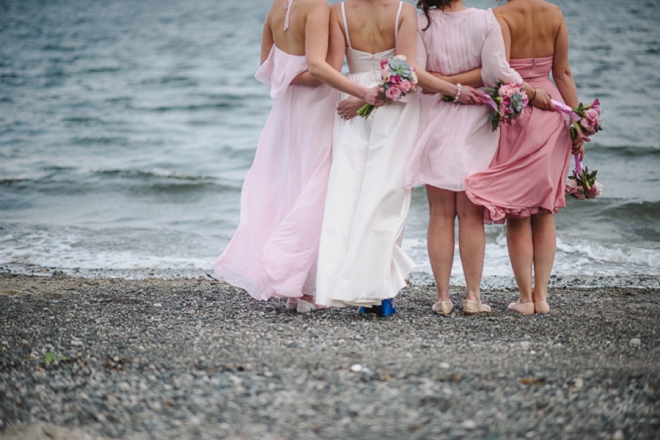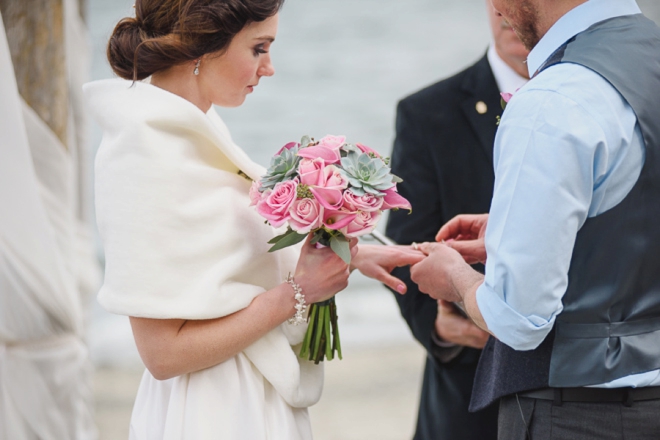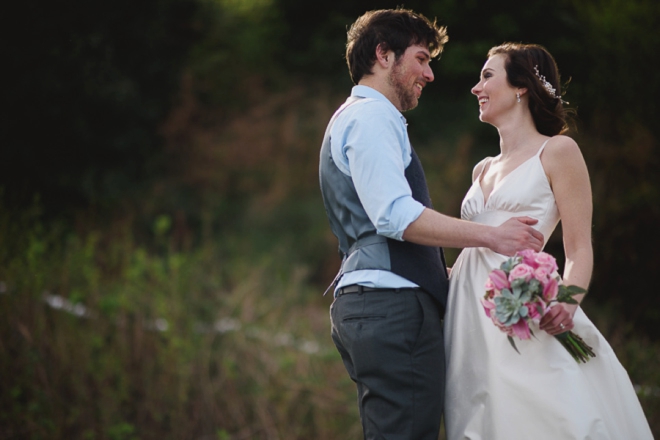 From the bride:
We got married at the Dolphin's Resort on Vancouver Island with seventy four of our closest friends and family. Dolphins is a small oceanfront hotel built in the 40's and known for it's salmon fishing and amazing breakfast. We filled up all of the eleven cabins with our friends and family over a three day weekend that started off with a BBQ dinner on Friday and ended with a Sunday morning brunch.
After realizing I hadn't brought anything warm for the outdoor ceremony, my Mom and I went to the fabric store and sewed together a last minute shrug. We finished it just in time to get to the rehearsal dinner but it proved to be well worth the effort because the next day was freezing.
Shortly before the ceremony, my sister, the Maid of Honor, tore her dress. Luckily, Carmen, the resort manager, came to the rescue and sewed my sister into her dress before we all walked down the aisle. We were married on the beach by my husband's middle school Principal and it was wonderful.
What is your favorite wedding day memory?
I think my favourite wedding day memory was when we had our parents do a dance-off. I had never seen my Mom bust a move and it was tons of fun seeing our families have such a fantastic time together.
What did you DIY for your wedding?
I'm a big crafter and I knew that I wanted a mostly DIY wedding. I started by hand stamping all of our invitations and I made the centerpieces, name tags, advice book, and bar signs.
One of my favorite crafts was the handmade felt flowers I found here on Something Turquoise! I made them in pink and grey and placed them in gold painted mason jars as centerpieces. Carmen, who is quite crafty herself, cut and painted twisted branches that she had taken from her parents' backyard and added them to the jars. For each place setting, my mother-in-law made Italian biscotti wrapped in pink, gold, and grey ribbon. I printed out individual quotes and wrapped them with twine and sparklers. As for the name tags I spray painted plastic animal toys with gold metallic paint (another Something Turqouise project) and then I cut and glued on individually decorated name tags. The guests loved the animal name tags and they were by far the biggest hit!
Any advice for brides currently in the planning process?
My advice to brides currently in the planning process is to take some time to think about how to create a wedding that best represents you and your partner. From the colors, and name tags, to the music selection – think about how to add even the small touches that are special to you both. That being said, don't go overboard. At the end of the day, you're celebrating your relationship and try to keep all the other stuff in perspective. Also, I would strongly recommend you avoid Pinterest the week before the big day and don't forget to enlist help. – Ursula, the bride
Event Credits
Photography: Erin Wallis Photography // Venue + Catering: Dolphins Resort // Flowers: Handmade by the Groom's mother's friend // Hair: Headquarters Hair Studio // Makeup: Sara at Indira's Esthetics // Dress: Modern Frocks // Shoes: Modcloth // Accessories: Sarah Walsh Bridal // Jewelry: BHLDN // Engagement Ring: Rosados Box // Advice Cards: White Willow Paper // Quote Card Designs: Elise Blaha Cripe from Enjoy It // Table Numbers + Confetti: BHLDN // Bride's Blog: Northern Ambitions
No related posts found.