It seems as if everyone is obsessed with GOLD these days, especially gold painted toy animals… and of course we are as well! Who wouldn't be, I mean aren't these guys just to die for!?! Simple plastic toys are easily transformed into fabulous gold escort card holders, which in person resemble costly brass statues! These will impress your guests and seat them in style… along with a smile – I'm sure everyone will go crazy for them!
SUPPLIES:
Krylon Metallic Gold Spray Paint
lots of little toy animals (info in credits below)
a small hand saw or the like – you could even use a serrated kitchen knife
a nail file/buffer
simple seating cards
To start, you will need to make a small slice on the backside of each toy animal which is were the escort card will be positioned. Here I am using a little jewelry hand saw that has a teeny tiny blade. Since this blade was so very small, I needed to make my slice resemble a little 'V' shape so that my cardstock would actually fit inside.
The size of your saw or knife blade will determine how large of a slice will be made. ***try not to feel bad when you are making these little cuts on the cute animals… I kind of did!
CRAFTERS TIP // The smaller the blade the larger the 'V' will need to be. *If you use a large blade you might only need to cut a straight slice. Either way, it's best to have a sample piece of your escort card to make sure that it will fit inside the slice and stand up properly!
When some plastics are cut they leave a rubbery mess behind, simply clean up the plastic with a nail file or buffer – just like you would a piece of cut wood!
When all your animals have been sliced – they are ready for painting!!!
For full coverage it will take about three coats; one on the top, one on the sides and one on their bellies. This Krylon spay paint is amazing and dries in like 5 minutes so this process goes really quickly.
Aren't they just adorable!?!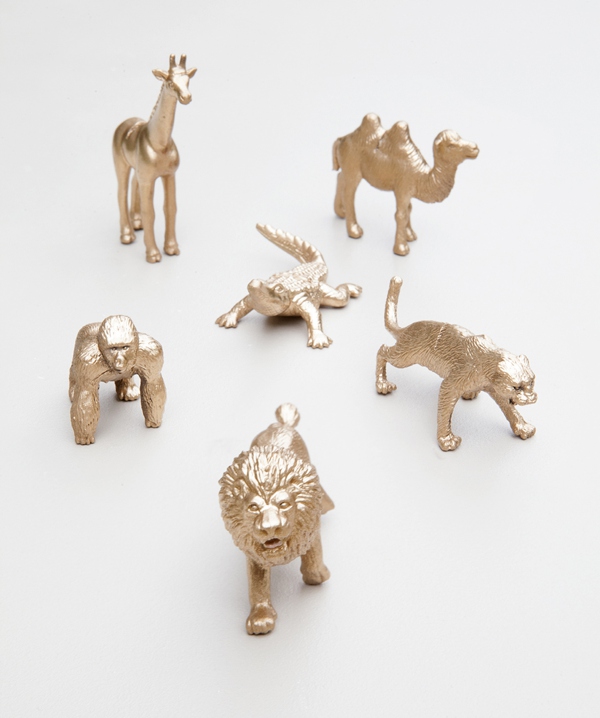 Easily design and print simple seating cards using any word processing program, or you could even hand write each card. The star of this project will be the darling gold animals, so the seating cards themselves can be kept simple. These little tags I made are 1.75″ x 1.75″.
I'm obsessed… and I hope you are too!
As with all our DIY tutorials, if you create one of our projects please send us a picture or a trackback – We Love Seeing Your Creativity! If you use Instagram or Twitter please share using the hashtag #SomethingTurquoiseDIY. Happy Crafting!

Photography: Studio 11 Weddings // DIY tutorial by: Jen | Something Turquoise // Kryon Gold Metallic Spray Paint and Safari Ltd. 'Wild Toob' of 12 toy animals: Michaels **although I purchased my darling toy animals at Michaels, there are tons of differnt animals along with bulk choices on Safari Ltd's website – check it out! // little jewelry hand saw: MSC Direct // I designed the little cards using Word and an ink jet printer // nail polish: Essie – Trophy Wife