It's been a while since I've shared one of our Signature Cocktail Recipes but I'm excited to tell you that this feature is back! Each month we will be tempting your tastebuds with a delicious drink that would be a wonderful addition to any of your wedding events. One thing to keep in mind when deciding on a cocktail is how it will be served? By a bartender? Will your guests build it themselves? Or maybe it will be in a large drink dispenser on ice? Although I do love an artfully crafted cocktail that takes time and a professional to create, I try to keep the recipes that I share here simple enough that you can easily scale them for a small or large event.
Today's Candied Grapefruit Cocktail is tart with a sweet twist. It's light, refreshing to drink and pretty to look at while it goes down easy. I'm really into pink grapefruit; the fruit itself, the juice and especially the many different types of tart candies. If you aren't a grapefruit fan you won't be a fan of this drink. The peach Nectar really just cuts the bitterness of the juice and add a richness to the combination, but definitely doesn't cut the grapefruit flavor. It would pair wonderfully with your spring or summer event, but watch out because your guests will want to keep filling their glasses with this one!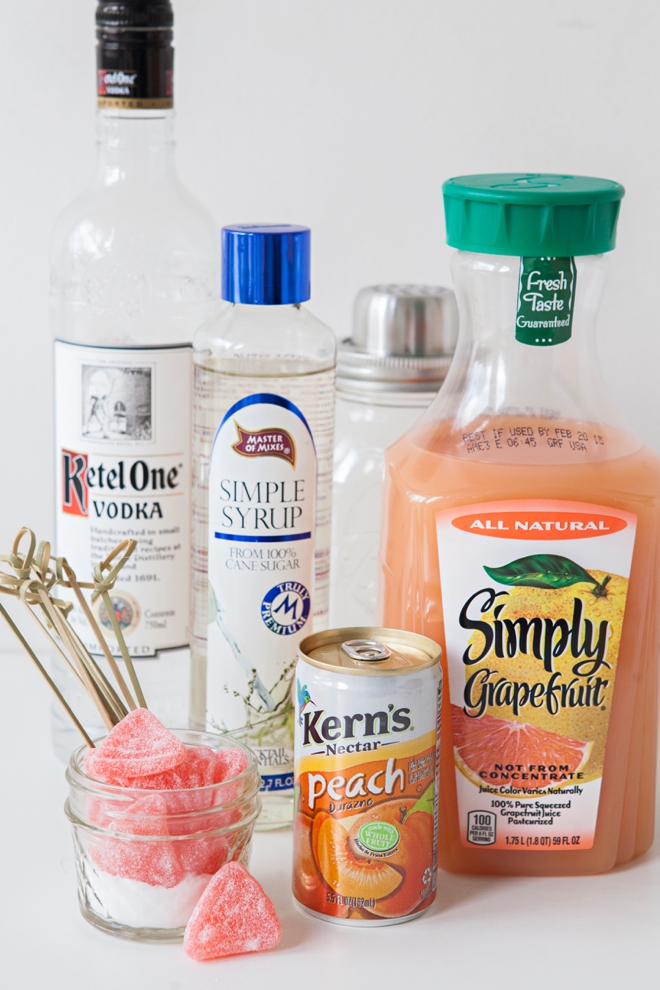 Cocktail Recipe Credits
Photography: Something Turquoise Photography for SomethingTurquoise.com // Cocktail Recipe + Styling: Jen | Something Turquoise // Grapefruit juice, Vodka, glasses: Target // Peach Nektar, mason jar shaker, grapefruit candies, simple syrup, and cocktail sticks: Amazon
No related posts found.