Let me paint a funny little picture for you… you arrive to a darling wedding reception and as you walk in you are prompted to sign the guest book – normal right? Except it's one of those thumb print tree guest books… of course it's adorable and you go to make you mark. After pressing your thumb to the paper you need to wipe that green ink off your finger, but there aren't any wet wipes left. So you wipe it off as best you can but the ink remains for a couple days after the happy occasion. Not that big of a deal – but what if it was worse? The ink could have ended up on your face, clothing or even your purse! I know because I've heard stories. Don't take this the wrong way, I'm not knocking that trend – but merely offering a fun and unique alternative. The Painted Tree Guest Book. Have your guests paint a special leaf on your tree as their guest book mark! I guarantee it will become one of your most favorite works of art… and don't underestimate the creativity of your guests – their talent might just surprise you. After all, they are just painting leaves…
I came up with this idea when one of my besties wanted to do the thumbprint thing on reclaimed rustic wood for her baby shower – ink wouldn't work so paint was easily the answer. Here's the picture of her tree halfway through the shower, isn't it darling!?!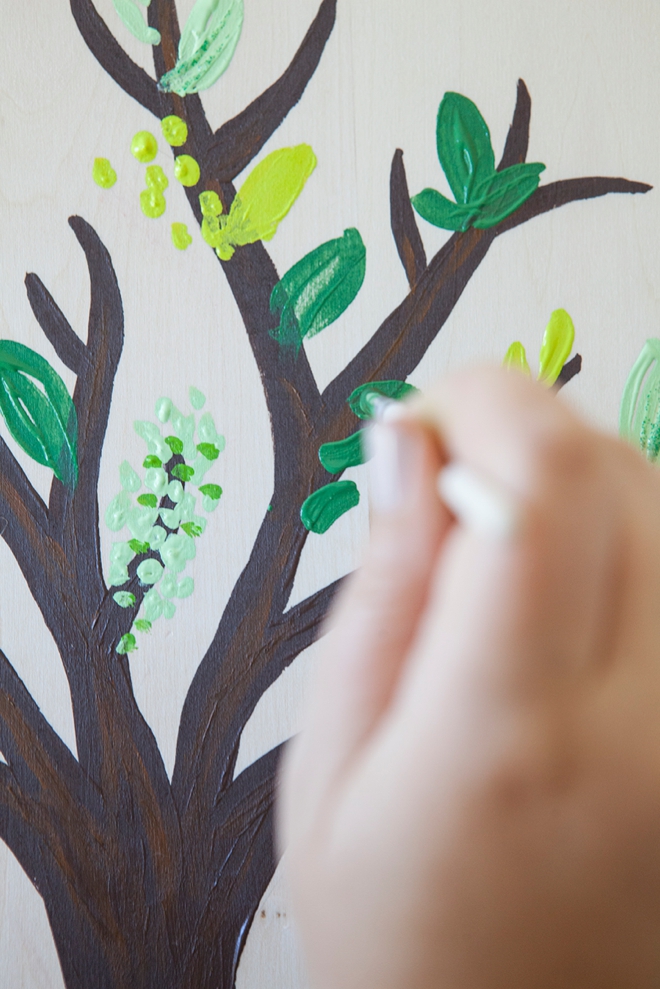 As with all our DIY tutorials, if you create one of our projects please send us a picture or a trackback – We Love Seeing Your Creativity! If you use Instagram or Twitter please use the hashtag #SomethingTurquoiseDIY. Happy Crafting!
DIY Tutorial Credits
Photography: Studio 11 Weddings // DIY tutorial + free download: Jen | Something Turquoise // frame, 12″ x 16″ wooden plaque, easel, and dairy glass jars: Michaels // Martha Stewart Crafts paint brushes and paints in: Green Tree – Vanilla Bean, Chestnut Brown, Pesto, Spring Pasture, Mint, Glitter Peridot, and Granny Smith – Blue Tree: Wedding Cake, Wild Blueberry, Indigo, Pool, Blue Sky, and Beach Glass: courtesy of the Editors at Martha Stewart Living // white polka dot burlap: JoAnns // font used: Thirsty Rough // nail polish: Essie Urban Jungle
No related posts found.